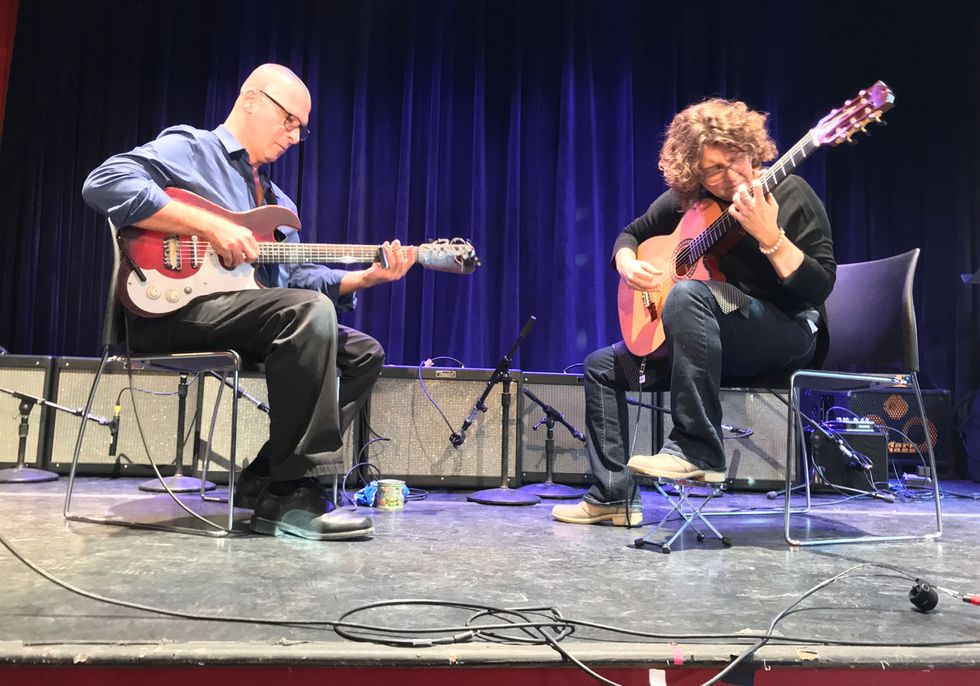 David Tronzo and Kim Perlak perform at a 2018 guitar faculty concert at Berklee's the Red Room at Cafe 939 venue. The pair started out giving each other lessons, and have been collaborating as a duo for five years. Photo by Abby Aronson
How so?
Because I'm constantly aware of what it feels like to be a beginner, to learn something challenging and to ask for help. When I walk into a classroom now, the students know that David and I are working together and that we're teaching each other. I think that helps them relax into learning something that challenges them. I also think that I can see when someone may have a question they're afraid to ask more readily. I can go over to that person in a class, or I can say to them in a private lesson, "Let's talk about what you're working on. This is a really challenging topic. Let's see if we can break it down further." It's good all around in that way.
You mentioned improvisation. How does it work for you as a classical musician—how does it differ from the way a jazz musician might approach improvisation, and how is it similar?
With the improvisation I'm doing in this project with David, his suggestion in the beginning was for me to approach it through my instincts, to bring what I do as a classical musician to what I'm doing as an improviser. So right away we started talking about parameters of music: tone and timbre and range and thinking about form and phrases and lyricism and counterpoint and all kinds of textures. When we're playing freely, these are the tools that I have.
I spend a lot of time with students working on modes, triads, seventh chords, and polytonal things. Then I recognize them because I've heard them in my repertoire and my fingers have played them. The real strength of my playing as an interpreter is thinking about how things sound. But when I improvise, I'm trying to build the parts and thinking about what to play.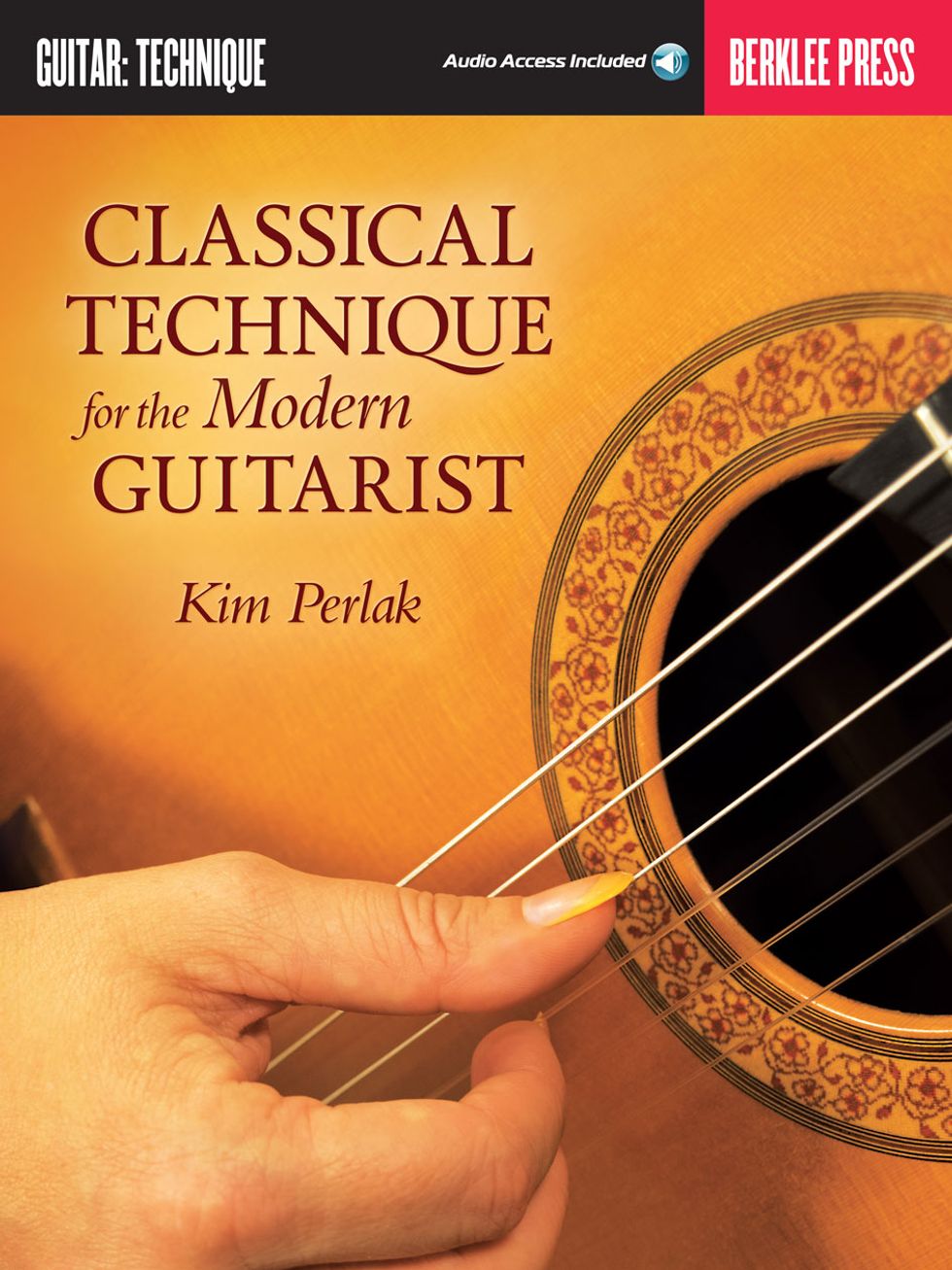 Classical Technique for the Modern Guitarist by Kim Perlak showcases the main teaching philosophies behind her extensive training as a classical guitarist.
Now when David and I write something beautiful, he might say, "Okay, let's take it apart and improvise with it; let's build another section." That's the part where I sometimes feel like I'm going into the deep end of the ocean. Then I have to go and work on the materials, work on the building blocks, and internalize them so that I can use them to build things.
One of our students once watched us rehearsing. He said something like, "Oh wow, I could see that your greatest challenge is playing a thousand different things, and David's greatest challenge is playing one thing a thousand different ways." But what I've learned is to take my instincts and say, "Yes, you're improvising, but you're still an interpreter."
You took quite the academic path en route to Berklee.
Yes. At Stetson, I set my foundation as a player. It was a small school, and there was this great sense of community in the guitar department. The 11 of us who were there really pushed each other in constructive ways. It's where I really learned how to rely on great colleagues and just practice all the time. It instilled in me this passion for working hard and building relationships with other players.
At Yale, Benjamin Verdery was my teacher. Yale is a performance-oriented school and the level of musicianship is incredibly high. That's where I really learned the professional expectations of a performer: You come to the rehearsal and you already know your part and play it beautifully. You don't come to the rehearsal to learn; you come to the rehearsal to make music.
I also worked in the school's recording studio as a producer. That taught me about transferrable skills and set me up to work in the studio and make some beautiful records, because being able to play and hear the difference between voices on an instrument and know about tone control and discern when things are out of tune are all critical skills that have translated into me being able to work.
Can you explain more about these transferrable skills you picked up?
Having practiced the instrument to the extent that I had, and really working on my ears, helped me to be a producer. Also, that job connected me further to musical communities that were not classical, because we did a lot of producing of jazz concerts.And so now, when students tell me, "I'm going to be a producer, so I don't really need these private lessons," I say, "No—you don't know what you're going to need." And I just know for a fact that the work you put into your instrument can open all these doors that you can't see when you're young.
"I've had to have a real awareness of stylistic authenticity and personal authenticity, and the balance of those two things."
After Yale, I studied at the University of Texas at Austin, which was where I really developed my writing and teaching skills. I began teaching at the high-school level, building programs through a nonprofit, through the Austin Classical Guitar Society, and also working in colleges, and starting to develop those kinds of programs. Since I was pursuing my DMA, I spent a lot of time working with musicologists and learning how to write about music. And having to approach music in a deep research capacity has helped me see the differences and similarities in the traditions that I love.
When did you first arrive at Berklee, and what drew you to the institution?
I came to Berklee as the assistant chair of the guitar department in 2013. I was drawn to this school because I felt that it puts its resources behind all the things that are important about music and music education, with all of the different styles represented equally. I also felt that the values of the department are balanced between tradition and innovation, and encouraged students to come and do what they love, whether it's jazz, classical, blues, rock, or a mix of these things together.
It's a community of players—the largest and most stylistically diverse guitar department in the world. And there's the sense that no matter what style you choose, you have to know your instrument deeply, in a technical way—the way it works, your fretboard, and all of the musical vocabulary. And you have to understand how your hands work, so that you can play safely, with beautiful tone and phrasing. And that you need to have a sense of how to work with other people, how to build relationships musically and professionally.
In a nutshell, would you say that your approach as the chair is to teach guitarists, regardless of their stylistic orientation, to have a deeper understanding of the instrument in general?
It's not a classical guitar department. I just happen to have studied the classical guitar. It's funny that you say that, because people will always ask, "Is this a jazz school?" Because the tradition of Berklee is jazz-based. I would say my philosophy in general is to be the chief advocate of a guitar department that values every style, and that respects equally tradition and innovation in each of those styles.

Guitars
1990 Thomas Humphrey Millennium with 640 mm scale fretboard, spruce top, rising sun bracing, and Brazilian rosewood back and sides
2003 Thomas Humphrey Millennium with 640 mm scale fretboard, spruce top, lattice bracing, and Brazilian rosewood back and sides
Kirk Sand John Knowles Thinline custom
Collings 01E (just for fun)
Amps and Effects
Custom Fishman Aura Acoustic Imaging pedal
AER Compact 60
Strings and Picks
D'Addario Pro-Arté EJ46 (.0285–.044) or EXP46 (.029–.046) for classical guitars)
D'Addario EJ40 Silk and Steel (.011–.047) (on Collings 01E)

What's something exciting that you've been up to lately at Berklee?
I started a contemporary classical ensemble in this semester, teaching it with David Tronzo, and it's about interpreting and improvising and writing new guitar material. That ensemble has a collaboration with a regional festival, so the students can premiere their work in a concert with 10 other music schools and conservatories. And so, from a curriculum development standpoint, there is every opportunity to do something valuable and artistic. That's translated well for me, because I feel like my career, up until coming here as assistant chair, was based on having roots in the classical tradition, but a love and a continuing study of many traditions of music.
On a different note, talk about your concert guitars.
My two main guitars are by Thomas Humphrey, both with Brazilian rosewood back and sides, for warmth and depth of tone. Tom was based in New York City and was a fixture in the guitar community for years. He invited guitarists who played his instruments to spend time at his home. He would cook for us, listen to us play, and take extensive notes. When I was in college, I bought my first Humphrey, made in 1990, from a woman who couldn't play it anymore.
I was encouraged to contact Tom, and then he took me under his wing. Over the years of knowing him and playing for him, he built me a guitar based on his perceptive observations. My 2003 Humphrey is the one he built for me. The top is Engelmann spruce, with lattice bracing that incorporates some graphite, for volume. That guitar has the sound that I'm always looking for: this lyrical, clear, well-defined, fat beautiful tone, with an unmistakable voice separation.
When I came to Berklee, I realized I wanted something—especially for the duo with David Tronzo—that would be a beautiful-sounding, nylon-string instrument with the capabilities of an electric guitar. John Knowles and Tommy Emmanuel—Chet Atkins' C.G.P.s [Certified Guitar Players]—happened to be in Boston when I was thinking about this, and they recommended I contact a guitar maker named Kirk Sand. So, I got in touch with Kirk, told him what I was looking for, and he took the body of the John Knowles Thinline model, had me measure the neck of my Tom Humphrey guitar, and built me a hybrid. That is a beautiful-sounding instrument.
What are you using for sound reinforcement with the Sand guitar?
The wonderful people at Fishman had me over to their studios to record with my favorite microphones, and then they put those sounds in an Aura Acoustic Imaging pedal. I generally use that pedal and an AER amp, for this beautiful, wonderfully full sound that blends so nicely with David's slide-guitar playing on his electric guitar.
When I talk about these things, it makes me realize how much being here at Berklee, in this community of all of these styles together, has influenced my concept of sound, and what's possible, because the advice you can get in terms of what you're looking for, and how to match it with the right tool, is really endless.
Kim Perlak plays a piece by her former teacher Benjamin Verdery in this concert video from Boston GuitarFest.
---
Watch Kim Perlak in her adventurous duet with Berklee colleague David Tronzo in this faculty night performance, starting at the 6:05 mark.
---