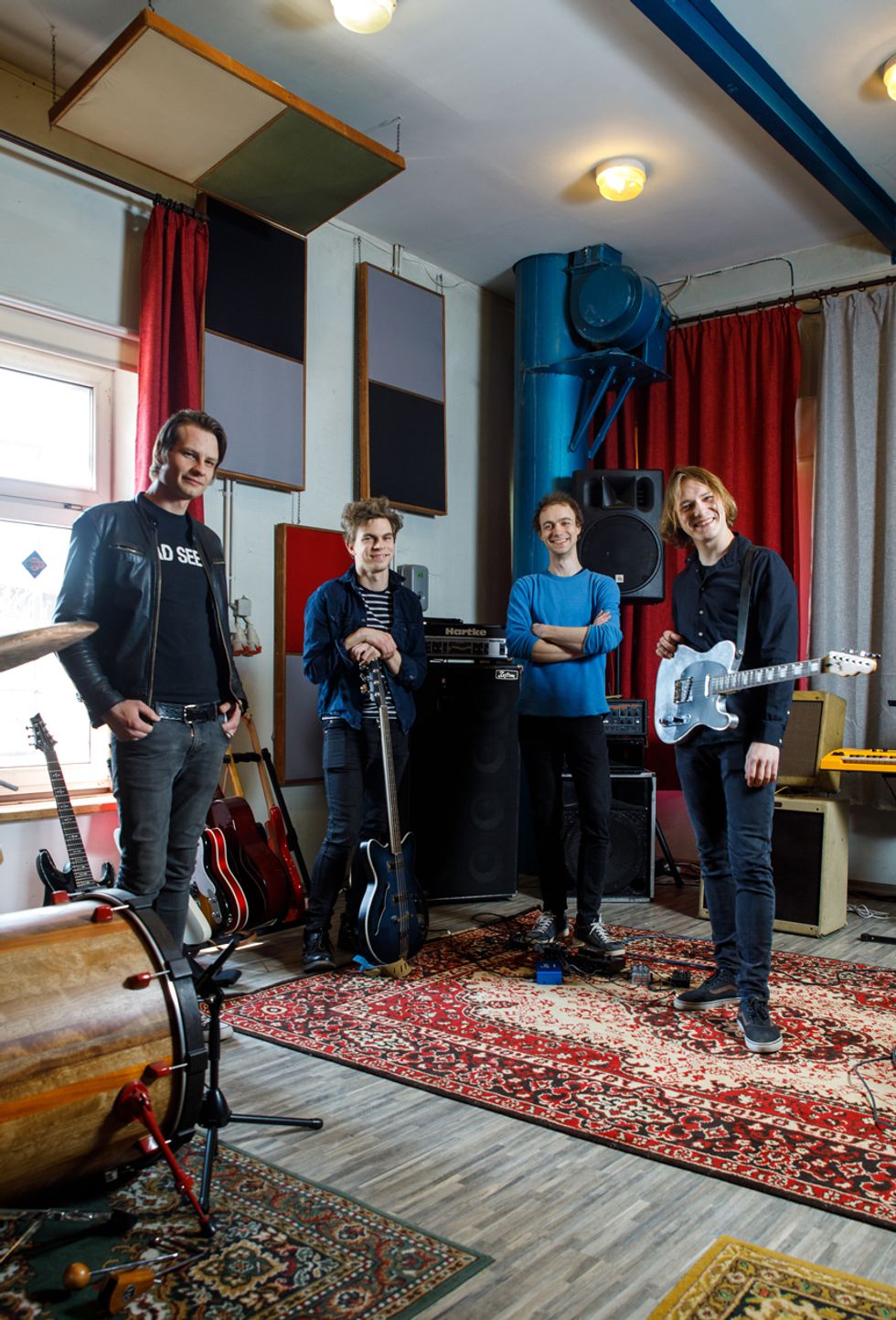 Gamechanger Audio founders (left to right) Didzis Dubovskis, Kristaps Kalva, Mārtiņš Meļķis, and Ilja Krumins in the company's office jam space in Riga, Latvia. Photo by Dmitrijs Sulžics/F64
It's Summer NAMM 2017, and Gamechanger Audio's booth—hardly more than a card table—is shoved against the back wall amongst the sorts of wares that make you quicken your pace and avoid eye contact. You hazard a glance at the lone product on display, a skinny black box with a brass piano-style sustain pedal, and can't help thinking it seems as much a solution in search of a problem as the head-scratchers at adjacent booths.
And yet the earnestness/nervousness of the twentysomethings behind the table makes you wonder. Do they know how brash their company name strikes everyone? Do they realize how many people passing by are smirking inwardly and writing them off, stomp unheard, for their sheer audacity?
"So we're sitting there, cooking ribs and drinking beer, and we were really fascinated by this thing called the Bug Zapper on the front porch. It was going nuts … Later on, we realized, Hey, let's do something with that Bug Zapper-type technology!"
Intrigued, you stop and strike up a conversation. The Slavic accent is immediately apparent. The leader introduces himself as Ilja, plugs in a guitar, and begins explaining the strange-looking device. Your eyes wander back to the piano-style activator, and you feel a surge of the previous pessimism mingled with budding pity and horror: Did these guys blow a wad of cash on a transatlantic trip just to exhibit a quirky-looking sample-and-hold stompbox?
But the more you listen—both to the words coming out of Ilja's mouth, and to the haunting layers of textured sounds coming from the Plus—the more you realize perhaps you are the fool.
* * *
Six months later, the Latvian crew is once again at NAMM, only this time it's the huge Winter show in Anaheim. What's more, they're on the main show floor—up where the big cats play. Their booth is four times its previous size and crawling with guitarists itching for a go at Gamechanger's latest: a deliciously violent-sounding fuzz box called the Plasma Pedal that appears to be more conventional than the Plus … that is until you see that the input signal is passing through a xenon-gas-filled tube as literal lightning.
* * *
Fast forward another year. Gamechanger (gamechangeraudio.com) is back on the main floor at Winter NAMM, and the crew, dapper in skinny ties, white shirts, and black slacks, is even bigger. The company's newest devices—Motor Pedal and Motor Piano prototypes that pair musical-note information with mechanical sounds emanating from a series of miniature spinning motors—don't just prove Gamechanger Audio is aptly named. They make it clear it's high time PG take a closer look at this cadre of truly different-thinking designers.
* * *
"I fucking hate pedals … I think the whole boutique pedal world is a little bit boring … a little bit silly."
It's not quite the sentiment we're expecting from the head of an outfit whose sole products at the moment are pedals. It's more like what we'd expect from, say, a hardcore rockabilly player. Interestingly, Ilja Krumins is both.
"We don't see this as a pedal company, and we don't see ourselves as pedal nerds," he says matter-of-factly via video-call from the company's sparkling-clean two-level loft office in Riga, Latvia. "We are trying to find interesting ways to mangle sound … to extract sound out of interesting items."
The more we talk—about Krumins' background, about the contextual genesis of Gamechanger's fascinating designs—the more the genius of this up-and-coming outfit comes into focus.
* * *
Let's start off talking about your journey as a musician. Who were your favorite guitarists and bands?
At first, Jimi Hendrix. Deep Purple, the obvious bands that you gravitate towards when you're starting. The stuff that made guitar cool. Pretty soon it was Stevie Ray Vaughan, then Brian Setzer. Then probably John Scofield. These days my favorite guitarist is J.J. Cale.
I started playing when I was 16. My first guitar was a '78 American Strat, which was super rare in these parts. It was $500, so it was a no-brainer. That was a big motivation to play. In a year's time, me and Matiss [Tazans, drummer and Gamechanger's marketing and public relations manager] met and formed a standard, pentatonic-scale-based rock 'n' roll band.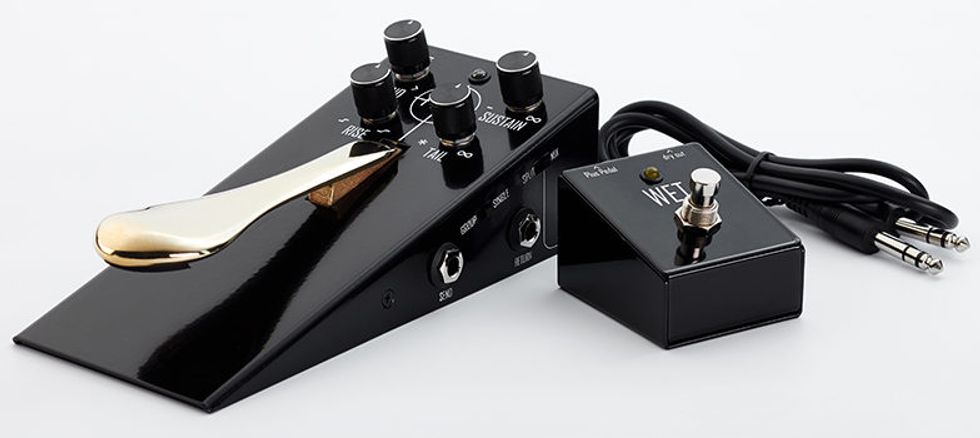 Gamechanger's first product, the Plus Pedal, records all incoming audio and uses a pressure-sensitive, multi-function piano-style pedal to engage a "smart looper" at varying levels of attack and decay as the unit captures the last half of the latest note or chord and creates a seamless loop out of it.
How long ago was this?
Well, me and Matiss were 17 and 18. Now we're 27 and 28—oh fuck, that's 10 years ago. Shit! Okay, so yeah, then we started, like, ripping off all the classic rock stuff, writing our own songs. The band was called Acid Rain. We had the basic mix of dad rock, played with a lot of enthusiasm and energy.
What sorts of gear did you use early on?
I fucking hate pedals. I only had a Tube Screamer and a Danelectro Dan-Echo. I loved that echo, because it's one of the few that does a good slapback—and it has a tone control. I don't understand why delay pedals rarely offer a tone control. When I want a rockabilly slapback, I want it to be really crispy and trebly, because I want it to be tight. But if I'm doing a slower delay, I want to roll off the treble so it's wishy-washy. I also had a Fulltone Supa-Trem. So yeah, Gretsch guitar, Tube Screamer, delay pedal, tremolo, and a Fender-style amp.
We spent about a year in rehearsals, and for two years we were actively playing clubs. We were really loud and just having fun, compensating for our lack of skill with energy. It was a very nice, innocent time. Then me and Matiss realized we wanted to play more and try to make it a job. At some point, we grew out of dad rock and became fascinated with Americana genres. We made a band called the Big Bluff, which was a rockabilly/country/rock 'n' roll cover band. We spent a lot of years gigging, trying to learn all these songs properly, but playing them super loud and with a young, rock 'n' roll attitude. We were super influenced by psychobilly.
Then what?
In 2012 or 2013, me and Matiss, and our bass player, a double-bass guy, moved to London and started writing our own songs. We thought, Okay, Stray Cats became really popular and got their break in London…. We were following that vibe, but mixing really heavy riffs with slap bass through Boss pedals. We all loved the Stray Cats drummer [Slim Jim Phantom], who plays a stand-up kit, so we rebuilt Matiss's kit. He has this gigantic '70s, Bonham-style Ludwig drum kit, and we made it so that it could be played standing up. This massive, freakazoid Ludwig kick drum was on a stand, facing upward. It was me on a Gretsch guitar, Matiss on this big Ludwig monstrosity, and this crazy dude on double bass playing through fuzz pedals. We thought we were going to take the world by storm with this strange mix.
---