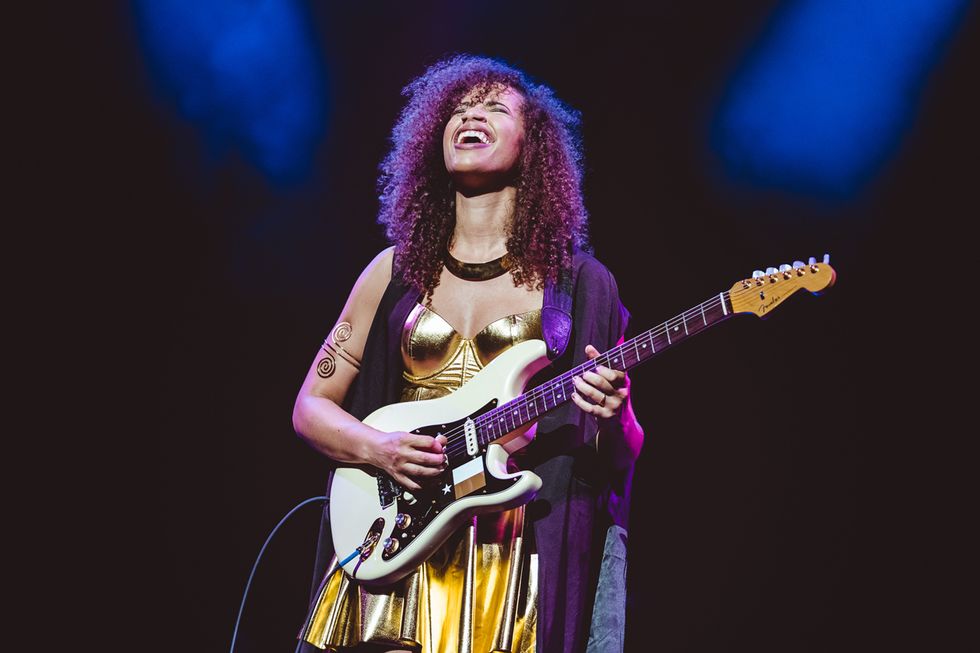 Although she loves blues and cites Buddy Guy, Derek Trucks, and Eric Gales as influences—and plays guitar with a tone and approach that's in the genre's camp—Venson has little patience for purists and is committed to working outside of any box. Photo by Ismael Quintanilla
Do you have specific goals that you strive for in your music?
Overall, I'd like to maybe remind people that learning how to play instruments, and also putting the time into mastering an instrument, is very valuable and we shouldn't lose that. A lot of people don't really do it anymore, because you can make music now without having to learn how to play an instrument. Which is cool. It's expanded the soundscape significantly, which is rad. But I want to expand the soundscape while preserving all of the stuff that we've been doing as a species for, like, thousands of years. We still need to learn how to play instruments. It's very important. And we also need to make new instruments. Like we still need to do this side of the music. Just because it's a little bit easier to learn how to do something else and still be able to make music doesn't mean that we should always take the easy route.
Are you afraid of that being lost?
I'm afraid of the standard being lowered. I'm afraid of people in a hundred years not being able to play as well as people a hundred years ago. If so few people do it that we really don't have any true masters anymore, the bar just gets lower and lower, and then we don't have any more Mozarts.
What is the songwriting process like for you?
Lately, I've been working with these drum machines and samplers. I'll lay down some kind of beat, because I love music that's driven by a beat. Some of my favorite styles of music are hip-hop and R&B, and the beat in hip-hop and R&B really drives the song. And so I used to start with chords and a melody and then put lyrics on it. That's how I did it for years. But now I've been starting with a beat. And that's been really fun. It's been a really great time and I'm still really stoked about it. I'm going to write a whole record that's just all about the beat.
"If you were to blindfold somebody, they wouldn't be able to tell the difference between a Fender Blues Junior and a Kemper profile of a Fender Blues Junior. I guarantee it."
Who are your favorite hip-hop and R&B artists?
I really love Lauryn Hill, old R&B like Donny Hathaway, Kendrick Lamar, J. Cole. I'm super in love with Notorious B.I.G. I really love some of the early Kanye records.
Any specific records?
College Dropout. Homecoming was so good. I still listen to that record. I can't let it go. I love it so much. I really love [Lamar's] Good Kid, M.A.A.D. City. I also like Section.80. And then Lauryn Hill's Miseducation is absolutely the gospel, as far as I'm concerned, for '90s hip-hop. I really love the Fugees—pretty much everything they did, especially "Ready or Not." I also really love the Roots, George Clinton, and the stuff in the '80s that Stevie Wonder did. He could be classified as R&B, if you want, but honestly I don't think he has a genre. In my early days, I was pretty obsessed with Alanis Morissette. I love all of her music. She's an amazing singer, and she's got a really distinct style where she, like, flutters her voice. She always knows exactly when to do it. I used to listen to her obsessively when I was in high school. There were years where she was the only one I listened to.
Who are your guitar influences?
A big one is Buddy Guy. Another is Jeff Beck. I also used to listen to a lot of Derek Trucks when I was just learning how to play. I was trying to listen to people to see what I could learn about everything that the instrument was capable of when it came to tone. Like, how far do I bend the strings? That kind of stuff. Get all the information you can get from listening to other people play. So I listened to a lot of Jeff Beck, a lot of Buddy Guy, a lot of Black Keys—their rhythm parts are really groovy. Lately I've been listening to Eric Gales, 'cause he's just the best guitar player in the world. Trying to steal some of his licks … you know how it is [laughs]. When he shreds, it's like Eddie Van Halen meets George Benson meets Yngwie Malmsteen, and then add 10 to the BPM and that's him. But a musician's work isn't all in how much they can shred, honestly. If he just wants to break your heart with a melody, he can do that too. He's so tasteful. Eric Gales knows how to do both and can also do both better than everybody. [Laughs.]
What's your main guitar?
A Fender Stratocaster Elite. It's the only guitar I play if I have any control over it.

Guitars
Fender American Elite Stratocaster
Amps
Kemper Profiler
Effects
Eventide H3000 Ultra-Harmonizer
Electro-Harmonix SYNTH9
Strings and Picks
Ernie Ball Paradigm (.010–.046)
Various picks

Why do you love it?
I'm used to it, but also I acquired it in a really special way. I felt like it almost spoke to me in the store, and I feel it still does speak to me. It has songs in it. Every time I start playing it, within, like, three minutes I'm already playing something. I don't know where the songs come from, so the only thing I can deduce from it is that there's songs in that guitar.
Is there any other gear you use that you feel passionately about?
I use a Kemper profiling amp. It's the greatest thing ever. It allows me to have access to 15 different amps and pedal rigs all in one little box. And because it's a profiling amp, it's not working with amp samples. It's working with amp algorithms. If you were to blindfold somebody, they wouldn't be able to tell the difference between a Fender Blues Junior and a Kemper profile of a Fender Blues Junior. I guarantee it.And it also profiles effects pedals. I have vocal wah, Vox wah, vowel wah, phaser wah—where like this blues wah pedal will switch on and off phase. It's crazy. It sounds like a spaceship taking off. And I have a classic Cry Baby wah. So I don't have to have a pedalboard anymore. I don't have to have an amp anymore. All I need is this little poster-sized Kemper, and it comes with a foot controller.
I plug an expression pedal in, to sometimes control the feedback of the delay. You can tell the expression pedal to do a ton of different things. You can use it to turn up the gain on a distortion pedal. You can use it as a volume pedal. And [the Kemper] has three or four different inputs for expression pedals, so it just depends on how many you want to buy. I've been doing really freaky shit with that Kemper, man. It's awesome. It's like the greatest thing that's ever happened to me.
On the last track of the album, "When It's Right," there's a really cool guitar and synthesizer transition. How did you do that?
That song was recorded live in the studio, with seven of us in a room. I played the piano for the first entire half of the song, all the way through to the horn breakdown section where they play the whole melody together. Then there's that synthesizer being held, right? And I have a little [Novation] MiniNova [synthesizer], and I turn on the latch button, and I hold these chords out and do a filter effect, and then I finally bring it down and then I fade it out. And the keyboard player, who's been playing the organ the entire time, starts playing the acoustic piano part while I put the guitar on my body and start playing the guitar. And then from there, through the remainder of the song, I play the guitar.
What's your favorite track on the album?
I would say "Afterglow." It's poppy and weird and I love it. It's like my middle finger to all the people who call me a blues band. It's like, "Hey check out this blues artist." [Laughs.] Have fun calling me a blues artist after this one. I know that there's blues on the record. That's because there's blues in everything. There's blues in hip-hop. Blues is the source of all modern music. I'm not a blues artist. I'm just an artist. I'm an American music artist. I make American music. I basically play all of the styles that have been influenced by blues, that I'm capable of writing. That's what I do.
Jackie Venson's live solo performance of "I Will Find a Way," a song from her new album, Joy, displays her unique blend of raw blues-influenced guitar shredding with electronic beats—an approach that allows her to handily incorporate hip-hop and R&B elements into her sound.
---