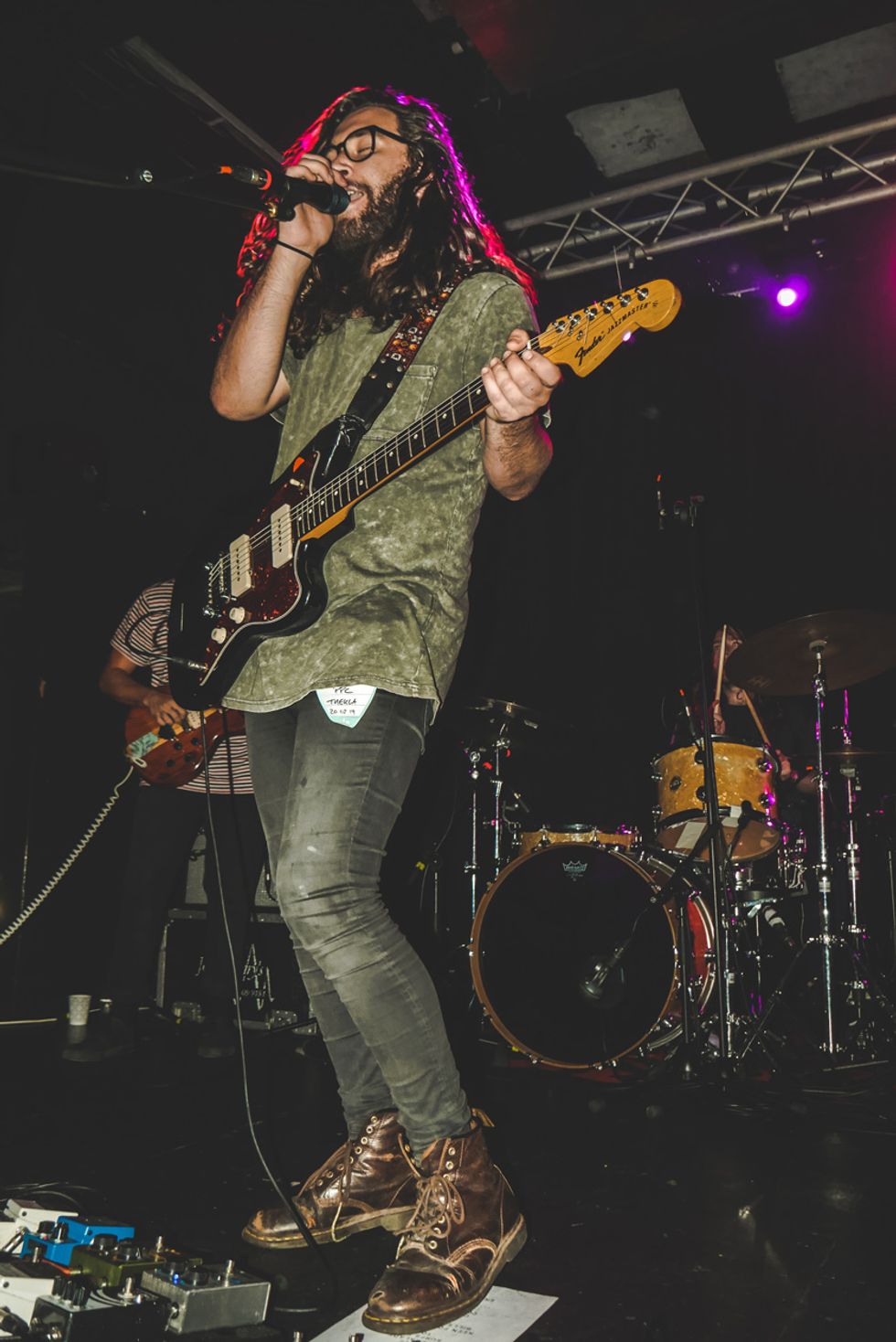 "I've been playing Jazzmasters since the beginning of this band, and before that I was a bass player," says Jack McEwan. He uses heavy strings on his Jazzmaster to get a tone that feels more like a bass. Photo by Alice Sutton
Luke, as the band's tube-amp guy, what amps did you record the album with?
Parish: I've got a 1964 Sears Silvertone piggyback amp that I tracked a lot of this album with. It's got the same tubes in it from 1964 and it's such a nice amp with a great bluesy, gritty tone. Anything grittier is that amp, and then for the delayed, airy-sounding guitars, I used a 1968 Fender Deluxe Reverb, which does that clean, bigger headroom thing so well. That Silvertone is really my baby, though. I love that thing!
"Fields, Woods, Time" and "Native Tongue" as a pair are great examples of that heavily tweaked post-production technique. Can you tell me what we're actually hearing in some of those guitar parts—particularly those bits that sound like insects buzzing around?
McEwan: Both of those songs are almost all guitar, aside from the string quartet and a little bit of synth in the sub frequencies at the end. Everything there started off as one little guitar piece that I had and I just kept layering and layering over it until it sounded ridiculous, and rather than taking the ridiculous sounding bits out, I left them in and took away the clean parts. When all of those overdubs were left without the original concept, the whole thing changed into what you hear, which includes a lot of the things that Luke mapped out over it. That happened to a lot of these songs, actually. Also, I had a sitar and all of the strings had snapped off but two, so I was super limited, but I really wanted that sound on a track. So I figured out what key those strings were in and we did a guitar thing around that. I made a drone out of that sitar sound and put it on a loop with a huge amount of reverb and delay, and the sitar's pickup was dying and crackling when I was using it, so the sound of the pickup dying and crackling are actually those weird bird-like clicks you hear on that track.
"Luke taught me everything I know about amps and pedals. Before we started this band, I was using a Line 6 amp and he turned me onto valve amps when I had no idea." —Jack McEwan
The riff that opens "When in Rome" is really killer.
McEwan: Yeah! With "When in Rome," I remember I was listening to Dopesmoker by Sleep on repeat. As soon as I stop listening to something after that kind of repeated absorption, I tend to have those ideas infiltrate my playing and they'll come out when I record ideas. I'll usually chop things up or move them around structurally, but that song just came out the way it is on the album. It just rolled really easily with that vocal pattern. We really worked hard to keep the intensity and keep it heavy, but give it clarity and dynamics so it's not just all headbanging—though we almost made it as intense and heavy as possible.
How do you approach getting those songs together live, considering how many parts are involved and how much chopping gets done in Ableton?
McEwan: That's the million-dollar question, isn't it? Once you create something in a bedroom and then take it back to a band, you sort of feel like you're bastardizing your own music. It needs to take on its own thing live, and songs like "Hymn for a Droid," "Keen for Kick Ons?" and "Bill's Mandolin" are aimed at a rock band, but songs like "Dezi's Adventure," "Native Tongue," and "Digital Hunger" require an eight-piece band to emulate the quirky bits of record live. We let the songs take on their own life live and that isn't necessarily exactly what's on the album. I love having a good tone or hearing a huge guitar-amp sound like on Tame Impala records. And once we have that sort of budget or learn those recording techniques, I'd love to chuck that in a record, but we're really more idea-focused than tone-focused because of our recording restrictions.
Parish: For those DI parts, I use a Strymon BigSky live as they're quite versatile for reverbs and sparkly stuff. Some of the effects on the record you realize pretty quickly there's just no way to cop live, and I've always stuck to analog pedals for the most part, so it's been tricky trying to work some of the more complicated digital stuff in. My most used effect live is an Electro-Harmonix Deluxe Memory Boy delay. I bought that pedal, and the track "Entropy" on the first Porn Crumpets record was born out of a specific function from that pedal, where you hold down one of the buttons and it cycles through the pedal's rhythmic settings.

Guitars
Fender American Special Jazzmaster
Amps
Fender Hot Rod DeVille
Vox AC30
Effects
Way Huge Swollen Pickle
Boss BD-2 Blues Driver
Boss TE-2 Tera Echo
Way Huge Echo-Puss
Strings and Picks
Ernie Ball Power Slinky strings (.011–.048)
Dunlop .60 mm picks
It sounded almost like a synth and created a whole new thing for me, so I've stuck with that pedal for almost everything. It also holds its tone really nicely, even when you drive it with fuzzes. I've used vintage Roland Space Echos and stuff and they're amazing and sound incredible, but so impractical for touring. I use an Analog Man Prince of Tone for my overdrive and I leave that on permanently because my amp is so clean, that pedal has just the right amount of crunch for me. Accepting that you can't replicate everything you've done in the studio is a good thing for us and there's something special about having a slightly different live show, so long as it still sounds cool and is its own thing. I think a trap you can fall into with tech is you stop focusing on your playing and the energy and fundamentals because you're too busy tap dancing on pedals. If you focus on the raw playing and keeping things tight with the band, no one is going to care what delay pedal you're using or whether or not it's time-coded to the song. And it helps you connect with the rest of your band more because you're not stressing out about synthesizing the record live as a one-for-one replica.
Jack, you mention Tame Impala and you guys are from the same scene in Perth. Between Tame Impala, Pond, and King Gizzard & the Lizard Wizard, Australia seems to be a really fertile place for guitar rock these days.
McEwan: I think basically because it goes really well with beers! You can just go to the pub and there'll be bands on and it just works. And the weather plays a role, too. Australia has 300 days a year of sunshine, and you don't really want to be inside in a club, but outside in a garden with a band cranking! People socialize more around that and if you go to see a band that's really good and catchy, that's the most inspirational thing you can witness and it builds a scene. When we started off in Perth, I'd go to house parties and there would be one band playing inside, another one in the garden, a skate ramp with people riding, and you felt like you were part of the music scene instantly, even if you didn't play an instrument. It was very welcoming. Those bands that play in the gardens and lounges of your friend's weird house are also playing pubs and clubs and it's very inspiring. You've got that kind of scene throughout Australia, Melbourne, and Sydney—bands all seem to have similar stories. I think it's got a culture built around it in the same way the California scene does, which I think is why a lot of the California psych bands like Frankie & the Witch Fingers, Ty Segall, Wand, all have a similar sound. I think that's the American sibling scene to the Australian bands like King Gizzard and that group of bands.
Parish: I remember reading an article with Nick Allbrook from Pond and he was talking about Perth's isolation from the rest of the world makes us a bit ignorant to what's out there, or at least not as overwhelmed by everything. Say you're a painter and you grew up in France. You've got thousands of years of famous painters and works and it's quite daunting to come out in the art world because of what's already been and what's there. We don't get a lot of artists through Perth. It tends to get left off of a lot of tours because it's so far away and expensive to get to, even within Australia. So that isolation aspect means people feel like everything they're doing is either really original and creative, or they're at least not so daunted by what else is out there already. You're in a bubble and everyone's really excited and energetic about making music. You're not confronted by feelings of oversaturation or being inundated with bands like someone trying to do a psych band in L.A. or something.
Watch the Psychedelic Porn Crumpets recreate their complex songs onstage during a full set earlier this year in Lille, France.
---