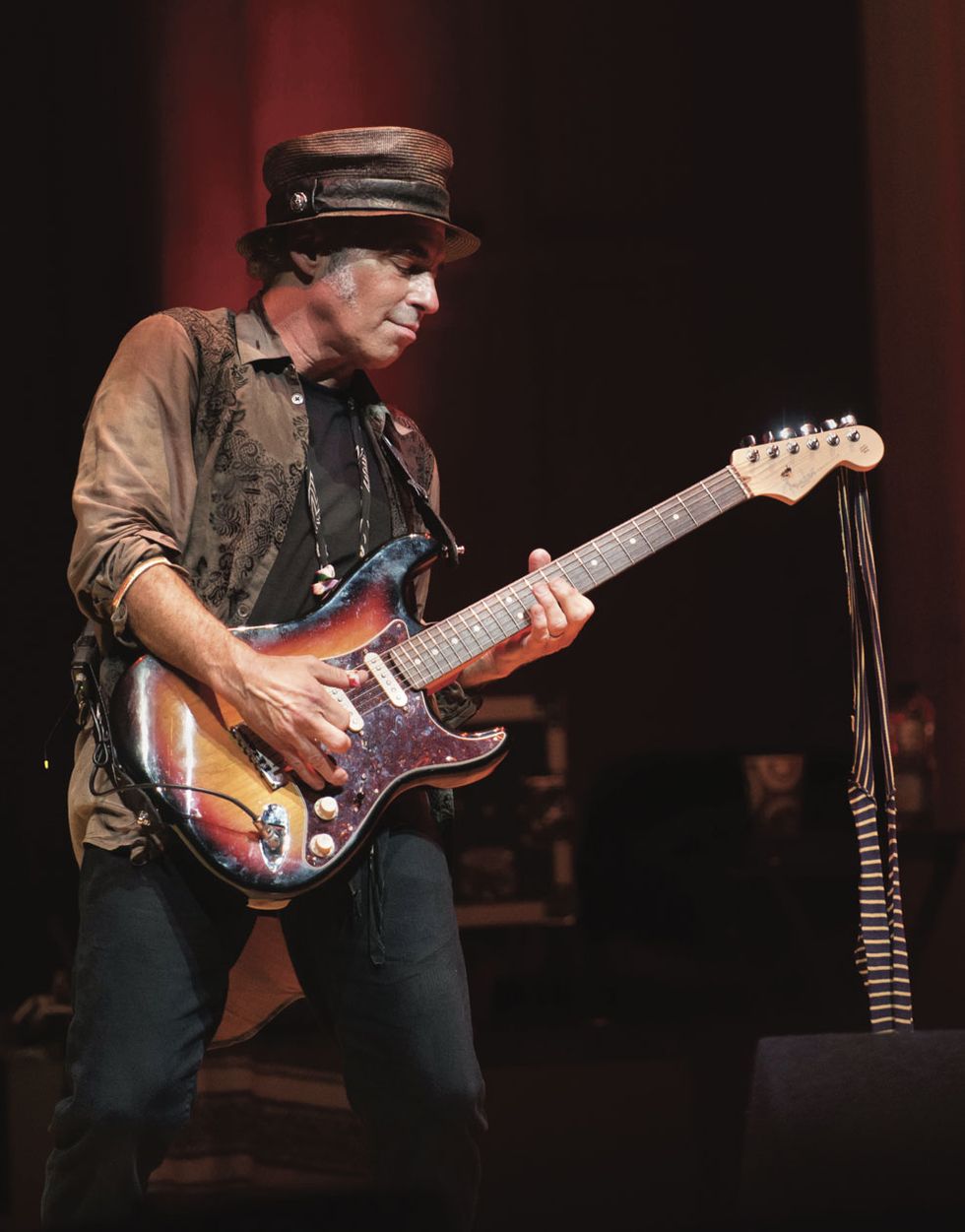 Nils Lofgren's music career spans half a century. He was 19 when he played on Neil Young's 1970 album After the Gold Rush, which helped him land a record deal for his band Grin in 1971. Photo by Eric Marcel
What do you bring back from sideman work to your work as a bandleader?
All of this stuff by osmosis I bring back to my own music constantly. I come back really refreshed.
Case in point, after The River Tour [2016] with E Street, I came back and I started working on Blue with Lou. It just refreshes me, gives me confidence, gives me different ideas, and inspires me being around other great players and in bands doing other things besides singing the lead vocal and playing the lead solo, and all of this kind of mishmashes together.
Thanks to Neil and Dave [Briggs], I recognized that when I have a chance to play in another great band, it might be good for me. Most solo artists don't want to do that, but I found I really enjoyed it and got a sense of perspective. When I can't get a record deal or my record didn't sell and companies aren't interested in me, I have this alternate universe where some really great musicians like me and trust me to make music with them, which kind of gives me some peace and comfort as I've gone up and down the rocky music business without really any hit records to speak of. Having two guys like that mentor me, discovering how much I enjoyed playing in another band and not having to be the leader, it's actually really good for my spiritual musical health and when I come back to my own music.
How did working on a new album together follow the shows you did with Crazy Horse?
Neil got excited and started writing for Crazy Horse. He sent a demo and said, "Hey, I know you've got your record coming out and your tour, but I keep writing and they're coming pretty fast. Any chance we could all get together in Colorado and start recording a new record before you hit the road?" My wife Amy and I—we just lost our 15-year-old dogs Rain and Groucho a year before—we were really kind of hunkered down for a couple of weeks with our remaining two dogs to grieve. Amy gave me the thumbs up and said, "I'll drive you up there." So we had a good time then, just reminiscing and realizing, despite life's ups and downs, in particular all the great musicians we've lost that I've gotten to play with over the years. To have the four of us, after 50 years, have a chance to show up in a beautiful place and create something new, there's a deep gratitude that comes with it. After 50 years, that's really rare.
"To have the four of us, after 50 years, have a chance to show up in a beautiful place and create something new, there's a deep gratitude that comes with it. After 50 years, that's really rare."
Billy and Ralphie and I knew that we had the songs, because at this point Neil sent us 11 demos. Neil said, "Don't work out parts, just get familiar with the chords on the demos," which is reminiscent of all my work with Neil, and it turned out to be a beautiful experience. We knew whatever obstacles were in front of us, either way, we were going to do something special and, as always, we kept it raw and raggedy. There was no rehearsal, no practice.
We didn't want to use headphones. Neil was singing through a PA in the room, so it was kind of like a little live club setting and we went after an immediate discovery of the song. We took the arrangements off the demo and just followed them. Of course, if Neil was playing a solo and kept playing, we wouldn't go back to the verse until he got back to the verse. It was very organic, stream of consciousness, and it was just a brilliant chapter. You don't get many chapters like that after 50 years … and to have a new album come out of it was really exciting. I've already ordered mine.
That's so cool! It's great to hear that things like that are still exciting.
I know management will send it to me, but just the excitement of being a kid, getting it sent in the mail… you open up, it's a new Neil Young record with Crazy Horse. Oh yeah, I'm in the band too, but past that, it's inspired, exciting music and I just got a kick out of going on and pre-ordering it.
You play in so many diverse situations where what is required of you is so different. When you come into Crazy Horse, is there any thought that goes into how you play or what kind of sound you use?
It's a very organic thing for me. My first professional thought is just to get to where I'm being me. I got my old goldtop Les Paul—a '52 with a Bigsby that Neil asked me to put on when we did the Trans album and tour. I knew that might be a main guitar for this and reminiscent of what Poncho was doing. I've got my old Black Falcon, a beautiful Gretsch guitar that certainly is reminiscent of Danny's work.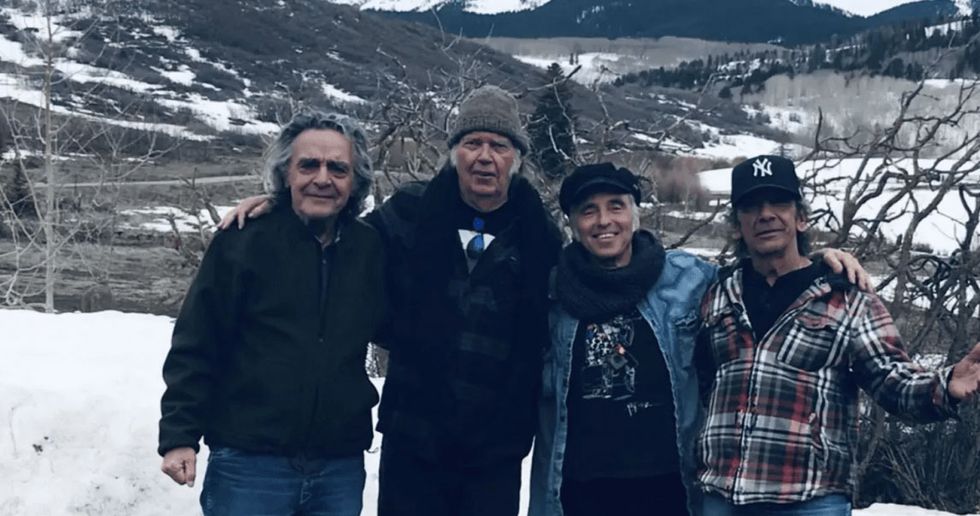 Billy Talbot, Neil Young, Nils Lofgren, and Ralph Molina shown together in April 2019 in Telluride while making the new Neil Young and Crazy Horse album, Colorado. Photo by DH Lovelife
A big turning point, for me, when we made Colorado: We'd done a couple things and we were looking at "Olden Days," which was a beautiful song and, of course, the demo is this haunting, acoustic, funky demo sounding like Neil just made in his home. He started thinking maybe I'll play the acoustic like he did on the demo, and I said I'm hearing an accordion, because I've played accordion with Neil through the years, and he said, "Yeah that that might be good. Let's start with that."
I went to take out my accordion but Neil kept kind of pacing around and we looked at each other and said, "Why don't we try this song and see what it sounds like with two electrics?" And we put on our electric guitars. I used my '52 goldtop for that and, sure enough, there was a ragged kind of beauty that spoke more as a Crazy Horse production.
Those great songs, you can treat them a lot of different ways. For songs like "Green Is Blue," where it's gotta have some intimacy and Neil's on piano, I picked up an electric guitar and turned my amp down quite a bit. Rather than an acoustic, I wanted to have a big space. I believe I used my Black Falcon for that and a much quieter amp. So the space for this beautiful haunting song is one of my favorites in a long, long time. It's just one of my favorites that Neil did in Winnipeg and the song floored me.
"Rainbow of Colors" was a waltz and, again, you could do it with an acoustic guitar and dobro or lap steel or accordion or piano, but we started approaching everything with the two electric guitars whenever we could and it kept the album a little more of a true Crazy Horse record. You know, you can't force every song into that, but we found that the songs really lend themselves to that and there was more of a kind of celebratory, rough vibe to them than doing the traditional acoustic approach and that served us well throughout.

Guitars
1952 Les Paul goldtop with Bigsby
Gretsch G6136TBK Black Falcon w/Bigsby wire arm
Amps
Fuchs 4 Aces 112 combo
Effects
Barber Burn Unit overdrive
Strymon Brigadier dBucket Delay
TC Electronic ND-1 Nova Delay
Strings and Picks
D'Addario (.009–.046)
Golden Gate thumb picks
"She Showed Me Love" is a great example of a classic Crazy Horse long jam. We had a lot of logistical stuff where we wanted to play live and we didn't want to use earphones. We weren't trying to play loud for the sake of it, but, you know, you want to push the amp a little bit and get the vibe and sometimes we had trouble getting Neil's vocal over the band, because we were using a PA in the room.
They were pretty long days, and I remember, one night, we'd had a good day. We were kind of fried but we decided, let's get set up for "She Showed Me Love." Let's get everything positioned so tomorrow when we come in, we've got the bugs out of the way and we can play. So we did that. When we got to the point where we were ready, for a change, Neil's microphone didn't feedback—we were playing pretty loud. He sang a great vocal on the whole body of the tune. I'm still in rehearsal mode, getting ready for the session tomorrow, but down in it with the guys. Next thing you know, we get into this nice groove and it goes on for 14 minutes. Nobody wanted to stop. We kind of got into that headspace where you're teenagers in the basement and you're just having fun playing with each other.
When he came in the next day, we thought, we'll see where we left off, and we listened to it. It was a very organic kind of democratic recording, but when everyone had opinions, eventually, of course, it fell to Neil and he was like, "Man, I don't know if we need to play it again. I'm not sure yet. Let's hear it again." That led to realizing we've got the take, when we thought we were just making sure we were happy with the setup.
There's really amazing sounds on the album.
Another thing, this is a hoot: Ten years ago I had both hips replaced—too much basketball on city courts and too many backflips off the trampoline, jumping off stacks and risers. So, I took up tap dancing as a hobby. It's playing drums with your feet. So I got this demo for "Eternity," and at the end of every verse, Neil goes, "Clickety-clack, clickety-clack, ooh," like a train rattling over the rails. When I heard the demo, I was in my kitchen making coffee. I started tap dancing. I just got a kick out of it. I mentioned I brought my tap board just for the hell of it and told Neil that story. At the session, Neil goes, "You know what, let's start with 'Eternity,' and Nils is gonna be tap dancing. He's going to be on the platform. So plug it in and dial it in."
Neil got a track that he loved and a vocal that was live and it wasn't cut to a click. So he said, "I know it's a little weird, but I want to play live to my vocal and piano. I'm going to play live vibes." Neil was there with this beautiful, big vibe thing plugged in. Billy and Ralphie on bass and drums, I was in right in front of the drum kit with my tap board. Right out of the gate, we started the sessions with me on my first tap-dancing session with Neil Young and Crazy Horse. I just thought, "This is what the band's about. You get excited, you have an idea, you don't keep it a secret, and next thing you know, Neil calls it out and we do it."
This live take on "Love and Only Love" features Nils Lofgren in the second guitar position and has all of the interplay and ragged off-the-cuff feel of a classic Crazy Horse performance. Young, Lofgren, and bassist Billy Talbot spend most of the time at center stage jamming through a series of musical peaks and valleys. Around 8:30, the dynamics lower and Young's roaring guitar noise leads the band into a devolution of the song, reminding the audience that the band can still find new ways to play old tunes.
---