Who has been the most influential guitarist on you, as a teacher and as a person?
The guitarists who have been the biggest influences on me are the ones I've never met. Most have died before I got a chance to meet them. Some of the biggest ones are T-Bone Walker, Charlie Christian, B.B. King, Freddie King and Gatemouth Brown, along with Guitar Slim, Johnny Guitar Watson, Lowell Fulsom, Tiny Grimes, Kenny Burrell and Herb Ellis. There are so many!
I was lucky to be able to play with Herb Ellis, make two albums with him and get to know him. He is a personal hero of mine because of it – he's a very nice, warm guy who made me feel like I was doing something. When I recorded with him I was extremely nervous. I was afraid I really wasn't at his level and that I shouldn't be recording with him. We went into the studio to cut two songs together and it ended up being two albums.
How gigantic is the honor to have been a founding member of Roomful of Blues? Easily New England's longest running premier blues band, Roomful is on a pedestal with the best predominantly- white blues bands of all time.
Well, you know, it's so far in my past. I'm proud of the group and the work I did with them, and I'm glad that they're still going. It was my beginning in a lot of ways, so it means a lot to me. It was my first band out of high school, so when I started that band I was really intent on creating the sounds that I loved. I wasn't concerned with commercial success. The fact that it has remained and done well for so long is a great thing.
I'm actually working on a CD now that is 80% material that I did in the early version of Roomful of Blues. It's kind of a tribute to my heroes back then. It is a jump blues album, which is something I wanted to explore. That's why I added the horns to Roomful of Blues, to explore the '40s jump blues sound. This CD is kind of going back to the beginning for me. It's kind of fun, but weird at the same time. I had Rich Lataille, the sax player from Roomful, play on quite a bit of it. It's just funny how, after all these years, we played the same way together as we did back then – it's like getting into a time capsule. [laughs]
What was it like to replace Jimmie Vaughan in the Fabulous Thunderbirds?
Jimmie and Kim [Wilson, vocals] and I were friends, all the guys really. Before they were really known, they came up to the New England area. We used to hire them to open for us at gigs because we wanted our crowd to hear them. We got to know them and jammed a lot together. There was a lot of musical friendship between the two bands. I knew them so well that it was a natural, easy progression to walk into that band. I respected Jimmie's playing a lot, you know. It was a fun period for me – I did miss doing my own thing, but I enjoyed it and I'm glad I did it.
You've earned quite a lot of recognition and awards over the years. W.C. Handy Awards, Best Blues Guitarist four times out of five. B.B. King has said that you're one of the great players.
The Houston Post
declared you "one of God's guitarists." The New York Times labeled you "a soloist of stunning force and originality." You were nominated for a Grammy for Best Traditional Blues Album for
Guitar Groove-A-Rama
in 2006 and received a Rhode Island Pell Award for Artistic Excellence in 2007. Has it been difficult to live up to such high standards and expectations on a regular basis?
You know, it's great to win all of these, and sometimes you wonder if you deserve all of this. Why is this all coming together in a close period? You wonder about all of these things, especially if you feel like me, as I'm developing kind of an arthritic physical handicap. I start thinking, Geez, when I was really going strong and I had all of the facility in the world, I never got these awards. Of course, everybody ponders things like that. Am I deserving of this? I think any artist has a tendency to second guess himself and reevaluate his talent, what he's doing with it. It's a serious thing, and I take it very seriously. But it certainly is a great thrill to be honored in all of these ways.
---
" Whatever works is the way to go – there are things that you blend that don't work sometimes, and there are things that do work. For me, it's been fun to touch on all of the bases, mix up the stew, and put my own twist on things. It has been a great thing for me, and it has kept me very excited about music over the years."
---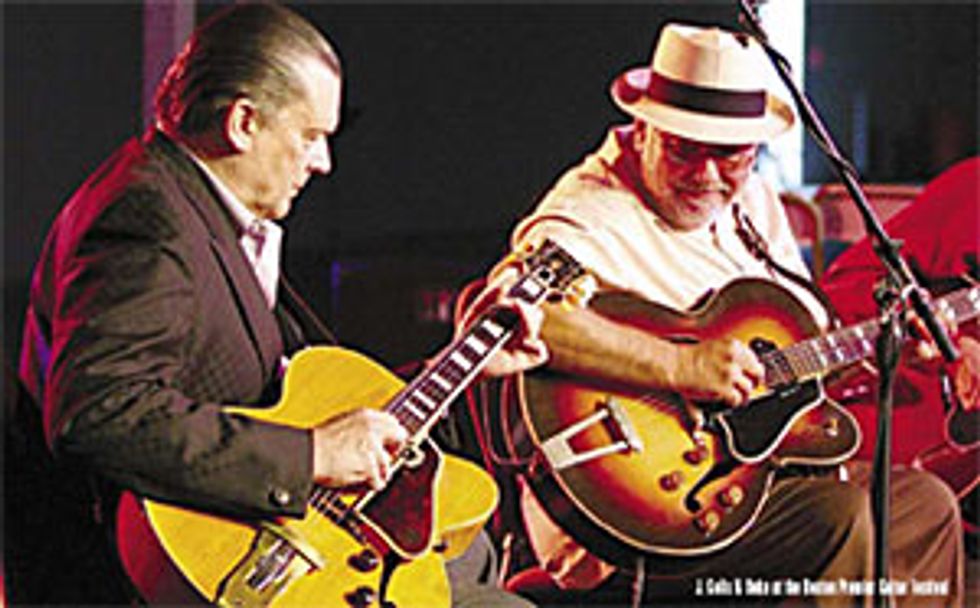 I'm quite fond of "Blues-A-Rama" from your 2006 release,
Guitar Groove-ARama
. It's amazing how you went through the different styles of these great guitarists and influences – I don't think many players could have pulled that off as well as you did. Did a lot of time and effort go into that, or did it just come naturally?
Well, it was kind of a one take thing. It's something that I've played a little bit over my career, on certain nights when I had my trio. I could easily take any direction because of the three-piece setup, without worrying about tripping up other musicians. It was something I'd do occasionally off the cuff.
I had Guitar Groove-A-Rama all recorded and I decided I was going to add another tune to it. So we went in to do it and in the second chorus I go from E for Muddy Waters down to Guitar Slim in F. I have to use a capo for that because it''s the only way to get that style. My biggest problem was putting the capo on and getting it right, so it wouldn''t fret out and sound weird or out of tune. [laughs] Then I had to take it off and continue the song. I had a few false starts, but I think I got it by the third time. Luckily, it was right in the beginning so if there was a problem I wasn''t like ten minutes into the song.
By the time we got to the third one I got the capo to stay on right and everything stayed in tune. That was the third try and the third take of it, so it was completely live, straight out in the studio.
How did you go about acquiring the tone needed to replicate each style?
Well, as they say, it''s all in the fingers. I played it all on one guitar, of course, a Les Paul. I had a Tubescreamer, so when I needed it more distorted I would have that tone. I also went between my fingers and a pick. I have a way of tucking the pick under my middle finger, and playing with my first finger and thumb. I played a lot of the styles with my fingers and some with a pick. Of course, I used different pickups for certain parts. Between all that, I was able to replicate all of the tones.