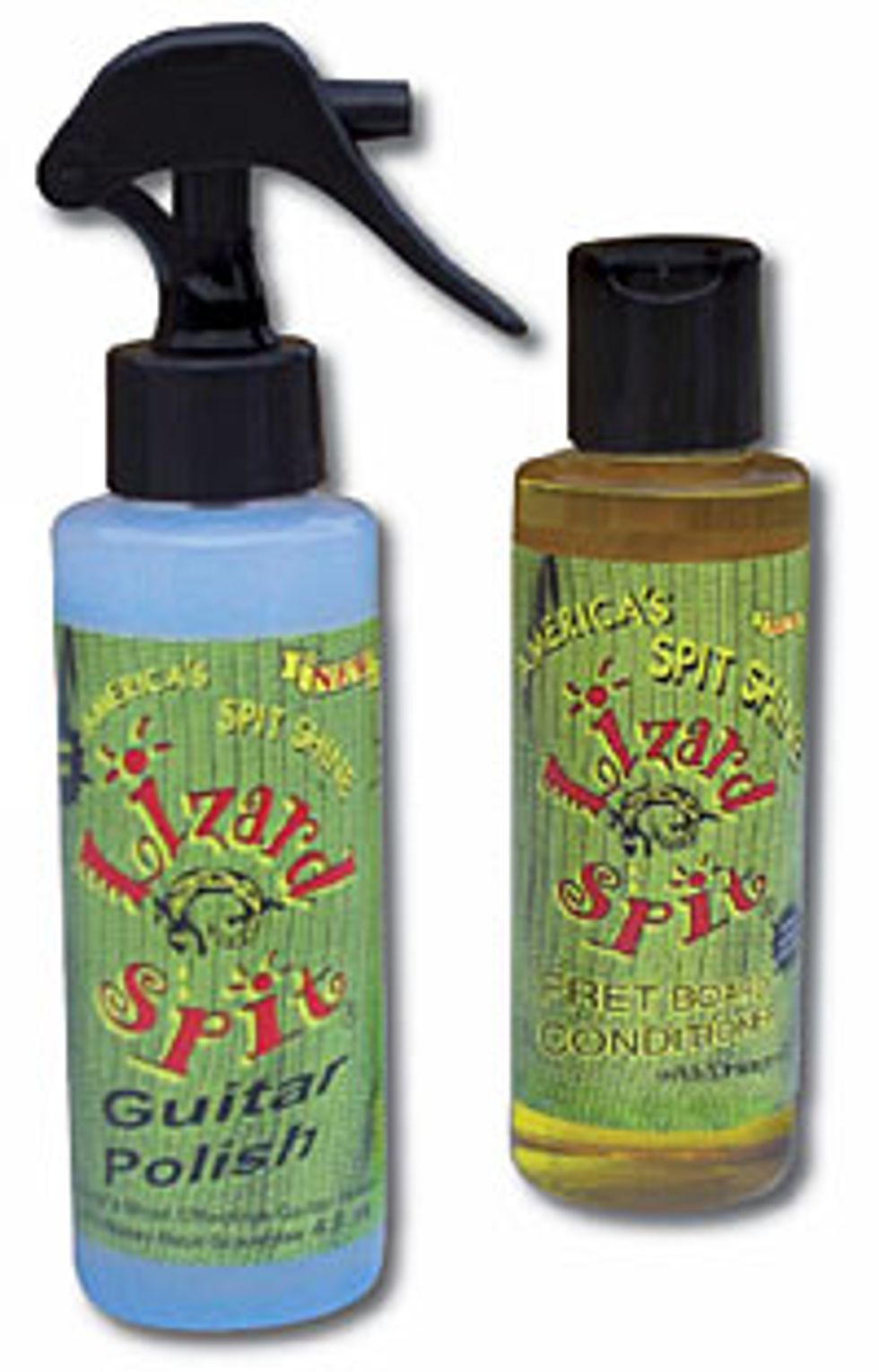 As the custom and collectable guitar market continues to evolve, so does the need for quality instrument care products to enhance and protect these investments. Lizard Spit has been producing quality instrument care products for eight years and distributing them to touring musicians and guitar builders around the world. As the producs are now becoming more accessible to the general public through national distributors, our friends at Lizard Spit have submitted their patented MP01 Spit Shine Polish for review this month. We stepped into the PG Review Chamber to clean up all of our dirty axes.
Pure Filth
My first experience with the Lizard Spit polish was applying it to a black Gibson Chet Atkins. This guitar was absolutely filthy from a previous night's performance, covered in sweat as well as plenty of the infamous bar lube, beer splatter, smoke residue and various forms of unidentifiable fluid. Needless to say, this would be the ultimate test for the Lizard Spit polish.
Upon using the four-ounce polish sample that was submitted for testing, I noticed a new spray applicator that produces a fine mist to the surface of the instrument, effectively eliminating run off and drippage. The mist also eliminates waste from run-off, ensuring every drop of the formula is utilized, hopefully saving you a few bucks. In spraying a topcoat of mist onto the Chet Atkins, I quickly noticed the inviting citrus smell of the Lizard Spit polish – clean and refreshing.
Cut The Crap
I began the buffing process after spritzing down my guitar, using the MP04 12" x 12" lint-free polishing cloth (sold separately). In short, the Lizard Spit cut through the crap in a hurry, considering the guitar was filthy and is black to boot. Cutting through sweat, smoke and beer splatter can be a challenging task for any polish, but the Lizard Spit polish buffed to an incredible mirror-like luster on ol' Chet. The ease of the buffing is what was really surprising – the spray applicator applies a thin coating of polish, and provides just the right amount of formula to the surface of the instrument, preventing endless buffing from overspray.
Lizard Spit polish utilizes a unique blend of carnauba wax that binds the water molecules as opposed to using traditional silicone. The result provides superior protection as well as an unbelievable shine that requires less effort to achieve both.
That Spit Shine
After cleaning up the dirtiest of guitars, I can definitely say Lizard Spit polish is one of the finest products available now. The stateof- the-art trigger atomizer prevents waste and overspray, making application a breeze. Combine this with a brilliant mirror-like shine, as well as superior protection for your instrument, and you have an ideal way to maintain and protect your cherished instruments. It truly is "more shine in less time."
Rating...
Features...
 
Value...
 
Overall...
 
---
Lizard Spit

lizardspit.com
Our expert has stated his case, now we want to hear yours. Log on to premierguitar. com, click on "Forum" and share your comments and ratings.