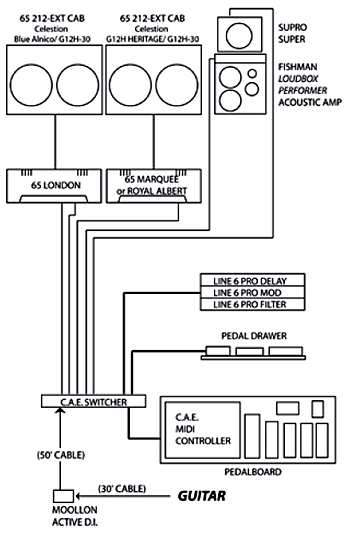 Last month I talked about the thought process behind pulling together my stage rig. This month, I'll take you through a more detailed description.
As you see from the rig diagram (Fig.1), I have a combined 80' of input cable from the guitar to the input of the rack, which will totally suck the life out of a signal. So we plug my initial 30' guitar lead into a Moollon Active D.I. pedal located on stage. The pedal's buffer circuit boosts the signal through the 50' run to the rack and amplifiers, usually placed off-stage next to my tech Andy Wolf's workstation.
The Line 6 Rack Modeler effects and the pedals in the drawer are all connected individually to the Bradshaw (C.A.E. – Custom Audio Electronics) switching system, a single-spaced rack unit at the bottom of the rack assembly. Each effect is switched in and out of the signal chain. Individual patches on my MIDI controller save any combination. The output is fed to any combo of amplifiers, also programmed as part of each patch. I'll have anywhere from one to five patches per song, depending how silly it gets.
I have two input lines to the 65-London head feeding into both channels, allowing for either or both and combined with other amps.
You'll notice the Boss NS-2 Noise Suppressor pedals in pedal drawer (Fig.2). These are Roland's take on DBX-style noise reduction, and I have these placed after each of the potentially noisy pedals – fuzz, distortion and compressor. The pedals aren't always noisy, but in combination with others they can be. The NS-2s eliminate all noise so I can have all on and the sound is dead quiet – with the guitar volume rolled off. Plus, I like the way the NS-2 boosts the clarity of the signal.

You'll also notice the Supro Super in the rig diagram, a late '50s single-ended 6- watt amp, like a Fender Champ, with an 8" speaker. We throw a Sennheiser e609 in front (or earlier MD409 versions – used on all cabinets), feed it thru the monitors and it sounds as big as the rest of the amps.
The Fishman Acoustic amp allows for monitoring my acoustic sounds onstage as well as what I hear in the in-ear monitors. The D.I. output on the amp feeds to the console. My pedalboard has a CAE MIDI Controller, Ernie Ball Volume Pedal, Moollon Wah, and controller pedals for the three Line 6 units. Figure 3 shows my Variac AC power setup that I've discussed in detail in a previous column. My entire rig – rack and amps – is powered by this unit. This affords clean hum-free power regardless of how crappy the local AC power may be, which is easily 60% of the time. We set the Variac for an output of 120 volts AC.
See you next month!
---
Peter Stroud
65amps/co-founder
www.sherylcrow.com
65amps.com