Rickenbacker 12-strings have always been finicky instruments. I own a '92 330-12 with "toaster" pickups with an Amber Fireglo finish. Do you do your own setups and adjustments?
Yes, I do. If you check out my video,
The 12 String Guitar of Roger McGuinn
on Homespun Tapes, I demonstrate how to do your own neck and action adjustments and string changes.
Although you are most often associated with the Rick 12, you played other guitars with The Byrds. Can you tell us about those instruments and why and how you used them?
I had a Gretsch Country Gentleman strung with flatwound strings that I used on "Have You Seen Her Face"—that was The Beatles' influence again.
I could have sworn that was a Telecaster.
No, it was a Gretsch. After Fender was taken over by CBS, we got a ton of Fender gear. They gave me a Mastertone banjo, which is the one I traded to Bernie, an electric 12-string that I used in the studio, an acoustic guitar and a Telecaster. I used the Gretsch a lot around the time Gram Parsons was in the band and we recorded
Sweetheart Of The Rodeo
. The Rickenbacker really didn't fit too well with the country music we were playing.
I remember seeing you with your later band Thunderbyrd in the mid-seventies, and you played a Rickenbacker Light Show guitar on "Eight Miles High." Do you still have it? What was it like to play?
I have two of them and they're fun guitars. The first one I have is no longer in playing condition, but the second one is in pretty good shape. However, I don't use either of them anymore.
You also had a Rickenbacker Bantar, didn't you? That was their hybrid instrument that combined a banjo and a guitar, right?
Yes. I actually took that on loan and sent it back. I tried it for a little while, but it wasn't very useful.
Do you have any other interesting guitars we should know about, and do you consider yourself a collector?
I'm not a collector, but I do have a very nice '57 Martin 00-21 that I paid $165 for. I'm not permitted to say how many Rickenbackers I own.
How did your signature Martin seven string come about?
Air France broke one of my acoustic 12-strings, so I wanted to condense the characteristics of a six and twelve string into one guitar. We designed a prototype on napkins over lunch and Martin put it into production. It's now available in a less expensive version. I call it the "Swiss Army Knife" of guitars. It gives me nice bottom end tone, and it's easy to do bluegrass runs and bend strings.
Over the years, what amps have you used?
In early days of The Byrds, I used an Epiphone with two 10. speakers. We went direct in the studio. Later on, we used Fender Dual Showman amps for live work, which we liked a lot. John Sebastian turned me on to the Roland JC-120, and that was my amp of choice for years. Although it's a great-sounding amp, I go direct onstage. I use an in-ear monitor and AM wireless. In fact, I start my show offstage, so you can hear me, but not see me. I plug into a Sennheiser wireless, into the Janglebox and then a direct box.
How do you view The Byrds today, after years as a solo artist? When you look back over your time with the band, what are your thoughts and feelings about those days?
It was a lot of fun. We left a great legacy of music. I hear new, young bands all the time that are influenced by The Byrds' music.
Do you think the music holds up well?
Yes, it does hold up quite well. I'm amazed at the young kids I meet who are into the Byrds' music, people in their twenties—hippie kids you might say, who like the band.
What are your favorite Byrds tracks?
"Renaissance Fair," "Time Between," "Have You Seen Her Face," "Turn! Turn! Turn!," "Mr. Tambourine Man" and "So You Want To Be A Rock 'n Roll Star." There are a lot of favorites.
Are there any you'd like to forget?
If there are, I've forgotten about them! [laughter on both ends]
The Byrds went through many stylistic and personnel changes and pioneered folk rock, psychedelic rock, country rock and even space rock. Which version of the band was your favorite and why?
I don't have one favorite, but the first version of the band with Gene Clark, David Crosby, Chris Hillman and Michael Clarke was special. We had no money, no day jobs; we were almost starving, but then we had a number one hit with "Mr. Tambourine Man," and everything took off from there. It was an amazing acceleration to go from nothing to number one. I also liked the later version of The Byrds with Clarence White.
Let's do a little name association. David Crosby:
Great harmonies.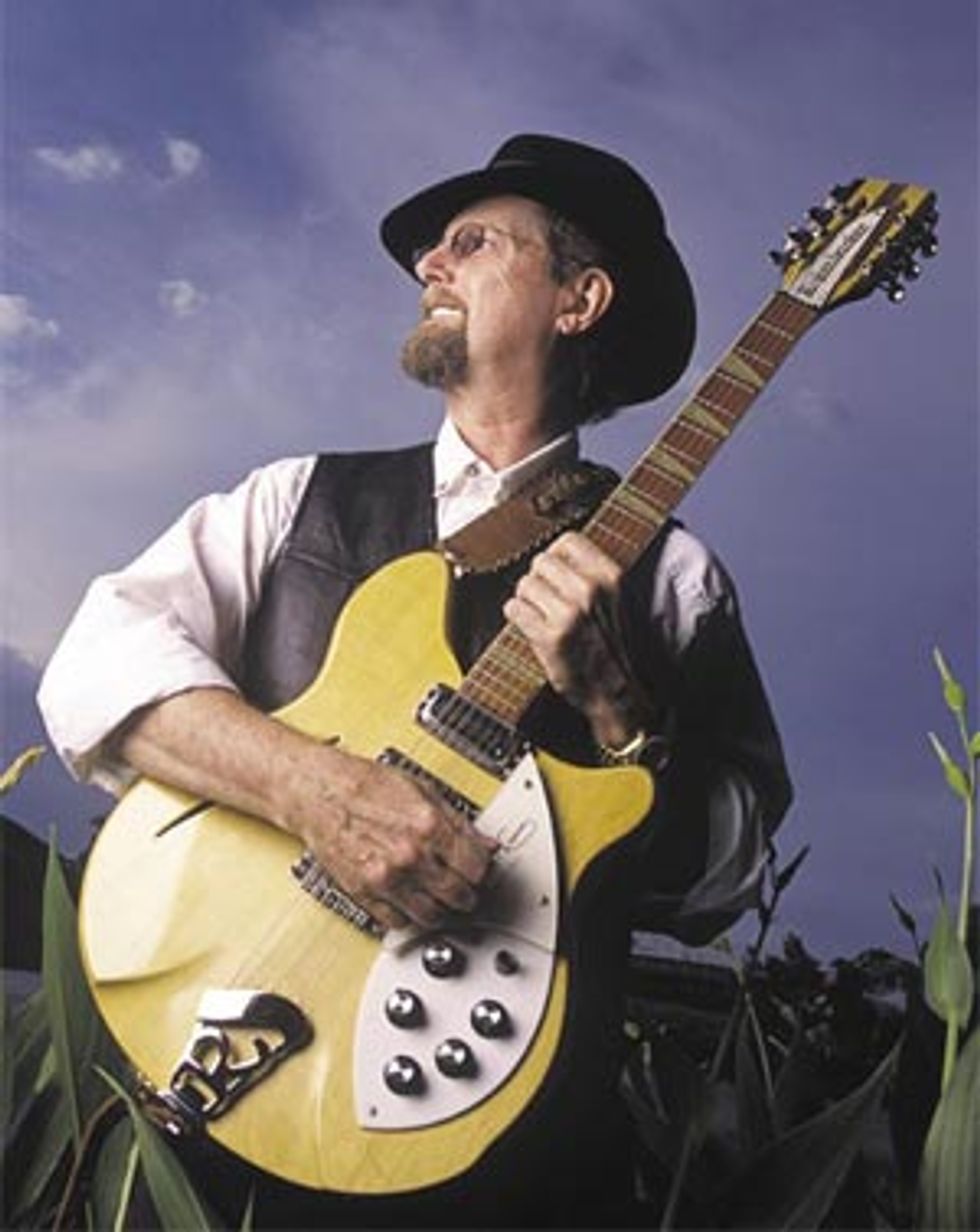 Chris Hillman:
Multi-talented.
Gene Clark:
Wonderful songwriter.
Michael Clarke:
Looked like two of The Rolling Stones.
Clarence White:
Incredible genius.
John Lennon:
A way with words.
George Harrison:
Loved his guitar work.
Bob Dylan:
Great songwriter