Luthier John Dick has been quietly building classical guitars with one of the most innovative top designs in modern luthiery. We get an exclusive look at John's "sandwich top" process and discover the intersection of aerospace technology and building tradition.
"Wow" was all I could say. "Holy..." "How did..?" and "What is that guitar?" are a few of the other typical reactions you'll get from people hearing a John Dick classical guitar for the first time. Pat Smith, a jazz guitarist from California, said in his recent review for HarmonyCentral.com, "I have played it next to several of my friends' classicals and it is like comparing a harpsichord to a grand piano." The playing experience is equally remarkable. Swedish guitarist Jakob Henriques stated, "The John H. Dick guitar is the first guitar I have been able to really make music on. It also has the ability to make me feel that I am together with the instrument," a true indication of the fulfillment of the bond between player and instrument. Guitarist and songwriter Rick McCarty may have summed it up best: "It's a classical guitar that thinks it's a steel string."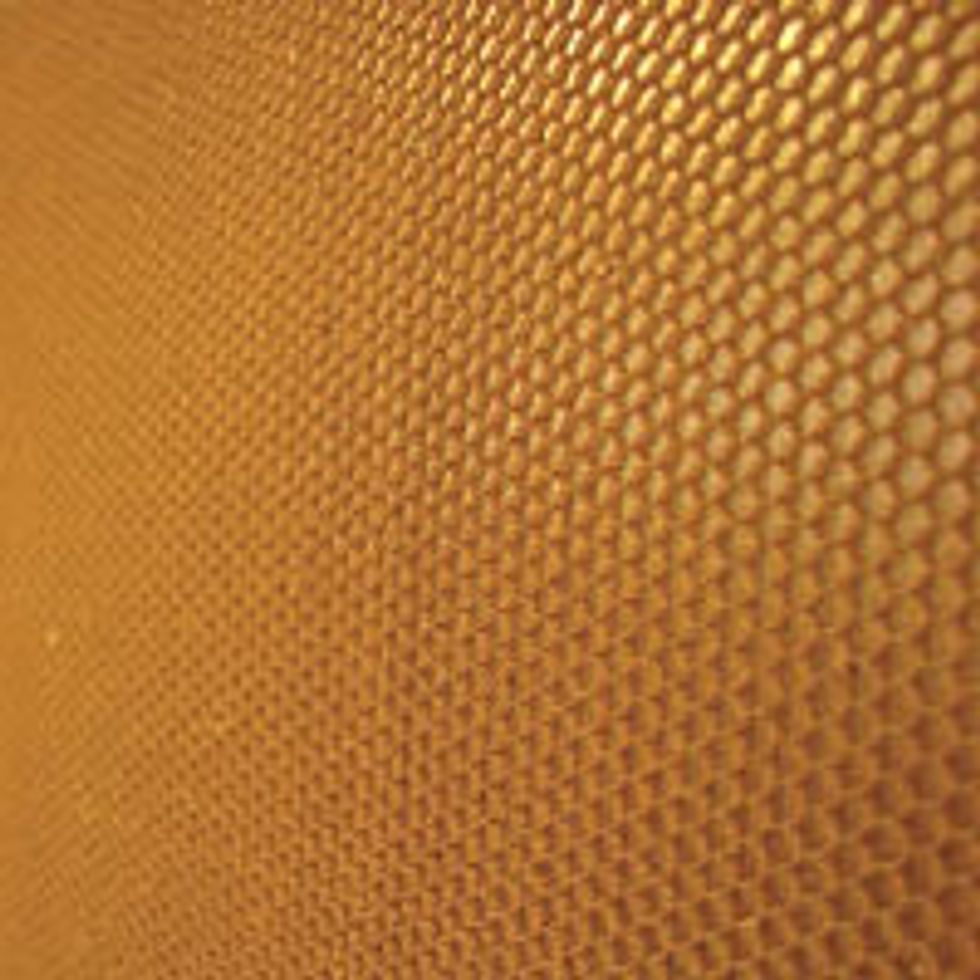 Luthier John Dick calls the bucolic town of West Branch, Iowa home, and his workshop in the basement of the old inn is a study in creativity. Sawdust is a constant in any workshop, but there's a heady aroma here with the rich, intoxicating smell of fine rosewood and Master grade cedar. There are several guitars in various stages of completion stacked and hung above one workbench, and across the room is a large shelf with stacks of tops, sides and backs for future use. The vast array of John's handmade guides and tools recalls the old joke, "How many luthiers does it take to screw in a lightbulb?" (Only one, but he will need to build a jig first.)
John started as a cabinet maker, but became attracted to the idea of building guitars in 1993, initially spending time as an apprentice to Iowa instrument maker and repairman Harold Marling. From the beginning, John's guitars were outstanding. However, his recent experiments have been extremely effective. Constantly experimenting, always inventive, John has pulled off the seemingly impossible – a nylon string guitar with the vibrancy, sustain and definition only thought possible with steel strings. These guitars are finding a home in many areas of music – classical players, folk artists, pop musicians and Atkins-style players are each discovering their incredible tone and playability.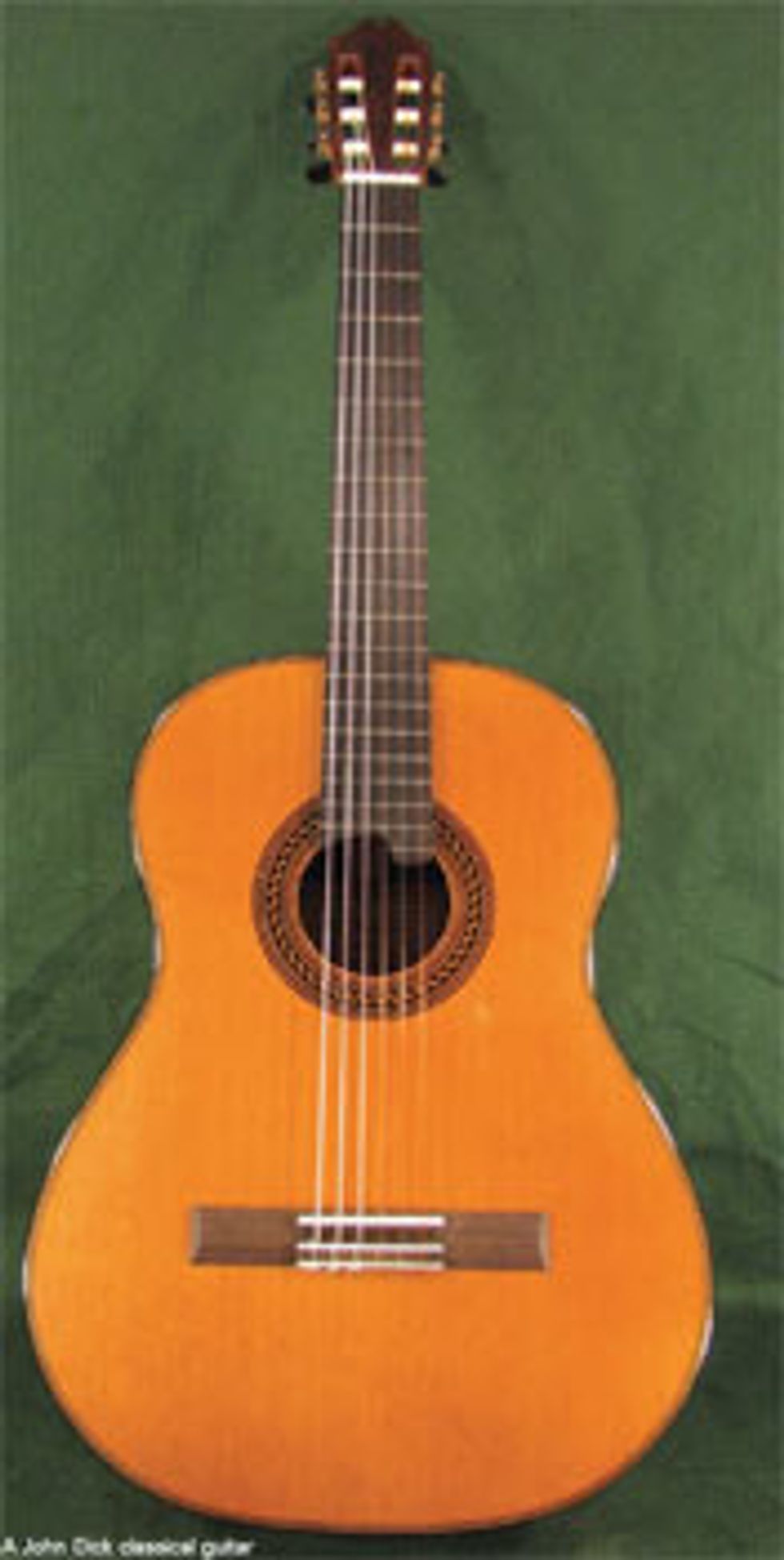 A big part of the secret to John's amazing guitars is the top. The story began ten years ago as John started making classical guitars with a "sandwich" top featuring the high-tech aerospace material, "Nomex," originally developed by German classical guitar builders Gernot Wagner and Matthias Dammann. Nomex is a super-lightweight, flexible fiber that when sandwiched between two solid materials such as wood, results in a strong and lightweight laminate. Commonly used in the aircraft industry and applications where its heat resistant characteristics are valued – firefighters and racecar drivers in particular – its resonant properties are only now beginning to be explored for use with musical instruments. Gernot Wagner was struck by the incredible tone produced when tapping the skin of a friend's homemade aircraft, and immediately thought of incorporating this new material into a guitar top.
John's first exposure to the sandwich top was in 1997 when a friend purchased the first of Wagner's guitars to come into the United States. Soon after, John heard classical guitarist David Russell in concert at the Guitar Foundations of America (GFA) conference in St. Louis, playing a Dammann guitar. John thought the guitar was being amplified, but it wasn't – it was simply the sandwich top technology in action. He then decided to incorporate this technology into his instruments, and has been building nothing but sandwich tops since 1998.
John spent several years experimenting and perfecting his particular recipe for the sandwich top, and although Wagner, Dammann and Dick tried for many years to maintain a trade secret with this technology, several online communities have recently discovered and revealed their processes. Other builders have claimed to know the secret, and have produced guitars using sandwich tops with varying degrees of success. Outlined below is John's process, straight from one of the originators. He has graciously agreed to share his process exclusively with the readers of Premier Guitar.

Materials
The top is made up of two .5 to .55 millimeter thick pieces of tonewood for the inside and outside of the sandwich. The core of the sandwich is the Nomex sheet, with a 95 millimeter wide piece of redwood running directly down the center. The rosette must be placed in the outside skin before thicknessing.
The Nomex can be ordered in several thicknesses from the supplier, Texas Almet (texasalmet.com). John orders his Nomex precut to .080 inches or 2 mm thick – the thinnest it can be cut. The sheet's original size is 4'x8', but John asks them to cut it down 2'x3' sheets for ease of shipping and storage. The grade is 1.8 pounds per cubic foot with a 1/8" cell; however, steel string makers have found the three pound grade to work better for the higher tensions involved. It is approximately $150 per 4'x8' sheet and can also be purchased through Luthier's Mercantile if smaller quantities are desired.
The redwood core piece should also be 2 mm. John prefers the properties of redwood over a cedar core for a cedar top, or a spruce core for a spruce top. However, since that is a matter of preference you may find you like other woods. Note that the darkness of the redwood will show through very white spruce, such as Engelmann. However, if you use a spruce core the Nomex will show through. John prefers to use the darker Sitka spruce for his tops for that reason, but he most often uses cedar, which blends with the redwood perfectly.
Additionally, you'll need Gorilla Glue; a long-acting, marine-quality epoxy to bond the pieces together; a rubber roller; woodworker's masking tape, a veterinary syringe and a vacuum press.
Getting Started
Lay the top half, rosette side down, on a perfectly flat surface. Carefully measure and mark a space for the redwood center strip exactly in the middle of the opposite side – the inner side of the top half of the sandwich. Make sure you will be able to see the markings clearly once the glue is applied.