Quietly, outside of Los Angeles, Steve Trovato has been leaving blazing guitar everywhere he goes.

Currently, he is a full time instructor in the Studio Jazz Department at the University of Southern California. In addition, Steve has found the time to author over 20 instructional books for Warner Brothers and Hal Leonard, produce over 50 instructional videos for the likes of Yngwie Malmsteen and Paul Gilbert, and has even starred in five of them. His students have achieved major success and include Scott Henderson, Frank Gambale, Paul Gilbert and Norman Brown. He has performed with Chet Atkins, Albert Lee, Robben Ford, Jeff Berlin, Jerry Donahue and Scott Henderson, and contributes to five international music publications, including Guitar Player, Guitar One, Axe, Guitar Club, Guitar World and Chittar, as well as recording for too many studio and motion picture projects to list. We caught up with Steve as he completed his new release, Country Jazzmaster.
One of the things I have always wondered about is who or what influenced you to start playing guitar?
Well, I think you'll hear this from a lot of guys; it was the Beatles. I think I was six years old, and I had been playing the piano. I did my piano recital and played "The Blue Danube Waltz." Then I saw the Beatles on Ed Sullivan and I thought, "Wow, girls never screamed for me playing piano." So that was it and I started playing the guitar. That was pretty much it, and I have never looked back.
Did you come across a single moment that it finally hit you? This is it, this is what I want to do the rest of my life?
I've never been asked that before; that's a really good question. I would say that there were three pivotal moments: one of them was when I saw the Beatles, the second was when I heard Chet Atkins for the first time, and the third was when I was up on stage and I got a chance to play with Albert Lee – that was when I really knew I wanted to do guitar. For some reason those guys hit me hard – they played melodies – and I always loved the way I could track it even though it was guitar playing. It was really very sophisticated. When I heard Chet Atkins play, I could hear the melody. Even with all the notes that Albert Lee plays, I can still keep track of it – that's what attracted me. I think since I've been playing, if I have anything, it's the ability to play a melody.
You're originally from New Jersey. How did you end up on the West coast attending GIT (now the Musicians Institute)?
Like every guitar player on the East Coast, we were always hungry for information about the guitar. I used to get this magazine and I saw an ad for this place called GIT in California. I saw pictures of Larry Carlton, Tommy Tedesco and other people that I didn't know, like Don Mock and Joe Diorio, and they were starting this school. They were sort of advertising it being for studio musicians, and that was what I wanted to be.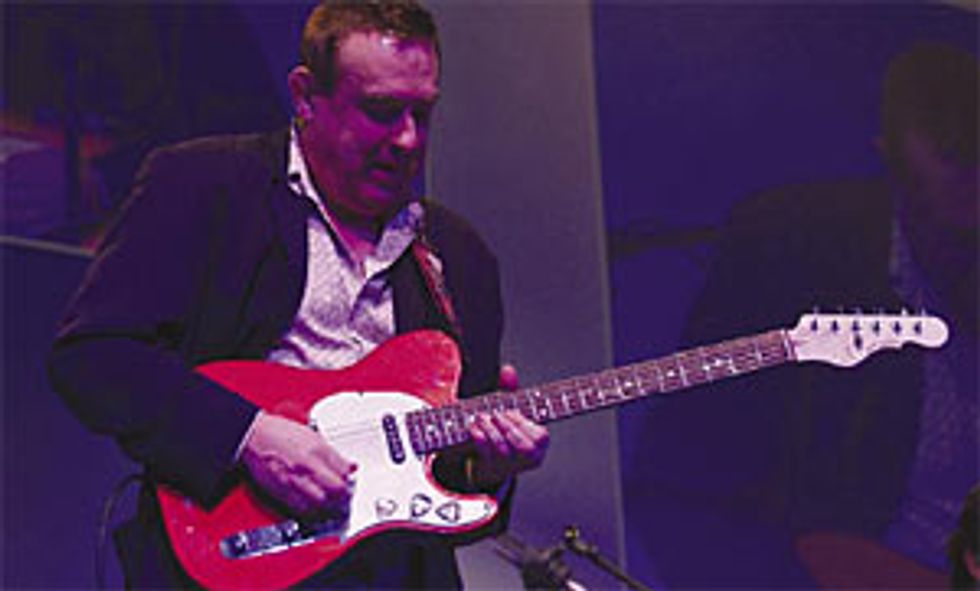 Now that you already have one CD under your belt, you've gone into the studio a second time with some outside input. How are you achieving your tones with the studio?
When I did my first album, I just took my rig into the studio with the thought that if it sounds good live, it will sound good in the studio. I've found that not to be true. I also realized that amps that are made specifically for recording don't necessarily sound all that good in the studio. It really depends on the studio, the mics, and everything else. I brought every amp that I had down there – I even borrowed some amps. I ended up with five or six different amps and I had to just go through all of them to find out which one sounded the best in that studio – with that particular set up of room and microphones. I wound up actually using a boutique amp from a company in Virginia called Talos. I love those amps. It's a 60-watt, one-twelve, and it just has two knobs on it, drive and gain.
---
"Well, I think you'll hear this from a lot of guys; it was the Beatles. I think I was six years old, and I had been playing the piano. I did my piano recital and played 'The Blue Danube Waltz.' Then I saw the Beatles on Ed Sullivan and I thought, Wow, girls never screamed for me playing piano. So that was it and I started playing the guitar. That was pretty much it, and I have never looked back. "
---