That sounds like an understatement; I mean, you've played with some heavy hitters. You played with Marilyn Manson in the late nineties, when they were arguably one of the most visible bands in the world.
I played with [Marilyn Manson] from 1998 to 2003, and that was an incredible journey. I learned a lot from being in that band – I was in it at the perfect time, when they were on top of their game. I was lucky and am still fortunate for that opportunity.
I really enjoy playing with great musicians in general. I recently wrote a song with the Scorpions for their new record, which was great. In the past, I've worked with Paul Stanley and Meat Loaf; now I'm working on some songs with Lynyrd Skynyrd. I've been with Rob Zombie for over three years now and it has been great working with someone I've been a fan of for such a long time.
Playing with Zombie, have you had to make any changes to your style or rig?
No, actually he told me to be my own person and player, which is just great and relaxing. I'm lucky enough to be my crazy self.
Is Zombie still going after that intense industrial sound, or has it changed?
We're doing it a little more rough and live. It's not so tape-heavy, but it's still one of the most amazing live shows you'll ever see in your life.
You're such a busy guy – you put out a pretty popular instruction DVD a while back called The Devil Knows My Name, which mixed healthy amounts of horror footage with your guitar playing. Depending on who you are, that sounds like an incredible concept.
Once you watch it, you're going to freak out. It's not like anything you think or may have seen before. It's been a number one seller at Guitar Center for a long time. There's a lot of guitar solos, but there's also a lot of nudity and debauchery. It's not necessarily a horror movie, but it has a lot of craziness – you know, naked girls with big heads. What guy doesn't like guitar solos and nude women? It's totally filthy and when you see it you'll love it.
Did you encounter any negative reaction from it? Was there anyone saying, "This is too over the top?"
Everyone loves it. I got the thumbs-up from everyone. The only negative thing I got was from Hal Leonard, which I'm surprised they even left in what they did of the movie, but they did take out this one, very brutal scene at the end.
Are there plans for another one?
You know, I don't know. This went so well, and with anything, when the original is successful, there's always another one.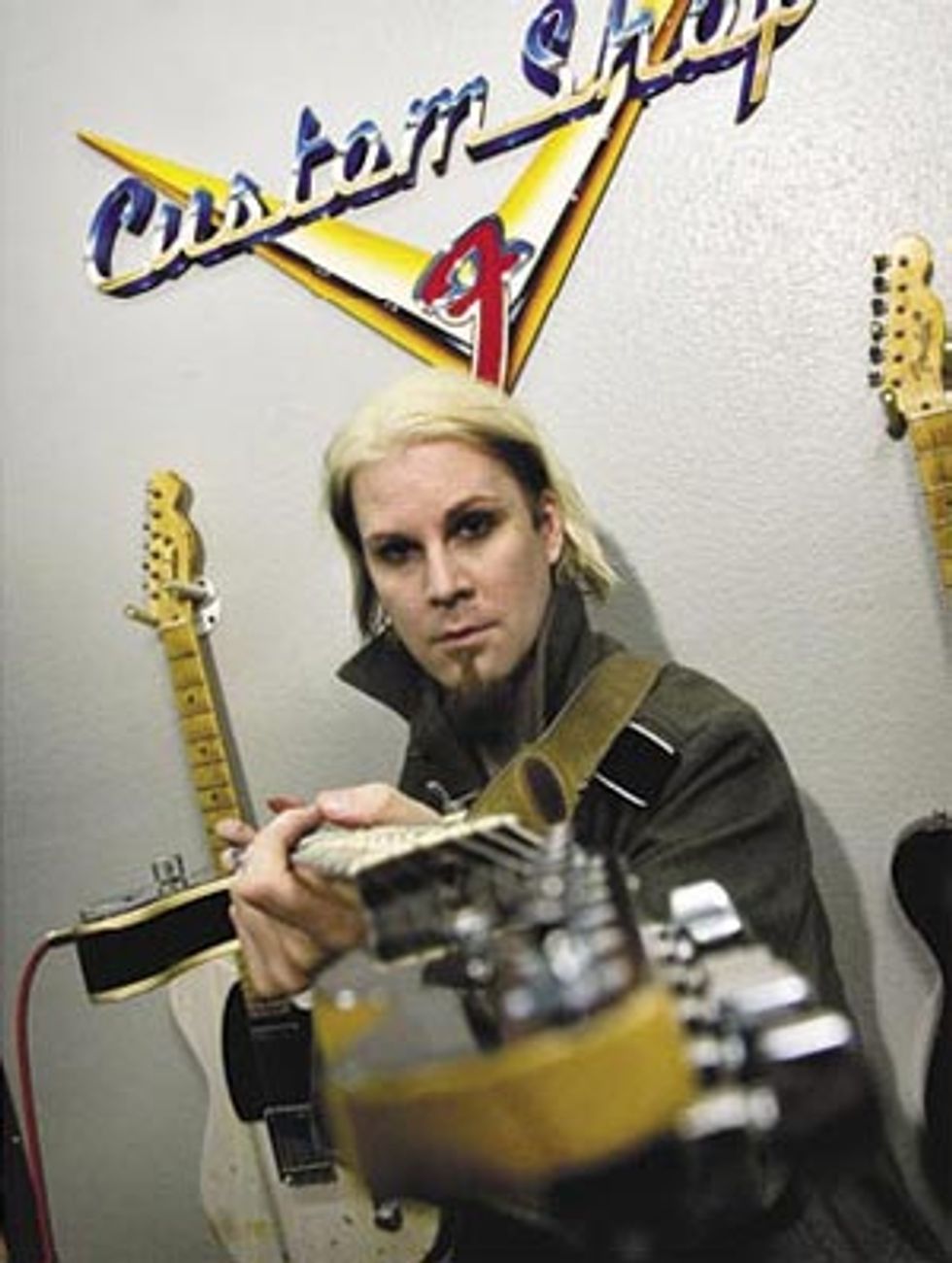 Your latest album, Requiem is incredibly intense. I've heard you describe it as, "everything but the kitchen sink." What were you thinking about as you headed into the studio for this release?
I like to take each instrumental record to the next level, starting with
Vertigo
.
This record has a little classical, western swing, bluegrass and lots of heavy shredding, which has created some crazy songs. The album is a guitar player's wet dream because it's so intense.
Can you give us some insight into your recording process for Requiem?
Well, I recorded it in [producer] Scott Humphrey's house. He's got this massive studio. It's one of the nicest studios I've ever been in in my whole life. It's in the Hollywood Hills and Motley Crüe, Zombie and Metallica have all used it. They were so busy that I had to record in the middle of the night and my mind would kind of get a little crazy. Requiem is one of my favorite things that I've ever done. Everyone that worked on the album did an incredible job and I'm extremely proud of it.
All of the song titles on Requiem are named after torture devices; the song, "27 Needles" on The Devil Knows My Name is an homage to serial killer, Albert Fish. I'm sure our readers are wondering where your fascination with the darker side of life comes from.
I think people have things in their closet they like to watch. It's so true – look at the [former] New York governor, Eliot Spitzer. Everybody has deep, dark secrets, and I have an interest in serial killers and crazy stuff. I would never want anyone to get hurt, but I am just interested in how people's minds are so twisted. There is this song called, "The Washing Away of Wrong," and it's about this serial killer that thought washing his hands after brutally chopping someone up would make everything okay. I just think it's crazy how someone's mind works like that.
What's on your plate looking forward?
I'm doing these Guitar Center clinics and saying thanks to all the people that have bought the album and have supported me throughout the years. I am also finishing up my work with Lynyrd Skynyrd and currently working on the new Rob Zombie album. I'm pretty busy, but I totally appreciate and love it.
John 5's Gearbox
When John 5 is tearing it up with Rob Zombie, here's what he's plugging into.


Guitars
Fender J5 Acoustic
Fender J5 Telecaster
Fender Custom Shop
J5 Bigsby Signature
Telecaster
Fender J5 Triple Tele Deluxe

Amps
Marshall JVM heads

Effects
Boss SD-1 Super Overdrive
Boss TU-2 Chromatic Tuner
Boss NS-2 Noise Suppressor

Accessories
GHS John 5 Boomers

---
John 5
john-5.com