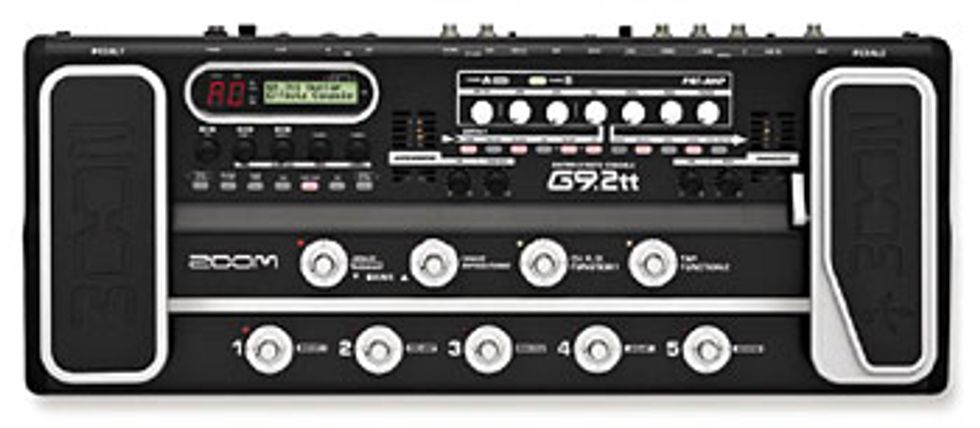 The G9.2tt is currently Zoom's top-of-theline multi-effects unit. In addition to the features we have come to expect from multi-effectors, the G9.2tt offers up something new with the Z-pedal.

The Z-pedal is Zoom's take on the pervasive expression pedal with a literal twist. It can do the typical up/down thing, then controls another set of parameters with a horizontal sweep. That's four, count 'em, four assignable parameters! Although this feature may smack of a Ronco infomercial, it is surprisingly useful in practice. Suggested uses are controlling delay time with the vertical sweep while assigning the horizontal parameter to control the delay's feedback, or setting one axis for modulation rate, while the other controls chorus depth.

The G9.2tt also includes two 12AX7 tubes, one tied to the Energizer feature, the other is used in the Accelerator circuit. Without going into too much detail, these tubes intend to give a warmer, more analog vibe to the proceedings, and seem to do just that. Zoom uses a proprietary DSP chip in the G9.2tt that offers up a 96kHz sampling rate and 24-bit analog/digital/analog conversion. That horsepower equates to quick patch changes – 7ms – and good modeling sounds.

Not being a delicate flower, my initial concern was my two-hundred plus pounds of overzealous Z-pedal twisting mass. Fortunately, the best single word to describe the G9.2tt is solid. Zoom has always been known for good sounds, features, and value, but has had a reputation for past build issues. The sturdiness evident here should put all of that to bed. This multi-effector is intuitive enough to allow plug and play, with just a casual perusal of the "Operation Manual" to gain access to more advanced features.

Zoom offers up an amp select feature that, along with a -10dB pad, allows the guitarist to plug into the front of an amp and quickly get a good sound without having to make endless EQ adjustments to the amp itself. Cabinet emulation is also included for direct use. These features are welcomed for both jam and praise bands, where ease of setup and stage volume are respective concerns.

Inputs and outputs are what would be expected, and after getting set up, one finally faces the factory presets. The majority of multi-effects makers program presets with the idea of getting a customer's attention over the Saturday din at Guitar Center, with the end result usually resulting in the sonic equivalent of a smack upside the head. Zoom, for the most part, sidesteps this. While there may still be room for improving the tastefulness of the factory presets, they are certainly far from horrible, and they do successfully showcase the G9.2tt's capabilities without getting too cheesy. Impressively, a few of the presets uncharacteristically flirt with the concept of "subtlety." A nice touch, to be sure.

Programing one of the 100 user patches is easy enough, with the majority of the amp models getting really close to the real thing. The effects models were for the most part good, with some sonic weirdness that may or may not be useful to everyone, but it seems like most bases are covered. Competition is fierce in the G9.2tt's price range, but one would be hard-pressed to find anything both as powerful and flexible.


Rating...
Tone...
 
Craftsmanship...
 
Features...
 
Value...
 
Overall...
 
---
ZOOM
MSRP $659.99
www.zoom.co.jp

Our expert has stated his case, now we want to hear yours. Log on to premierguitar. com, click on "Forum" and share your comments and ratings.