10 Things We Learned from 311's Tim Mahoney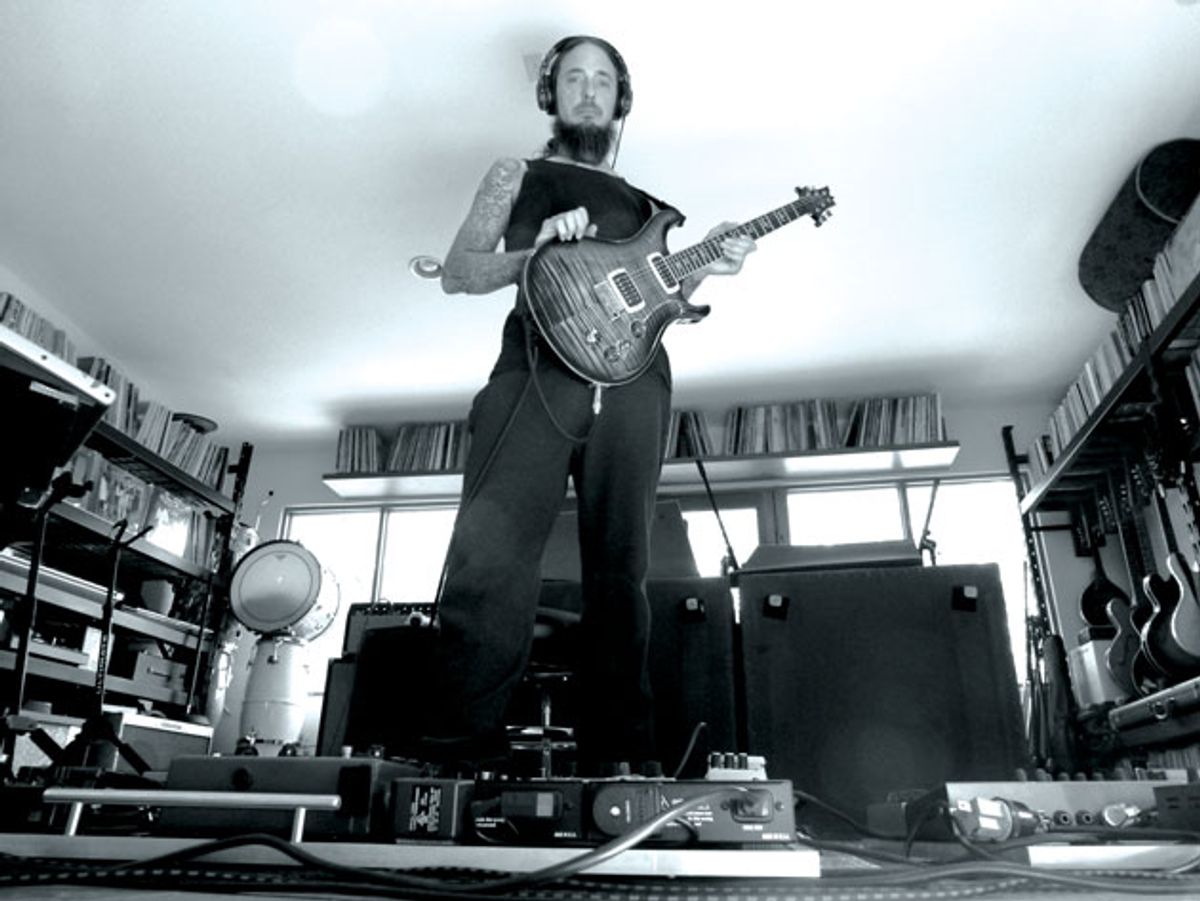 311's guitarist opens up about his dream side project with unlikely heroes, working on an updated PRS signature model, and how he prefers to dress up his tacos.
Tim Mahoney is no stranger to Premier Guitar: He's joined us for a Rig Rundown and we interviewed him about 311's most recent album Stereolithic where he answered plenty of artistic and gear-related questions. Then, just prior to the band's 2015 World Tour and annual 3/11 Day Celebration, Mahoney gave fans their turn to ask questions when he took over our Facebook account for about 90 minutes. Thanks to all of your inquiries, we uncovered a few nuggets of Mahoney's personal and professional life that were previously kept under wraps. Here are the highlights:
1. Practice means perfect … and by perfect he means reaching nirvana (looper pedal optional).
I think of playing guitar as an extension of meditation. Bonding with your guitar and understanding and feeling the relationship between chord changes and how they alter the mood develops your musicality, but also provides a communicational outlet. The guitar, and music as a whole, evoke and convey emotions often not expressible by words. Spending time with your guitar should be an ongoing thing you become connected with over time and through experimentation.
I typically practice a lot with a looper, even to work on a single scale, just to get my muscles warmed up. Looper pedals are great for giving you a backdrop and canvas. Also, don't be afraid to take a lesson to open new doors by seeing perspectives from other players.
2. From Chaos boasts a song you may never see live again.
I would never say never, but "We Do It Like This" hasn't been played at a gig in nearly 15 years. That is one of the few songs from our huge catalog that would have the smallest chance to make it onto any setlist—even at a 3/11 Day show.
As for our oldest ongoing cover we still occasionally play, it'd have to be Bob Marley's "Lively Up Yourself" off of Natty Dread. I just heard our first live cover of that song going through our live rarities and B-sides for an upcoming box set [more on that in a minute]—we've done that song for nearly 25 years!
3. Mahoney's biggest influences from heavy to chill, and Soundsystem is his most guitar-indulgent record with 311.
Two guys in Omaha—Jim Homan and Paul Moerke—were epic guitarists and they got me into music because they played in a badass punk-rock band. They used to switch between guitar and bass—it blew my mind. The first guitarist and song that made me want to play or learn guitar had to be EVH and "Unchained" or anything off Fair Warning. I'm a huge Carlos fan and you can totally hear that in my playing, especially in songs like Soundsystem's "Life's Not a Race." I got to play so many solos on that album—it's a bit silly looking back in the scope of our catalog, but I'm glad the guys let me get down [laughs]. The recently played playlist on my iPod will definitely have Pantera, but I'm a hippie, too, so you'll find Jerry Garcia, and I keep going back to [Tool drummer] Danny Carey's Volto! record—I've been loving that so much. Jazz cats like John McLaughlin, Scofield, and Pat Metheny are always in heavy rotation, too—just like in 311, you need a balance of loud and beautiful.
4. My dream band would include …
John Bonham on drums, Jaco on bass, Page McConnell [Phish] on keyboards, and John Ziegler [Volto!] on guitar. Honestly, if that lineup was feasible and they opted to jam, I'd probably not even play and just listen, but if I had to, maybe I'd break out the trombone because that would be killer!
I'm all about putting everything on my tacos—totally loaded—and hotter the better, but it still has to have flavor. I'm not
a painfully hot guy.

5. Life outside of guitar is all about fatherhood, dogs, tacos, and football.
My youngster keeps me busy—my first son, so I'm learning a lot … every day! I enjoy reading and discovering new things. Near where I live there is an orchard and we go hiking and pick fruit while my Louisiana Catahoula Leopard dog runs wild and investigates the countryside.
I'm all about putting everything on my tacos—totally loaded—and hotter the better, but it still has to have flavor. I'm not a painfully hot guy. And since I'm from Nebraska, I'll always go with corn tortillas. And I dig all sports, but really follow football and live and die with my Nebraska Cornhuskers.
6. Always tweaking, always improving, always experimenting.
I've been really getting into trem-equipped guitars and guitar tops that show off the beauty of nature, so my next signature guitar with PRS may feature a flame or quilted maple top with a trem bridge. We haven't talked details or specifics, so I can't really nail anything down, but I'd like to do something a bit flashier and feature some sort of trem.
The setup of my guitars is always in flux—at least at home—because as much as I like comfort and reliability, sometimes pushing up the action or lower or raising the pickup height for the general setup of my guitars can inspire new things tonally or even a new riff. But typically I play with standard .010-.046 strings and I prefer to have the action pretty low.
7. Mahoney believes preparation is the best antidote for performance anxiety.
Always be prepared. Practice your song and parts and know them well. It will be second nature once you're onstage, and it'll help you deal with nerves because you will know the song inside and out. After a few notes, you'll ease into a comfort zone because you'll know exactly what you're doing. Practice is the best way to deliver a carefree performance, and it allows you to exude confidence, attitude, and give the crowd a show.
8. Twenty-five years of 311 equals one big box set.
We're currently combing through thousands of performances, dozens of sessions, and countless outtakes from the last quarter century—going back to before our first album—to compile B-sides, demos, unreleased songs, rare live cuts, and to assess what is cool and what is meh.
9. How does the guy with endless amounts of pedals dirty up his tone?
I use the XTS Pegasus Boost into both my dirty amps, a Bogner Uberschall and a Diamond Spitfire II, and clean amps, a '68 Fender Twin and Diamond Spitfire II. I prefer that the XTS Precision Overdrive goes into just the clean Diamond Spitfire II. I feel they add clarity and even out the high end so it's not so shrill. Try running the boost into the overdrive, too—it really adds additional harmonics the OD can't achieve on its own.
For single-coil guitars, I like using the MXR Super Badass distortion, but if you wanted to go even farther, I'd suggest trying out the budget-friendly Boss MT-2 Metal Zone because that pedal can really push things to the extreme.
10. When the great gig in the sky comes calling, Tim wants to two guitar gods to lead him to the Promised Land.
I'd go with Derek and the Dominoes' "Layla" because it's an epic song with a killer piano outro that is accompanied by Duane's tear-jerkingly beautiful slide guitar.