Country Music and Coffins: Jonny Coffin and Lynda Kay
Jonny Coffin and Lynda Kay could make a good run for the title of Guitardom's Most Interesting Couple.
Dig deep. That's the advice of Jonny Coffin and Lynda Kay, two gearheads whose very different careers have more in common than you might think.
Jonny Coffin and Lynda Kay could make a good run for the title of Guitardom's Most Interesting Couple. She's Gretsch's newest endorser. He makes the most recognizable guitar case in the world. She's an expert on tenor guitars. He saved a 1950 Broadcaster from an unthinkable fate—being retrofitted with humbuckers by a kid who didn't realize what he had.
Coffin and Kay, who have been married four years, live in Venice Beach, California—a place where artists thrive within like-minded communities while drawing inspiration from other niches. There's a kind of unity among the eclectic range of artists and musicians there. In other words, you don't necessarily have to be 100% into psychobilly, steampunk goth, deathrock, or any of the gazillion other scenes there in order to appreciate or feel comfortable getting involved with them. Open-mindedness tends to prevail among people who know what it's like to be into something that isn't exactly mainstream.
Kay, who comes across like a mix of Hank Sr., Patsy Cline, Roy Orbison and Wanda Jackson rolled up into one vibrant ball of retro goodness, is riding the wave of buzz surrounding her debut solo release. Dream My Darling is an album filled with twang, torch songs and reverb tanks that echo like a classic country record from years past—but with a modern touch. Kay is also known for playing with rockabilly favorite Danny B. Harvey in a duo called the Lonesome Spurs.
Coffin is a mysterious entrepreneur with a Count Orlok air about him. His story reads like the kind of tale every gearhead tinkerer dreams about… his prototype was a hit, he started making stuff for artists like Slash and Keith Richards, and, just like that, a company was born. His recent gear-related projects involve the Epiphone Zakk Wylde Graveyard Disciple guitar and a line of effects pedals. He also produces records and plays in a spaghetti western-sounding band called the Death Riders that does a lot of soundtrack work.
I recently had the chance to talk to Coffin and Kay about their careers, their latest projects and of course, what it's like when two gearheads get married.
Let's start with the gear… I'm assuming you both have G.A.S. How does that work in your relationship? Most couples involve one person who doesn't play and that person tends to enforce the clampdown on gear purchases.Coffin:
Funny you should ask! We have never denied each other gear. The gift of music is big around the holidays. So if one of us needs a piece of gear, we usually see what we can do to adjust our budget to compensate. A few years ago, Lynda came across a real nice Gibson tenor from the '30s at TrueTone in Santa Monica. We didn't have the money to buy it outright, so I offered to trade my old Martin electric for it. It was an old hollowbody from the '60s that I never played, and it just sat there. Lynda ended up with a great-sounding Gibson tenor and I never missed that Martin. We have a great understanding when it comes to gear. Guitars and amps are tools we use to create and we never deny or guilt each other when a purchase is made.
Lynda, your music is a modern take on old-school country. What is it like doing what you do? The road you're on is certainly different from the path that most artists take.Kay:
I just do what I do best. It's nice to see that people get it and understand the need for emotion in music. Classic country from the '50s and '60s had more of a kick-in-the-gut approach. The songs were saying something that people could relate to. It seems like most commercial artists now are jumping on the money train and cashing out. I'm into timeless songs that will be around long after I'm gone.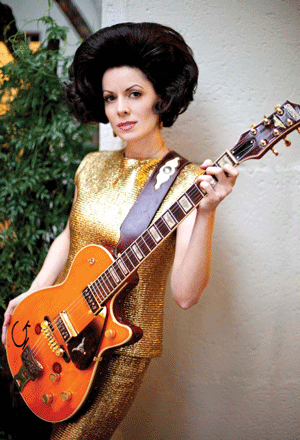 Lynda Kay with her Gretsch 6130 Knotty Pine Roundup. The guitar has a one-piece, chambered mahogany body, a bookmatched knotty pine top, DynaSonic pickups, and a Synchro-Sonic floating bridge.
Most artists get the usual kind of kudos after a gig, but, Lynda, I understand people actually thank you after your shows—thank you for bringing that vibe back.Kay:
Well, almost every time I finish a show and I'm loading out my gear someone approaches me and says "Thank you for bringing back the music I grew up on." Lots of people grew up hearing Johnny Cash, Tammy Wynette, Rose Maddox, George Jones and other greats on their parents' record players. There's an undeniable connection when I'm playing a show and people have such a glow in their faces, because I believe they are relating sonically and visually. Not a lot of artists are out there tugging on those heart strings.
Congrats on the Gretsch endorsement.Kay:
I feel truly honored to be endorsed by Gretsch. It was a dream come true when Joe Carducci offered me an endorsement deal. Gretsch was reissuing their 1955 Knotty Pine Roundup guitar and asked me to be the featured artist for that model. The Knotty Pine is a semi-hollowbody with two DynaSonic single-coils to create that great Gretsch sound. And with its bookmatched knotty pine top, tooled-leather trim around the mahogany body, and western motif belt-buckle on the tailpiece, this guitar is a work of art.
Jonny, how did the Epiphone Zakk Wylde coffin-shaped guitar come about?Coffin:
It started with Zakk. He had been talking to the guys over at Epiphone for years about this, to their custom guitar guys that he works with, and that turned into them contacting me for the cases for it. Jim Rosenberg contacted me, and then he ended up coming down to the warehouse. He said, "The coffin is really your thing. We want you behind this, so can you do the cases? Let's get this thing going." Then they sent me the guitar. That thing was amazing. I designed the case for it. Zakk wanted a specific logo—a cross logo of his that features his skull on the cross. So we did the prototype case. Everyone loved it, so they went into production last October. I think it was released last Halloween in a limited run. Now they're going to make some with more graphics. It was launched at NAMM this year. We featured it in our Coffin fashion show that we had at the NAMM show.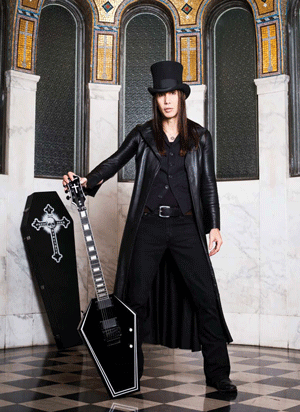 Jonny Coffin with the Epiphone Zakk Wylde Graveyard Disciple guitar, which rests in peace in a case designed by Coffin.
Slash was your first customer. Who was your second?Coffin:
Keith Richards. A few months after Slash got his, I got a call from Pierre, Keith Richards' assistant. He had heard about Slash's case and told Keith, "Hey, you've got to get one of these things." They were recording at the time, so I went down to the studio and met with Keith and hung out with him for a couple of days in the studio—that was an experience in itself. Keith's comment was great when I walked in to the studio with some custom cases. He saw them and said, "Can you make one big enough to put Mick in it?" [Laughs]. He was on his hands and knees opening one up. He looked up at me and said, "You know, Jonny, we're all vampires." And I was standing there looking at Keith Richards and thinking, "Yeah, you know… he probably is." At that point, I realized I was onto something because I had the ear of these guys. And then I started to get around making these cool, high-end cases for people, and no one else was doing that. The niche started there.
It's interesting how you two are so dialed in to what you do.Kay:
As far as Jonny and me carrying a kind of torch for the genres we're a part of, it really came naturally for both of us. I wouldn't say that we looked at these genres and decided we wanted to take them on. They were already a part of us. The funny thing is, even though Jonny and I appear to be at opposite ends of the spectrum, we're really not far from each other at all. For example, when you consider the old-school country that we both really gravitate toward, the reason that we do is that we both really appreciate the dark edge that it has.
It's interesting. Jonny's company really appeals to a lot of horror, metal, and rock guys. He also has a lot of folks from the old-school country world that gravitate toward his company. Not to mention psychobilly, rockabilly…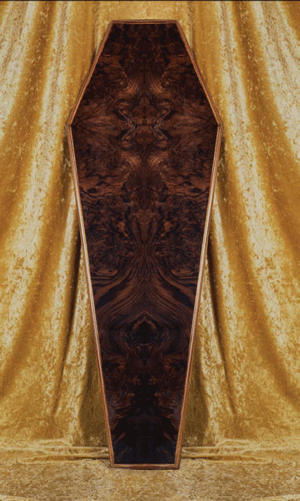 One of Jonny's custom Coffin cases. This case features a burled maple top.
Coffin:
Garage, punk... we're very careful about keeping our fan base broad with Coffin Case. We love all styles. We could easily become just a heavy metal case company if I allowed it. With our love of music, we really try to make it for everybody.
Kay:
Every time I play a show, I am pleasantly surprised at the varying age groups, and the different hair-dos. People in mohawks, people with studs and everything—from the gray hairs to the ones who are barely old enough to make it into the club. You never know who's going to show up.
I bet your audiences are just a trip to look at from the stageKay:
It's unbelievable—not just in different demographics, but the random friends who show up to my shows. They're really appreciative of the fact that I'm still doing the old-school country. I've had Lemmy from Motörhead show up at my shows. Lucinda Williams has shown up. The guy from Slayer…
Coffin:
Dave Lombardo, the drummer. The beauty of it is that everyone can relate to the message there. It's a universal message. It's in all genres of music, really. There's always a dark side to everything. You look at old bluegrass records…
Kay:
Now that's dark!
Coffin:
Some of the darkest stuff…
Jonny, I've heard about your 1950 Broadcaster. How'd you find it
?
The 1950 Fender Broadcaster that Jonny Coffin saved from unwitting desecration.
Coffin:
The journey this guitar took is pretty unbelievable. I was contacted by a kid in Alaska looking for a case for a project guitar he was working on. I asked him what kind of guitar he needed a case for and his answer was "My grandfather's old Tele." His grandfather bought a Fender Broadcaster back in 1950 and played it until he passed it on to his son in the '70s. The guitar sat in an attic in Alaska for 30-plus years until it was passed down to the grandson, who was tempted to throw some humbuckers and a Floyd on it. He had removed the blackguard but I got him just in time! I made him promise me that he wouldn't touch it because I was interested in purchasing it. He agreed to send it down for me to check out. One month later, I received a box from Alaska. This guitar had gone from his little town by mail plane to Anchorage to catch the UPS plane to LA. I can't describe the overwhelming feeling I had as I opened the box and saw an all original Broadcaster with the Fender patent-pending serial number 0099. Yes, it was a 60-year-old Broadcaster with a neck pocket date of October 26, 1950. The Fender Broadcaster is basically the prototype of the Telecaster, and it's the rarest of the rare. It's estimated there were less than 250 Broadcasters ever made. And nothing sounds like it, because the wood is almost petrified after sitting in a dry Alaska attic for 30-plus years. I purchased the Broadcaster and bought him a guitar of his choice. He took that money and moved to Arizona to start a band. When he's in LA, he drops by to play the Broadcaster. We're great friends. I use that guitar on all my recordings. Pretty good deal—I saved a Broadcaster and he got out of that small town in Alaska.

Lynda, what guitars did you use on your new album?Kay:
In addition to the Knotty Pine, I used a Gretsch Rancher Jr. to get this acoustic wash throughout the album. It's a great-sounding guitar. I also used my tenor on a few tracks. I have a custom tenor built by a gentleman named Everett Fulton who's from Texas, a little town outside of Austin called New Braunfels. I found him randomly online. He built that guitar for me when he was 92 years old. It's one of the most phenomenal guitars I've ever played—probably the finest acoustic tenor I've ever played.
Coffin:
The tone on that guitar! He has these little tricks. He's still making guitars at 95. Building them by hand. He's handmade the tools he uses to make them.
What is it about tenors guitars for you?Kay:
I really do love them for the ease with which you can play them. They're wonderful to write songs on because of the simplicity of the strings—you can find chord structures that would never normally come to you.
Coffin:
There are so many cool voicings with the tenor, and Lynda knows them all, believe me. She knows more chords than I do. I grab a tenor and I'm lost. She works with some other great people like James Trussart, too.
Kay:
That's right. My Tenorcaster. He calls his brand a Steelcaster, but I have the one and only steel electric tenor. He made that especially for me. I played it with the Lonesome Spurs. It was great for that project and it's great to record with.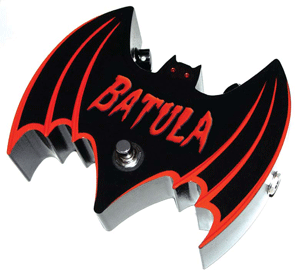 Coffin Case's limited-edition Batula was based on a '60s Fuzz Face.
Coffin:
The tenor was a transition guitar long ago. It was a transition from banjo into guitar. So, to try to find a modern one, something that is actually functional, that's tough. People don't make bridges for four string guitars. We had to look at the whole thing as a challenge. James did an amazing job.
Kay:
He had borrowed my electric tenor and he wanted to make another one, but mine was the only one. There are a lot of tenor players who love them. Robert Plant loves tenor guitars. Neko Case loves tenor guitars. Marty Robbins played them, too.

Coffin:
There's a certain frequency you just can't get out of any other guitar.
Jonny, your Batula and Blood Drive pedals were cool. Are there more pedals in the works?Coffin:
The pedal market is exciting to us. Cases are a backstage item, so it's great to get the players interacting with our products onstage. I worked with Jimmy Dunlop on the coffin-shaped overdrive pedal and it was manufactured in the USA by MXR. We limited the Blood Drive to 2500 pieces to keep it highly collectable. We may be launching more pedals under the MXR brand this year. Last year, I designed a bat-shaped fuzz pedal called the Batula that was based on the sound of an old Fuzz Face. It was a unique pedal that was handcast, handwired and handpainted. We actually had people fill out an application for the Batula and presold the entire run prior to manufacturing. We plan on developing more sculpted pedals cast in precious metals. Look for John 5 demoing our new Skull Pedal this year.
Lynda Kay's GearboxGuitars:
Gretsch G6130 Knotty Pine Roundup reissue, James Trussart 4-string Tenorcaster, Everett Fulton acoustic tenor, Gretsch Rancher Jr. acoustic.
Amps:
Gretsch 6163 Executive 20-watt combo, Fender Blues Jr. combo.
Jonny Coffin's Gearbox Guitars:
1950 Fender Broadcaster serial no. 0099, Gibson ES-135 reissue, 1973 Fender Tele Deluxe in tobacco burst with two Seymour Duncan Seth Lover humbuckers.
Amps:
1967 blackface Fender Super Reverb, blonde 1972 50-watt Marshall head with EL34s, 1982 Marshall JCM800, Peavey 5150 head, 1963 Gretsch 6162 combo, 1968 Marshall gold face 4x12 straight cabinet, 1972 Marshall salt-and-pepper-grilled slant cabs, 1960s Airline tube head.
Pedals:
Batula by Coffin, Blood Drive by Coffin, Alien Space-O-Verb, Morley wah, Jim Dunlop Uni-Vibe, MXR Phase 90, Hiwatt Custom Tape Echo, Boss TU-2 tuner.