Enter here for your chance to WIN a Revv G3! Giveaway Ends October 28, 2021.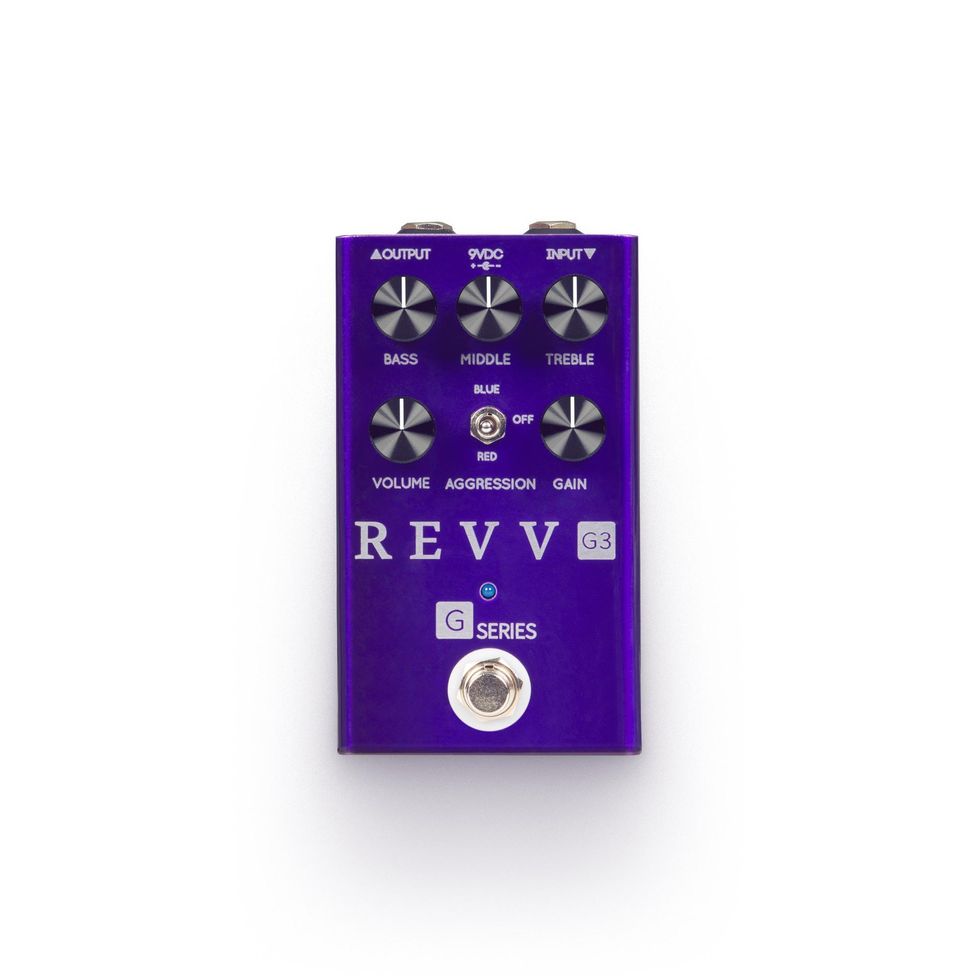 Revv Amplification's Purple Channel 3 is one of the most unique tones in modern amps. Extremely tight & clear with the right amount of saturation for any situation. Now that tone is available to everyone in an amp in a box format that's versatile & feels great under the fingers.

Plays nice with:
Combos, Heads, Pedalboard Rigs, in Effects Loops, w/ Cab Modeling.

Form Factor:
Small Single-Space Enclosure, Standard 9v Power (center negative 9v external power supply only), Durable Construction, Top-Mounted Jacks, Blue LED, Laser Etching.

Mix-Ready --- Smart filtering keeps lows tight & highs present with no mud or ice.

Feels Great --- Constant revisions ensured Revv pedals have inspiring attack & bloom, like your favorite amp.

Versatile --- Fat and warm or tight & bright. Heavy amp-like saturation or light overdrive.

Integrates Into Any Rig --- "Amp in a box" in front of a clean amp, another flavor of gain with a multi-channel amp, easy traveling, great studio tool, works great with analog & digital.
Revv Amplification
The producer/songwriter on keeping it simple, staying hungry, and creating inspiration.
Linda Perry on Recording Guitars | Wong Notes Podcast
Guitarist Mikayla Mayhew explains how J Mascis' turbulent, slow-n-go riff still takes her back to the days of skate parks and first bonding with the instrument.
The Rush maestro's mega-versatile signature Les Paul at fraction of the price of the original.
Killer axe that offers tons of tones. Amazing value.
Pickups can be susceptible to radio frequency noise.
5
4
5
4.5
Gibson's Alex Lifeson Les Paul Axcess was released in 2011. It's a drool-worthy instrument that, with a price tag of $5,500, is unfortunately out of reach for most. But Epiphone's new Alex Lifeson Les Paul Axcess Standard distills the essential elements of Lifeson's signature model into an axe that streets at just $899.
Grand Designs
A sonic visionary of the highest order, Alex Lifeson's imaginative guitar work was critical to Rush's ascent to immortal status. He has always been an adventurous player, so it's not surprising that his signature Epiphone has features you don't see too often on a Les Paul. For starters, it has a Floyd Rose–licensed double-locking tremolo. The vibrato system also has Graph Tech Ghost piezo pickups under the bridge saddles, and there are two output jacks that let you run the standard pickups and piezo either simultaneously or mixed via a single output. I've seen both double-locking tremolos and piezo pickups offered separately on special edition Les Paul models but have never seen both on the same instrument.
In addition to the piezo system, the Lifeson Axcess is outfitted with a pair of humbuckers—an Epiphone Ceramic Pro in the neck and a ProBucker 3 in the bridge. Each pickup can be split via the neck and bridge volume knobs. Interestingly, the other two knobs on the guitar aren't the usual neck and bridge tone knobs. Instead, there's one master tone knob for both pickups and a piezo pickup volume knob. This knob is also a push-pull switch that turns the piezo on or off.
Feels So Good
The viceroy brown Lifeson Axcess looks fantastic in its included hybrid EpiLite gig bag/hard case, which, by the way, features a very robust neck support. The mahogany body is capped with a AAA flame maple veneer carved top. And while the guitar isn't particularly light, it's extremely comfortable. It's obvious that ergonomics were prioritized in the guitar's design. A belly carve facilitates a snug fit with the body, and its sculpted neck joint permits excellent upper fret accessibility. The guitar's Indian laurel fretboard with its medium jumbo frets and 12" radius will feel familiar to anyone who's played a Les Paul.
The humbuckers sound great. I compared them to my early '80s Les Paul Standard and, to my ears, they were nearly identical.
The Spirit of Piezo
I tested the Lifeson Axcess through Mesa/Boogie Mark IV and Blue Angel amps with a Line 6 M9 used for modulation effects. I also used a Samson powered PA at various points for the guitar's piezo output. I started my test by turning the volume off for each of the magnetic pickups and listening to the piezo only. Piezos often sound metallic and harsh, but the pickup in the Lifeson is noticeably warmer than other piezos I've known—particularly when using a soft touch and a fingerstyle approach. It was perfect for arpeggio parts like Alex's intro in Rush's "Something for Nothing." Things got magical, though, when I blended in some of the magnetic neck pickup. With the piezo volume around 4 and the neck pickup's volume around 7, I got unique, open-but-substantial tones that maintained articulation—even with a softer, acoustic-like edge around transient notes.
I also used the two outputs to route the guitar to both of my test amps, with the piezo output going to the Blue Angel and the magnetic pickups going to the Mark IV's clean channel. This configuration generated a massive 3-D experience that was beautiful to hear and feel. Using the two outputs/two amps approach with an amp switcher is one way to approximate the gentle-to-powerful dynamic shifts in Rush songs like "The Fountains of Lamneth."
The two outputs/two amps approach is also cool for leads. I engaged the Mark IV's lead channel for the magnetic pickups and turned down the piezo volume slightly for the Blue Angel. This configuration yielded super-interesting lead textures: I could play ultra-long legato lines and still hear almost percussive detail from the piezo side.
Without the piezo, the Lifeson's humbuckers still sound great. I compared them to my early '80s Les Paul Standard, and to my ears, they were nearly identical. They're beefy and powerful with plenty of clarity for low-register riffs like "Tom Sawyer" and "YYZ," as well as "Limelight" power chords. The split-coil tones have bite. They stay loud relative to humbucking mode, and the volume difference isn't nearly as obvious as it is on other coil-splitting instruments I've played.
The Verdict
The Epiphone Alex Lifeson Axcess Standard offers features that you won't find on other Les Pauls. If you're a Rush fan, it's a no-brainer. But even if you're not, you'd be challenged to find a guitar that offers this much versatility for $899. Rumor has it that a lot of Nashville session players scooped up the original Gibson Lifeson model for its utility. If you can find an Epiphone Alex Lifeson Axcess Standard, I'd suggest you grab one while you can.
Epiphone Alex Lifeson Les Paul Axcess Standard Demo - First Look
The co-creator of Kaki King's innovative Passerelle bridge also crafts one-of-a-kind instruments constructed from biomaterials like mycelium and beeswax.
How the L6-S Custom became Gibson's most versatile tone machine.
What do Al Di Meola, Carlos Santana, Paul Stanley, Dave Davies, Prince, Pat Martino, and Keith Richards have in common? They've all played Gibson's L6-S Custom—an extremely versatile tone generator with a variety of voices wide enough for that diverse cast.
This model, designed in 1972 and released in '73, was the first collaboration between guitar- and pickup-designer Bill Lawrence and Gibson. The idea was to make a very inexpensive solidbody electric that could compete with more costly models—and especially with Fender's highly successful offerings. That's a pretty simple concept, but the L6-S is not a simple instrument. It has a complex pickup-control system, built into Gibson's first solid-maple-slab guitar, with a 3-piece, two-octave set neck, with 24 frets—Fender style—rather than the company's usual 22.
This Gibson really sticks its neck out. In the interest of competing with Fender, it's got 24 frets instead of the company's usual 22.
Until it was discontinued in 1980, more than 18,000 were made, and it's considered one of the finest instruments from Gibson's notorious Norlin era. Instead of the usual 3-way pickup selector, the L6-S uses a 6-way rotary switch to control its tones. The pointer on its chicken-head knob faces down, and rolls from right to left (or bottom to top), looking down the guitar's front. In position 1, both pickups are active and in series. Position 2 fires up only the neck pickup. Spot 3 runs both pickups, in parallel. Position 4 puts both pickups in parallel and out of phase, with the neck pickup's bass limited by a capacitor. (The sonic result is similar to the 2 and 4 slots on a Strat pickup selector.) Spot 5 is the bridge pickup alone, and position 6 is both pickups in series and out of phase.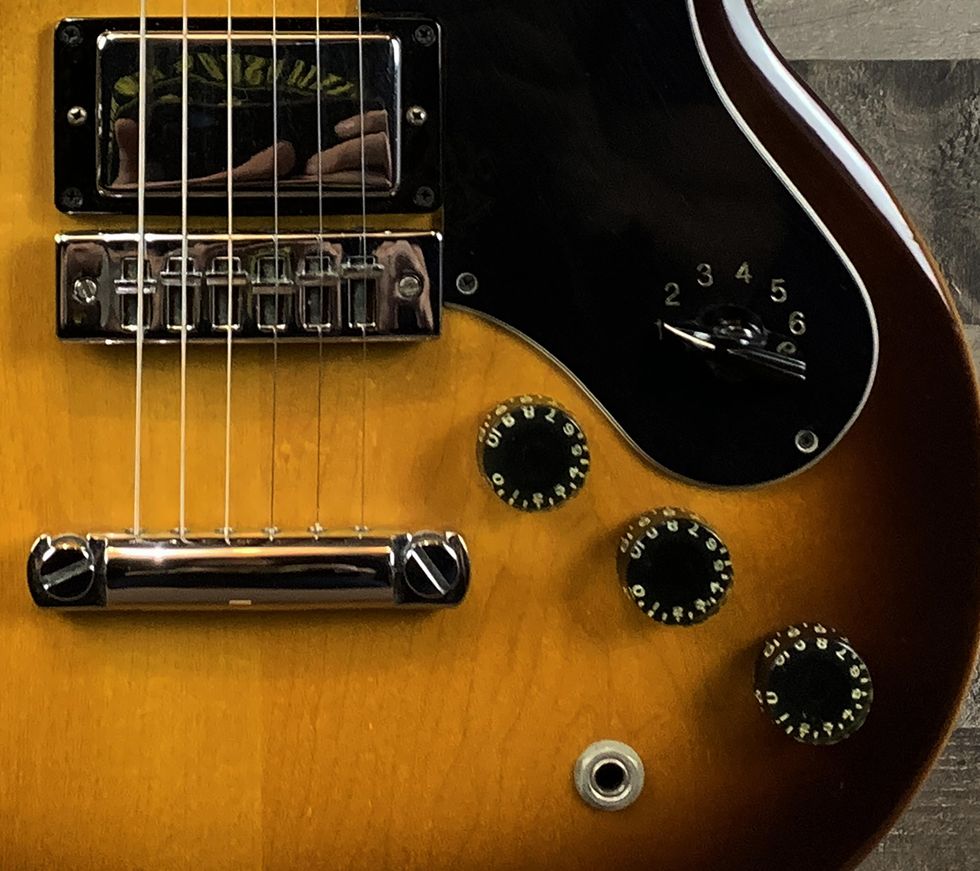 This is where the action is on a Gibson L6-S Custom. The 6-way selector handles pickup configurations for a wide variety of core tones, while the dials are (top to bottom), master volume, midrange, and bass/treble. And there's the bridge Super Humbucker, which was wound a tad hotter than the neck pickup.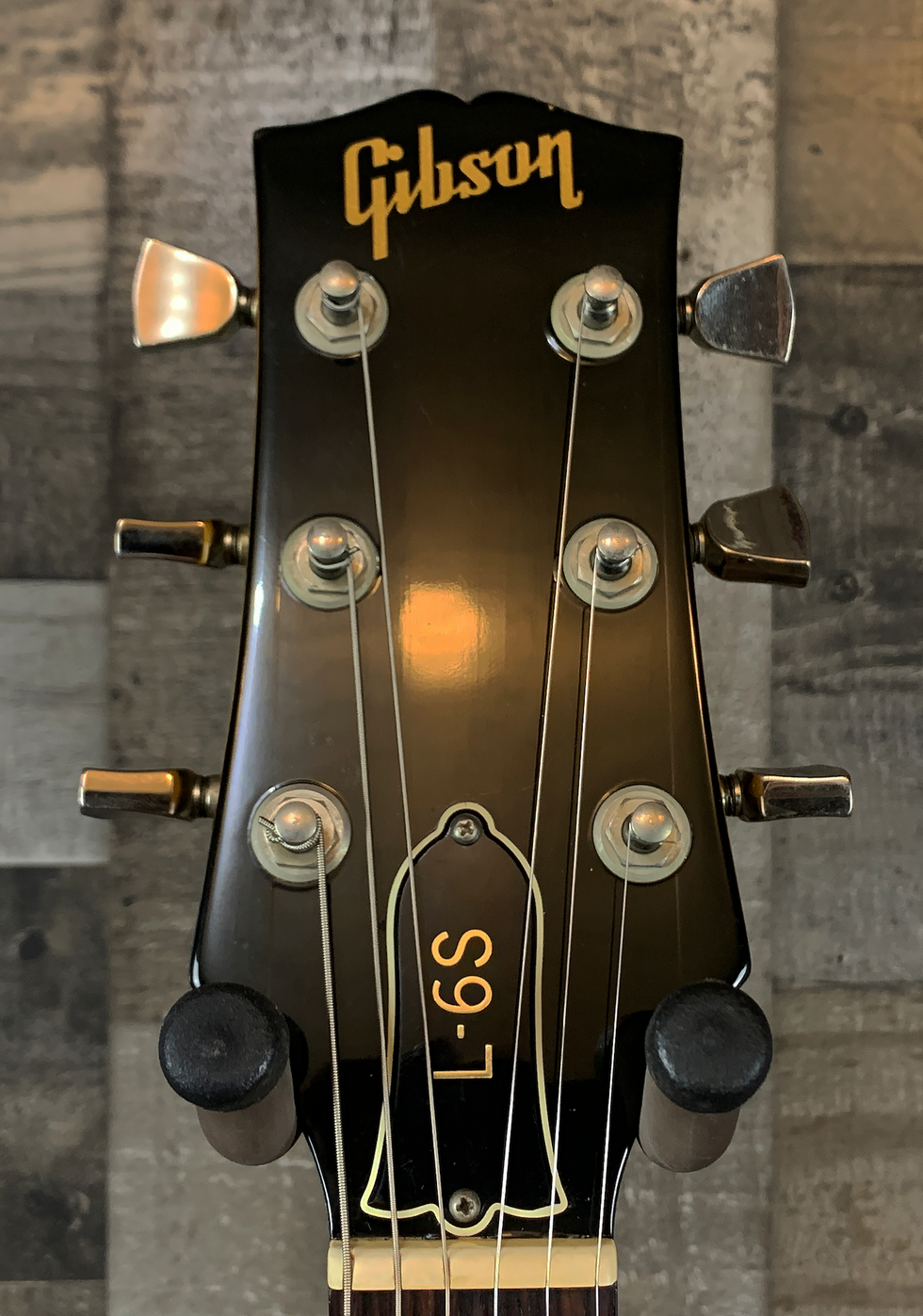 Note the manufacturing quirk on this guitar's headstock. While the guitar is properly designated the L6-S, the nameplate here reads L-6S.
In Lawrence and Gibson's estimation, a guitar this different also required a different set of control dials. The one highest up on the body is a master volume, with a midrange control as the center dial, while the lower dial is a tone control that affects treble and bass, with 10 providing the most treble. The L6-S Custom sported Lawrence's pickups, of course—a pair of his ceramic-magnet Super Humbuckers, with 4-conductor split-coil wiring to accommodate all those tonal variations. At their introduction, these pickups were about as hot as they got, although competitors like DiMarzio and Seymour Duncan were also entering the game. The bridge for the guitar is supposed to be a standard Tune-o-matic, but our model has a Gibson harmonica-style bridge, named for its distinctive shape. Since this L6-S is from the final year of production, that harmonica bridge is likely what was available in the parts bin at the time.
Instead of the usual 3-way pickup selector, the L6-S uses a 6-way rotary switch to control its tones.
The L6-S's debut price was $495, which climbed to $649 in its final production year. In 1980, a new Fender Strat had a list price of $995, so this guitar remained an able competitor. Two more L6-S models evolved from the line. In 1974 Gibson issued the L6-S Midnight Special, with a bolt-on neck, a Schaller harmonica bridge, a strung through-body, and a 3-way pickup toggle with master volume and tone dials. At the same time, Gibson also issued the set-neck L6-S Deluxe, with the same controls as the Midnight Special, but with two of Lawrence's ceramic "tar back" pickups, which got that name due to a black epoxy potting—their primary difference from other Super Humbuckers.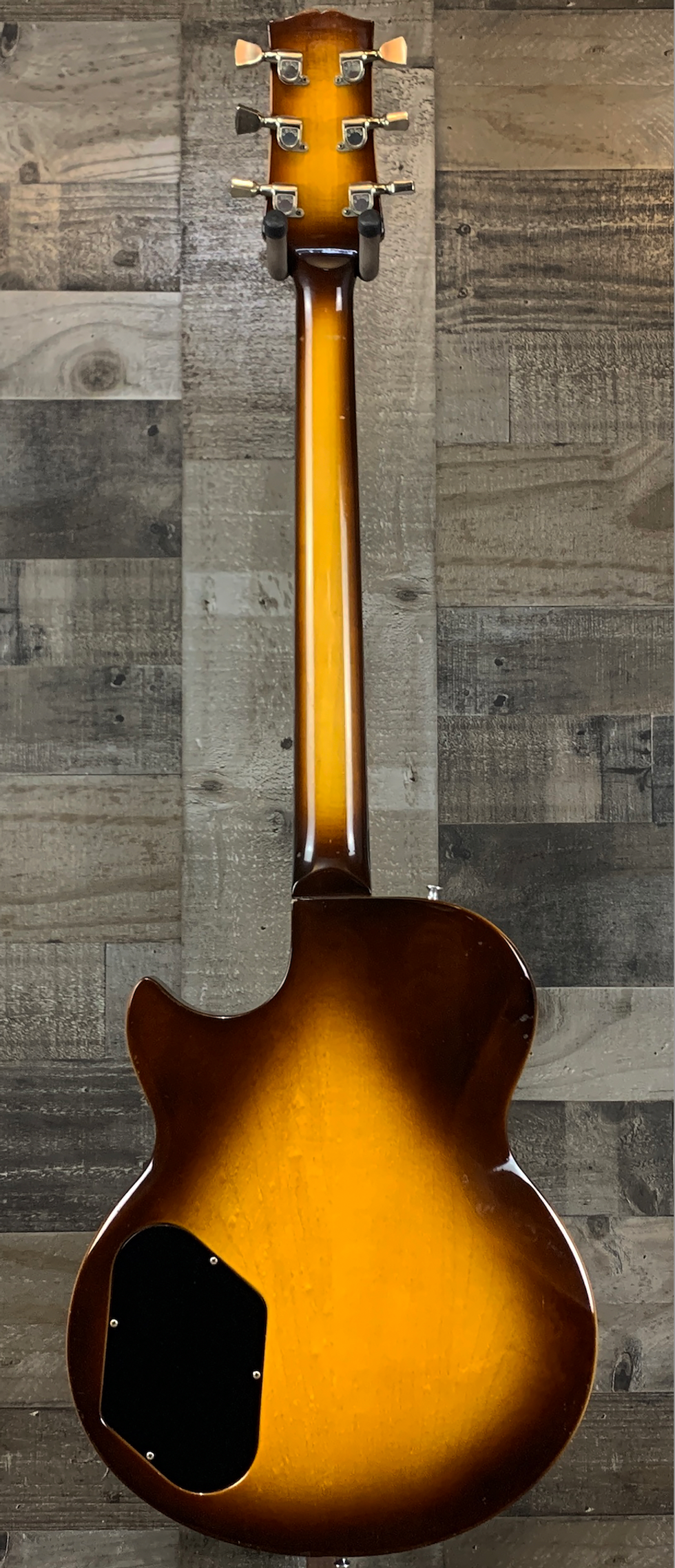 With relatively little back wear, this guitar either had a careful owner or owners, or saw little action. If that's the case, it's a pity, but the L6-S seems ready for anything.
This month's guitar comes in Gibson's classic tobacco burst finish, but the L6-S Custom was also available in natural, ebony, silverburst, and cherry sunburst. The asking price is $1,495, which falls on the more affordable side of today's range of about $1,400 to $1,700 for the model. Our L6-S Custom is a charmer to play. It balances extremely well, with a lower bout of about 13 1/2" across and 1 1/4" thick. And the neck feels better than of lot of Norlin-era necks, with a thin taper below the headstock that gradually widens. For hot vintage Gibson sounds from the '70s, it's hard to beat the L6-S Custom.