Versatile and Authentic
Waldmohr, Germany
(December 26, 2007) - BSM is bringing you the late sixties in a box. Two boxes, actually: the RMG Treblebooster and the VX-C Classic Treble & Bass Booster.
The RMG is based on the British Vox Treble & Bass booster made in the late sixties and used by many British bands. This custom version is an homage to the famous BYRDS guitarist Roger McGuinn and his signature "jingle jangle" sound. The RMG''s customized tone network makes it the perfect treble booster for any clean sound. The RMG model includes a tone control that offers extraordinary versatility. It can add a lot of twang and spank to any guitar sound. It pronounces the percussive attack in a very musical way. With the tone pot set to maximum, the unit will produce a very glassy tone -- the classic "jingle jangle" sound of Roger McGuinn -- think of "Mr. Tambourine Man."
With a medium setting the result is a punchy tone, with mild highs and a tight and powerful bass bottom, a perfect sound for any country or rockabilly style. At 7 o´clock, you get a bluesy bottom with enough mids and shimmering highs that are called for in jazz and swing. With a compressor, the RMG can also make any standard Strat sound like a Tele.
In general, the RMG works better in combination with analog compressors than with digital devices, and the same goes for chorus and delay. The RMG sounds great in front of any tube or transistor amp. It also works great with the transistor amps that are often preferred by guitarists who play clean all the time. You can even use your RMG with your acoustic guitar. MSRP: 225 Euros (approx $325)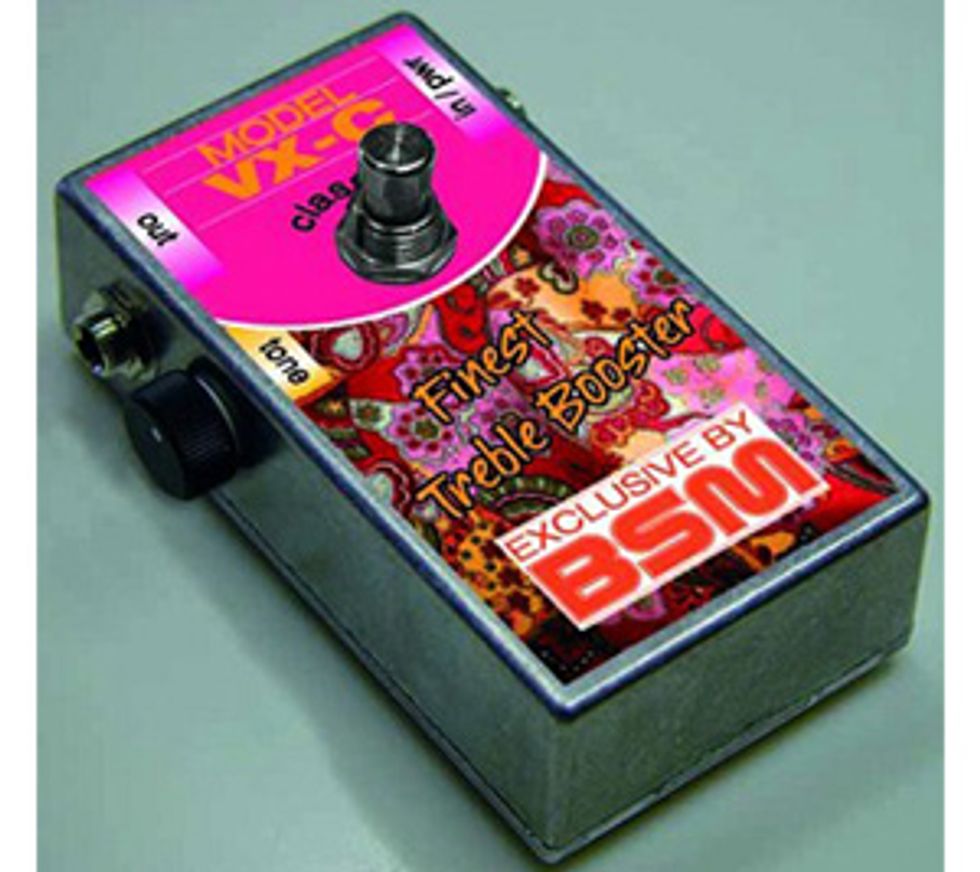 The BSM VX-C Classic model is what BSM considers the most authentic copy of the British Vox Treble & Bass booster from the late sixties. It offers the original tone network and gain from the original, making it the perfect copy of this out-of-production stompbox. The VX-C Classic model includes a tone control that allows an extraordinary amount of versatility from a wooly bass tone up to a sparkling high-end vintage sound. In the middle position, it produces the sound of a Wah-Wah pedal reminiscent of of Michael Schenker during his work with UFO or Mick Ronson. In comparison to its "hot brother" the VX-T, the VX-C Classic offers less gain and more of an old-style tone control, while the VX-T is more focussed to pronounce the mid frequencies. MSRP: 180 Euros (approx $260)
For more information:
TrebleBooster.net