Channeling the Guitar Hero - Doug Doppler
Favored Nations' artist Doug Doppler is now a certified guitar hero through his involvement with the PlayStation 2 video game Guitar Hero Encore: Rocks the '80s. Doppler became part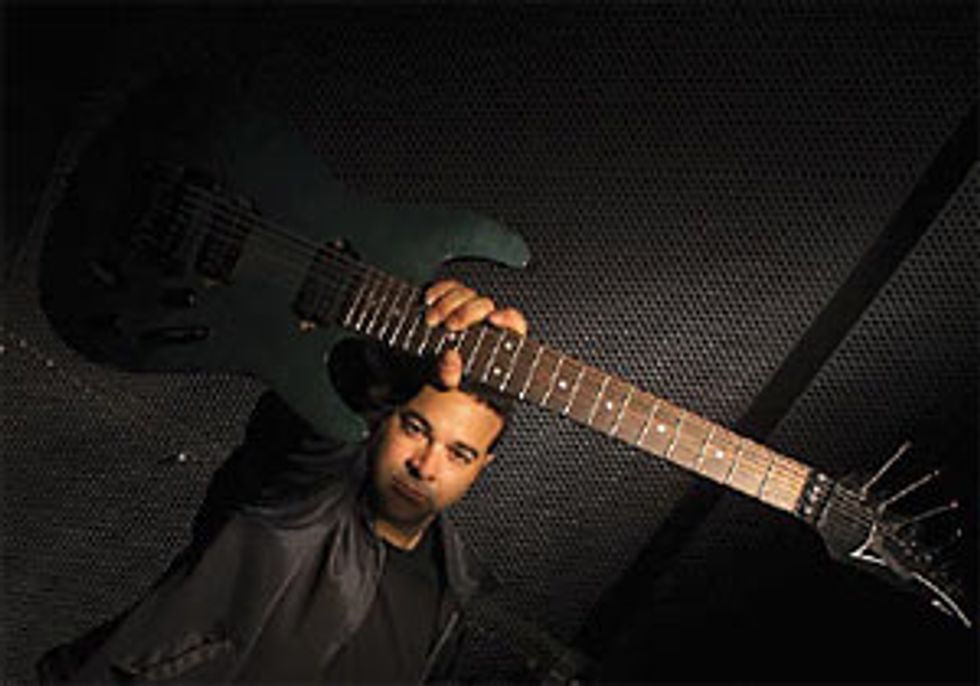 Favored Nations' artist Doug Doppler is now a certified guitar hero through his involvement with the PlayStation 2 video game
Guitar Hero Encore: Rocks the '80s
. Doppler became part of the WaveGroup Sound production house family in 2007, contributing six tracks to the Eighties version of the multimillion-unit selling
Guitar Hero
franchise. His remake of Extreme's "Play with Me" serves as the game's Furious Fretwork Encore – a difficult track to play, and a perfect showcase for Doppler's amazing guitar skills. In fact, on YouTube, videos of people playing to Doppler's cut have already generated over 100,000 hits. A former student of Joe Satriani, Doug was chosen by his former teacher to preside over teaching duties at the Berkeley, California studio. It's no wonder why Ibanez endorsed Doug, asking him to write a promotional song for the Zero Resistance tremolo from their new S Series guitars, which Doug entitled, "Zero Gravity."
The Doppler Effect
For the song "Zero Gravity," Doug used an Ibanez S470 into an M-Audio Black Box set on a Dual Rectifier model. The Black Box is a creative tool for the guitarist, combining amp modeling, drum machine features and an audio interface for computer-based recording. It boasts some of the greatest guitar amps of all time – including the Fender Bassman, Fender Deluxe, Fender Twin, Vox AC30, Marshall JTM45, Marshall Plexi, Marshall JCM 2000, Hiwatt DR-103, Soldano SLO-100, Mesa Boogie Maverick, Mesa Boogie Dual Rectifier and Bogner Uberschall – and programmable drive and tone controls, not to mention 99 built-in drum patterns.
Doug adds, "At various points on the track I introduce various effects like delay and chorus, all of which originated in the Black Box as opposed to using plug-ins. The Black Box, like many modeling devices, shines in its plug and play nature."
Digital Domain
"I'm a Pro Tools shop, and this track was cut with my Digi001, which has since been upgraded to 002. I do a lot of session work these days, and have become a bit of a mad scientist in the edit window," Doug says. A good thing to point out is that guitarists have become much more proficient at recording their own tracks and editing them together through the convenience of cut, copy, and paste functions. This is especially true with the editing procedures of ProTools. Doug goes on the recall, "Oddly enough, on this song, I didn't edit the guitar tracks at all. It was written and recorded in one day, with the exception of the bass track, which was added a few days later."
"One of the track's cool incidentals was the drum loops – most loopheads would recognize them from Garage Band. What was fun was how I used them in the track. I cut the track to a drum machine beat and then took the BPM into Garage Band to grab some loops and set them up along the timeline in a linear array. Then I imported them into Pro Tools and sliced and diced and did some stacking as well. What's cool about this approach is that you get an instantaneous palette to work from instead of loading a bunch of samples and trying them over a section, one at a time."
This is an important tip to remember when working with drum programming; always have enough samples to access while programming, so you don't have to stop and load samples and break the creative flow. Nothing is as bad as stopping and looking for a certain drum fill through hundreds of samples and the subsequent loss of concentration.
Gravity at Work
Rob Nishida, head of artist relations at Ibanez, sent Doug a new S470 guitar to try out during the recording of "Zero Gravity." "The funny thing is that the fine tuner accidentally broke, and it took the low E down to B while the rest of the guitar stayed almost perfectly in tune. The point being, if you play a power chord shape on the low E with that tuning, you end up with octaves, and that's how that track came about – me fiddling around in the studio. In terms of the sound design, once I had the composition in place, I picked the effect treatments I wanted to use for each section. This song is really a tremolo demonstration and some effects sound better for certain types of bar work than others. I did a little experimenting and found what seemed to work. The track is an interesting blend of the creative and experimental, which for me is one of the greatest pleasures in the digital domain."
A great characteristic of the digital domain is the endless creative possibilities it affords. Inspired by the S470 and the Black Box, Doug was able to call up any desired amp tone combined with ProTools to perfect "Zero Gravity." This is a perfect marriage of the digital domain and the devastating riffs of the Guitar Hero.
Check out "Zero Gravity" on the guitar compilation, Guitar Masters, Vol. 1 from BHP MUSIC, available in music stores. You can also check out his killer chops on the upcoming instrumental CD,
GET THE LED OUT! A Led Zeppelin Salute
, due out next month.
---
Brian Tarquin
Emmy Award Winning Guitarist Brian Tarquin scored a Top 20 hit in the 90's with "
The Best of Acid Jazz, vol. 2
" on Instinct Records and enjoyed several top 10 hits on the R&R charts. Founder of the rock/electronica band, Asphalt Jungle and has scored TV music for such shows as, CSI, Smallville, MTV, Alias, 24, All My Children and many others.
bohemianproductions.net
jungleroom@optonline.net
myspace.com/bohemianproductionsmusic