The indie-rock sideman honors his "first favorite song off all time" and admits to confusing the mighty Zep with another bluesy British quartet.
Photo by Holly Whitaker
Brit post-punk guitarists Anton Pearson and Louis Borlase take minimalism to the max on their band's debut album.
"There's a certain magic, or trance-like quality, that you get from pushing repetition to the extremes," says Anton Pearson, one of two guitarists in Squid, a U.K.-based post-punk quintet that draws its power from a minimalist aesthetic. "It is definitely a big part of how we write things. We'll keep going with ideas and lose ourselves in them." So, hypnotic, repetitive guitar figures—often edging towards dissonance and played with a warm, fuzzy tone—are, naturally, a prominent feature on Bright Green Field, Squid's debut full-length release.
"When you hear repetitive music, it strikes this inner chord on a purely biological level," co-guitarist Louis Borlase adds. "For example, if you have a thought, and you hear it over and over again, you start to make sense of how you are thinking. That same thing happens with minimalism and repetition. If you can let an idea ride for long enough, you realize that it has enoughscope [to reflect] a kind of microscopic adjustment over time. That is central to the way we enjoy listening to music, but also the way we enjoy writing music."
Squid - Narrator (Official Video) ft. Martha Skye Murphy
Pearson adds, "There's the psychology of the repetitive firing of neurons, where we're constantly breathing and our heart is beating—it's a whole world to think about, which is quite fun. But, for us, I think there are loads of things we find interesting about repetition that we don't really talk about. A lot of how we write is unspoken. If something feels good, it feels good, and we don't always have a shared goal of where we want things to go. We just let them happen."
"When you hear repetitive music, it strikes this inner chord on a purely biological level."—Louis Borlase
Letting things happen—even while committed to a demanding, well-defined set of principles—has been the band's working M.O. from the outset. Squid started while the band members (who also include lead singer and drummer Ollie Judge, keyboardist Arthur Leadbetter, and bassist Laurie Nankivell) were still students in Brighton, a hip, artsy city on England's southern coast, and their first gig was a semi-regular residency at the Verdict, a local jazz club they chanced upon.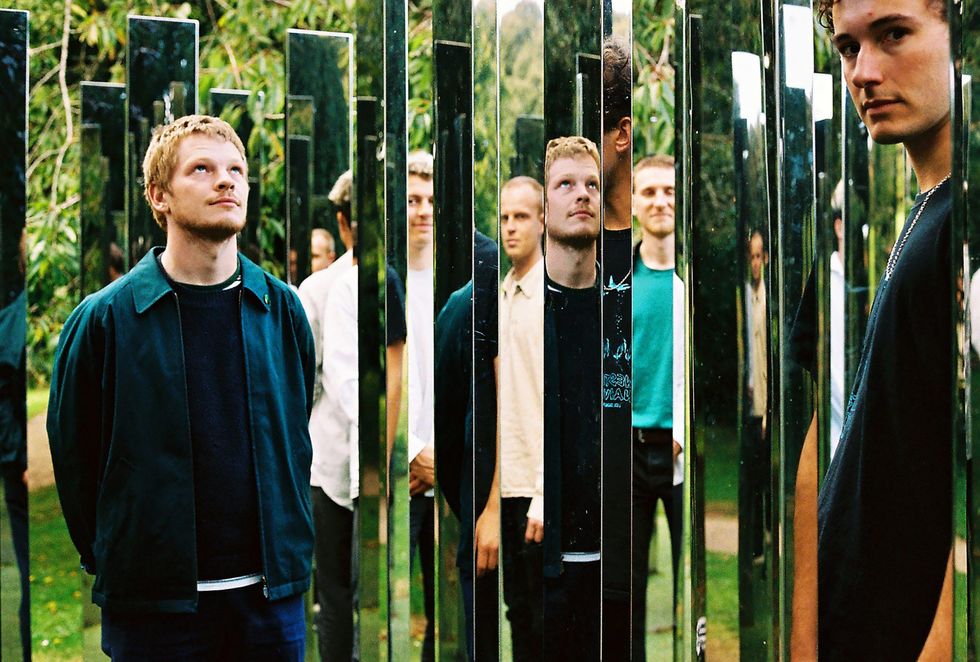 Squid are, from left to right, vocalist/drummer Ollie Judge, bassist Laurie Nankivell, keyboardist Arthur Leadbetter, and guitarists Anton Pearson and Louis Borlase.
"I was out looking for somewhere to have a drink with some friends," Pearson says. "We saw this jazz venue that we hadn't noticed before, and went in. The guy was super nice and let us watch for free. At the end, I asked if it would be possible for us to put on a show there, and he said yes. We didn't realize at the time that it was one of the most renowned jazz venues in Europe—it was in The Guardian's top five list of jazz venues in Europe—and here we were putting on a night there. We formed the band because we agreed to curate a night of music, but we didn't have any music to play, so we just wrote a set for that."
Despite getting their start in a jazz club, Squid isn't a jam band. They improvise, although they approach improvisation more like a stimulant. It's how they get the ball rolling, and a big part of how they interact as an ensemble. But extended solos aren't their thing.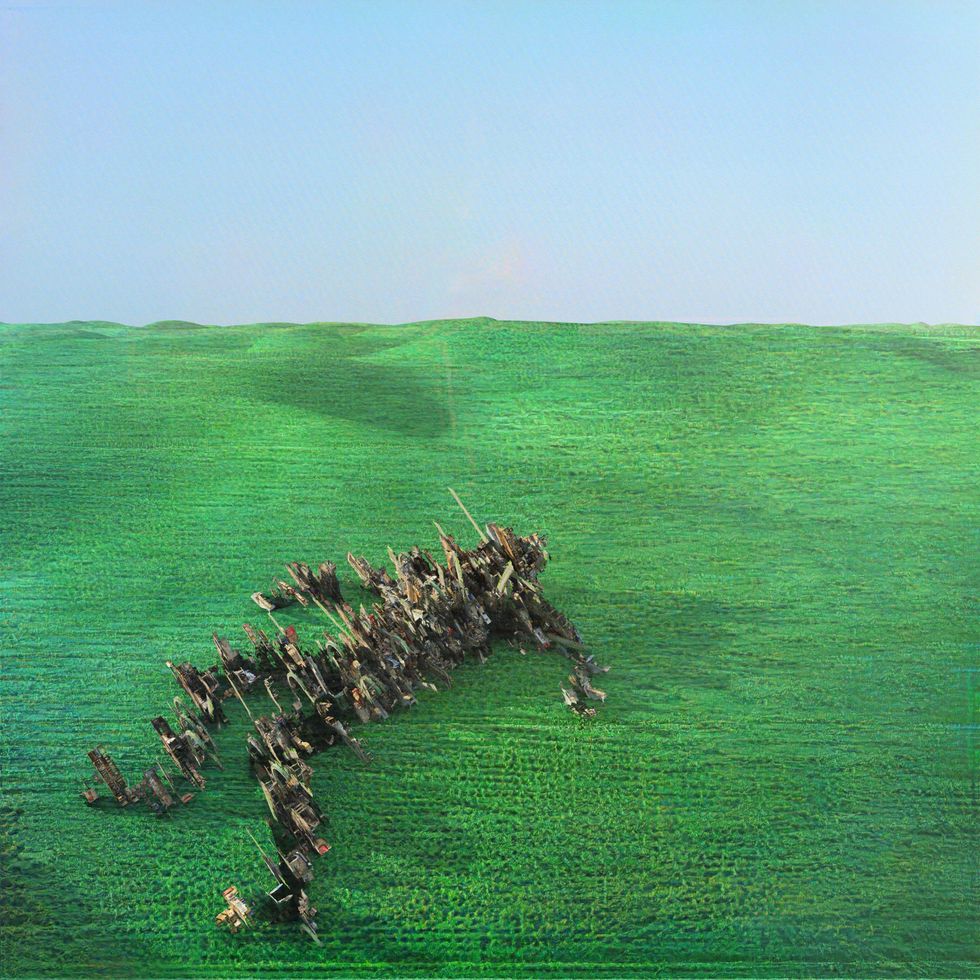 TIDBIT: Squid's debut full-length was recorded in a small London studio during a heatwave, and the air conditioning was turned off for tracking. "It was so sweaty," says Louis Borlase. "If we'd done any extra takes, we would have all probably lost about two liters of water."
"Improvisation is a compositional tool," Borlase explains. "But it's also—maybe on a more implicit, subconscious level—something that is very key to how we capture music in the studio, and maybe on a live level as well. None of us has this precious attachment to our parts to say, for example, 'I want to make sure that this certain guitar line or keyboard riff is captured at exactly the two-minute mark.' Jamming is the way in which we find an inception of musical ideas. People bring in ideas—nobody ever brings a song to a Squid writing session—and we listen to what that person has brought, as opposed to thinking about what we could do over the top of it. We very much leave that up to chance, and I think that's very important."
"Anything longer than four seconds is a bit like, 'What's this guy doing?'" says Pearson. "We have an understanding that you should never be attached to ideas, because what's the point? If you bring something small in, let that be an impetus for a process rather than a means to an end. Part of how we get to finished tracks is that someone brings in something small, it changes completely, and we realize that the thing that was brought in originally doesn't work, so we take it out. What's left are the beginnings of something new."
Anton Pearson's Gear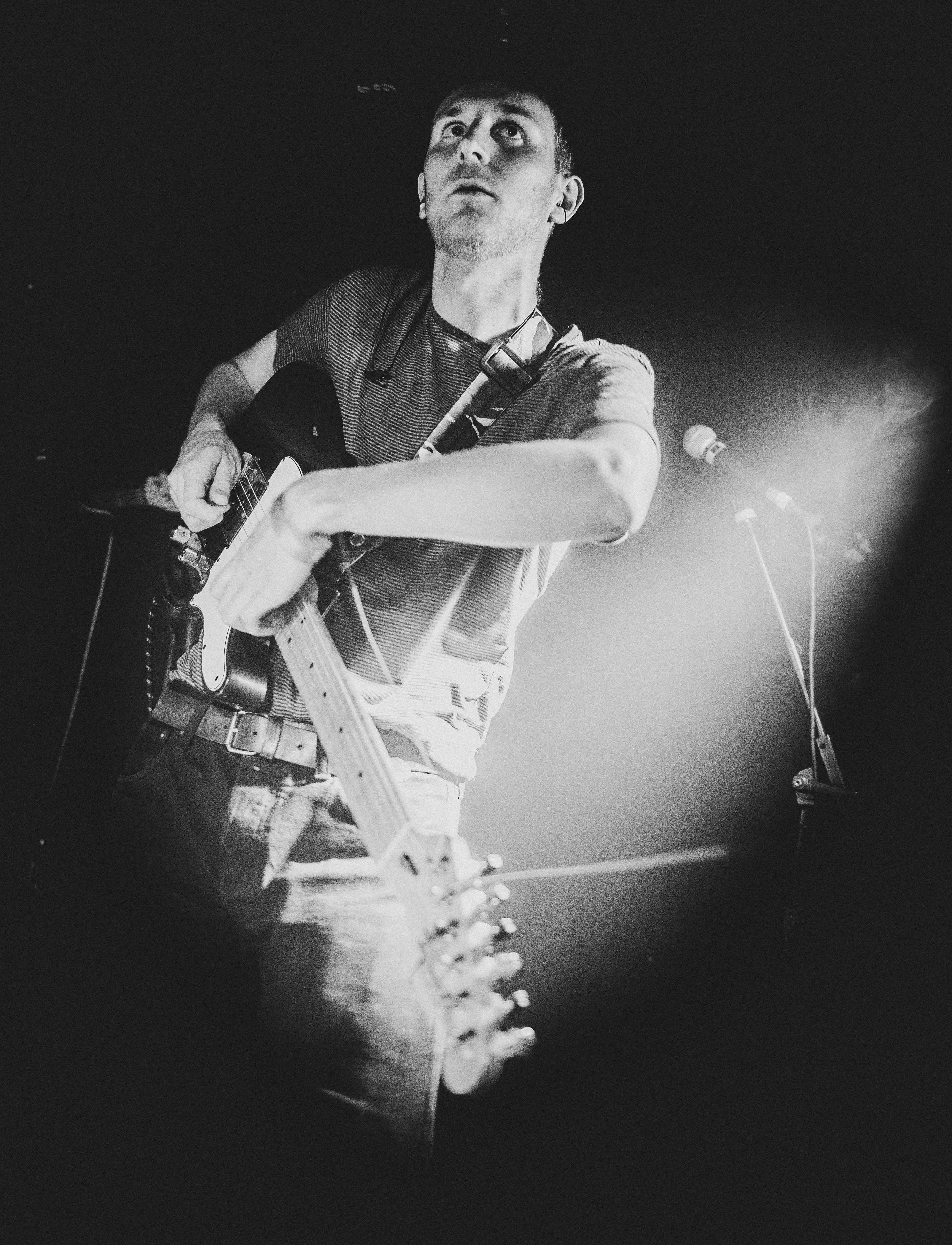 Anton Pearson explains that Squid's compositions evolve from musical micro-ideas brought in by various bandmembers. "Anything longer than four seconds is a bit like, 'What's this guy doing?'" he says.
Photo by Piran Aston
Guitars
Fender Duo Sonic
Mexico-made Fender Telecaster
Amps
Fender Vibrolux
1967 Selmer Treble-N-Bass (on loan from a friend)
Strings and Picks
D'Addario XT (.010–.046)
D'Addario Duralin .85 mm
Effects
Boss DD-3 Digital Delay
Electro-Harmonix Canyon
TC Electronic Hall of Fame Reverb
EarthQuaker Devices Avalanche Run
Muzizy Fuzz
DigiTech Whammy
Dunlop Cry Baby
Electro-Harmonix Superego Synth Engine
Dwarfcraft Devices Wizard of Pitch
JHS Tidewater Tremolo
Boss TU-3 Chromatic Tuner
The band members were friends first—the band came later—and that energy is an important part of the group's dynamic and compositional process, too. "Our music is a total reflection of the way we interact on a purely hanging-out level," Borlase says. "When you hang out with your friends that you respect, and you're having a conversation or debate, you listen to each other and let that thought play out before you put your thought into the conversation. That transfer from conversation to music is key."
Not that informal, friendly, musical conversations were possible once the pandemic and subsequent lockdowns canceled a year's worth of gigs. That also impacted the types of songs Squid wrote. "We were ready to hit the road, but then, suddenly, we were left with these embryonic pieces of music that were just starting to take form," Borlase says. "Usually when we write music, we tune in to how the audience responds.
"I don't think any other instrument can keep me on my feet as much as a guitar, for better or for worse." —Louis Borlase
Seeing people dancing at certain sections, or looking focused at other sections—that naturally feeds back to us for how we choose to make certain musical moments within a track stand out. We didn't have that, so we sent ideas to each other via the internet. There are certain examples where you can feel there's an idea that snowballed and gets out of control. Take a song like 'Narrator.' [The intense, emotionally grinding, rhythm-shifting first single from Bright Green Field.] In a parallel universe, we'd run the risk of it being less of a mind fuck than it actually is. It starts with an idea and it ends up a million miles away. It is a microcosm of that idea of starting with a thought and allowing that thought to take over your mind, and you end up somewhere else in a completely different state of being. But that piece of music would have been so different if we hadn't been faced with this pandemic. We played it very rarely because there was rarely a gig where we could play it in front of people."
Louis Borlase's Gear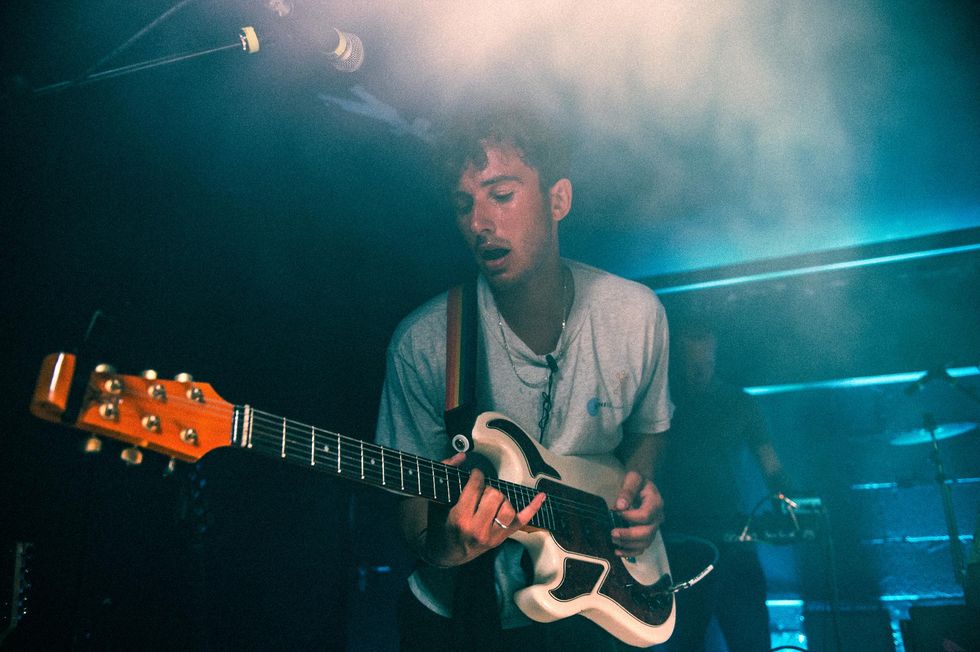 "Improvisation is a compositional tool," explains Louis Borlase. "But it's also—maybe on a more implicit, subconscious level—something that is very key to how we capture music in the studio, and maybe on a live level as well."
Photo by Piran Aston
Guitars
Burns Marquee
Fender Jazzmaster
Amp
Strings and Picks
D'Addario XT (.011–.056)
D'Addario Duralin .85 mm
Effects
MXR Carbon Copy

Line 6 DL4 Delay Modeler
Boss Blues Driver
Alexander Pedals Syntax Error
TC Electronic Sub 'N' Up Mini
Bright Green Field was made with award-winning producer Dan Carey at his one-room studio in South London, where his console and outboard gear share the same space as the bands he records. His production style—immersive and focused on live takes—was key to capturing Squid's loose, improvisatory energy.
"It was the middle of the summer, and it was boiling hot," Borlase says about cutting "Narrator." "The track that you've heard is the second take. There was never any need for a third or fourth take, because so much of it is based around improvisation. We never play it the same way twice. I guess the reason that second take of 'Narrator' felt so good is that, early on, you capture that nervous energy. It was so sweaty. If we'd done any extra takes, we would have all probably lost about two liters of water."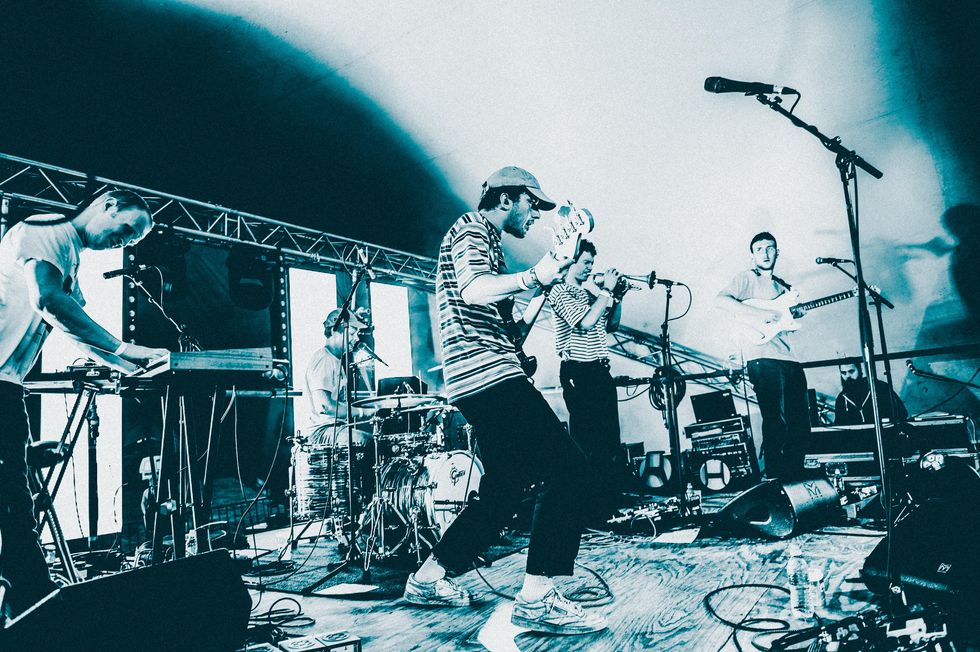 Live, Squid play with the same intensity and precision as exhibited by minimalist punk progenitors Wire—another two-guitar band noted for their carefully knit interplay.
Photo by Piran Aston
As a guitar band, Squid's approach to the instrument doesn't have much to do with the glory days of tight pants and arenas—or even '90s-era flannel and grunge. "There is a whole history you're engaging with when you touch the guitar," Pearson says. "And we're still interested in that history. We're interested in finding ways of making new stories. They say the electric guitar is so successful because it is that perfect marriage of technology and a gestural nature you get from acoustic instruments. You can go as far as you want in terms of electronic technology with it—right up to plugging it into a computer—but at the same time, you still have the gestural nature, that kind of visceral nature that you get when you see someone play it live. I studied West African music at university, and for a lot of communities, like in Mali and Niger, it is still such an important symbol—not just for music, but also resistance. It is still an interesting tool and it still has relevance, but it is important to keep thinking of ways to innovate and change people's perceptions of it, and I think we're trying to do that a bit."
Innovation, at least according to Borlase, may also just be the nature of the beast. "The guitar is as much a cultural object as it is a musical object, and that still hasn't faded away," he says. "Guitar is something that you feel you're saying something with, regardless of what notes you're playing. The guitar is a confusing thing, unless you're super high-tech and everything makes sense in your head. It's this thing that allows you to have a voice and be able to always aspire to those people who came before you. For us, there are a lot of bands before us that have not only played guitar, they have also challenged their own ways of thinking. If you continually confuse yourself, not to mention if you knock into something mid-song and realize, 'Why does this sound so bizarre?' I do that all the time—plus juggling three or four tunings and then using a capo. I don't think any other instrument can keep me on my feet as much as a guitar, for better or for worse."
Squid - The Dial | Stolen Sessions
An articulate, immaculately constructed Annapolis native that speaks in many voices.
An extremely well-made guitar boasting easy playability, stand-out looks, and super-impressive sonic versatility.
It's pricey. You'll want to ensure you're onboard with the Narrowfield voice before you invest.
$4,660 with 10 Top, as reviewed ($4,000 with standard top)
4.5
5
5
4
Even among a stable of instruments known for their versatility, PRS's Studio model is arguably one of the company's most sonically and stylistically malleable instruments. Reintroduced to the U.S.-made Core lineup for 2021 after first appearing in 2011, this new Studio is hyper-flexible, configured with a distinctive humbucker set and modified switching that takes that versatility up a notch.

Salsa Verde
Whether or not you're a habitual PRS player, it's almost impossible to cradle a guitar like the Studio and not find yourself in free flow—playing away without pausing to think "is this neck right for me?" or "maybe I'll tweak the action." The Studio feels good right off the bat.
It looks right, too. PRS is fond of fancy dress in general, and our review sample is gorgeous in person, without being over the top (a perspective dependent on your own tastes, of course). The "Eriza verde" finish lends a lively, three-dimensional sense of motion to the flame in this maple 10 Top, and beautifully contrasts the dark-brown rosewood fingerboard and stripy rosewood headstock overlay. The natural mahogany of the back and neck display a premium grain, while the abalone bird inlays and mixed gold-nickel hardware add further visual excitement.
The set neck is carved in what PRS calls their "pattern" shape, which many players consider ideal. It's a full-feeling '59 Les Paul-inspired profile with a very slight V, soft shoulders, and an easy playing feel. The nut width is 1 11/16" and the scale length is PRS's traditional 25". Put it all together, and the playing weight is around 8.2 pounds, which is quite reasonable for a chunk of solid mahogany and maple.
So, with many of these features being familiar components of other PRS Core models, what makes a Studio a Studio? It's the pickup selection, by and large. In addition to the 58/15 LT humbucker in the bridge position, the guitar comes with a pair of PRS Narrowfield pickups in the middle and neck positions. Narrowfields have returned to the lineup for 2021 in the Studio and just one other model. These narrow humbuckers possess a more single-coil-like magnetic field, delivering a tone that's somewhere between a full-sized humbucker, a P-90, and a narrower single coil—all with the benefit of hum cancelling performance. Add a push-pull coil split for the 58/15 LT on the tone control and a 5-way blade switch, and you've got seven distinct pickup settings.
These narrow humbuckers possess a more single-coil-like magnetic field, delivering a tone that's somewhere between a full-sized humbucker, a P-90, and a narrower single coil.
Hardware includes PRS's well regarded Gen III tremolo, and Phase III locking tuners. They pair with a lubricated nut to keep the guitar in tune, regardless of heavy vibrato use. Playability is faultless all across the board.
Bucking the Trend
Played through a 50-watt Friedman Small Box head and 2x12 cab, a custom tweed Deluxe-style 1x12 combo, and a Neural DSP Quad Cortex into studio monitors, the Studio delivered the versatility that the design promises, hopping confidently between varied sounds and styles. It pivots from grinding heavy rock to mellow balladry at the flick of a switch. The sounds are meaty, original twists on the HSS range of tones you once encountered on the average superstrat. The middle, neck, and in-between voicings are thicker, fatter, and gutsier than genuine single-coil pickups would be. That, of course, is entirely the idea.
By sacrificing some of the single-coil glassiness and the trebly spikiness of a traditional Strat single-coil, the Narrowfields add extra grunt to near-clean tones, edge-of-breakup settings, and overdrive sounds from a Tsakalis Six, JHS Angry Charlie, my amps, and the Neural. These pickups shine when you ask them to crunch and wail.
The 5-way switch, varied voice of the Narrowfields, and coil-split humbucker mean you can ably deliver convincing Strat-like sounds in the in-between positions, though they are generally darker than a true Stratocaster—a tone signature that's further colored and re-enforced by the mahogany/maple construction and glued-in neck. The format is a great alternative for HSS superstrat players of old who came to regard the high-output pickups typical in such guitars a touch too spiky and yearn for more grit and gristle to go with the snap and chime. And when you want to skip approximation of single-coil sounds entirely, you can revel in Les Paul-like girth and grind when the bridge humbucker is unleashed with all coils blazing.
The Verdict
The PRS Studio provides a super-solid foundation that's defined by great woods, great components, and high attention to detail that closely allies it with other PRS cornerstone models like the Custom and McCarty. What really differentiates the Studio, though, is the pickup set, and while this configuration might not be for everyone, it's a fatter, thick-sounding twist on the do-it-all HSS template that offers maximum flexibility to so many players. It's not cheap. But it isn't meant to be, and both longtime PRS fans and newcomers to the brand will likely appreciate the substance and versatility that investment delivers here.
PRS Studio Demo - First Look
An amateur builder-in-the-making headed online to source parts and, with the help of YouTube and guitar forums, taught himself how to build a Thinline-inspired beauty.
Name: Vinny Eadicicco
Location: Staten Island, New York
Guitar: Leslie 56
I'm a newbie amateur at building guitars. After trying out a friend's Thinline one day, I was hooked. I've always liked the looks and design of a Fender Thinline: the f-hole cutouts, the contours, semi-hollowbody, etc. So, I ventured online to search some DIY videos on how to build a guitar, and there were quite a lot on YouTube.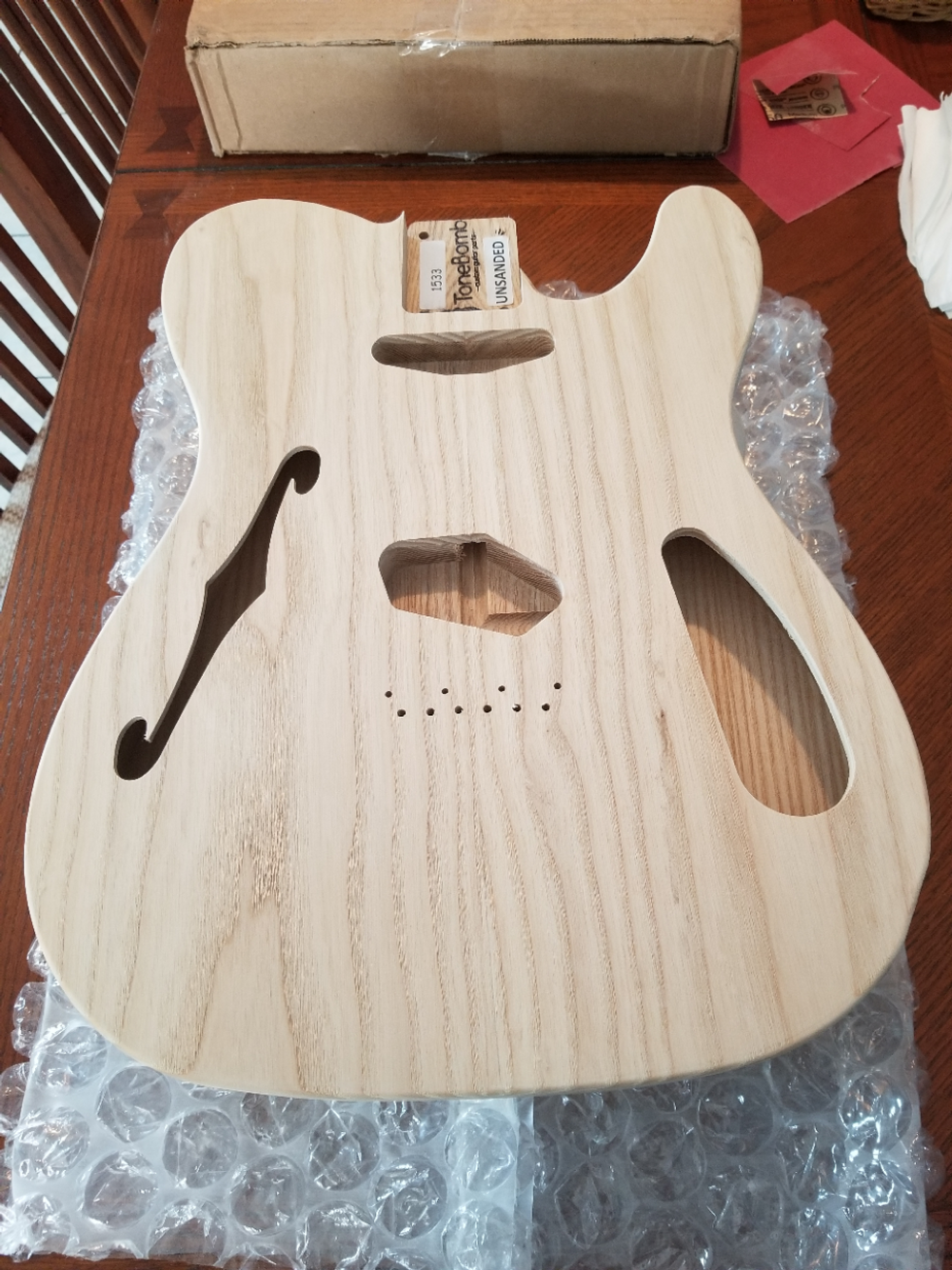 After taking in all the knowledge, I went searching for an unfinished guitar body and a neck. I came across a nice-looking Thinline-style body from a Canadian-based eBay seller called ToneBomb. The body was considerably affordable and attractive, especially the grain. After I made the initial purchase, I looked for ideas on paints and stains. One of the ideas I fancied was from a YouTuber who used a basic shoe dye instead of paint. I was truly amazed by how it came out, plus it looked rather easy to apply.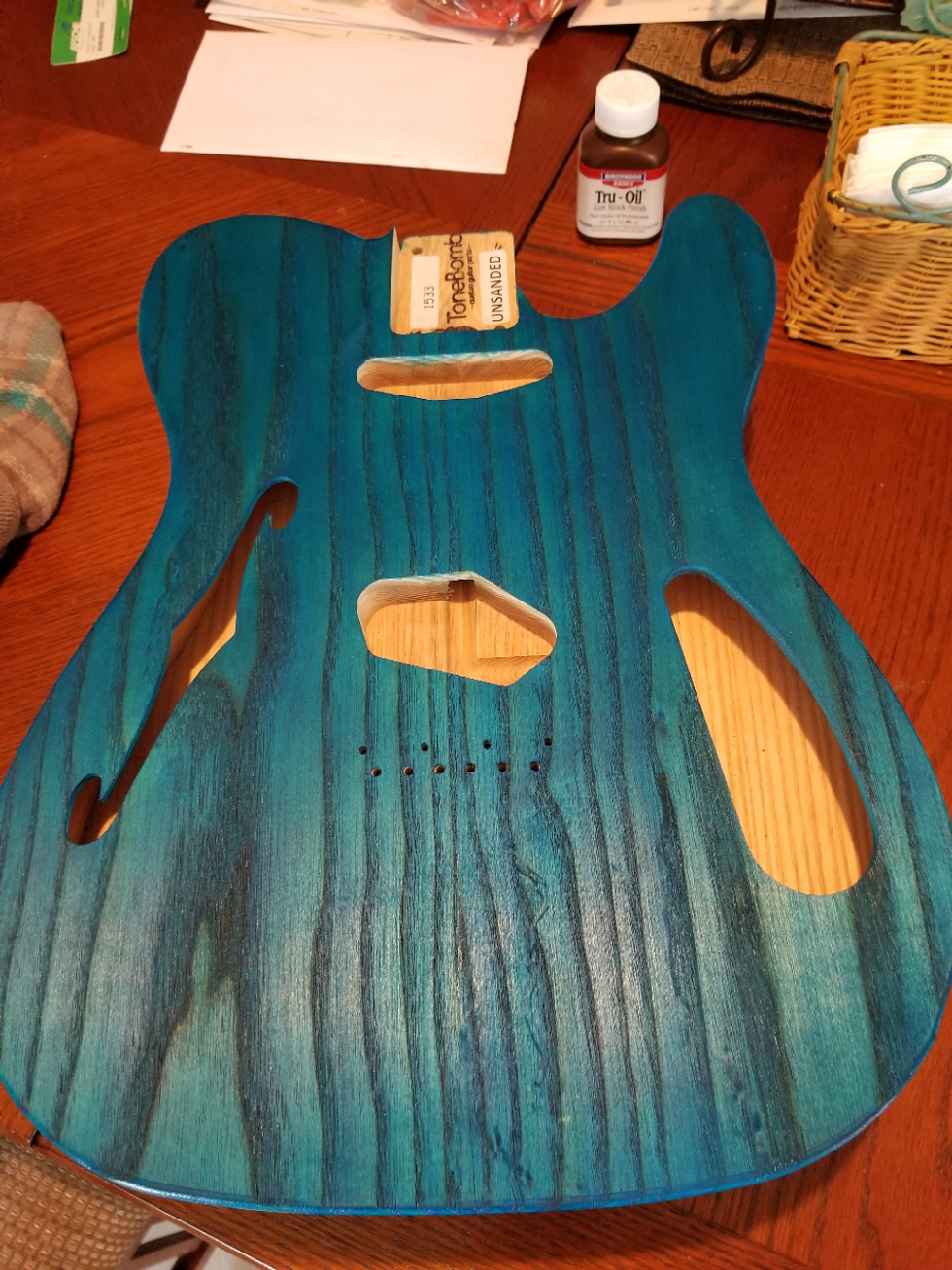 My next step was to pick a color. Blue was cool, but turquoise was terrific. A manufacturer called Angelus seemed to have a good reputation and good reviews, so I went with Angelus Leather Dye. When the guitar body arrived, I took some advice from a cousin on how to precondition it before applying dye. He said to wipe it down with a damp rag to raise the grain, and then after the grain is raised, use a tack cloth to remove any dust and particles from the body, which I did.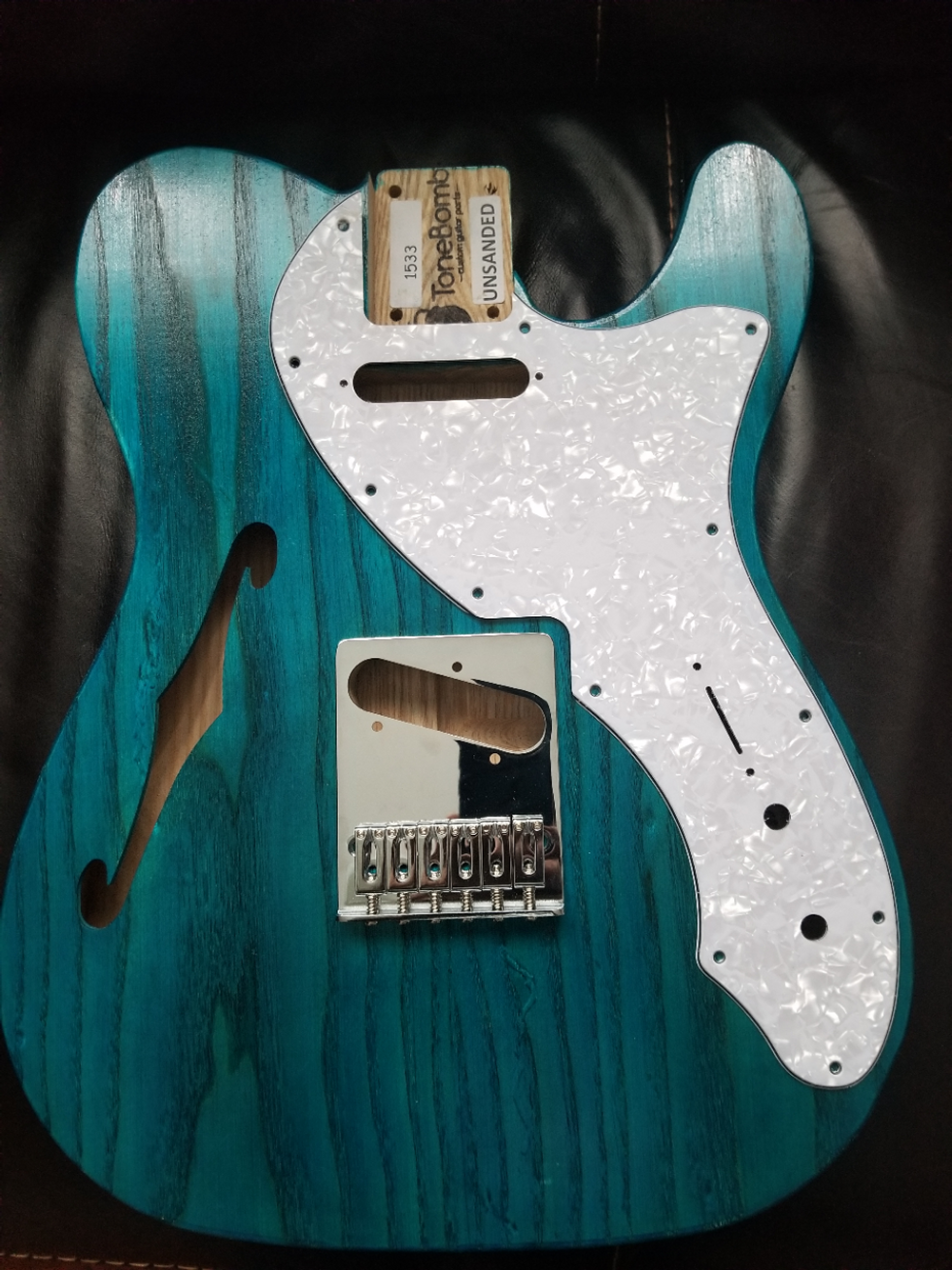 I then applied one coat of the dye and it took nicely. After it dried, I decided to be daring and gave it two more coats of shoe dye. When it all dried, I decided to utilize a finish called Tru-Oil. It's recommended to use at least eight coats minimum. I eventually applied 10 coats of Tru-Oil on the body over the span of three days or so. Tru-Oil dries quickly. However, I didn't want to rush the finish and wanted it to cure, so I took my time, applying it in stages.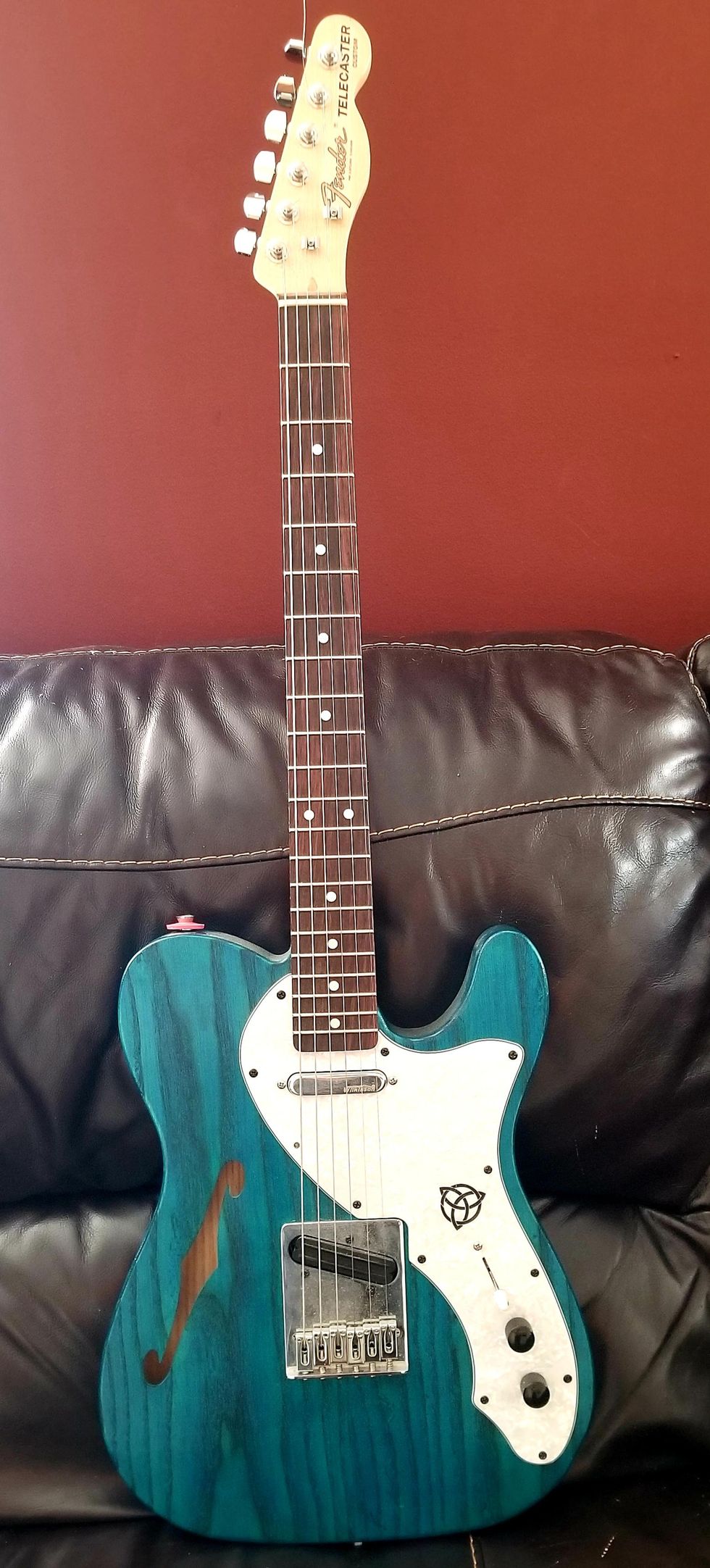 After the body was good to go, I needed a Tele neck. With the way the body came out, I didn't want to skimp on a cheap neck. I bid on a Musikraft Tele-style neck, and eventually won it for around $200. I installed the neck, along with a set of Fender tuners. All the hardware was purchased from eBay. I used a Dragonfire Hot Rails pickup in the bridge and a Wilkinson neck pickup. I soldered everything up with much guidance from the internet. The Squier-Talk.com forum was a huge help: A big shout-out to you guys on that forum. After it was finished, I named her "Leslie 56," because my girlfriend shelled out the monies for this project as my 56th birthday present. Thanks Leslie!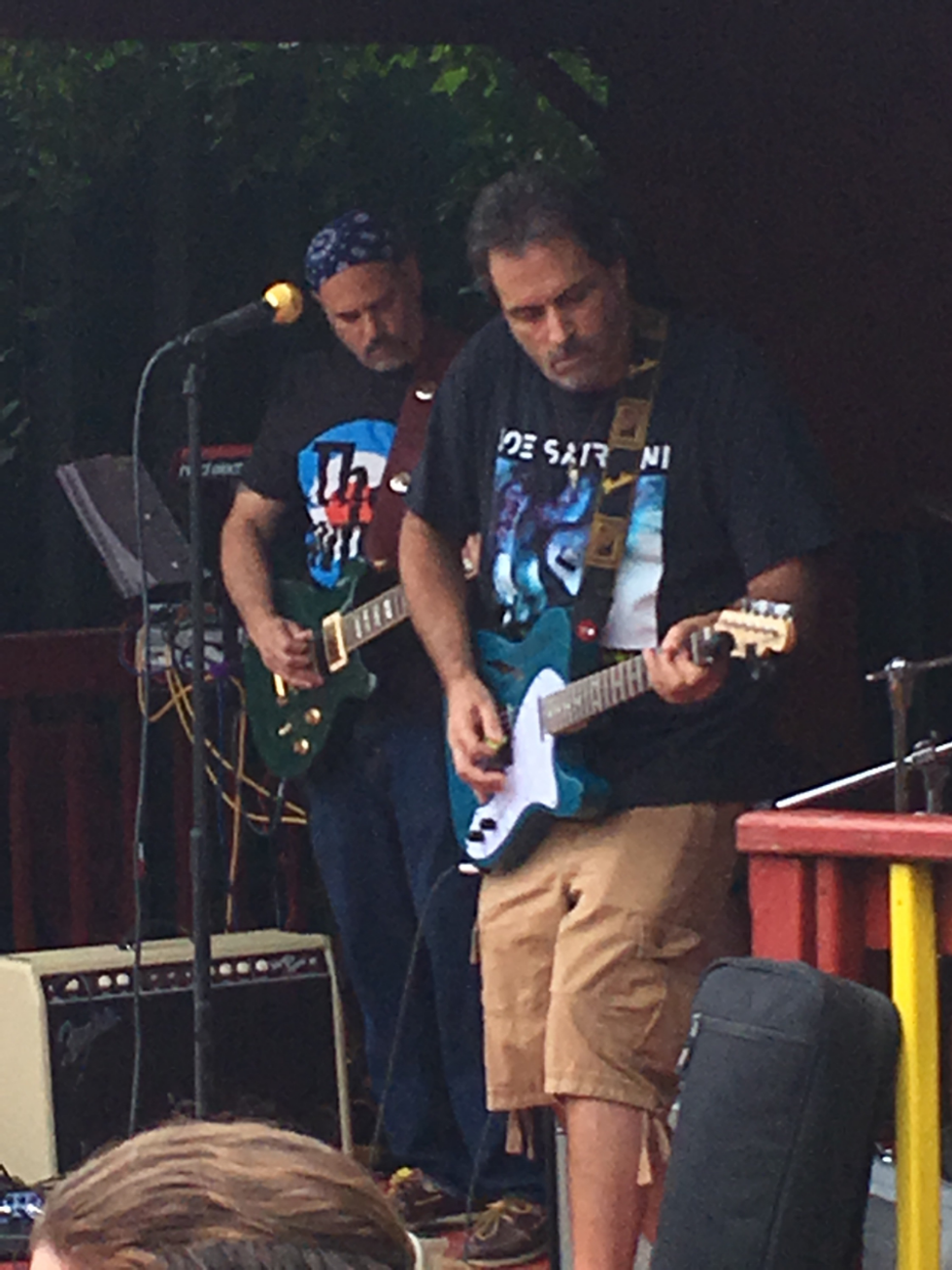 The guitar is a beaut, with great action and nice tones. I had a lot of fun doing this project.
Send your guitar story to submissions@premierguitar.com.
Our columnist debunks some of the many myths surrounding Leo Fender's P-bass design.
Why is it that the majority of today's basses have a 34" scale? The quick answer would be: Because the popular Fender Precision bass had a 34" scale, and most manufacturers simply followed this layout. Then, the question becomes, why did the original Precision—introduced in October 1951—come with a 34" scale? There are lots of speculations on why it ended up with this specific scale and many of these are conflicting. Most of them have questionable and hard to verify sources but unveil lots of creativity.
This is from Legendary Lows: The Precision Bass Story on Fender's website:
One of the most important features of the Precision Bass was its scale length, which Leo Fender, after careful consideration and lengthy experimentation, set at 34".
And in another statement:
Because if Clarence Leo Fender were to be remembered for nothing else, surely it would be the Precision—an instrument—indeed a whole new kind of instrument—that simply didn't exist before he invented it, that would forever ensure his place in history.
There is no question about his place in history and that he will be remembered for it. But it's worth noting that he wasn't first. Once we agree that an electric bass basically consists of a body, neck, pickup, tuners, frets, and a thick set of strings (neglecting the fact that fretless basses are electric basses, too), the honor of being first truly belongs to Seattle-based Paul H. Tutmarc and his 1933 bass, or bull-fiddle. His final product, the Audiovox 736 had a 30 5/16" scale length.
As a funny side note, here is what his son, Bud Tutmarc, wrote about the motivation behind his father's invention:
My dad, being a band leader and traveling musician, always felt sorry for the string bass player as his instrument was so large that once he put it in his car, there was only enough room left for him to drive. The other band members would travel together in a car and have much enjoyment being together while the bass player was always alone. That is the actual idea that got my father into making an electric bass. The first one he handcarved out of solid, soft white pine, the size and shape of a cello. To this instrument he fastened one of his "friction tape" pickups and the first electric bass was created. This was in 1933.
Turns out it was more of a social project for us poor, lonely bassists?
Many other scales will work just fine, but it's about what is practical, feels right, and where you're coming from.
Back to the 34" scale length question. Here are a few of the myths, theories, and rumors floating around. One is that Clarence Leo Fender was known as thrifty, to say it mildly. He had 25.5" fretting tools, he went for a 34" scale, adding only five lower frets and using the same tools.
This "Cheapo-Leo" argument sure sounds credible, but there is a tiny deviation on these identical bass and guitar fret-spaces. The guitar's nut-to-fret distance is 1.431", while a 34" bass' fifth to sixth fret span is 1.430". To get to 1.431", the bass scale would need to be 34.03". These .001" or .0254 mms are surely within the production tolerance, but it's not an exact fit if it's not exact.
Other authors have thrown in that short-scale Fender guitars were 24" and 22". They were cut on the same fretboard saw as 25.5" scale boards, moved over one or two fret positions. This doesn't add any credibility to the argument if you do the math. These fret spacings are far from being identical!
It's almost the same as with the "Let's just take the middle!" argument. With a standard upright at 43" and a guitar at 25", it's correct that the middle would be 34". Unfortunately, the guitar is 25.5" and, once again, it's not an exact hit.
Another theory is that classic instrument sizes were often given in fractions, like halves or quarters, and, rarely, thirds. With the Fender guitar at 25.5" being 4/4, the 34" Precision comes out at exactly 4/3. Or, vice versa and something bassists might prefer: The 34" bass is the 4/4 instrument, while the 25.5" guitar comes out as 3/4.
Things get credible once they get printed, right? Author Richard R. Smith—who did lengthy interviews with Leo—wrote in his book, Fender: The Sound Heard 'Round the World, that Leo's scale length was derived from information from a physics book owned by Leo's secretary Elizabeth Nagel Hayzlett. I have no secretary, but I do have my own physics books and there is no such optimization process for scale length in physics! It's always an interplay of string gauge, tension, and preferred portion of lower harmonics.
In the end, many other scales will work just fine, but it's about what is practical, feels right, and where you're coming from. And, instead of making anything up, it's way more realistic to simply accept it was just a pragmatic trial-and-error process. Leo's longtime coworker George Fullerton told Smith: "We tried 30" and 32" and possibly 36", but chose 34" for being more practical for the player."