Photo by Steve Trager
For his stylistically diverse new album, the fiery guitar hero steps back from his gear obsession and focuses on a deep pool of influences and styles.
Twenty years ago, Joe Bonamassa was a struggling musician living in New York City. He survived on a diet of peanut butter and jelly sandwiches and ramen noodles that he procured from the corner bodega at Columbus Avenue and 83rd Street. Like many dreamers waiting for their day in the sun, Joe also played "Win for Life" every week. It was, in his words, "literally my ticket out of this hideous business." While the lottery tickets never brought in the millions, Joe's smokin' guitar playing on a quartet of albums from 2002 to 2006—So, It's Like That, Blues Deluxe, Had to Cry Today, and You & Me—did get the win, transforming Joe into a guitar megastar.
Since achieving fame and fortune, Joe has spent most of his time in his various residences across the country. He's got Nerdville in sunny California and Nerdville East in Nashville. Both are almost-literal museums that house Joe's arguably unmatched collection of vintage guitars and amps. You will be very hard pressed to come across a finer collection. Yet in 2019, Joe found himself drawn back to New York City.
Joe Bonamassa - "Time Clocks" - Official Music Video
"It's a mid-life crisis. I always wanted to go back to where I lived 20 years ago, but not have to worry about hustling down sessions and gigs to make the rent every month," he says. "For as cool and exciting of a time as it was, it was also a very stressful time. I had this thing in my mind where I just wanted to be able to enjoy New York City and not have the stress of, 'Oh shit, it's either a subway ticket or ramen noodles tonight.'"
In February 2021, Joe went to Germano Studios in Manhattan's NoHo neighborhood to record Time Clocks, aka "The New York Album." Because of the pandemic, this recording session was like no other Joe had been involved with. Kevin "the Caveman" Shirley, Joe's longtime producer, was stuck in Australia due to strict COVID travel restrictions. The two have had a long working relationship and they've been inseparable for most of Joe's career. Shirley produced the guitarist's fifth studio album, You & Me, and has since produced over 30 of Joe's subsequent projects. So, when it came time to record Time Clocks—travel restrictions be damned—they found a way to work together. "We recorded it virtually with Zoom and some other technology where my producer in Australia could get the actual tracks from the session in real time or with about a second latency," says Joe. "It was totally fine. It was an odd record to make because of what we were doing, but it was also an odd time. So, why should anything be normal anymore?"
"I just wanted to be able to enjoy New York City and not have the stress of, 'Oh shit, it's either a subway ticket or ramen noodles tonight.'"
Even with the differences in time zones (Sydney, Australia, is 16 hours ahead of New York City), they found a way to make it work. "We would get there about noon. Kevin's an early riser so he would get to his studio, which is by his house in Sydney, by about 2 a.m. So, we would go from about noon to 6 or 7 at night, and he would go from 2 to 9 a.m., and then take naps."
Time Clocks is full of unexpected twists. It was recorded live as a trio with drummer Anton Fig and bassist Steve Mackey, and then other parts were layered in. The album has a diversity of sounds that belie Joe's blues categorization. "Notches" opens with an Ali Farka Touré-inspired 12-string riff, "Time Clocks" has a country-esque, Americana vibe, and "Curtain Call" is an homage to Led Zeppelin. "My ADD transcends into my musical life. It's a very different record for me. It's not a blues record, for sure. I just try to make records that don't bore me all the way through—we've got this groove covered, we've got that groove covered, let's put a sorbet in, something out of left field," says Joe.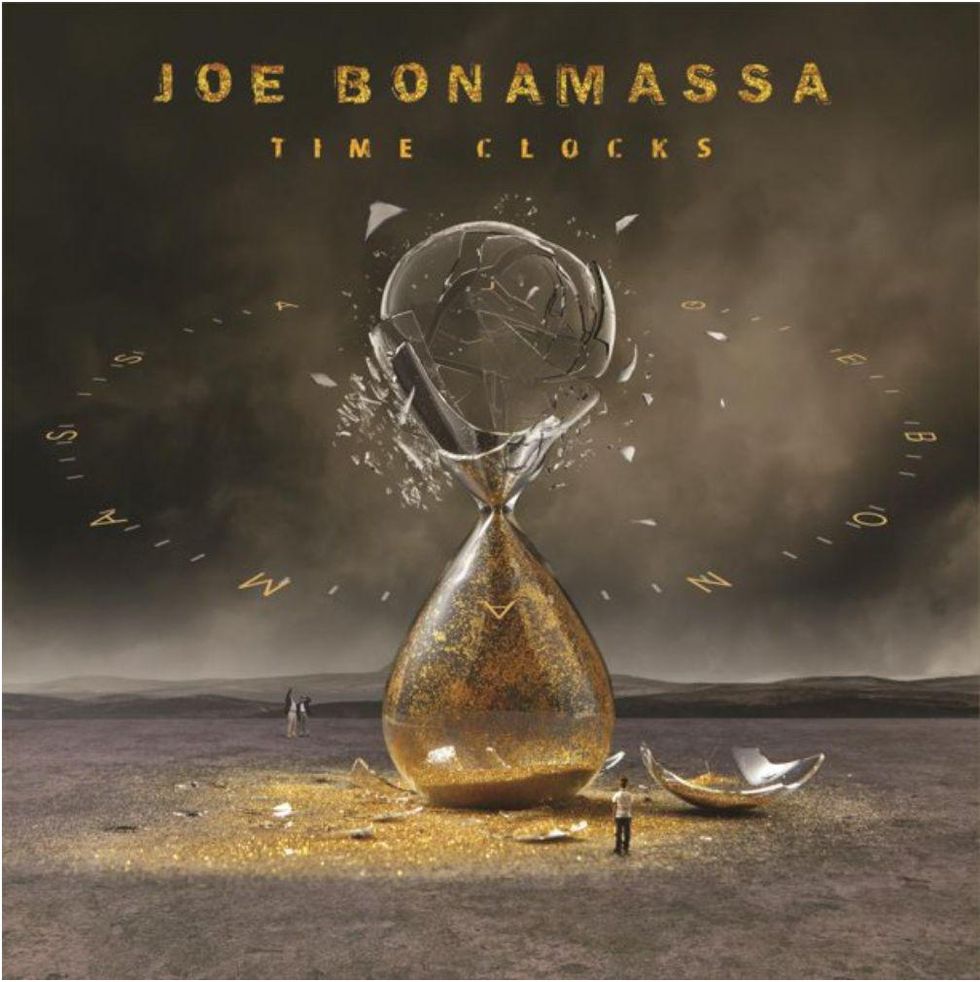 TIDBIT: Bonamassa's longtime producer, Kevin Shirley, had his hands on the wheel again, but remotely. He produced from Sydney, Australia, while the band recorded live on the floor in New York City.
"Some people think that all I do is play blues. I don't just play blues. I play whatever. We've all been in this game for a long time where we can adapt to any musical situation. It's fun. Every once in a while, I'll go sit in with friends. I just sat in with Nir Felder [at NYC's famed 55 Bar]. If I sit in with Nir, I'll be like, 'When these chord changes get too fucking adult for me, I'm bailing.' You just know your strengths and your weaknesses."
For the Time Clocks sessions, Joe used a much leaner gear selection than you might expect, especially given his cavernous collection. "In New York City, you go with what you got. There were only three amps. I had a [JB signature] high-powered Twin sent from our inventory that's still in the spare bedroom in the apartment. I ended up using two Deluxes. I had one Deluxe Reverb and one brown Deluxe," says Joe. We wonder if Joe was referring to a reissue Deluxe Reverb that might have happened to be at the studio, or one of his rare closet classics. He immediately snaps, "Think about that critically and ask yourself again, 'Who are you talking to?'" Point taken, Joe!
Joe Bonamassa's Gear on Time Clocks
"I'm not going to live my life in indentured servitude to the fucking guitar."
Guitars
Gibson Les Paul
Gibson ES-335
Fender Stratocaster
Fender Telecaster
Martin acoustic guitar
Strings

Ernie Ball Burly Slinkys (.011–.052; .011–.056 on down-tuned guitars)
Amps
Fender black-panel Deluxe Reverb
Fender brown-panel Deluxe
'59 Fender Twin-Amp JB Edition
Effects
Klon Centaur
Dunlop Joe Bonamassa Signature Wah
"When I was a kid, I had a black [panel] Deluxe Reverb. I think this is probably one of the ones that I had for 25 years," he clarifies. "The black and brown circuits are totally different, so you get that kind of sweet/salt mix. The brown Deluxe does the real thick midrange stuff and the black does the low and the high. That's kind of always been my M.O. It's never just one amp. You're mid-stacking with amps that don't necessarily do the same thing. The bigger, thicker tones you hear on the solo, that's the high-powered Twin. The more jangly stuff was the Deluxes."
"'When these chord changes get too adult for me, I'm bailing.' You just know your strengths and your weaknesses."
Joe also only used a handful of guitars on Time Clocks. "I don't keep a lot of guitars here," he says. "All I had was a Les Paul, a Strat, a 335, a Rickenbacker 12-string, an old bass from the movie Spinal Tap, the one that Nigel kept telling Rob Reiner not to touch—I actually own that one. But it was less than six guitars. I also used a Martin acoustic. All the acoustic stuff was done with one acoustic.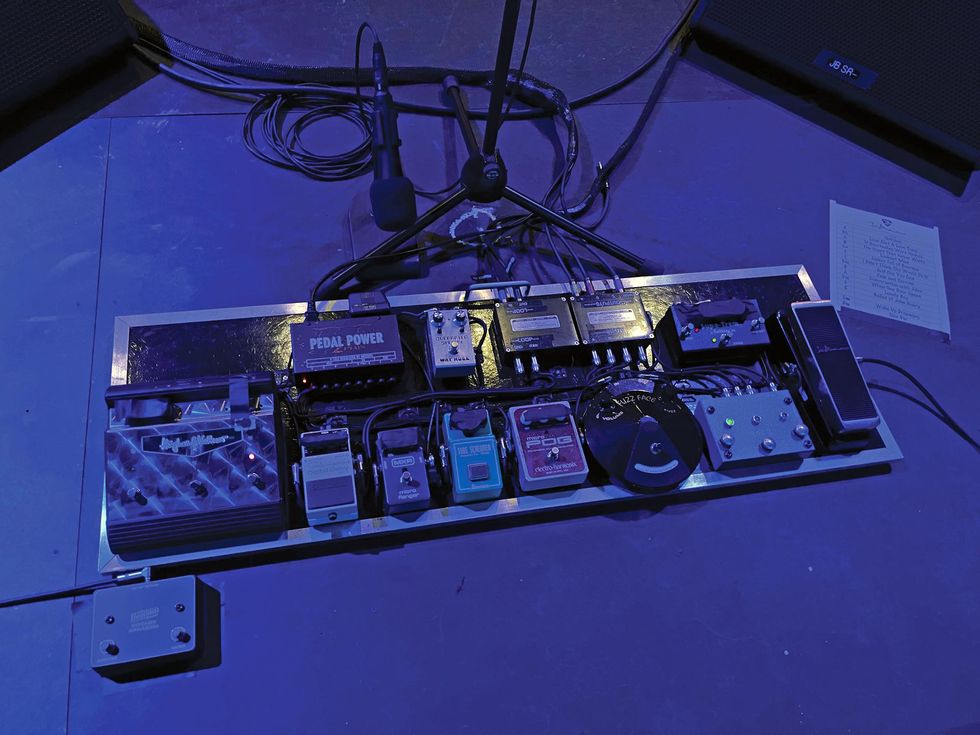 A recent snapshot of Bonamassa's pedalboard.
"In Nashville, I have all my road guitars, but to be honest with you, over the years I've never gotten into this thing where you bring 50 guitars and use five. I did that a long time ago. It's nothing but a photo op. Most of the time I bring a Whitman's Sampler of what I think would work. The days of humping in 50 guitars and setting up six racks of them and going, 'Look what I got'—that's a young man's game. That's for somebody in their 30s."
"I've been playing guitar and cranking amps for 40 years. Do you know the two things that prompt me to run away? Loud music and crowds. It's a paradox, I know."
Joe's newfound minimalism goes hand in hand with living in a New York City apartment, where even playing with an amp on 1 will get you the "broomstick on a ceiling" retaliation. "I've been playing guitar and cranking amps for 40 years. Do you know the two things that prompt me to run away? Loud music and crowds. It's a paradox, I know," he says. "So, when I'm at home and I'm enjoying a very quiet Sunday afternoon, I have zero, absolutely zero, desire to crank an amp. And I have zero-plus-5-percent desire to sometimes even practice on a given day. It gives you a break. It's important to be good at your job on a given day. It's important to also step away and give yourself some perspective, so you're not so consumed by it."
Rig Rundown - Joe Bonamassa [2018]
Every aspiring guitarist—no matter the genre—longs for their day in the spotlight. They too want to be a guitar god and inspire thousands of players and listeners, just like Joe. But what does it feel like on the other side—when you actually win?
The guitarist onstage with his frequent on-tour sparring partner in recent years, bass giant Michael Rhodes.
Photo by Debi Del Grande
"Then a whole 'nother set of circumstances come into play," he says. "It's managing time, managing your energy. It's also trying to keep in perspective what is it that you really do, because sometimes life comes at you twice as fast as it used to. All my energy is dedicated to the fans that keep me in business and come time and time again. That is 100 percent my biggest priority. When distractions and other things come into play that tend to take energy away from what you're supposed to be doing, that's the challenge. I realize I'm a very fortunate person, but I don't make any apologies for it, because, to be honest with you, that's what everybody strives for. Why should I apologize for working hard? I always tell people it's easy to dismiss, hard to replicate. If it was easy, as some claim, then it would be as easy as starting a TikTok. If it was that easy, then anybody could do it. But to be honest with you, anybody can do it. You've got to have the intestinal fortitude and the drive, and the ability to stick it out through thick and thin."
Bonamassa cradles his famed 1959 Les Paul Standard, Lazarus. The guitar was recreated for a limited-edition issue via Epiphone this year.
Older and wiser at 44, Joe, who started performing onstage at age 12, has now found time to explore other things in life besides guitar. He indulges in Law and Order marathons, is on an excruciatingly strict diet with Diet Coke as his only vice, and has found a new passion in cycling. He'll just as likely post details of his Central Park bike excursions on Instagram as he would another guitar-safari vintage find. Even with the potential danger of a career-ending fall, Joe, much like the late Allan Holdsworth—who was also an avid cyclist—is willing to chance it. "If I fall and somehow my career ends on that particular day, then so be it," he says. "I'm not going to live my life in indentured servitude to the fucking guitar. If it's over, it's over. You've got to enjoy your life."
Joe Bonamassa & Tina Guo - "Woke Up Dreaming" - Live At Carnegie Hall
Photo by Michael Mesker
Steve Vai and Favored Nations / Mascot Label Group have announced his new studio album titled Inviolate will be released digitally and on CD January 28, 2022.
The LP will follow on March 18. Today, they present the song "Little Pretty" which can be previewed below. The recording is a dark-toned fusion-funk workout played almost exclusively on a Gretsch hollow body guitar. As for what led Vai to the unusual (at least for him) model, he says, "It's on the wall with all the other guitars, and I'd always just look at it and go, 'One day I'm going to play you…'" He continues, "In writing the chord changes for the solo section, and the solo itself, I dug deep into my academic music theory mind to create a set of chord changes where the harmonic atmosphere shifted on every change. The dense chord structures required a series of synthetic modes to navigate. This approach is along the lines of jazz and fusion players, but I knew I did not want it to sound anything like that and the solo had to be totally melodic. The results were pretty powerful in that the entire solo section evokes melodic atmospheric changes that shift dramatically but work together well."
Over the course of a more than 40-year career, Steve Vai has routinely transformed what would appear to be outrageously impossible into something very, very possible… and still also pretty outrageous. From his days as Frank Zappa's "stunt guitar" player to his more recent expansive and exploratory solo work, Vai has continually challenged notions of traditional guitar playing and composition – and on more than one occasion even reimagined the very instrument itself.
Steve Vai - Little Pretty (Official Visualizer)
Which, he'll admit, is not necessarily his intention. "I don't sit around and say, 'Okay, what can I do now that pushes the boundaries?" Vai explains about his approach to the guitar. "What I do say to myself is, 'Okay, Vai – what are you going to do now that's going to interest you, that's going to fascinate you, and that's different than anything you've done before?" The answer to that question comes in the form of Vai's newest and 10th solo album, Inviolate, a nine-song opus that (sorry Steve) does indeed push the boundaries of instrumental guitar music – this time out, Vai quite literally invented not just a new guitar, but also a new guitar-playing technique.
At the same time, Inviolate presents his most focused, streamlined and perhaps invigorating music in years. "It's very 'Vai,' whatever that means," he says, and then laughs. "Someone else might be better than me at explaining what that is. But it's just very honest music. Because a lot of my records, they're long and there's a lot of concepts and playing around with stories. This one has none of that. This is nine pretty dense all-instrumental compositions that I wanted to capture and record so I could get out there and play them live for people."
The album's mesmeric opener, "Teeth of the Hydra," a sinuous, Latin-fusion-tinged composition that Vai wrote and recorded with a one-of-a-kind custom guitar he coined the Hydra. But calling the Hydra a mere guitar is selling it way, way, way short. Built in conjunction with the designers at Hoshino and based on a "steampunk motif" idea of Vai's, the Hydra is a beast of an instrument – a one-bodied, two-headstock-ed, three-neck-ed creature that encompasses, among other things: seven- and 12-string guitars; a four-string bass; sympathetic harp strings; half-fretless necks; single-coil, humbucking, piezo and sustainer pickups; floating and hardtail tremolo bridges; phase splitters; and much, much more. "It's an incredibly-built machine," Vai says. "I told the guys at Hoshino, 'Anything that you think is conventional, don't do that.' This was an opportunity to exercise brutal creativity. And they went beyond."
As did Vai in his performance. Throughout the track he employs the Hydra's full range of tone and timbres to craft a guitar part that sounds, in its expansiveness and expressiveness, positively alive. "The interesting thing about the song and the guitar is that it all came at the same time," Vai says. "It was one of those 'inviolate' inspirations – boom!"
That said, he continues, "I knew that I needed to create something with the Hydra that sounded like a real piece of music. It couldn't be just a novelty. Because if you knew what my hands were doing, and how I'm using my left hand to create phrasings that work when I can't pick a note because my right hand is off somewhere else…my god. But the finished piece had to stand on its own. It couldn't sound like I was just trying to juggle stuff."
Over the course of 2021, several of these compositions were shared publicly. Vai composed and recorded the song "Knappsack," following his shoulder surgery, at a time when his right arm was in a sling (or, as his surgeon, Dr. Knapp, called it, a "knappsack"), and thus was able to use only his left hand when playing the piece. He released a one-handed performance video. He says with a laugh, "pretty soon after I started to see some clips of young kids pulling it off, too. It's really fascinating."
Those kids will likely face a greater challenge attempting to take on another Inviolate track, "Candle Power." For this one, Vai not only set up parameters outside of his comfort zone (Strat-style guitar; clean tone; no whammy bar; no pick), but also – why not? – developed an entirely new guitar technique that he calls "joint shifting." The core concept there, he explains, is to enact simultaneous multiple string bends in opposite directions, which "requires bending only the top joint of the finger independently from any other finger." And while he acknowledges that bending multiple strings is not a new concept in and of itself, "I had not seen any of it done in the way I envisioned it," he says.
Steve Vai - "Knappsack"
Like "Knappsack," Vai released "Candle Power" an accompanying performance video earlier in 2021. But he added a little something extra to the version that appears on Inviolate, with a newly recorded drum track from fellow Zappa alumnus Terry Bozzio (to that end, additional crack players who lent a hand to the record include bassists Bryan Beller, Philip Bynoe and Henrik Linder, keyboardist David Rosenthal and drummer Vinnie Colaiuta).
Steve Vai - "Candle Power"
Or cue up "Apollo in Color," where Vai's soaring runs on his Ibanez PIA signature guitar (the newly-designed model's first appearance on a Vai studio album, it's worth noting) are surrounded by filigrees of sound played on all manner of exotic stringed instruments. "I thought, 'Okay, what can I do to color this thing up?' Vai says. "So, I pulled out all these little acoustic instruments I've collected through the years and I said, 'I'm going to use every one of them somehow.'" These included a cavaquinho, a saz, a sitar, an oud and more. "Some of the instruments, I don't even know their names," Vai admits with a laugh.
In essence, it all comes down to finding your own voice, and then having the courage and conviction to follow your musical and creative instincts wherever they may take you – something Vai has never been shy about in his playing. "One of the great things about the guitar is you don't need to be a virtuoso to express your creative vision," he says. "I mean, Bob Dylan plays the guitar perfectly well for his expression. So does John McLaughlin. You just need to decide how much technique you want or need to get there. For myself, I came out of the chute wanting and needing it all. When it comes to my music, I don't feel like I have to prove anything or conform to anything. I just love to think up creative ideas, and then use whatever skill I have to manifest them."
"An inviolate inspiration is one that comes to you completely pure," Vai explains. "It appears almost in its completeness, and there's a recognition of it as being right for you – perfectly right for you. There's no excuses in it. There's no fantasy in it. There's just a recognition of 'yes.' And then you capture that in a way that's authentic to your unique creativity. Hopefully, that's what I've done with this record."
Steve Vai will begin an extensive tour of the U.S., with 54 scheduled appearances on January 27, 2022 at the House of Blues in Las Vegas. For tickets and a variety of EVO Experience VIP bundles available visit https://www.vai.com. Vai will be joined by his long-tenured ensemble members Dave Weiner (guitar / keys), Philip Bynoe (bass), and Jeremy Colson (drums). Vai shares, "A performer thrives on performing. It's been my life for the past 49 years, with the exception of the last two years, so we are chomping at the bit to get out there and play for people. A music concert has the ability to dissolve the many challenges we face, and celebrate one of the good things in life, live music."
Tour Dates
1/27 Las Vegas, NV House Of Blues
1/28 El Cajon, CA The Magnolia
1/29 Riverside, CA Fox Performing Arts Center
1/30 Phoenix, AZ Celebrity Theatre
2/01 Salt Lake City, UT The Rockwell at The Complex
2/02 Boulder, CO Boulder Theater
2/04 Oklahoma City, OK Tower Theatre
2/05 Austin, TX Paramount Theatre
2/06 Dallas, TX House Of Blues
2/08 Houston, TX House Of Blues
2/09 San Antonio, TX The Aztec Theatre
2/11 Birmingham, AL Lyric Theatre
2/12 Macon, GA Hargray Capitol Theatre
2/14 Atlanta, GA The Eastern
2/15 Clearwater, FL Bilheimer Capitol Theatre
2/16 Orlando, FL The Plaza Live
2/17 Ft. Lauderdale, FL The Parker
2/18 Ponte Vedra Beach, FL Ponte Vedra Concert Hall
2/19 Charlotte, NC The Fillmore Charlotte
2/21 Charleston, SC Charleston Music Hall
2/22 Alexandria, VA The Birchmere
2/23 Glenside, PA Keswick Theatre
2/24 Red Bank, NJ Count Basie Theatre
2/25 Huntington, NY The Paramount
2/26 Port Chester, NY The Capitol Theatre
2/27 Providence, RI The Strand
3/01 New Haven, CT College Street Music Hall
3/02 Boston, MA The Wilbur
3/03 Albany, NY The Egg
3/04 Rochester, NY Kodak Center
3/05 Harrisburg, PA Sunoco Theatre
3/06 Greensburg, PA Palace Theatre
3/08 Warren, OH Packard Music Hall
3/09 Detroit, MI Masonic Cathedral Theatre
3/10 Morgantown, WV Metropolitan Theatre
3/11 Louisville, KY Old Forester's Paristown Hall
3/12 Nashville, TN CMA Theater
3/13 St. Louis, MO The Pageant
3/15 Chicago, IL Copernicus Center
3/16 Milwaukee, WI Pabst Theater
3/17 St. Paul, MN The Fitzgerald Theater
3/18 Kansas City, MO The Uptown Theater
3/19 Lincoln, NE Bourbon Theatre
3/20 Des Moines, IA Hoyt Sherman Place
3/22 Sioux Falls, SD The District
3/23 Fargo, ND Fargo Theatre
3/25 Billings, MT Alberta Bair Theater
3/26 Bozeman, MT The ELM
3/27 Missoula, MT The Wilma
3/28 Seattle, WA Moore Theatre
3/29 Portland, OR Roseland Theater
3/31 Turlock, CA Turlock Community Theatre
4/01 Napa, CA Uptown Theatre Napa
4/02 Los Angeles, CA The Theatre at Ace Hotel
U2's The Edge and producer Bob Ezrin, Co-Founders of Music Rising, (musicrising.com) have announced Guitar Icons: A Musical Instrument Auction to Benefit Music Rising to take place December 11th, 2021, starting at 10:00 a.m. PST. Hosted by Van Eaton Galleries (vegalleries.com) in Los Angeles, the live and online auction will offer a significant collection of guitars and other music memorabilia by some of the world's most prominent musicians and friends of Music Rising. The auction will take the charity back to its roots and help support the musicians of the NOLA region after a long period being without income.
Guitar Icons: A Musical Instrument Auction to Benefit Music Rising includes an exclusive collection of important instruments donated by friends of the charity. All of the instruments have a unique and special story and provenance and together make up an extraordinary example of some of the greatest moments in music history.
"The music of New Orleans has influenced various styles of music borrowed from early traditions. It is the birthplace of jazz and represents a musical culture which bears great significance to most every genre today. I can't imagine what it would feel like to lose my ability to do what I love – making music. Unfortunately there are many musicians and crew members who continue to struggle since the pandemic. If this multigenerational chain is broken, we lose more than just a few concerts we lose an entire culture that stretches back centuries. Some of the world's greatest musicians and friends of Music Rising have generously donated their personal instruments to raise money for Music Rising. We hope you have a chance to bid on one or more of the beautiful instruments in the auction. The monies raised goes to musicians and crew. Your support continues to be invaluable to Music Rising." - U2's The Edge
The auction will take place at Van Eaton Galleries located at 13613 Ventura Blvd in Sherman Oaks, California beginning at 10:00 a.m. PDT on Saturday, December 11, 2021. The auction will also stream live and be online via various auction platforms all available through https://vegalleries.com/musicrising. A public exhibition of the collection will begin Monday, November 22, 2021 at the gallery and can be visited by collectors and fans by appointment. Proceeds from the auction will be administered by the New Orleans Jazz & Heritage Foundation on behalf of Music Rising.