Paul Gilbert will release an album celebrating the music of Dio on April 7th. Listen to "Holy Diver" now.
Guitar virtuoso Paul Gilbert, best known for his work in chart-topping hard rockers Mr. Big and Racer X – as well as numerous solo records – was in his car when he saw something that made his heart start beating faster in a moment of unexpected, unadulterated joy. This was not a high value item of interest or even particularly rare, simply a baseball cap with the word 'Dio' emblazoned across the front. Sometimes, even for the biggest of guitar legends, it's the little things that hit us in the most profound ways.

On his drive home, a plan was being formulated. Why not capture all of that raw energy and excitement on an album devoted to Ronnie James Dio's most celebrated tracks – spanning across his career from Rainbow to Black Sabbath and the singer's own solo endeavours? Gilbert is no stranger to instrumental music, but an entire album dedicated to replicating well established and world-famous vocal melodies on his trusty six-string genuinely felt like new territory. This was already shaping up to be a challenge that he would truly relish.
The Dio Album consists of 10 standout and career-defining tracks, from "Neon Knights" and "Long Live Rock 'N' Roll" to "Holy Diver" and "Man On The Silver Mountain". As well as analysing Ronnie James Dio's electrifying vocal melodies, Paul also enjoyed paying tribute to three incredibly talented guitar legends – Tony Iommi of Black Sabbath, Ritchie Blackmore of Rainbow and Vivian Campbell from the Dio band, who has been a member of British stadium rockers Def Leppard since 1992.
TRACK LIST

1. Neon Knights
2. Kill The King
3. Stand Up And Shout
4. Country Girl
5. Man On The Silver Mountain
6. Holy Diver
7. Heaven And Hell
8. Long Live Rock 'N' Roll
9. Lady Evil
10. Don't Talk To Strangers
11. Starstruck
12. The Last In Line
Paul Gilbert - Holy Diver (The Dio Album)
Extolling the virtues and sharing some easy mods for Fender's littlest vintage bruiser.
This month, let's talk about the black- and silver-panel Fender Champ, the tiniest of vintage Fender amps. Weighing only 22 pounds, it is super portable and easy to carry wherever my music takes me. It's actually so small that I put it between my kids in the car's backseat when we go on vacations. Before I share what I've learned about the Champ, let's have a quick look in the rearview mirror.
Early in the Fender black-panel era, in 1964, the company reintroduced the previously tweed Champ with a new look and debuted the Vibro Champ. The single 8"-speaker combo configuration and single-ended 6V6-based power amp section was continued from the tweed Champ. These Champs produced only 6 watts, and the minimal control panel offered volume, treble, and bass—plus tremolo speed and intensity on the Vibro Champ. Unlike many other models, Fender kept these circuits almost unchanged during the silver-panel era, through 1982. After that, many popular and different offspring of the Champ have been produced, with both transistor and tube-driven circuits.
My appreciation for the Champ came late in life. When I was younger, I used my Super Reverbs for everything and never considered amps with anything less than one 12" or two 10" speakers. I saw no need for smaller amps with boxy tones fit for bedroom use only. But as I started to educate myself on Fender amps, I needed a Champ to study. I had to play it, experiment with tubes and mods, and learn everything about it. So, in 2005, I found a minty 1966 Vibro Champ on eBay for $800, completely original with the Oxford 8EV speaker.
When I want to play Elmore James Delta blues stuff, I use my ES-335 with my Vibro Champ.
With the Champ, Fender followed their scooped, black-panel tone-stack recipe with the 0.047 μF, 0.1 μF, and 250 pF tone caps and a fixed 6.8k mid resistor. As with the big brother Princeton Reverb, it lacked a mid control, bright switch, and a bright cap. The tone is straightforward, natural, and annoyingly modest and clean. Different from its Fender siblings, it hardly breaks up when pushed. In fact, the Champ stays clean all the way up to 10, but with loose, flabby bass and tinny speaker distortion. Humbucker guitars are able to get some cranked tones from Champs due to their hotter output. When I, for example, want to play Elmore James Delta blues stuff, I use my ES-335 with my Vibro Champ. It thrills me how single strings and soft picking come out clean, while hard pick attack and chords sound hairy and cranked.
Over the decades, players and techs have leaned towards modifications to get more distortion from the Champ. Personally, I've learned to like the clean and scooped tone, and I don't want to lose the original character of the amp. But I wouldn't mind a little more volume and punch, since it would open up a few important uses—like band practice with a loud drummer. And when it comes to modifications, I like easy and reversible mods. So here is what I have done to my Vibro Champ: First, I changed the rectifier tube from 5Y3 to GZ34 for increased plate voltage on the 6V6 power tube, which gives me a little more clean headroom. (A solid-state rectifier would also work.) Second, I replaced the original Oxford 8EV speaker with a Warehouse G8C. I have never looked back. I like Warehouse Guitar Speakers because they offer vintage Fender-style tone for a reasonable price. The WGS speaker makes the amp significantly louder, with more attack, firmer bass response, and without changing the Champ's character.
As I've alluded, my Vibro Champ follows me wherever I go and is a part of my family. In the back of the amp, I keep an overdrive pedal, a reverb pedal, and a tiny 230/12V transformer so I can plug into one of the car's 12V sockets. So, I am always Fender-ready.
May the tone be with you!
The silky smooth slide man may raise a few eyebrows with his gear—a hollow, steel-bodied baritone and .017s on a Jazzmaster—but every note and tone he plays sounds just right.
KingTone's The Duellist is currently Ariel Posen's most-used pedal. One side of the dual drive (the Bluesbreaker voicing) is always on. But there's another duality at play when Posen plugs in—the balance between songwriter and guitarist.
"These days, I like listening to songs and the story and the total package," Posen told PG back in 2019, when talking about his solo debut, How Long, after departing from his sideman slot for the Bros. Landreth. "Obviously, I'm known as a guitar player, but my music and the music I write is not guitar music. It's songs, and it goes back to the Beatles. I love songs, and I love story and melody and singing, and there was a lot of detail and attention put into the guitar sound and the playing and the parts—almost more than I've ever done."
And in 2021, he found himself equally expressing his yin-and-yang artistry by releasing two albums that represented both sides of his musicality. First, Headway continued the sultry sizzle of songwriting featured on How Long. Then he surprised everyone, especially guitarists, by dropping Mile End, which is a 6-string buffet of solo dishes with nothing but Ariel and his instrument of choice.
But what should fans expect when they see him perform live? "I just trust my gut. I can reach more people by playing songs, and I get moved more by a story and lyrics and harmony, so that's where I naturally go. The live show is a lot more guitar centric. If you want to hear me stretch out on some solos, come see a show. I want the record and the live show to be two separate things."
The afternoon ahead of Posen's headlining performance at Nashville's Basement East, the guitar-playing musical force invited PG's Chris Kies on stage for a robust chat about gear. The 30-minute conversation covers Posen's potent pair of moody blue bombshells—a hollow, metal-bodied Mule Resophonic and a Fender Custom Shop Jazzmaster—and why any Two-Rock is his go-to amp. He also shares his reasoning behind avoiding effects loops and volume pedals.
Brought to you by D'Addario XPND Pedalboard.
Blue the Mule III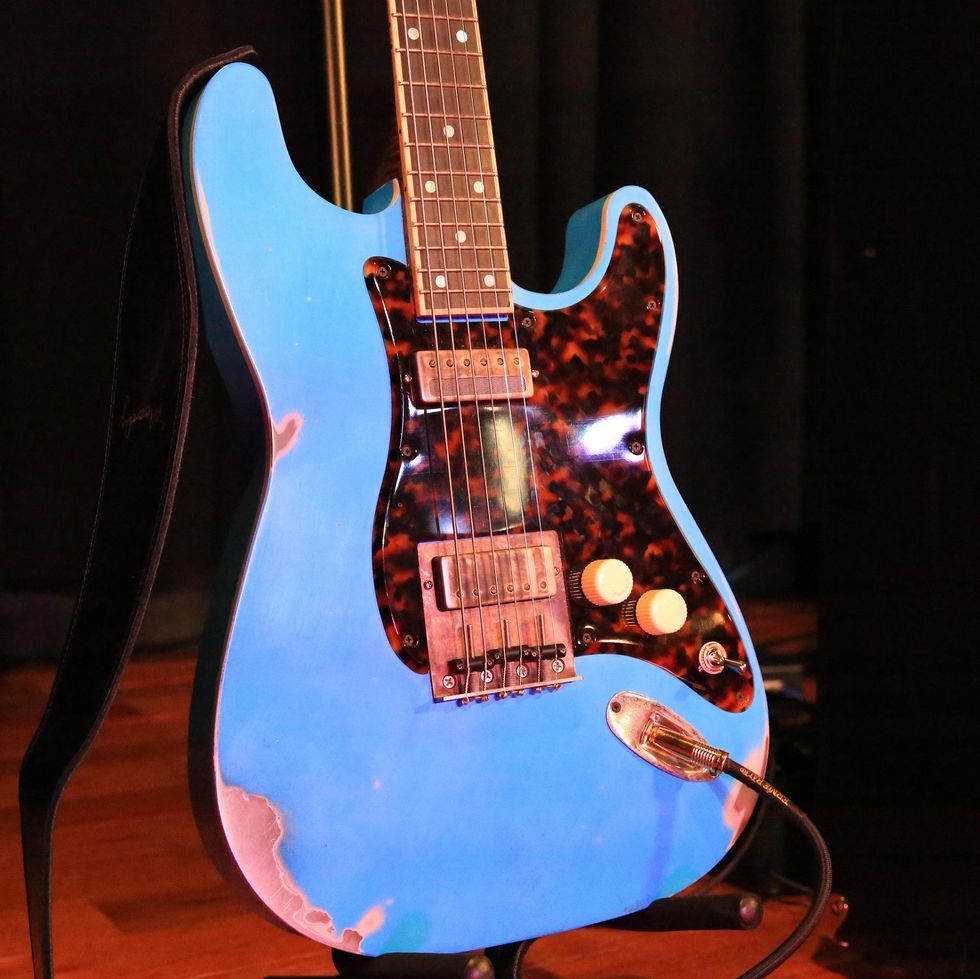 If you've spent any time with Ariel Posen's first solo record, How Long, you know that the ripping, raunchy slide solo packed within "Get You Back" is an aural high mark. As explained in a 2019 PG interview, Posen's pairing for that song were two cheapos: a $50 Teisco Del Rey into a Kay combo. However, when he took the pawnshop prize onstage, the magic was gone. "It wouldn't stay in tune and wouldn't stop feeding back—it was unbearable [laughs]."
Posen was familiar with Matt Eich of Mule Resophonic—who specializes in building metal-body resonators—so he approached the luthier to construct him a steel-bodied, Strat-style baritone. Eich was reluctant at first (he typically builds roundneck resos and T-style baritones), but after seeing a clip of Posen playing live, the partnership was started.
The above steel-bodied Strat-style guitar is Posen's third custom 25"-scale baritone. (On Mule Resophonic's website, it's affectionately named the "Posencaster.") The gold-foil-looking pickups are handwound by Eich, and are actually mini humbuckers. He employs a custom Stringjoy set (.017–.064 with a wound G) and typically tunes to B standard. The massive strings allow the shorter-scale baritone to maintain a regular-tension feel. And when he gigs, he tours light (usually with two guitars), so he'll use a capo to morph into D or E standard.
Moody Blue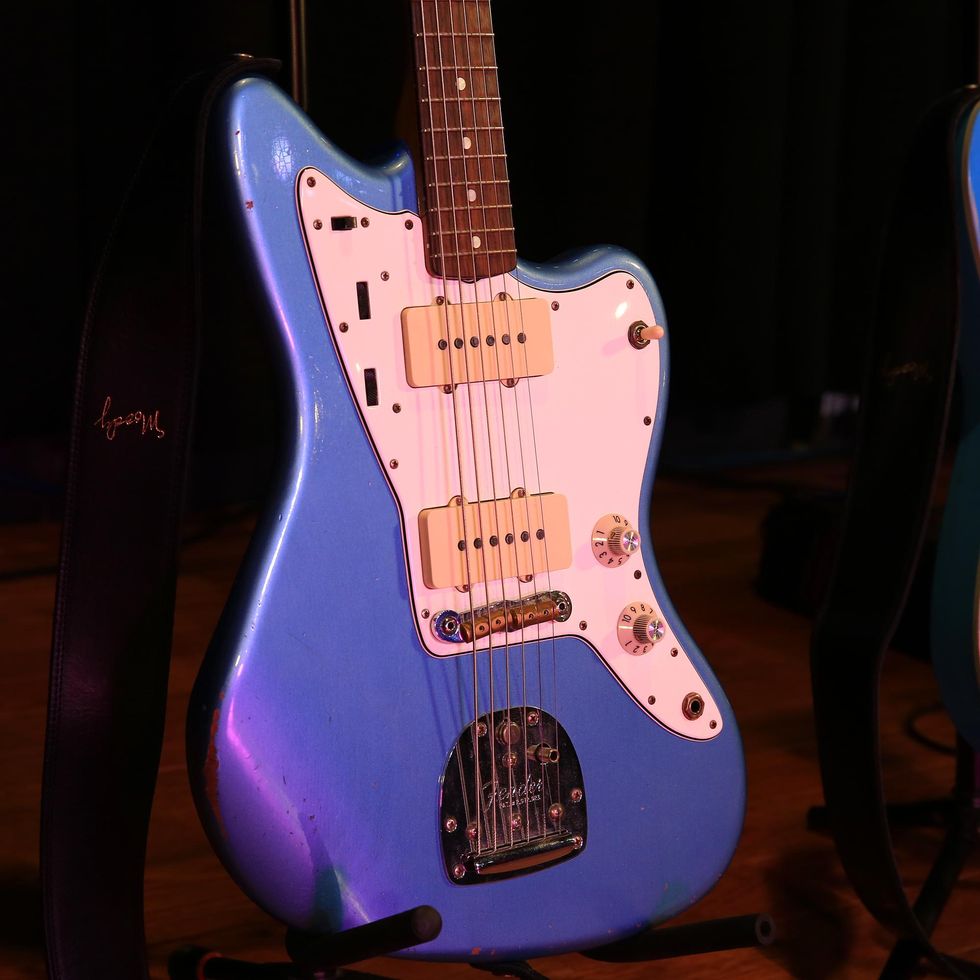 Another one that saw recording time for Headway and Mile End was the above Fender Custom Shop Masterbuilt '60s Jazzmaster, made by Carlos Lopez. To make it work better for him, he had the treble-bleed circuit removed, so that when the guitar's volume is lowered it actually gets warmer.
"Clean and Loud"
Last time we spoke with Posen, he plugged into a Two-Rock Classic Reverb Signature. It's typically his live amp. However, since this winter's U.S. run was a batch of fly dates, he packed light and rented backlines. Being in Music City, he didn't need to go too deep into his phone's contacts to find a guitar-playing friend that owned a Two-Rock. This Bloomfield Drive was loaned to Ariel by occasional PG contributor Corey Congilio. On the brand's consistent tone monsters, Posen said, "To be honest, put a blindfold on me and make one of Two-Rock's amps clean and loud—I don't care what one it is."
Stacked Speakers
The loaner vertical 2x12 cab was stocked with a pair of Two-Rock 12-65B speakers made by Warehouse Guitar Speakers.
Ariel Posen's Pedalboard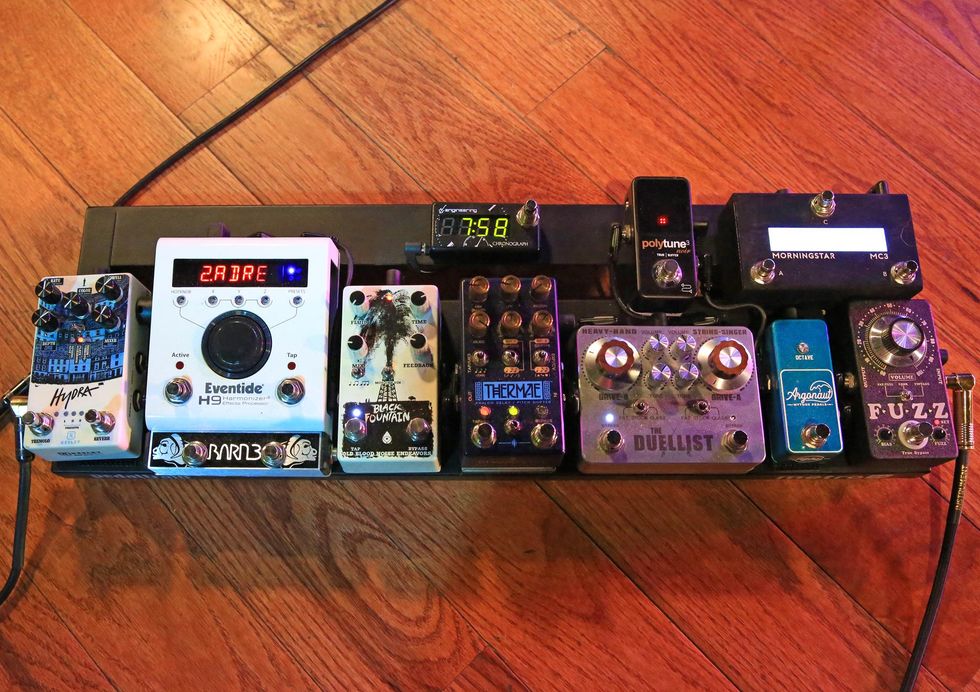 There are a handful of carryovers from Ariel's previous pedalboard that was featured in our 2021 tone talk: a TC Electronic PolyTune 3 Noir, a Morningstar MC3 MIDI Controller, an Eventide H9, a Mythos Pedals Argonaut Mini Octave Up, and a KingTone miniFUZZ Ge. His additions include a custom edition Keeley Hydra Stereo Reverb & Tremolo (featuring Headway artwork), an Old Blood Noise Endeavors Black Fountain oil can delay, Chase Bliss Audio Thermae Analog Delay and Pitch Shifter, and a KingTone The Duellist overdrive.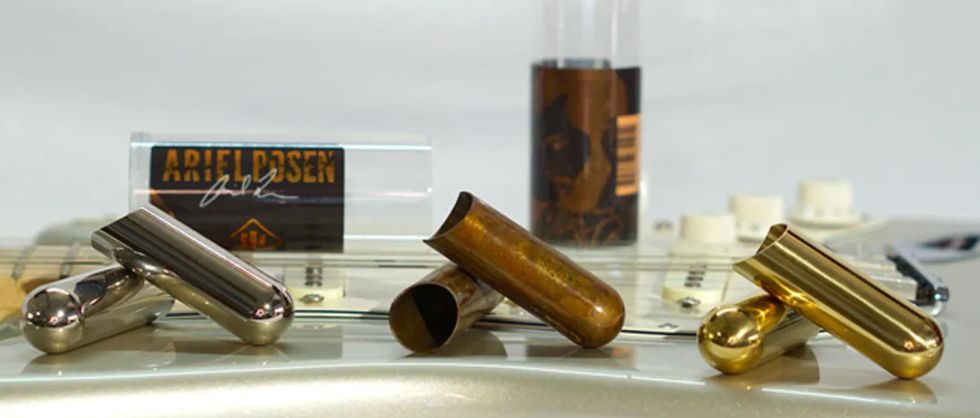 Another big piece of the tonal pie for Posen is his signature brass Rock Slide. He worked alongside Rock Slide's Danny Songhurst to develop his namesake slide that features a round-tip end that helps Posen avoid dead spots or unwanted scratching. While he prefers polished brass, you can see above that it's also available in a nickel-plated finish and an aged brass.