The amp master and rig-builder-to-the-stars walks us through his latest and greatest tone solution for guitarists while the smooth shredster shows off the pedal's many moods of rude.
Friedman IR-X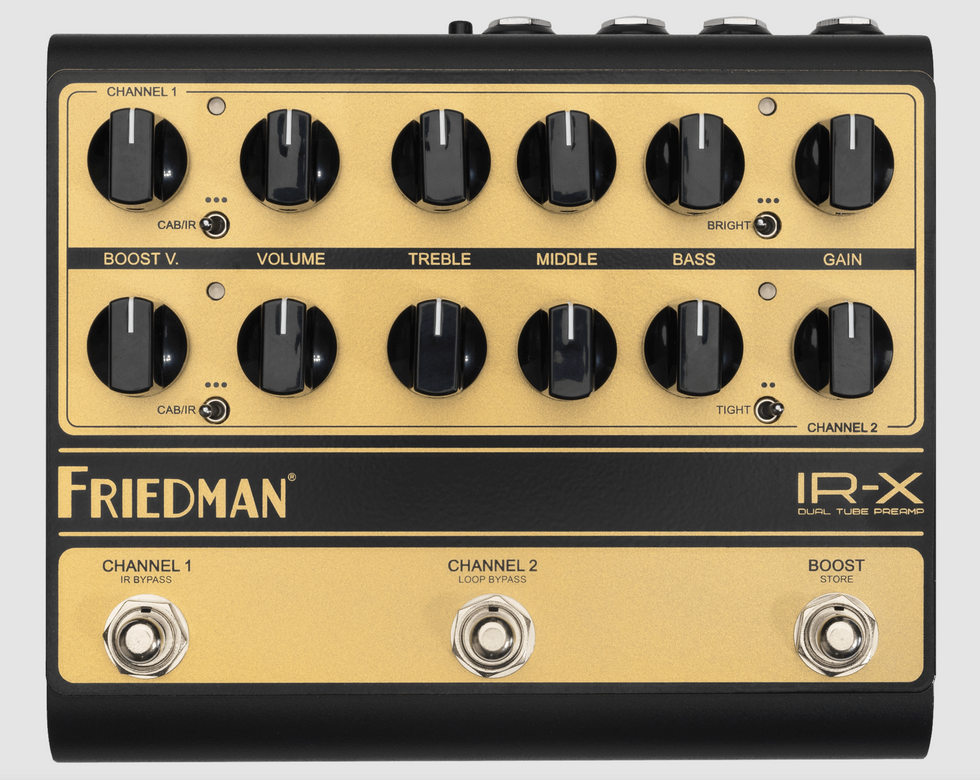 The Friedman IR-X dual-channel tube preamp is an entire Friedman rig in a compact pedalboard-friendly package. Powered by two high-voltage 12AX7 preamp tubes, each channel delivers the harmonic richness and touch response of Dave Friedman's finest designs. DSP IR cabinet/power amp simulation sends a studio-quality mic'd-up tone to your DAW or Front-of-House.
IR-X isn't simulating a Friedman tube preamp. It is one. While many available preamp pedals utilize tubes to 'warm up' their digital or solid-state circuit, two glowing hot 12AX7 preamp tubes, running at the proper high voltage, are this pedal's beating heart. A genuine preamp in every way, IR-X delivers all the tone, response, gain characteristics, and harmonic complexity you expect from a Friedman design.
IR-X boasts two fully independent foot-switchable channels. Like the famed Friedman flagship amps, channel one takes your tone from bluesy, British-voiced cleans to a muscular Plexi-style roar. Engage channel two for the Friedman signature higher-gain voice and all the percussive punch, note clarity and singing sustain that comes with it.
Both channels feature their own independent and highly tweakable Boost circuits. This essentially gives you four channels, accessible with the tap of your toe.

All great tube amps need a great speaker cabinet, and whether sending your signal straight to the board or silently playing through the onboard headphone output, IR-X gives you a selection of Dave Friedman's favorite IRs. Select the IR per channel using the 3-way mini toggle switches or load your own quickly and easily via IR-X's editing software. You can even disengage the onboard IRs entirely to use IR-X's tube preamp with another IR loader.
IR-X gives you astounding tonal control, but its included Friedman IR-X Editor software takes it to a new level. With it, you can tweak each channel's power amp simulation via the thump and presence controls, load your favorite IRs, activate the Boost Lock feature, select loop ON/OFF and save it all to 128 MIDI presets.The IR-X software includes 12 free Friedman IRs to choose from.
IR-X is MIDI-capable. Whether pulling up presets with a pedalboard controller or switching channels with the laptop running your entire show, IR-X is ready for the job. It truly is the perfect marriage of modern control and classic tube tone.
The IR-X's transparent effects loop allows you to easily integrate your favorite effects with everything from the most straightforward setups to the most complex digitally controlled rigs.
"It's maybe the most important thing to me that the solos [I record] are things that I haven't done a million times," country guitarist and singer/songwriter Brad Paisley shares on this episode of Shred With Shifty. "That's getting harder and harder to do." But as Paisley walks host Chris Shiflett through his solo on "Mud on the Tires," the centerpiece of the interview, it's clear that Paisley can improvise melodies that don't necessarily need to clear that bar in order to hook and make a lasting impression on his listeners.
Brad was learning Chet Atkins-style thumbpicking in lessons from the age of 12, and while he later absorbed a rock vocabulary, Shifty comments that Brad always seems to play with a country feel. Throughout the episode, Brad frequently illustrates his points by playing riffs, in a way that shows that his connection with the instrument is a fluid one and a key part of how he expresses himself.
"Mud on the Tires" was originally recorded 20 years ago, in 2003. Brad's setup was either his '68 Paisley Tele or '52 Tele, recorded through a '63 Vox AC30 and a Dr. Z Z 28, the latter of which was run through a 15" JBL speaker. As he puts it, the AC30 fills the frequency gaps left by the Fender, making the combination a perfect sonic marriage. He says that live, he normally plays the solo on a guitar he's nicknamed "Splash," and they've had to replace the nut on it three times, due to how Paisley bends the 4th string on the space behind it at a certain point in the solo.
While rockin' his G bender, Brad has some trouble executing the solo's most elaborate middle riff during the solo breakdown, but his incredible chops pull through towards the end of the ep as he whips out the impressive lick. Shifty encourages followers to see if they can match it! That might be a tall order, but it is all part of the fun.
Credits
Producer: Jason Shadrick
Executive Producers: Brady Sadler and Jake Brennan for Double Elvis
Engineering Support by Matt Tahaney and Matt Beaudion
Video Editors: Dan Destefano and Addison Sauvan
Special thanks to Chris Peterson, Greg Nacron, and the entire Volume.com crew.
You could win pedals from AmpRX, Amplified Parts, Atomic Amps, Pigtronix, or Revv Amplification!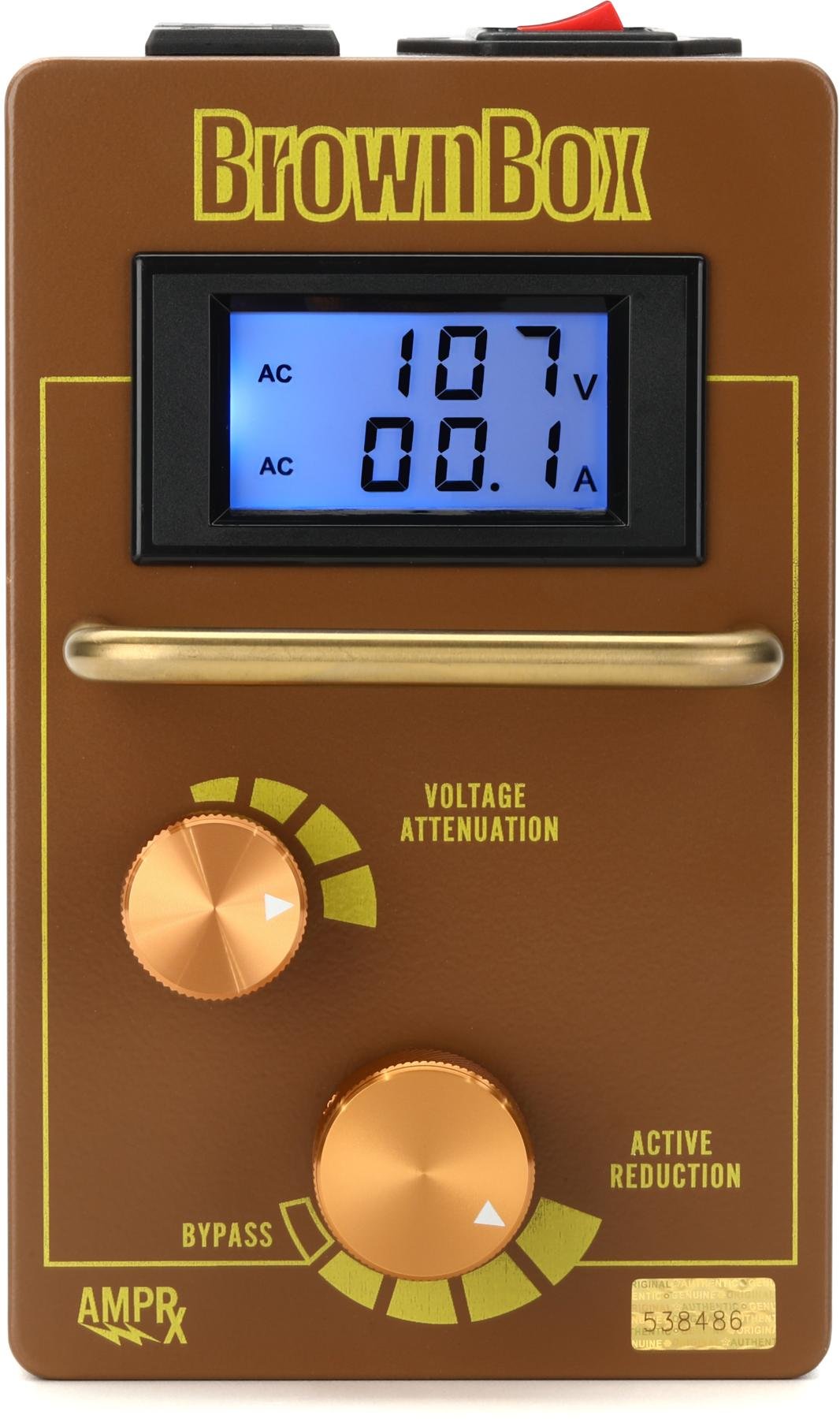 The BrownBox by AmpRx is an input voltage attenuator for tube amplifiers.
All tube amps, both vintage and modern, are designed to run at an optimal voltage - vintage being the lowest at around 110V and modern amps coming in at about 117-118V. The problem is that at any point, at any place, you can get anywhere from 120-130VAC out of the wall. It's not good for your tone, and it's not good for the health of your amplifier-whether it's vintage or not. Furthermore, we know that voltage supply can change drastically from club to club, from your home to rehearsal space and even between studios. With its proprietary 5-amp transformer and flexible attenuation options, the AmpRx BrownBox lets you bring that voltage down to an optimal level for YOUR gear, resulting in significantly improved amp performance - keeping your components and tubes healthy, and your tone tasty.

120 Volt AC, 60 Hz, 5 Amp Voltage Attenuator supplies up to 540 Watts, designed for small or mid to larger sized amplifiers (i.e. Fender Deluxe/Bassman/Twin, Marshall 50w/100w, Vox AC30). Can also be used for parallel or dual amp rigs.
AmpRX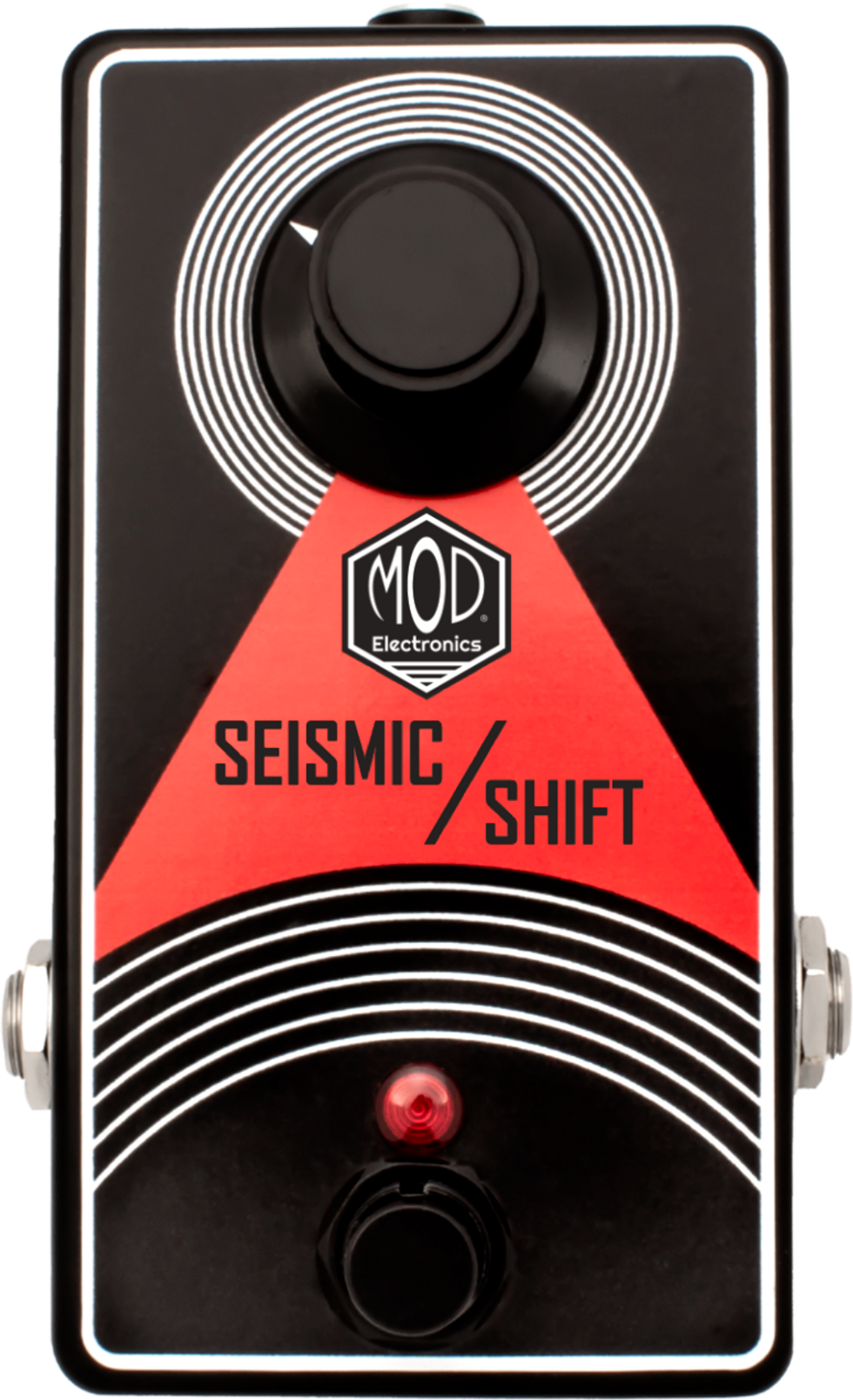 The Seismic / Shift is a JFET boost is a DIY pedal kit, based on one of the earliest effects to ever be used on stage. This pedal adds subtle color to a guitar's sound while maintaining the natural tone of the guitar. It packs a serious punch that can cut through any mix when soloing or whenever some extra "umph" is required. The Seismic Shift pairs nicely with amps and other pedals. Place it ahead of tubes, preamps, overdrives, distortions, and fuzz pedals to shift your gear onto a new level.
Amplified Parts
Ampli-Firebox MKII is the updated and enhanced version of Atomic's world's first stompbox-sized, pro level, digital amp and cabinet modeler. In addition to offering over 20 stunningly accurate amp models that span from vintage pristine clean to modern metal and beyond, it includes a carefully curated collection of cabinet models as well as delay, reverb, compression and gate effects. Ampli-Firebox MKII is equally in the studio, on stage or at home.
Atomic Amplifiers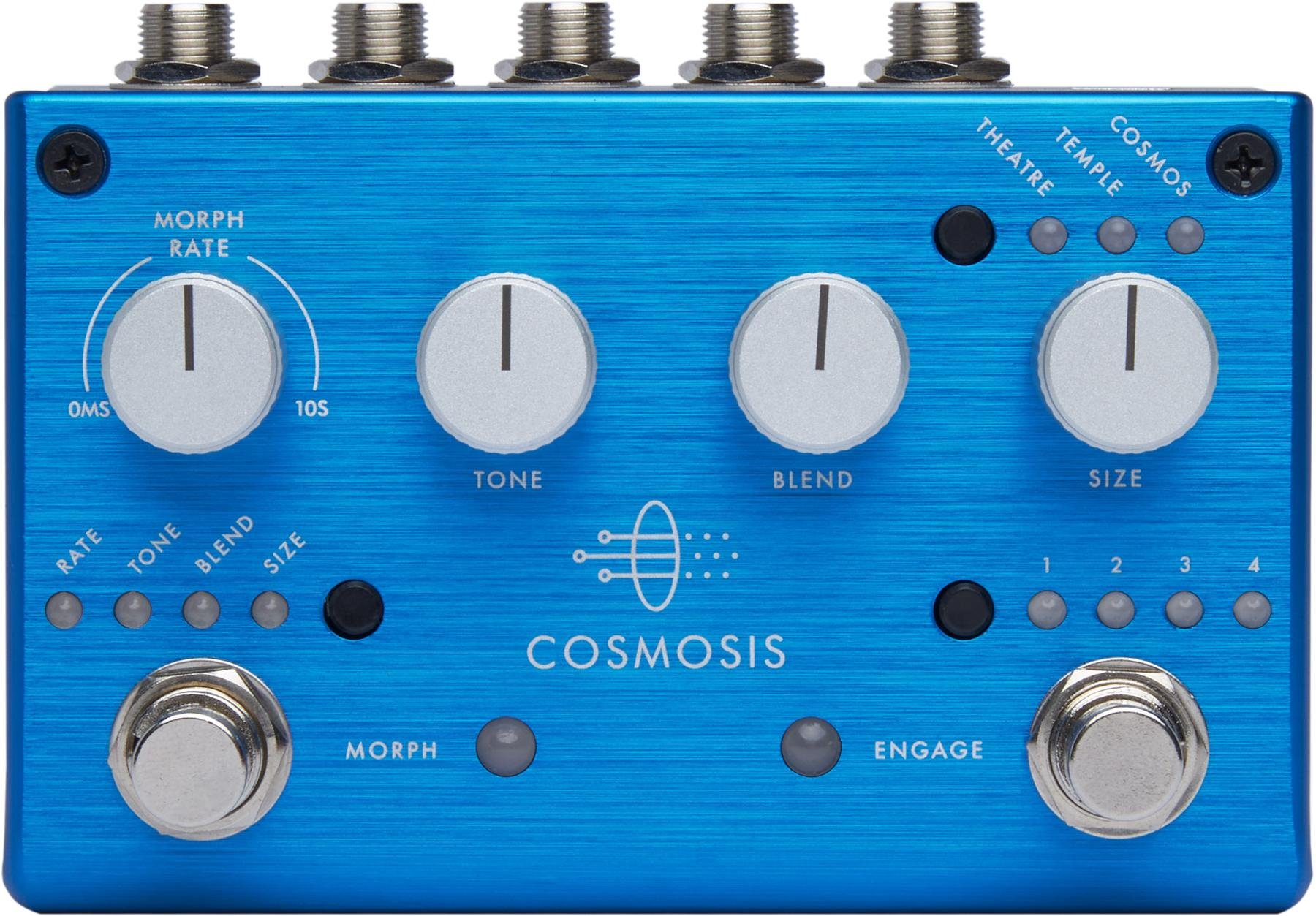 Years in the making and the first of its kind, Cosmosis is a stereo, high-fidelity ambient reverb that allows musicians to tailor three original spaces—Theatre, Temple, and Cosmos—as well as manipulate them in real time. In addition to controls for the size of the reverb, wet/dry blend, and filtering, Cosmosis features a unique Morph function that allows musicians to alter their reverb settings in real-time by pressing the left footswitch. The three space algorithms found inside of Cosmosis are all-original and truly unique. Theatre puts the player in a variable room that ranges from cozy to highly reflective using multiple parallel short reverberators. Temple occupies a dramatic, large indoor space by implementing numerous long reflections in both parallel and series. And Cosmos creates an enormous spectrum of heavenly reverb derived from the harmonic content it's fed. The Morph feature found in Cosmosis provides a simple way for players to trigger a gradual change to various reverb parameters over a specified amount of time set by the accompanying Morph Rate knob. Players can set both "red" and "green" values on their Tone, Blend, and Size knobs, then engage the Morph footswitch to oscillate between the two reverbs at their desired rate. Any combination of knobs can be assigned to morph. Create elegant morphs for subtle movement or sweeping, cinematic morphs for dramatic sound design effects. Save up to four custom reverb presets, including morphing. Cosmosis runs on standard 9VDC power.
Pigtronix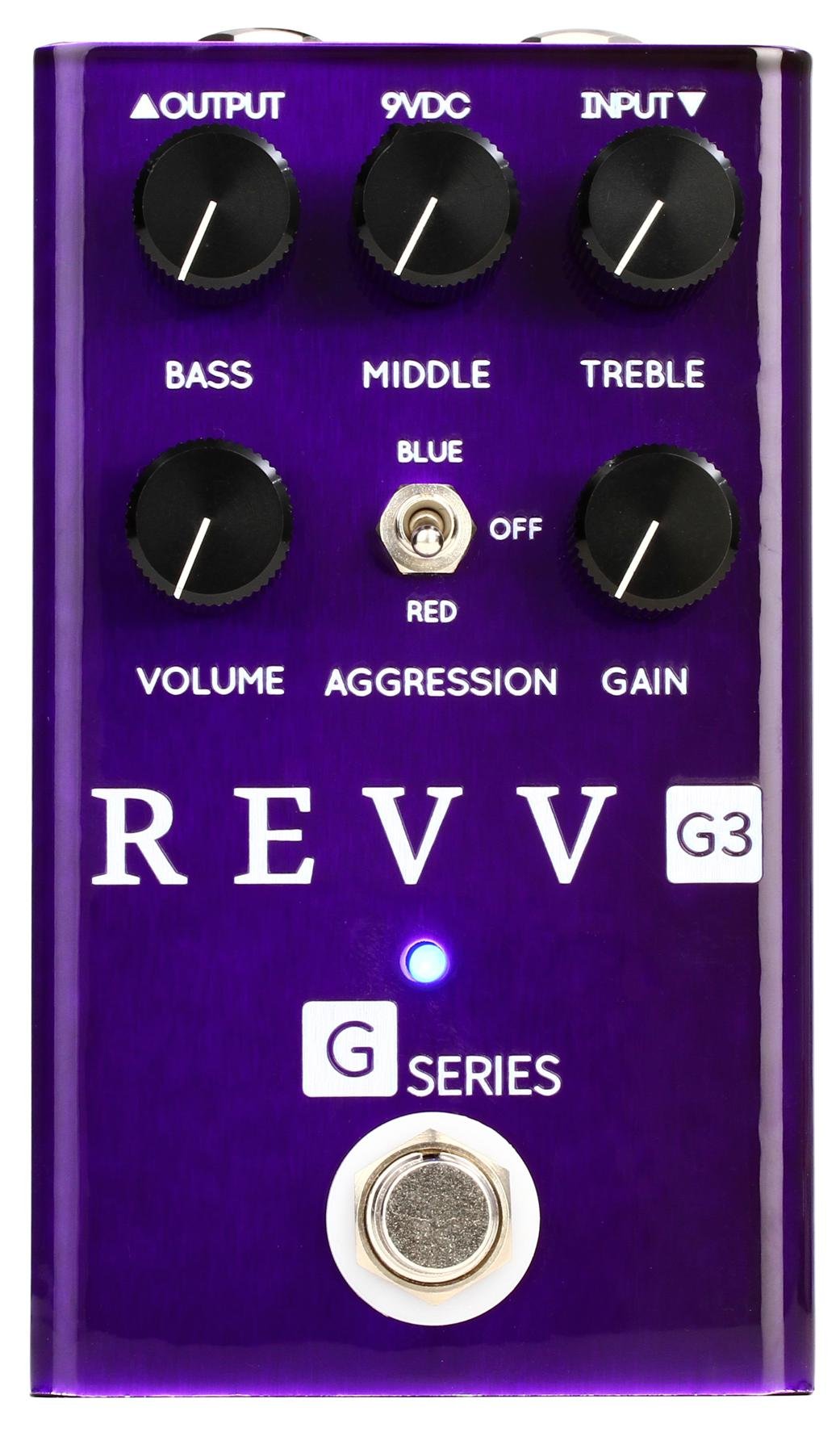 G3 Purple Ch Preamp/Hi-Gain Pedal
Revv