175...and Counting: Martin's 175th Anniversary
When Christian Frederick Martin established his stringed-instrument company in 1833, there were only 24 states in the U.S. Most of the Louisiana Purchase was still just a mass of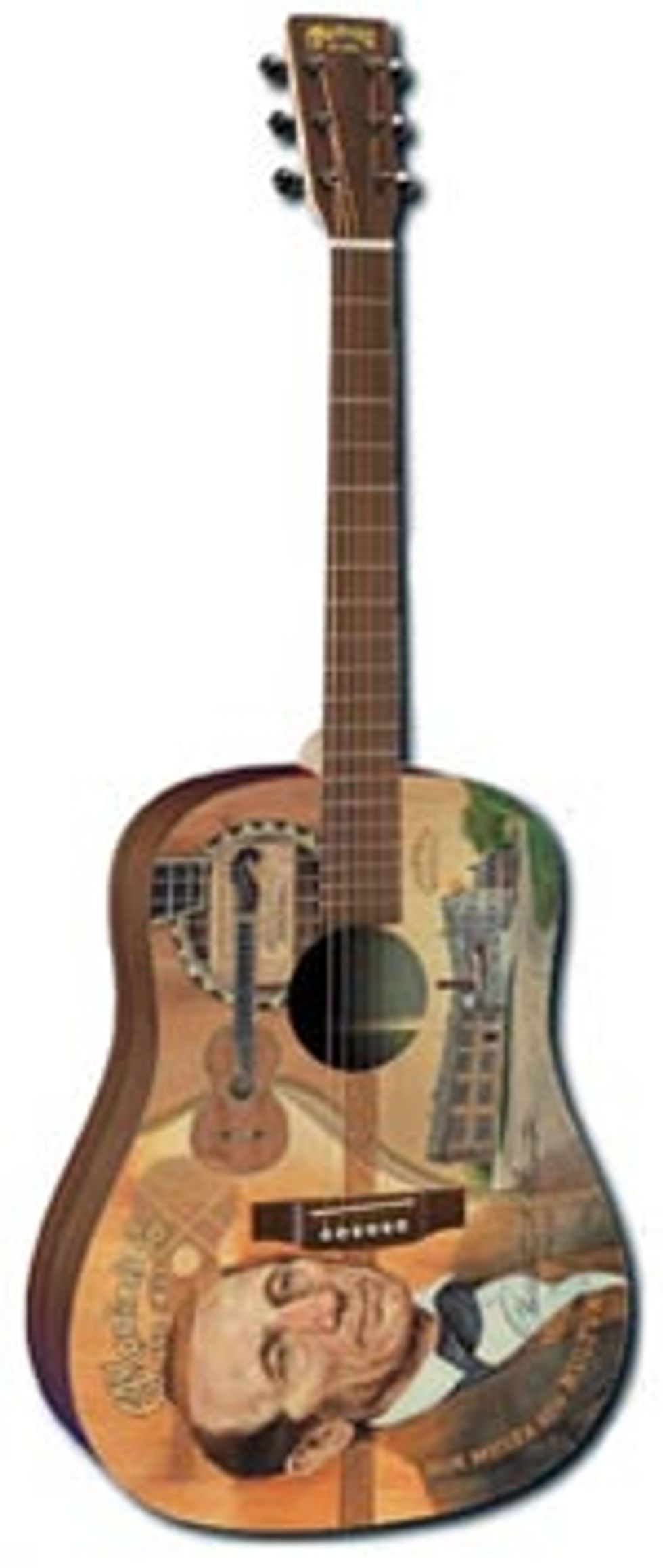 When Christian Frederick Martin established his stringed-instrument company in 1833, there were only 24 states in the U.S. Most of the Louisiana Purchase was still just a mass of land and nothing west of it even belonged to the country. For C. F. Martin & Company, the year 1833 represents their history and is a source of pride; few American companies can boast a 175-year history. The company has survived the abolishment of slavery and the Civil War, major depressions in 1893 and 1929, and two world wars.
»
Click Here to View the Martin Photo Gallery
Through alternating family owners (four of them named C.F.) came alternating schools of thought on how to run the company. Some were more conservative, making few changes for decades, while others implemented innovations that were accepted by players and guitar makers alike as standards for the instrument.
Martin gave us X-bracing in the 1840s, the Dreadnought in the 1920s, the 14-fret neck in 1929, and popularized herringbone purfling, to name just a few of their contributions to the world of luthiery. Of course, Martin wasn't always paving the way – their reputation for tradition is well-earned. The company initially resisted flashy inlays, put off using steel strings until 1922 (decades after competitors), advertised little and spent a substantial amount of their earlier years keeping artists at bay.
This combination of innovation and conservatism (and making a lot of ukuleles at exactly the right time) proved to be a successful model for the company, which has grown to the point of producing its highest volume of guitars right now.
If Martin's history can be separated into progressive and conservative periods, the era of sixth generation Chris Martin IV, beginning in 1986, would have to fall under progressive. Guitar production from 1990 to 2004 was equal to the total production from 1833 to 1990 – the company celebrated 500,000 guitars in 1990 and 1,000,000 in 2004. Ed Golden, Martin's Custom Shop Manager, says that the company is already approaching serial #1,300,000, thanks in part to the addition of mid-to-lower priced instruments in the 16, 15, Road and X series.
By The Numbers


| | |
| --- | --- |
| 245 | (guitars built in 1873) |
| 14,000 | (ukuleles built in 1926) |
| 75,000 | (average number of guitars built per year over the last four years) |
| 16.28 | (average wholesale price of a Martin instrument in 1907) |
| 50,000 | (price of Custom #1133224, part of this year's 1833 Custom Models) |
| 100 | (price of a D-28 in 1932) |
| 90,000 | (value of that same D-28, in excellent condition, today*) |
| 1959 | (year of Martin's first electric) |
| 5 | (number of attempts Martin made to "go electric") |

*according to the Blue Book of Acoustic Guitars, 10th Edition

For more information on Martin's history, check out Martin Guitars: An Illustrated Celebration of America's Premier Guitarmaker, by Jim Washburn and Richard Johnson.
In addition to growing numbers and expanding product lines, the company recently launched a virtual custom shop, where players can tweak the day away building their perfect guitar online, then have it made for them through the Martin Custom Shop. We talked with Ed about what's new at Martin, the 175th anniversary celebration and how the company's history has shaped its future.
Through 175 years of production, how has Martin stayed relevant?
C.F. Sr. had a vision and passion for guitars so strong that he uprooted his family in Germany to bring his idea to America. He designed and built instruments that set the standard for acoustic tone. Countless acoustic guitar companies have emerged since then to join in our quest to fill the world with music, but Martin set a precedent 175 years ago and has continued to nurture it with the same devotion that our founding father did.
Obviously, there is great pride in being a family company – does this have something to do with Martin's staying power?
Absolutely. There is an undeniable pride in the hearts of our coworkers. Their CEO and sixth generation family heir, Chris Martin, is not just a name on the headstock, but a close and trusted friend who has continued the tradition of treating us like an extended family. This internal feeling of "ownership" by the employees, along with our commitment to quality, is the backbone of our continued success.
Because of the company's history, Martin has a unique view of acoustic trends. What have you seen happening lately?
It seems that at least one acoustic guitar is an essential part of every musician's arsenal, even if their main instrument is something other than guitar. We also feel that more people are learning guitar; free online guitar sites and unlimited resources make it easier than ever.
In terms of the guitars themselves, the Dreadnought and Auditorium sizes are still extremely popular, but we have seen an increased interest in the 00 size – both 12 and 14 fret – in recent years.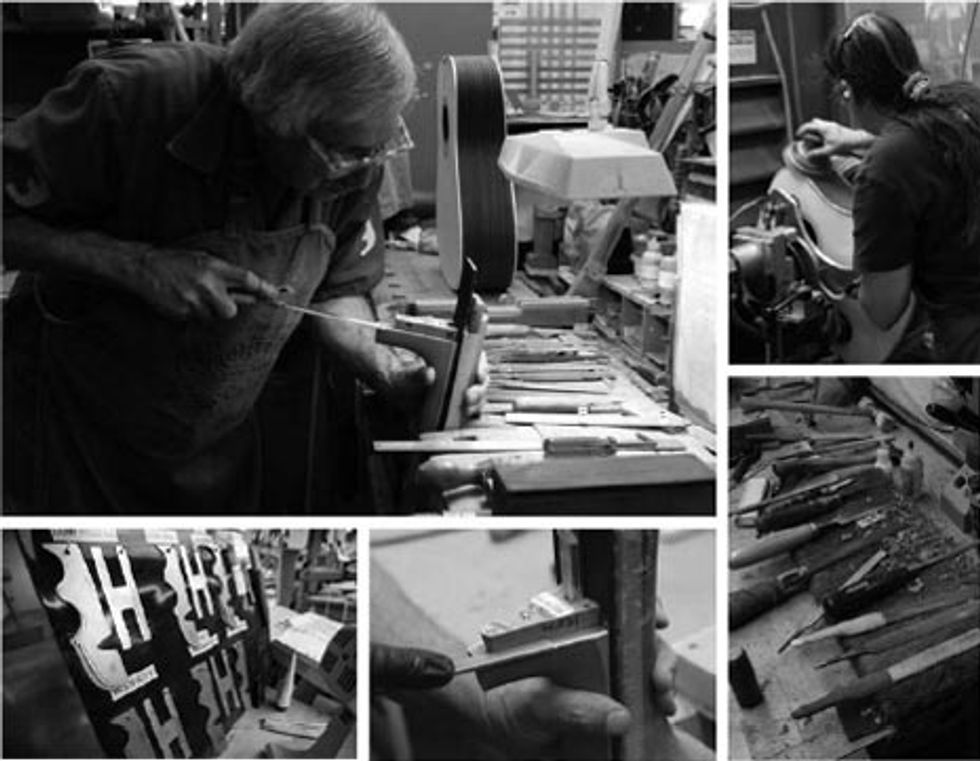 Let's talk about the anniversary guitars. The 1833 Custom Models have some very exotic and figured wood. How were these developed?
A small group of experienced co-workers got together and selected the most dramatic wood species we had available, and combined aesthetics to create outstanding guitars.
Is there a special stock of wood for runs like these?
We have a limited amount of exotic specialty woods we chose for these models, but there are still enough sets available for special orders from authorized dealers or consumers.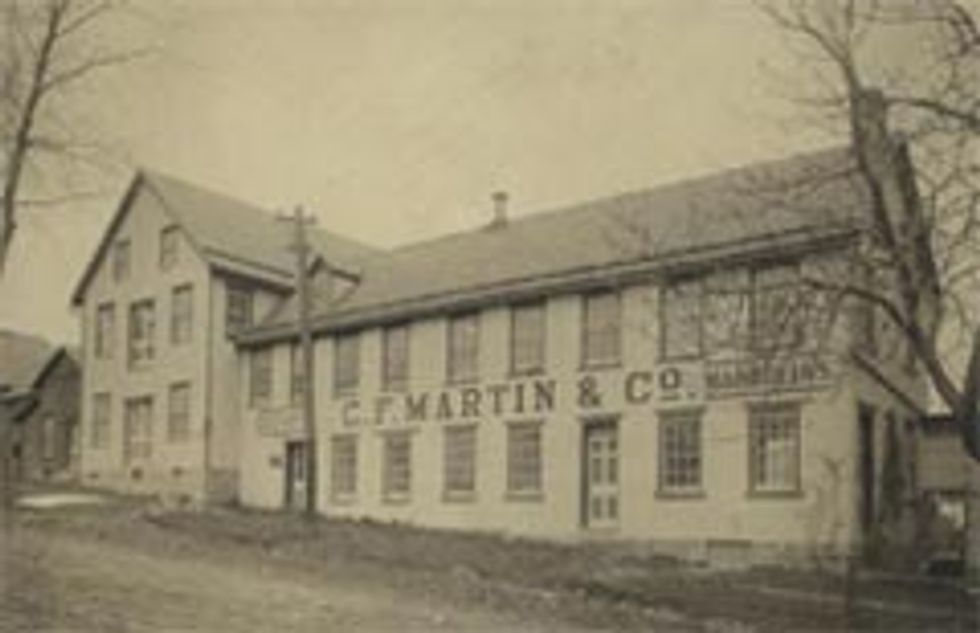 What anniversary guitars can players look for other than the 1833 Custom Models?
There's the DX 175th, which features a graphic on the top commemorating the anniversary; the 00 Stauffer 175th, limited to 50 with the Stauffer headstock; America's Guitar, limited to 175; and the LX 175th, which is only available in person at the factory's 1833 Shop.
The virtual custom shop has opened up a lot of opportunities for the average player – with the money, of course – to get a Martin built to spec. How did this idea come about?
About a year ago I began a discussion with our Information Systems Department on making custom options more accessible to the public. We receive so many requests for simple changes to our stock models and even the smallest option change takes up valuable time internally. We decided to take the most popular options and create a virtual design tool to allow people to create and price a base model with custom options.
Anniversary Festivities
Aside from commemorative guitars, Martin has other projects in the works. From books (release dates TBA) and an October 10th Christie's auction with a to-be-determined lineup of prototypes and other sought-after models to a CD compilation called My Favorite Martin. Ed Golden discusses the CD:
"Grammy award-winning Solid Air Records is in the final assembly and mastering stages of the My Favorite Martin project. We have been overwhelmed by the generosity and enthusiasm of the great players who have shown their appreciation by submitting tracks recorded on their favorite Martin guitars for this project.

"Laurence Juber's pristine solo guitar version of Eric Clapton's "Layla," appropriately initiates the CD. An incredible roster of artists follows with tracks from Nancy Wilson of Heart, bluegrass veteran Peter Rowan, as well as ukulele master Greg Hawkes and southpaw guitarist Elliot Easton (both of The Cars). The CD continues with tracks from the Joker himself – Steve Miller of the Steve Miller Band, Roger McGuinn of Byrds fame, acoustic flatpicking wizards Norman and Nancy Blake, California bluesman Kenny Sultan, plus a special cut from one of the all-time bluegrass greats – Tony Rice – playing one of the most iconic Martin guitars ever. In addition, Prairie Home Companion's Pat Donohue adds a track and fingerstylist Jim Earp lends a classic version of Van Morrison's "Moondance."

"No Martin compilation would be complete without across-the-pond representation from legendary U.K. guitarists Martin Carthy and Yes guitarist Steve Howe, plus Belgian guitar virtuoso Jacques Stotzem. Don McLean, whose collection includes over 40 Martin guitars, contributes the perfect closing track."
All of the songs on this CD were recorded on Martin instruments or signature models owned by the individual artists, and many of the tracks were written or recorded specially for the compilation.
Customers have been able to get custom orders from Martin for some time though, right? How does this change that?
We have been building customs designed by customers and dealers for more than 25 years. The web-based design application is simply a tool, similar to what BMW would use where you can design your own car. Using the design tool allows us to be more accurate and eliminates any interpretation we might have to otherwise do when reviewing all of the line options. There are more than 70 line items involved in building each custom guitar and each line item may have up to 30 or more different variations in it.
For example, there are more than 20 binding options alone. There are more than 25 unique rosettes, not including design options submitted by customers involving pearl inlay. With so many customizable features available, it is essential that we are all using the same terms. The design tool allows for us to be speaking the same language with our customers by allowing them to choose options graphically instead of trying to name them alone. There are many more options available than are visible on the web design tool.
All custom orders are still placed by an authorized dealer, and customers can still work directly with their dealers without ever logging on to our site.
Are there plans to flush out the additional options online?
New options have been planned from the inception. We simply chose the most popular options first, but we will be adding many more as we go forward, including sunbursts, top toners, 12-fret models and cutaway options. Our plan is to continue to add new and interesting options as we develop them.
Are these just the pre-planned changes or are you taking suggestions from customers?
We are responding to customer feedback as well – the input from our customers has been excellent!
It seems that an acoustic custom shop would be a lot more labor-intensive than an electric one; how is this feasible for such a large company?
The process of building a custom acoustic is very labor-intensive. Parts and components are processed and compiled in our machining area, and travel through our standard production line through the finishing process. All final assembly, neck fitting, bridge gluing and setup is performed in the custom shop exclusively. We employ eight of our most experienced craftspeople in the custom shop itself, along with three highly skilled designers who can offer assistance to our dealers and customers.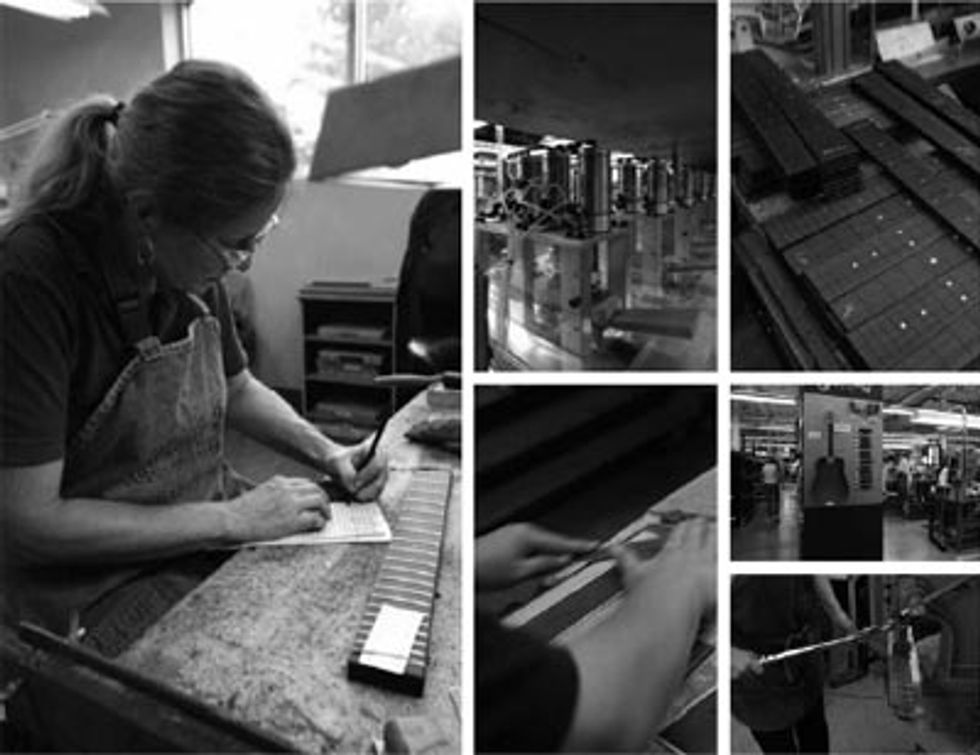 So what exactly is the process when a player has picked all of their options and is ready to order their guitar?
The first thing to do is to take your virtual spec sheet to an authorized dealer. The dealer will place a quote contract request with us based on your spec sheet. Once created, we will return the spec sheet to the dealer, who will review all specs and options with the customer. Once all the specs and options are agreed upon, both parties return the signed quote to us and we will begin the build process. It generally takes about four to six months to complete a custom, depending on the complexity of the project.
There are a lot of options for smaller, high-end custom shops where one guy makes the guitar from start to finish. What does this option offer over those shops?
Martin has a long history of successful guitar design and innovation. Having 175 years of experience to draw from allows us to offer more flexibility and more options than any other guitar manufacturer. From simple to complex, we offer the ability to customize virtually any base model on our price list, utilizing the finest materials.
Nazareth, Pennsylvania
is at or near the top of any guitar player's list of Cooperstown-type destinations for a road trip. Just ask anyone who has made the journey – Martin's factory and museum provide a full day of learning and drooling that every picker must experience.

The factory tour is almost overwhelming with its start-to-finish, up-close look at how every Martin guitar is made. Artisans do their thing right in front of you using tools and techniques that have been passed down for generations, as well as modern methods/technology that keep the company at the forefront of quality guitar craftsmanship.

The museum includes priceless artifacts and famous guitars that will quickly drain your digital camera's memory card: the 1,000,000th Martin, one of the earliest Martins ever made, the best sounding Martin known to man, you name it. To give you a taste, we've produced a number of videos from our recent trip there.

Click here to watch!

---
C.F. Martin & Company
mguitar.com