Alexander La Calavera Phaser Review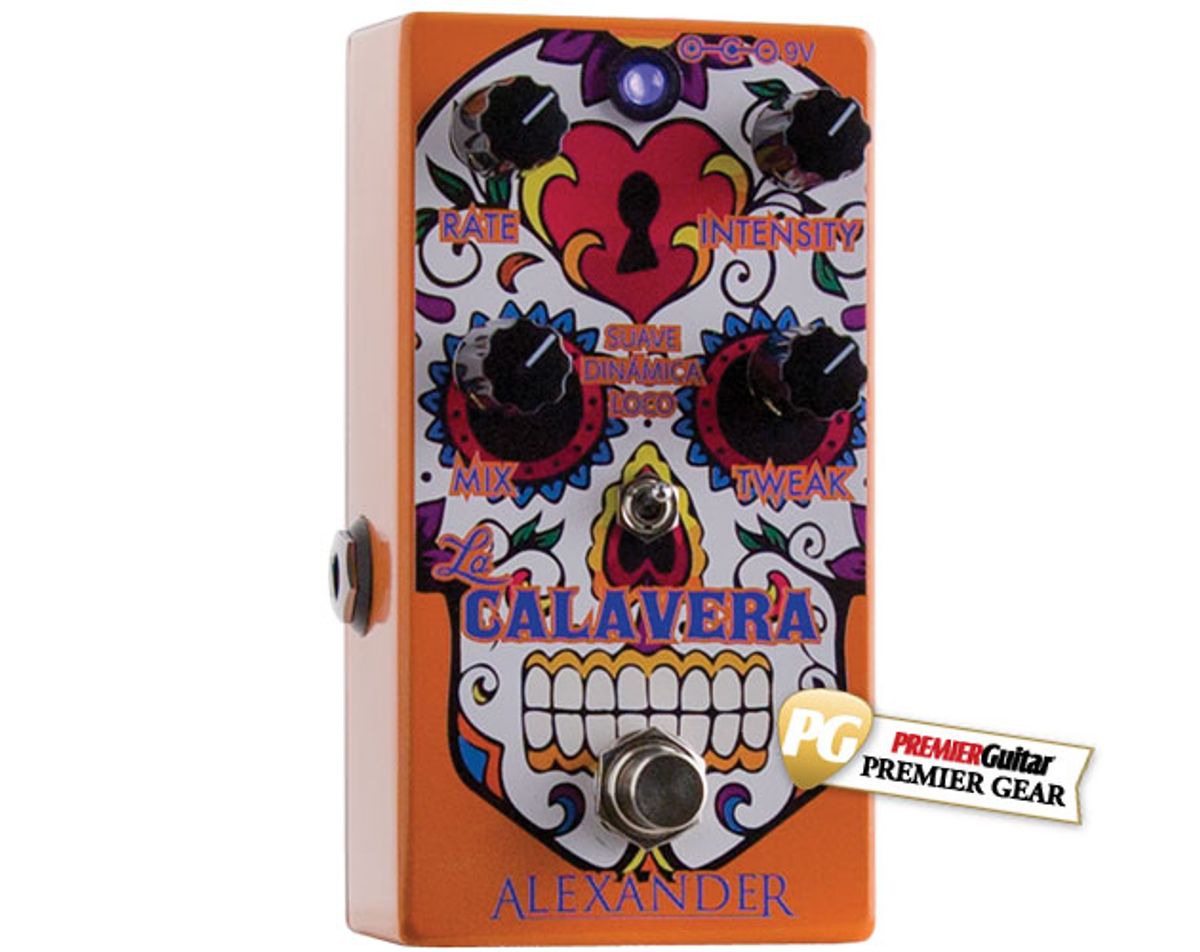 See how this new stomp conjures classic phasing sound and adds some cool, quirky twists.
In Spanish, calavera means "skull." The word also describes a stylized human skull representation, like the clay and sugar skull figurines that feature so prominently in Mexican Day of the Dead celebrations. Well, Alexander Pedals has your stylized skull right here: The eye-popping graphics on their La Calavera phase shifter capture the loud, lurid fun of Mexican folk art. And it sounds even more bitchin' than it looks.
Phase of the Dead
La Calavera is a retro-sounding phaser with fun modern twists. A top-panel toggle selects between three modes: suave, dinámica, and loco. Suave provides lush, retro-sounding 10-stage phasing. Dinámica mode adds envelope-triggered modulation—the intensity of your touch controls the sweep rate. Loco mode adds mild ring modulation to the mix, yielding complex pulsations and surreal sweeps and burbles.
La Calavera is nicely built into a standard 125B-sized enclosure. The tidy circuit board features mostly small, surface-mount components, though there are a few larger through-hole parts. The footswitch is a silent relay. There's no battery compartment, and the pedal runs on conventional 9V power. Of course, there are the standard rate and depth controls. There's also a tweak knob. Its role changes according to the selected mode.
I must confess: Before inspecting the circuit board, I'd have sworn La Calavera was analog.

Rico Suave
Suave mode offers rich and tactile 10-stage phasing. The tone isn't far removed from such vintage 10-stage phasers as the Boss PH-2, a go-to model during the 1980s. The effect is complex and immersive, but not too soft or diffuse, thanks to a nice edgy resonance that can cut through in a mix. It's a deep, hypnotic sound you can really get lost in. That's especially impressive given that it's digital modulation, courtesy of the popular Spin FV-1 chip. The Spin is a smart and versatile processor, but I've found its modulation effects a bit stiff and clinical—at least as deployed in some recent pedals. That's not the case here, though. The phasing is as warm and juicy as on any vintage phaser. And I must confess: Before inspecting the circuit board, I'd have sworn La Calavera was analog.
In suave mode, the tweak knob adjusts the amount of feedback—the resonant edge that increases the effect's intensity and impact. There's also a not-so-standard wet/dry mix control. Set at noon, the pedal generates classic phase colors. Dialing it toward the dry side creates subtler effects, while wet-side settings favor the modulated signal. All-wet settings provide cool pitch-shift vibrato flavors.
Ratings
Pros:
Great classic phase sounds. Perfectly calibrated envelope-follower mode. Wild-and-wooly dual-modulator tones. Easy to use. Fun graphics.
Cons:
None.
Tones:


Playability/Ease of Use:


Build/Design:


Value:



Street:
$189
Alexander La Calavera Phaser
alexanderpedals.com
Dynamics for Days
Dinámica mode lets you control the modulation intensity via your playing dynamics. Here, the rate knob determines the maximum speed, while the tweak knob sets the sensitivity. The big deal isn't that La Calavera offers this envelope-controlled option, but that it's so well realized. The values and tapers of the pots are just perfect, with cool and usable sounds throughout their ranges. High-resonance settings offer fun variations on funky auto-filter effects or bubbling-cauldron animation. All-wet mix settings generate useful dynamic vibrato effects. With the rate knob below noon, the modulation rate increases when you play harder. With the knob set above noon, louder playing triggers slower modulation. There are many attractive phaser tones here, and they all feel musical and expressive.
Loco Motion
Loco mode is La Calavera's biggest break from traditional phased sounds. Here, the tweak knob sets the feedback amount, as in suave mode. But this time the signal gets fed through a subtle ring modulator. Naturally, the sounds are more chaotic, but not necessarily in the clangorous, metallic way you might expect when you hear the words "ring modulator." It still sounds "phase-y," but the interaction between the two modulation stages feels a lot like the complex sweeps you can get from a dual-stage phaser pedal such as a Lovepedal Doppelganger or a Walrus Vanguard.
In all three modes, I found it incredibly easy to create compelling sounds. It only took a couple of seconds to dial in all the tones in the three audio clips that accompany the online version of this review. La Calavera strikes a splendid balance between versatility and ease of use.
The Verdict
La Calavera may be digital, but it sounds and operates like a great analog phaser. It strikes a savvy compromise between power and simplicity. It's no more difficult to use than, say, a vintage Boss phaser, but its tonal range is far greater. Someone spent a lot of time dialing in deliciously musical ranges and tapers for all the controls. And you can concoct cool sounds in seconds. La Calavera looks rad and the price is fair. It's already enshrined in my phaser hall of fame.