Brad Paisley''s go-to gear builders talk about working with him to develop his tone.
Bill Crook
Bill Crook, West Virginia luthier and former audio tech to Frank Zappa, America, and many others, builds most of Brad's stage guitars, and had this to say: "Brad is one of those guys who has a pre-determined sound in his head when it comes to guitars. He's looking for a guitar that gives him that classic Don Rich/John Jorgenson Tele twang. If you go back and listen to the old Buck Owens and Desert Rose Band records, you'll understand what I mean. It's that Bakersfield sound.
"Brad wants clarity and snap on the low end. Even when he was growing up, he gravitated toward that sound. He needs a guitar that's very even from a tonal standpoint. I use different pickups in Brad's guitars, including APC's in the neck, plus bridge pickups by Kinman, Lindy Fralin, Di Marzio, and the new Peter Florance Voodoo pickups."
crookcustomguitars.com
Dr. Z
Mike "Dr. Z" Zaite, the founder and president of Dr. Z Amplification in Ohio, commented, "Brad bought his first Dr. Z amp in 1999, a Mazerati 2x10 combo from a cool little music store in LaVergne, TN, Mike E's Guitars, a shop that specialized in esoteric guitars and amps. I've watched Brad go from playing county fairs to sold-out arenas. Just goes to show what talent can do for you."
I asked Mike what Brad looked for in his amps, and he told me, "As you know, Brad is a Tele player, and the Tele is one of the toughest guitars to mate up with an amp. Foremost, it must have a good twang, a warm tone, and be Tele-friendly. The brilliance and articulation of a Vox-based design has always coupled well to Brad's style. Like most great artists, Brad looks for new and unique tones on each song he records, so in the studio, he's always experimenting and blending various model amps together, and does the same thing in his live setup.
"Brad has helped me design three amp models. The first was the RX Extra Strength, the second was the Stang Ray, a clean monster with plenty of clang—think the opening chords to 'A Hard Day's Night.' The third was a collaboration between the late Ken Fischer and myself. I built an amp loosely based on the Trainwreck Rocket, sent it to Kenny, who loved Brad's playing, and he sprinkled some of his magic dust and tweaked the amp to perfection. This amp was affectionately named the Z-Wreck, and was given to Brad, who cherishes it. Brad is a great guy and one of the most loyal friends and supporters. Any manufacturer would die to have him as an endorser. I feel blessed that our paths have crossed."
drzamps.com
Robert Keeley
Robert Keeley has also had a lasting and fruitful relationship with Brad. As he told me, "I guess Brad and I first got to know each other around 2003. It's a funny story. I mentioned to my wife that I wanted a Paisley Tele and she bought me one for Christmas, but the guy she bought it from didn't pack it very well and it was damaged in shipment, so she bought me another one. Now, I have two Paisley Telecasters, right? So, some time went on, and I got a Paypal payment from someone named B. Paisley. He bought a few pedals. I mentioned it to my wife and she figured it must be Brad Paisley. She's a big country music fan. I took a chance and contacted B. Paisley, and sure enough it was Brad."
As close a relationship as Brad and Robert have, the two have never worked together to develop a special pedal. "I would love to work with Brad," he said, "to build a Brad Paisley pedal at some point. Brad uses the Katana and Compressor simply because he likes the sounds. Occasionally, he'll request something from me for a special effect on a particular song."
robertkeeley.com 
Looking for more great gear for the guitar player in your life (yourself included!)? Check out this year's Holiday Gear Finds!
Outlaw Effects introduces their next generation of NOMAD rechargeable battery-powered pedal boards.
Available in two sizes, NOMAD ISO is a compact, versatile tool that offers the convenience of a fully powered board plus the additional freedom of not having to plug into an outlet. NOMAD ISO is ideal for stages with limited outlet availability, quick changeovers, busking outdoors, temporary rehearsal locations, and more.
NOMAD ISO builds upon the legacy of the ultra-convenient and reliable NOMAD rechargeable pedalboard line originally launched in 2018. The brand new NOMAD ISO editions feature eight isolated outputs (1 x 9V DC, and 1 switchable 9V/12V DC) for even more versatility and clean, quiet power. With an integrated lithium-ion battery pack boasting 12800mAh capacity, NOMAD ISO can fuel a wide array of pedals, and will last over 10 hours* on a single charge.
Each NOMAD ISO pedal board includes adhesive hook & loop pedal-mounting tape, eight (8) standard DC connector cables, and one (1) reverse polarity DC cable, giving you everything you need to build your ultimate "off-the-grid" rig. A rugged, road-ready padded gig bag with shoulder strap is also included, to safely protect your gear while you're on the move.
NOMAD ISO S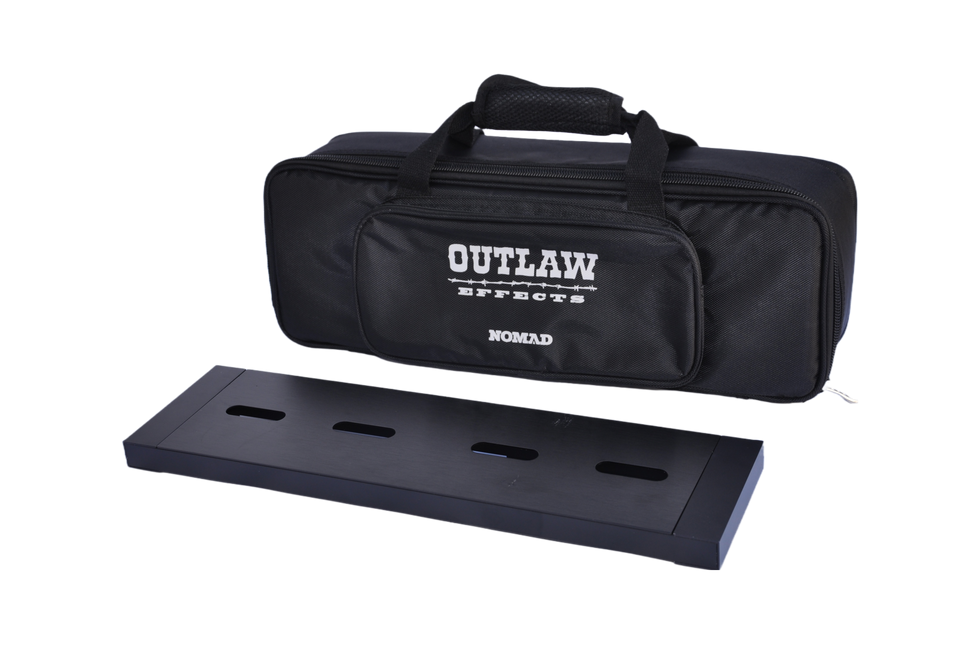 NOMAD ISO S: MSRP $309 / MAP: $249
Dimensions: 19 ¼" x 5 ¼"
NOMAD ISO M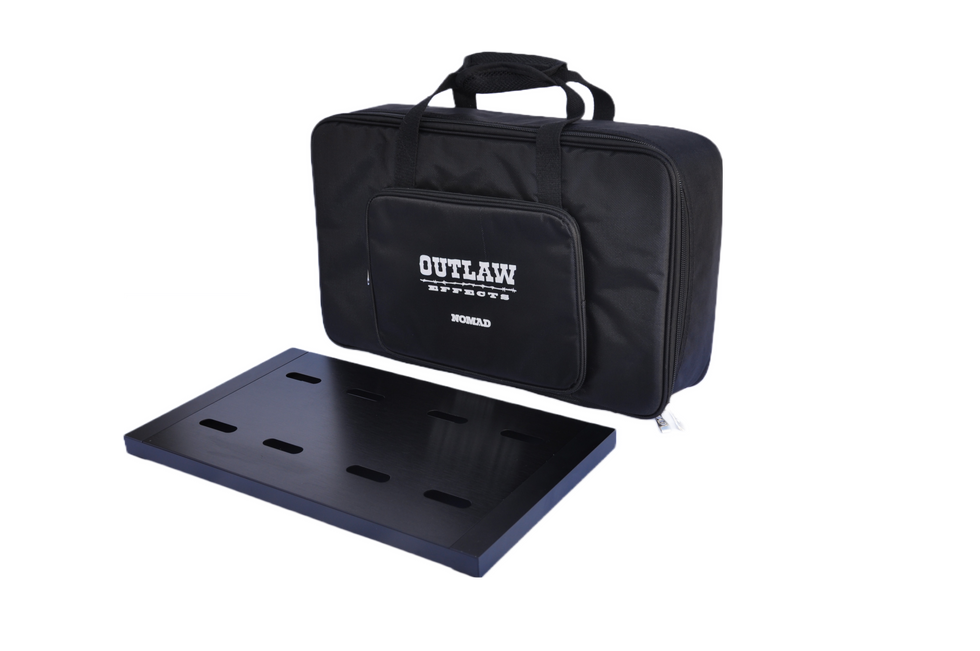 NOMAD ISO M: MSRP $349 / MAP $279
Dimensions: 19 ¼" x 11"
More info: https://www.outlawguitareffects.com.
Dunable announces new Minotaur model featuring Grover Rotomatic Keystone tuners.
The Minotaur's DNA is rooted in their classic Moonflower model, which Dunable discontinued in 2017. However, they have long since wanted to create a fresh take on a carved top guitar design, and various attempts to rework the Moonflower led them to a brand new concept with the Minotuar.
Dunable's goal is to give the player a guitar that plays fast and smooth, sounds amazing, and gives maximum physical ergonomic comfort. The Minotaur's soft and meticulous contours, simple and effective control layout, and 25.5" scale length are designed to easily meet this criteria.

Dunable Minotaur!
Features
25.5" scale length
Dual Humbucker
one volume, one tone, push pull for coil splitting
Grover Rotomatic Keystone tuners
Grover Tune O Matic bridge with brass Kluson top-mount tailpiece
jumbo nickel frets
12" fretboard radius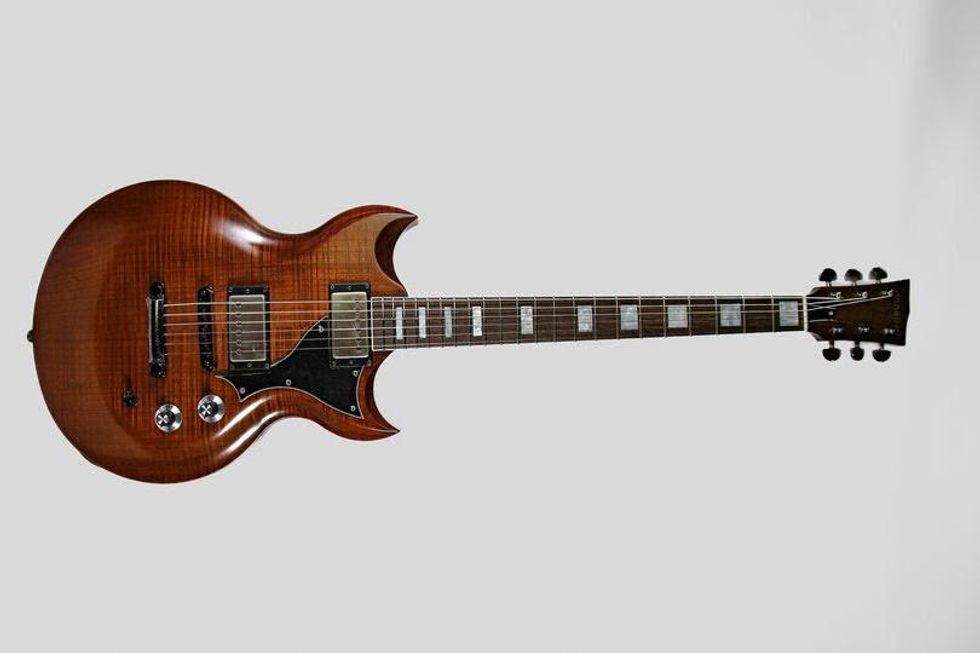 Dunable
This full-amp-stack-in-a-box pedal brings a new flavor to the Guitar Legend Tone Series of pedals, Missing Link Audio's flagship product line.
Adding to the company's line of premium-quality effects pedals, Missing Link Audio has unleashed the new AC/Overdrive pedal. This full-amp-stack-in-a-box pedal – the only Angus & Malcom all-in-one stompbox on the market – brings a new flavor to the Guitar Legend Tone Series of pedals, Missing Link Audio's flagship product line.
The AC/OD layout has three knobs to control Volume, Gain and Tone. That user-friendly format is perfect for quickly getting your ideal tone, and it also offers a ton of versatility. MLA's new AC/OD absolutely nails the Angus tone from the days of "High Voltage" to "Back in Black". You can also easily dial inMalcom with the turn of a knob. The pedal covers a broad range of sonic terrain, from boost to hot overdrive to complete tube-like saturation. The pedal is designed to leave on all the time and is very touch responsive. You can get everything from fat rhythm tones to a perfect lead tone just by using your guitar's volume knob and your right-hand attack.
Features 
Three knobs to control Volume, Gain and Tone
Die-cast aluminum cases for gig-worthy durability
Limited lifetime warranty
True bypass on/off switch
9-volt DC input
Made in the USA
MLA Pedals AC/OD - Music & Demo by A. Barrero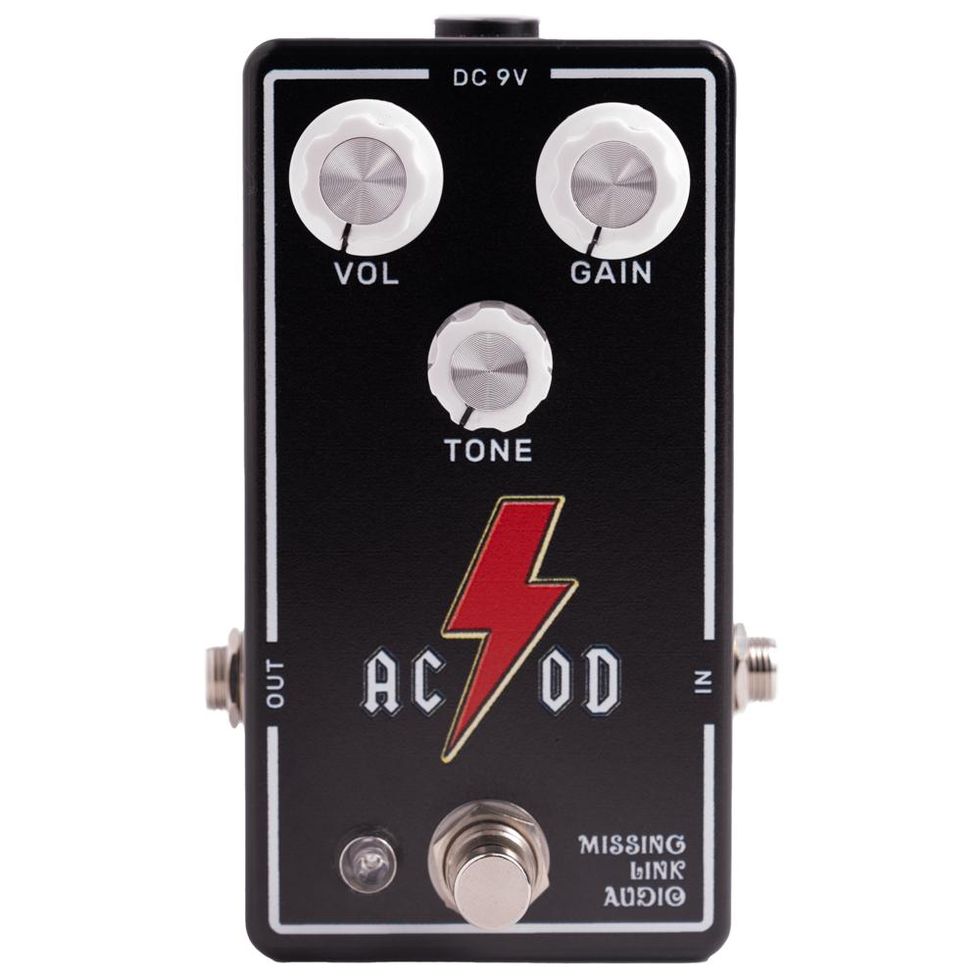 www.mlapedals.com.