An interpretation of the Boss CE-2 that you build yourself
For many players, chorus can be a tricky effect. The right amount can lend welcome space and dimension, but add too much chorus and your tone can sound cheesy and cold. One pedal that did a great job of striking this balance is the legendary Boss CE-2 Chorus Ensemble, which has been long coveted for its warm and watery voice. Build Your Own Clone Effects, makers of DIY kits that closely model famous effects, recently released the Analog Chorus, an interpretation of the discontinued Boss CE-2 complete with high-quality components to enhance sonic performance.
Sizing up the Situation
As the company name suggests, you actually build BYOC pedals yourself (though you can also order a pre-built unit at additional cost from BYOC's Canadian distributor, Axe … And You Shall Receive). So after getting the kit, I fired up a soldering station and delved into the manual and parts checklist. To save paper, BYOC requires kit builders to download the manual and instructions from their website. All of the parts listed in the checklist were included in the bag, as well as an extra capacitor or two, just in case one found its way underneath my desk or in the carpet—a thoughtful touch on BYOC's part.
BYOC does a fantastic job with making the building process as easy as it could be, without using terminology that would confuse a novice builder. Each step—whether it's soldering resistors, capacitors, or IC sockets—commands its own page of instruction, complete with a large blowup of the circuit board with easy-to-read labels.
After about two hours of laboring over the soldering gun, I completed the pedal and was ready to test it. I wanted a great name for a watery chorus, so I christened it "The Slobber Box" and PG Web Content Editor Rebecca Dirks revealed her artistic skills by painting the enclosure for me.
The Birth of the Slobber Box
With the moment to test my new creation finally at hand, I borrowed an original CE-2 from a friend to A/B it with the BYOC pedal. The Analog Chorus did a fantastic job recreating the original CE-2's subtle, three-dimensional tone. But my "Slobber Box" bested the CE-2 when it came to background noise and bypass tone. Simply put, the Analog Chorus was dead silent when active, unlike the CE-2, which had a slightly audible whooshing-noise in the background. And the Analog Chorus' true bypass circuitry (the original CE-2 used a buffered bypass) left my guitar's high-end tones intact. The BYOC Analog Chorus is a breeze to work with and its sparse control layout (one knob for Depth, another for Rate) makes it easy to dial in a variety of usable tones without fuss.
The Verdict
It was easy—and a blast—to build BYOC's Analog Chorus pedal kit, and the end result exceeded my expectations. Assembling the kit with my own two hands gave me a real sense of satisfaction that no off-the-shelf purchase can match. It's worth keeping in mind that attempting a pedal kit can present some challenges—even if you're experienced with a soldering gun and circuit boards. But if you're up for the challenge, the BYOC Analog Chorus delivers classic, tasteful, and subtle chorus tones along with the gratification of having built a part of your own rig.
Buy if...
you're after a warm chorus you can decorate yourself.
Skip if...
you want a pedal that works right out of the box.
Rating...


Looking for more great gear for the guitar player in your life (yourself included!)? Check out this year's Holiday Gear Finds!
This full-amp-stack-in-a-box pedal brings a new flavor to the Guitar Legend Tone Series of pedals, Missing Link Audio's flagship product line.
Adding to the company's line of premium-quality effects pedals, Missing Link Audio has unleashed the new AC/Overdrive pedal. This full-amp-stack-in-a-box pedal – the only Angus & Malcom all-in-one stompbox on the market – brings a new flavor to the Guitar Legend Tone Series of pedals, Missing Link Audio's flagship product line.
The AC/OD layout has three knobs to control Volume, Gain and Tone. That user-friendly format is perfect for quickly getting your ideal tone, and it also offers a ton of versatility. MLA's new AC/OD absolutely nails the Angus tone from the days of "High Voltage" to "Back in Black". You can also easily dial inMalcom with the turn of a knob. The pedal covers a broad range of sonic terrain, from boost to hot overdrive to complete tube-like saturation. The pedal is designed to leave on all the time and is very touch responsive. You can get everything from fat rhythm tones to a perfect lead tone just by using your guitar's volume knob and your right-hand attack.
Features 
Three knobs to control Volume, Gain and Tone
Die-cast aluminum cases for gig-worthy durability
Limited lifetime warranty
True bypass on/off switch
9-volt DC input
Made in the USA
MLA Pedals AC/OD - Music & Demo by A. Barrero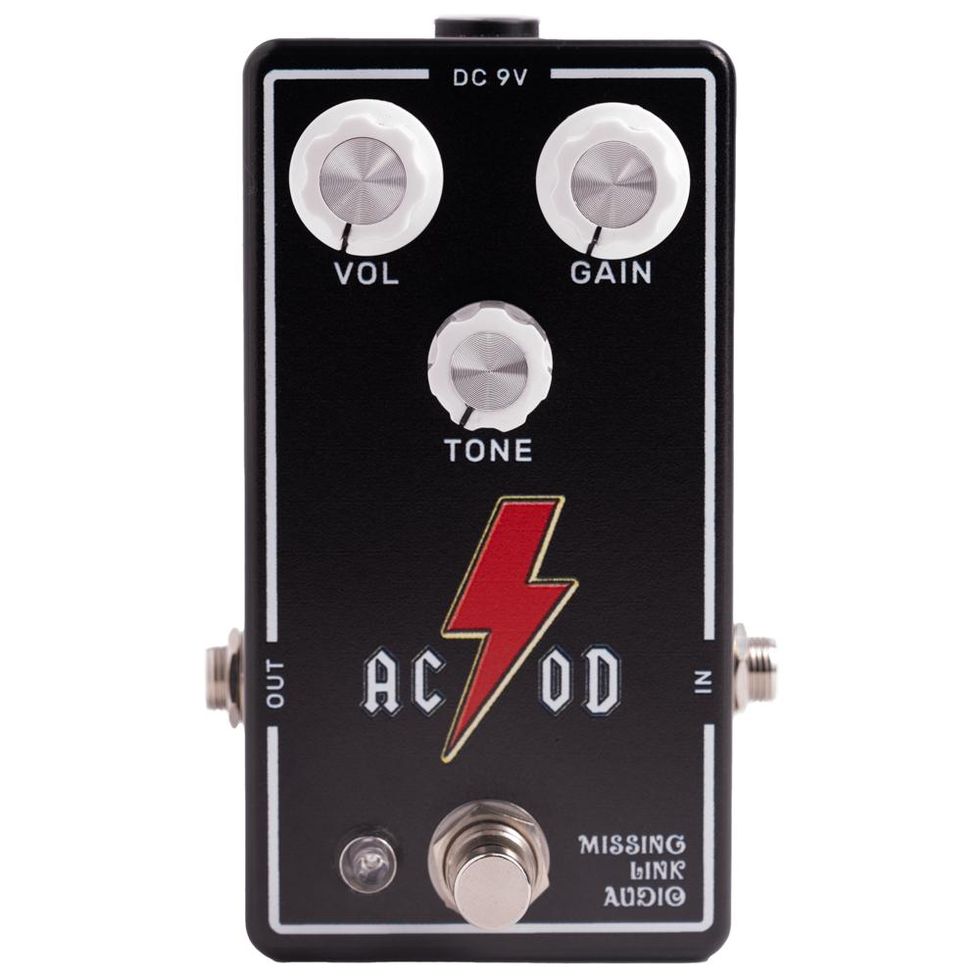 www.mlapedals.com.
Sporting custom artwork etched onto the covers, the Railhammer Billy Corgan Z-One Humcutters are designed to offer a fat midrange and a smooth top end.
Billy Corgan was looking for something for heavier Smashing Pumpkins songs, so Joe Naylor designed the Railhammer Billy Corgan Z-One pickup. Sporting custom artwork etched onto the covers, the Railhammer Billy Corgan Z-One Humcutters have a fat midrange and a smooth top end. This pickup combines the drive and sustain of a humbucker with the percussive attack and string clarity of a P90. Get beefy P90 tone plus amp-pummeling output with the Railhammer Billy Corgan Z-One.
Patented Railhammer Pickups take passive guitar pickups to a new level with rails under the wound strings lead to tighter lows, and poles under the plain strings offer fatter heights. With increased clarity, the passive pickup's tone is never sterile.
Railhammer Billy Corgan Signature Z-One Pickup Demo
Designed for utmost comfort and performance, the Vertigo Ultra Bass is Mono's answer to those who seek the ultimate gigging experience.
Complete with a range of game-changing design features, such as the patent-pending attachable FREERIDE Wheel System, premium water-resistant and reflective materials, shockproof shell structure and improved ergonomic features, the Vertigo Ultra Bass takes gear protection to the next level.
The Vertigo Ultra Bass features:
Patent-pending FREERIDE Wheel System that allows for wheels to be attached on the case in no time, giving you the option to travel with it seamlessly
Upgraded materials, including a water-resistant 1680D Ballistic Nylon outer shell, plush inner lining and new reflective trim for maximum backstage and night visibility
Enhanced protection with a shockproof shell structure and heavy-duty water-resistant YKK zippers for protection from the elements
Improved ergonomics and functionality including added back support and load-lifting detachable shoulder straps with side release buckles
Flexible storage options with added space for touring essentials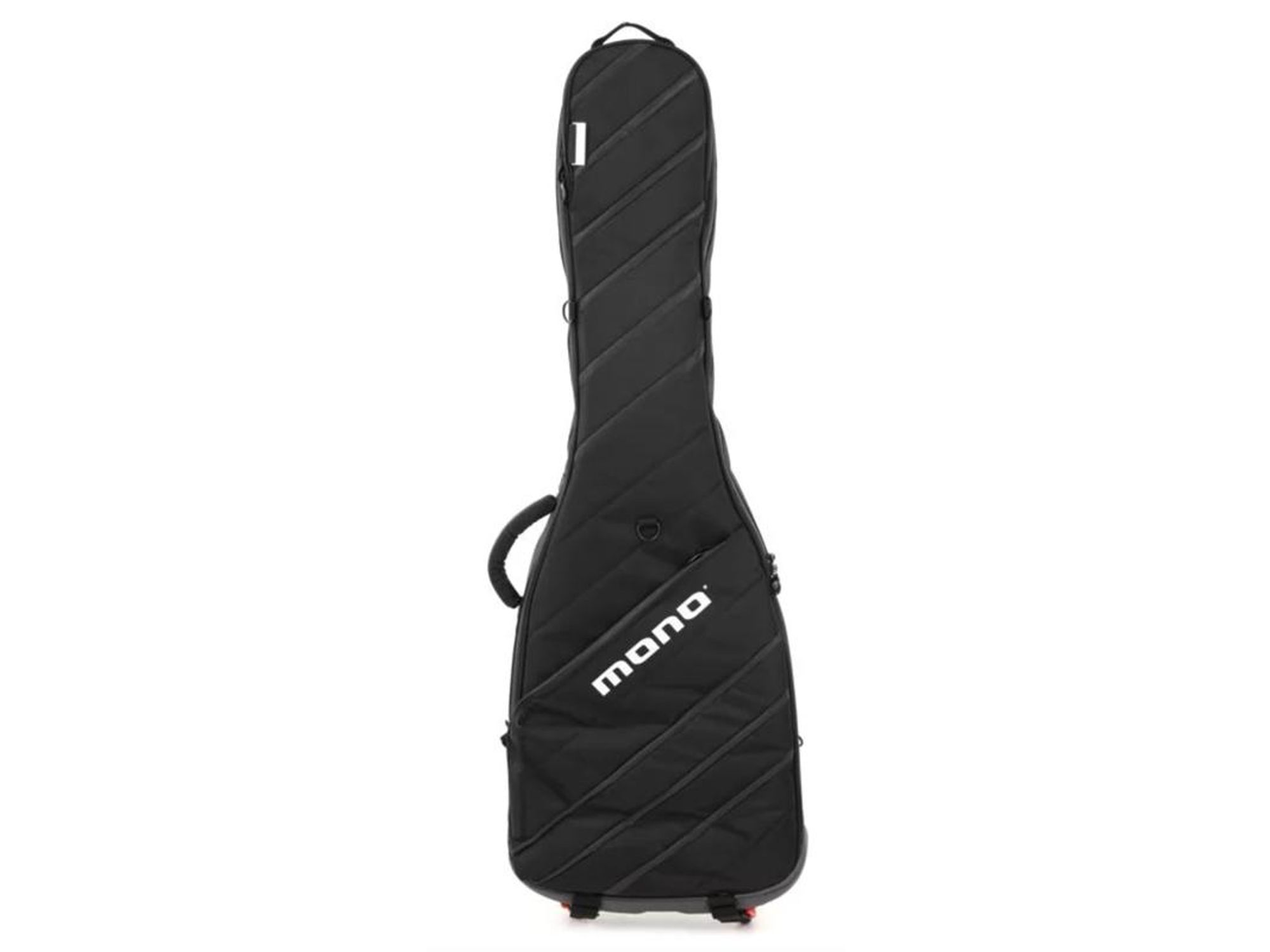 For more information, please visit monocreators.com.
Mono