Jol Dantzig's Esoterica Electrica: Simple Times, Simple Gear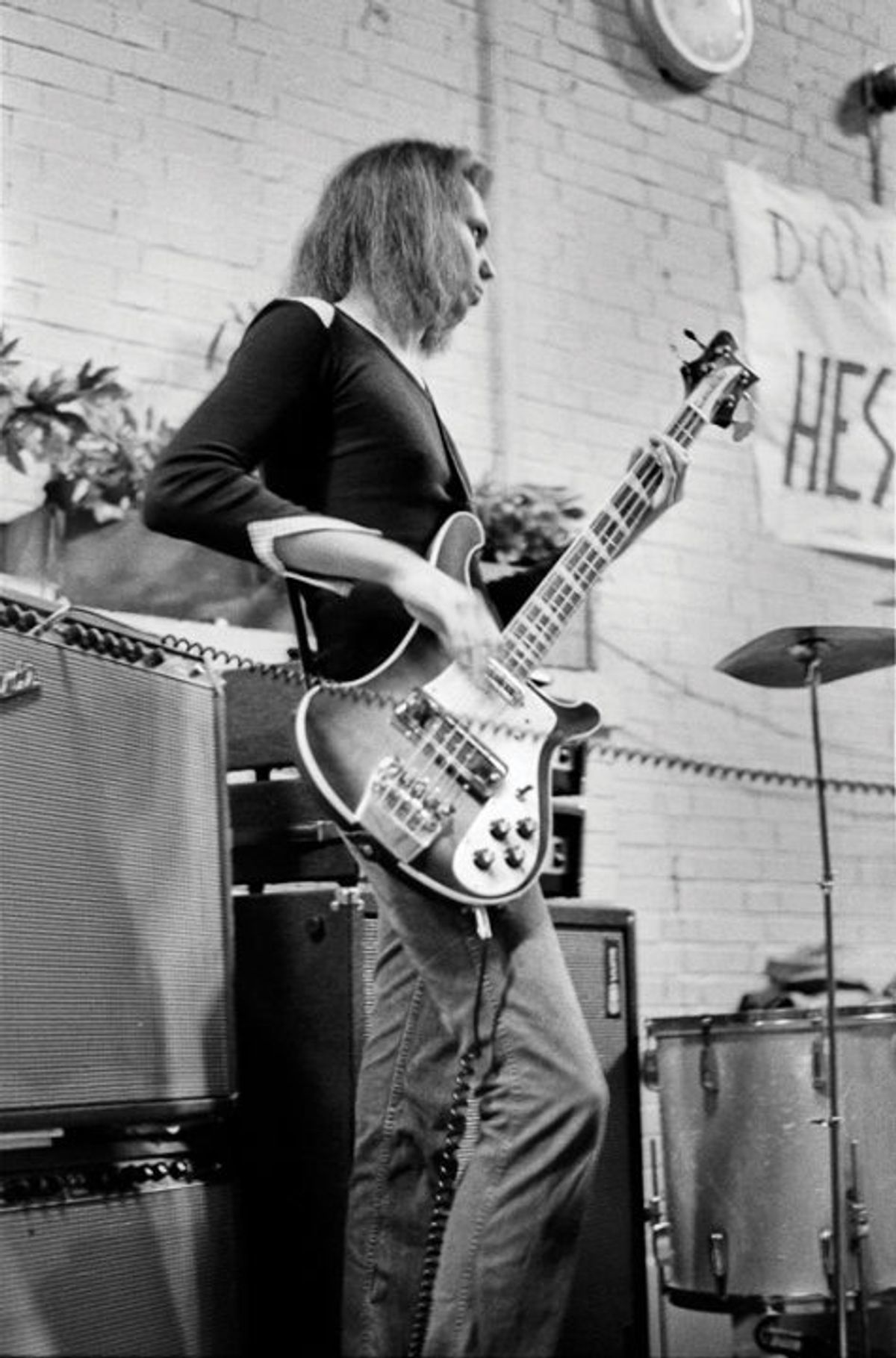 Today's vast array of amps, guitars, and effects is a good thing, but so is learning to play without a net.
They called it the "Woogie Room," and it stunk to high heaven. Down a flight of stairs from the opulent, wood-paneled great room of an old brick mansion on the Champaign-Urbana campus of the University of Illinois, I stood peering through a dimly lit and smoky dungeon. The room reeked of grain alcohol, fruit juice, and body odor. Across the sticky floor, a pack of college students stood holding plastic cups under a bare 40-watt light bulb. Laid out before them was the altar of fraternity life—two 15-gallon Rubbermaid garbage cans with orange slices floating on top of a potent brew that was reverently referred to as Woogie Juice. A guy with a bow tie gestured sloppily, inviting me and my two fellow bandmates to imbibe. We declined politely and went outside for a joint.
Despite a fierce snowstorm, the three of us had just endured a terrifying, three-hour sojourn from Chicago stuffed inside a freezing cold Type 2 Volkswagen microbus. The tiny van was so full of gear that the guitarist had to lie prone on top of a Dual Showman speaker cabinet—NHTSA be damned. There is a joke about musicians putting $5,000 worth of equipment into a $500 car to drive 100 miles for a $50 gig, but it leaves out the part about putting your life in mortal danger.
After the frat brothers helped us load in our gear, we fired up the fog machine and started our first set. We were a three-piece outfit with me on bass. I have blurry memories of students in various states of inebriation doing what we referred to as "the knapsack"—a sort of lurching, nodding dance that college students did with hands held clenched in front of their chests. A few male students in brass-buttoned blazers held court in a corner holding cups, chatting to young women who wore bored expressions. After three long sets of mediocre, rambling blues-rock, we packed up and drove home as the sky lightened. We'd survived, invented some new jams, and earned $90 each after expenses. Life seemed pretty awesome.
These small-time gigs were truly low tech. Our backline consisted of two brown Fender Supers, a Bassman, the aforementioned Dual Showman, and a five-piece Rogers kit. The homemade PA barely carried my vocals over the roar of the band.
I loved being in a band so much that I would have played for an empty room, so the applause of 50 drunken college kids was icing on the cake.
I remember that the guitarist played his P-90-loaded SG through a Maestro Fuzz-Tone, while my '62 P bass ran through a white curly cord straight into the two bass amps. Compared to most Chicago blues bands, we were Blue Cheer.
Clearly, nobody was checking out our gear or being cynical. We were all there for the fun and adventure, and young audiences were delightfully nonjudgmental. I loved being in a band so much that I would have played for an empty room, so the applause of 50 drunken college kids was icing on the cake.
In retrospect, I wonder if today's vast array of amps, guitars, and effects had been available to us then, would we have used them? The answer is most likely yes, but I don't believe it would have been any more fun. Maybe less. I do think that this—and many other gigs as both a bassist and guitarist with minimal equipment—shaped our approach to guitar gear. Without the option of stepping on tons of pedals to alter sound, we learned to manipulate our instruments and amplifiers to good effect. Emotive tone was a very physical thing controlled by attack and volume as much as any stompbox.
It didn't hurt that our instruments, which were merely second-hand guitars at the time, were what we now consider golden-age vintage axes. We were embarrassed that our amps were old—so much so that we covered them with Indian bedspreads and American flags. Ironically, using them taught us the rudiments of the game. Like running with weights, it was making us stronger and better. We were playing for the music!
I eventually got a Marshall stack, a Foxx Tone Machine, and a wah pedal, but the basic concepts I learned on minimal gear stuck with me. We all learned how to grab the guitar by the throat and make it obey. We performed without a net, and that's something you never lose. The part about being packed like sardines in a cold Volkswagen bus, however, is something I'd rather forget.