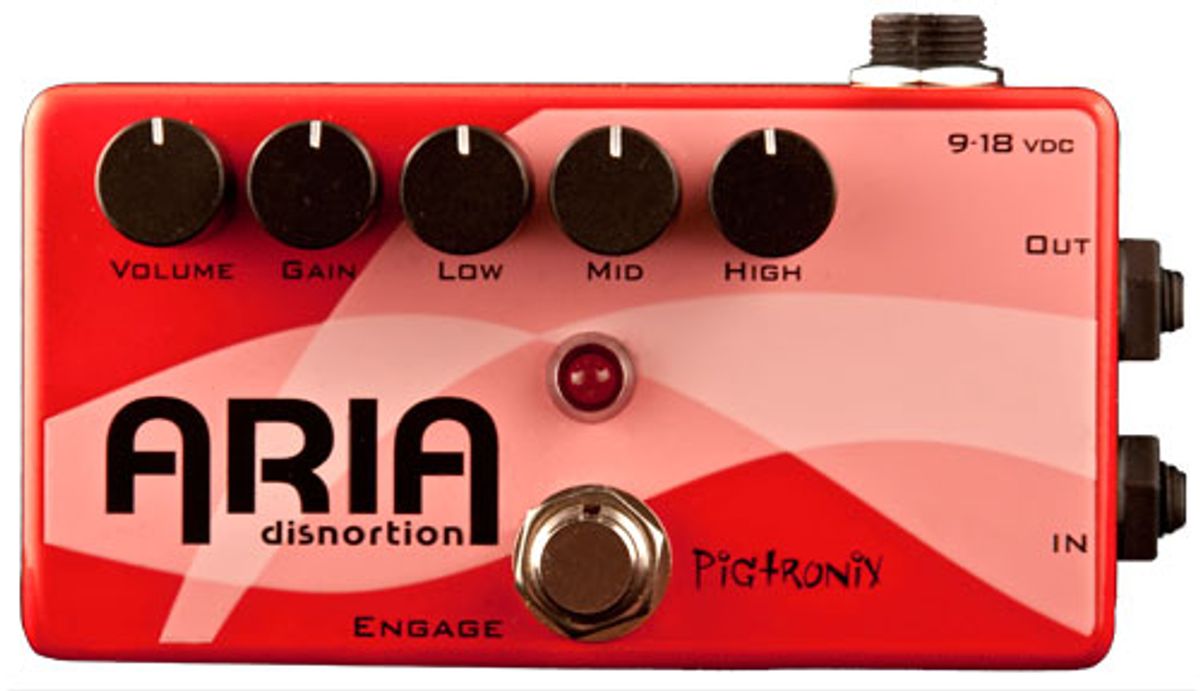 A distortion and fuzz box that''s good with bass and guitar
Download Example 1


Guitar - Sweeping the midrange control. 1978 Gibson Les Paul Custom through a Marshall JCM800 2x12 combo.



Download Example 2


Bass - USA-made Kramer Striker into Ampeg BA300 1x15 combo



The quest for the perfect fuzz pedal varies from player to player. Some seek thickness and gain, some a piercing hornet's buzz, others versatility. And for lack of finding the perfect fuzz, sometimes the search can seem like a journey to cast the ring into Mt. Doom. Like any fuzz fan, I've experienced my share of such frustrations. But after trying out Pigtronix's new Aria Disnortion pedal, I can safely say that while my quest isn't over, I've explored a mighty interesting piece of fuzz terrain along the way.
Filthy Pig
Pigtronix touts the Aria as a versatile analog overdrive device. And while I agree with the company's assessment of the Aria's versatility—its 3-band active EQ is very flexible—I wonder if classifying the pedal strictly as an overdrive doesn't sell it short. To me, the Aria has more high-gain fuzz-like qualities than the transparent overdrive associated with a vintage Ibanez Tube Screamer.
I tested the Aria with a 1978 Gibson Les Paul Custom and a 1973 Marshall Super Bass head, running through a Bogner 4x12 cabinet. With the three EQ and Gain knobs set at noon, the Aria delivered a rich, punchy distortion with a lot of high-frequency bite. While the Aria's low end wasn't super tight, it sounded full and balanced, creating a solid foundation for the ripping midrange and ever-present high end. Think Billy Gibbons' greasy fuzz tone, but with more hair and aggression.
That'll Do, Pig
The Aria's Bass, Mid and Treble EQ knobs were fairly sensitive, but I found the Bass control the most effective in terms of tone shaping. The Aria is capable of some truly
massive
fuzz sounds. In a band context, aggressively using the Bass control helped me punch up the low midrange in a twin-guitar configuration and carve out a distinctive space in the mix.
I even tried out the Aria with a Gallien-Kreuger 700 RB-II bass head, a 1970 Orange 8x10 cabinet, and a Kramer Striker 4-string bass with superb results. The Aria let me dial up a punchy, cutting bass tone without any of the muddiness associated with running a bass through a fuzz pedal.
The Verdict
The Aria Disnortion is a great addition to Pigtronix' popular pedal line. Its versatility and range help it stand apart, but the fantastic low-end girth this pedal lends to fuzz and overdrive sounds are worth the price alone. Pigtronix may bill the Aria as an overdrive, but it really excels when it's treated as a snorting, squealing boar of a fuzz box.
Buy if...
you're looking for a flexible fuzz with enough power and bite to cover a lot of tones, including bass fuzz.
Skip if...
you're in the market for a low-gain, transparent overdrive.
Rating...


Looking for more great gear for the guitar player in your life (yourself included!)? Check out this year's Holiday Gear Finds!
Flare is a dual-function pedal with a tube-like booster and a 1970s-style ring modulator effect that can be played separately or together.
Flare's ring modulator is based on the iconic tone of the original Dan Armstrong Green Ringer. This vintage classic was made famous by Frank Zappa who loved the unusual modulations created by generating a harmonic octave over notes. Messiah's version offers two control knobs: a "Sparkle" tone attenuator and output Level control. Its taupe-gold body, purple and green knobs and stick-figure rock 'n' roller holding up a flame convey an appropriately rockin'70s vibe.

​In a unique twist, Messiah's Flare pairs the ringer with a warm tube-style boost instead of a fuzz. Flare feeds the booster into the ringer for an extra punch, while preserving the Green Ringerspirit. The ringer side also turns any fuzz into an octafuzz, and it has the ability to quiet signal background noise fed through it.
The booster side features a single Boost knob to control the MOSFET circuit, making it very tube-amp-friendly with a warm, organic boost and gain of up to 32dB.
​The pedal is a distinct improvement over the 1970s pedal that inspired it. "Most ringer pedals don't track well," Tom Hejda, owner of Messiah Guitars. "The player can't rely on repeating the same effect even with the most consistently played notes. We carefully matched the components, so our ringer follows your every move, producing that slightly dirty octave you expect on demand."
Messiah developed this vintage octave pedal with flexible features so that people who love that messy, dirty Zappa-esque sound can get there with ease but there's also something for those who have not fallen in love with fuzz or the Green Ringer alone. Flare offers an array of sonic options while retaining simplicity in the controls.
Each Flair Pedal Includes:
3 control knobs: Boost, Sparkle, and Level
Two effects – Ring Modulator and Boost – can be used together or separately
Space-saving top side jacks
Durable, cast aluminum alloy 125B enclosure with fun artwork
Easy to see, illuminated True-bypass foot switch
Standard 9V pedal power input​
Flare Pedal Demo
Messiah Guitars pedals are designed with an explorative player in mind. Like their custom guitars and amplifiers, Messiah's pedals are hand-crafted in Los Angeles for a long life with guaranteed quality.
Flare retails for $199.00 and can be purchased directly at Messiah Guitars or you can hear it in person at Impulse Music Co. in Canyon Country, CA.
For more information, please visit messiahguitars.com.
This feathery little guy is a joy to play because of its incredibly quick response to your right hand - much faster and more expressive than your typical auto-wah pedal.
​If it looks like a duck, acts like a duck, and QUACKS like a duck, then it must be a duck. That's how we came up with the name for our new envelope filter. This feathery little guy is a joy to play because of its incredibly quick response to your right hand - much faster and more expressive than your typical auto-wah pedal. Trevor explains how this is possible in the launch video, as well as gives a demo on Le Canard's operation.
​The attack control determines how quickly the filter responds to the envelope, and the decay sets how quickly the filter releases afterward. The range controls which frequency spectrum the filter does its magic on. Add to this relay-based full-bypass switching with failsafe, and you've got one crazy little quacky beast. It is so expressive that you'll want to give up on your rocker-wah forever.
The MayFly Le Canard envelope filter features:
Super fast responding envelope follower. Touch it and it jumps!
Range control to dial in the character of the filter
Attack control to control how fast the filter moves on that first touch
Release control to control how slowly the filter slides back to baseline
Full bypass using relays with Fail SafeTM (automatically switches to bypass if the pedal loses power)
Cast aluminum enclosure with groovy artwork
MSRP $149 USD ($199 CAD)​
Introducing the MayFly Le Canard Envelope Filter
All MayFly pedals are hand-made in Canada.
For more information, please visit mayflyaudio.com.