Pigtronix Aria Disnortion Pedal Review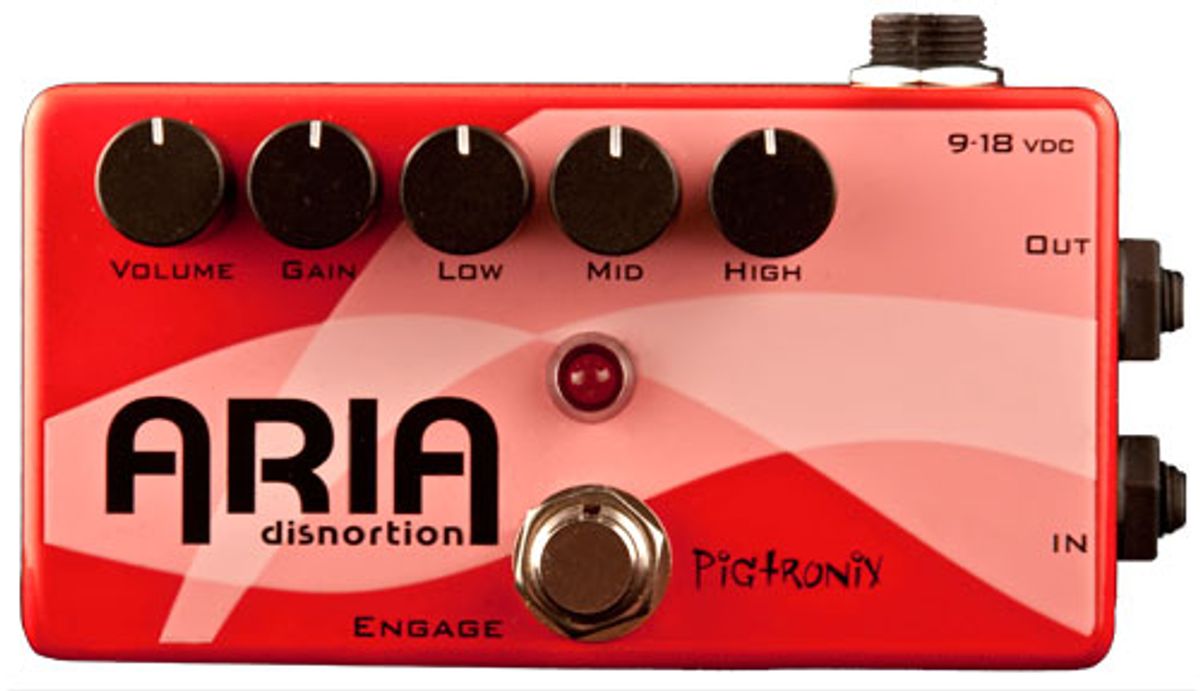 A distortion and fuzz box that''s good with bass and guitar
Download Example 1


Guitar - Sweeping the midrange control. 1978 Gibson Les Paul Custom through a Marshall JCM800 2x12 combo.



Download Example 2


Bass - USA-made Kramer Striker into Ampeg BA300 1x15 combo



The quest for the perfect fuzz pedal varies from player to player. Some seek thickness and gain, some a piercing hornet's buzz, others versatility. And for lack of finding the perfect fuzz, sometimes the search can seem like a journey to cast the ring into Mt. Doom. Like any fuzz fan, I've experienced my share of such frustrations. But after trying out Pigtronix's new Aria Disnortion pedal, I can safely say that while my quest isn't over, I've explored a mighty interesting piece of fuzz terrain along the way.
Filthy Pig
Pigtronix touts the Aria as a versatile analog overdrive device. And while I agree with the company's assessment of the Aria's versatility—its 3-band active EQ is very flexible—I wonder if classifying the pedal strictly as an overdrive doesn't sell it short. To me, the Aria has more high-gain fuzz-like qualities than the transparent overdrive associated with a vintage Ibanez Tube Screamer.
I tested the Aria with a 1978 Gibson Les Paul Custom and a 1973 Marshall Super Bass head, running through a Bogner 4x12 cabinet. With the three EQ and Gain knobs set at noon, the Aria delivered a rich, punchy distortion with a lot of high-frequency bite. While the Aria's low end wasn't super tight, it sounded full and balanced, creating a solid foundation for the ripping midrange and ever-present high end. Think Billy Gibbons' greasy fuzz tone, but with more hair and aggression.
That'll Do, Pig
The Aria's Bass, Mid and Treble EQ knobs were fairly sensitive, but I found the Bass control the most effective in terms of tone shaping. The Aria is capable of some truly
massive
fuzz sounds. In a band context, aggressively using the Bass control helped me punch up the low midrange in a twin-guitar configuration and carve out a distinctive space in the mix.
I even tried out the Aria with a Gallien-Kreuger 700 RB-II bass head, a 1970 Orange 8x10 cabinet, and a Kramer Striker 4-string bass with superb results. The Aria let me dial up a punchy, cutting bass tone without any of the muddiness associated with running a bass through a fuzz pedal.
The Verdict
The Aria Disnortion is a great addition to Pigtronix' popular pedal line. Its versatility and range help it stand apart, but the fantastic low-end girth this pedal lends to fuzz and overdrive sounds are worth the price alone. Pigtronix may bill the Aria as an overdrive, but it really excels when it's treated as a snorting, squealing boar of a fuzz box.
Buy if...
you're looking for a flexible fuzz with enough power and bite to cover a lot of tones, including bass fuzz.
Skip if...
you're in the market for a low-gain, transparent overdrive.
Rating...