Quick Hit: Grace Design FELiX Preamp Review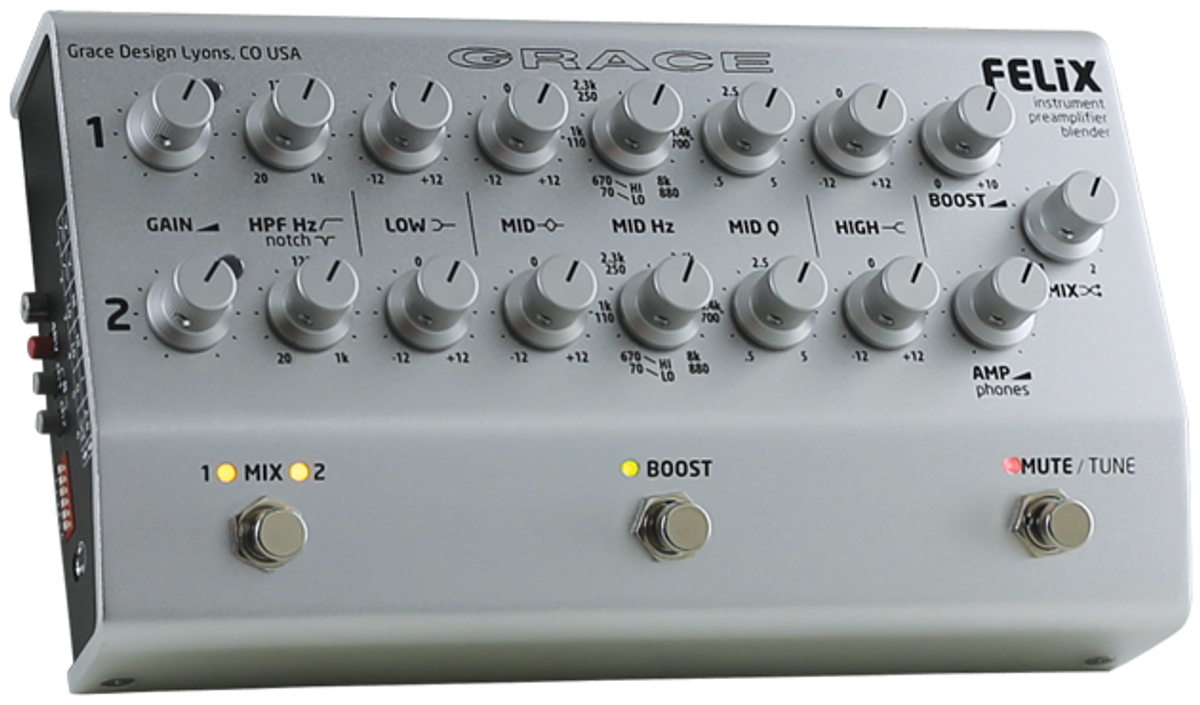 An investment-grade preamp that offers powerful EQ controls, dual channels, and a flexible interface.
Capturing the essence of an acoustic instrument in a live setting is difficult. A high-quality condenser mic would be ideal, but, depending on the situation, it might not be practical—especially if you're playing in a band with drums. The Grace FELiX preamp is a feature-packed unit in an absolutely gig-proof housing that can tackle nearly any possible rig setup you throw at it.
During testing, the dual-channel control configuration allowed for a wealth of EQ options with a rather nuanced parametric mid section that was invaluable for dialing out some of the boxiness that might appear with more passive or piezo-style pickups.

Even with a Millennium Falcon-esque level of controls, the FELiX is rather simple to use, although it takes some learning to fully put all the options into good practice. My Cordoba D9-CE sounded a bit weak in the high frequencies through a Fishman SoloAmp, so I boosted some of the upper mids and moved the high frequency knob to about 2 o'clock. I found the response—especially in the mid controls—to be extremely good and the flexibility to boost highly useful. The $1,000 price tag is likely to ward off some weekend warriors, but if you're a solo or duo act that needs an all-in-one preamp, the FELiX might be a worthy investment.
Test gear: Cordoba D9-CE, Gibson Hummingbird, Fishman SoloAmp, Apple Garageband
Ratings
Pros:
Immaculate build quality. Plenty of powerful EQ options. Ability to blend inputs.
Cons:
That price! No built-in tuner. Could use individual boost control. A bit of a learning curve.
Street:
$999
Grace Design FELiX Preamp
gracedesign.com