Peter Stroud covers the list of gear he brings to recording sessions.
Guitars:
Elliott Tone Master (Jazzmaster-style with P-90s); 1964 Gibson SG Special; 1967 Trini Lopez (semi-hollow ES-335 style); TQR (Tonequest Report) Strat-style; Gibson Sheryl Crow Acoustic. Optional: Rickenbacker 660/12; National Resophonic Tricone; Jerry Jones Baritone; Duesenberg Double Cat with Multibender.
Amps:

65amps London head and 2x12" speaker cab; 1966 Fender Deluxe Reverb; 1969 Ampeg G12 Gemini; 1960 Gibson Ranger.
Pedals:

(mounted on Pedaltrain pedalboard): Boss TU-2 Tuner; Moollon Active DI; Moollon Wah; Ernie Ball Volume Pedal; Carl Martin Compressor/Limiter; Baja Tech Custom Da Squeezer compressor; Pro Analog MK I overdrive; 65amps Colour Boost treble booster; Xotic Effects RC Booster; Z.Vex Fuzz Factory (Vector series); Electro-Harmonix Polyphase; EH Electric Mistress chorus/flanger; EH Echo 1 Digital Delay; Boss DD-3 Digital Delay (Robert Keeley modded). Optional: Electro-Harmonix POG; EH Memory Man with Hazarai.
Recording overdubs with artist Marius Westernhagen.
Supplies:
Slide; a few packs of strings; wire snips and peg-winder, capo, and picks; 15' input cable, 25' input cable (from pedalboard to amp), and 50' heavy gauge speaker cable (to allow placing speaker cabinet away in closet or iso booth); a handful of patch cables for pedals.
Above is my checklist for the gear I'll take to a typical album recording session, plus or minus a handful, depending on the project. I try to cover all bases with the guitars: I bring along single coils, P-90s and humbuckers, solidbody and semi-hollow, "twang" vs. "fat," and at least one guitar with a vibrato arm. For acoustic guitar when recording, I always prefer mahogany back and sides for the midrange character and the way it sits in the mix. Rosewood acoustics tend to be more bass responsive and too boomy for recording support parts. Most always, the low end is rolled off of my acoustic tone.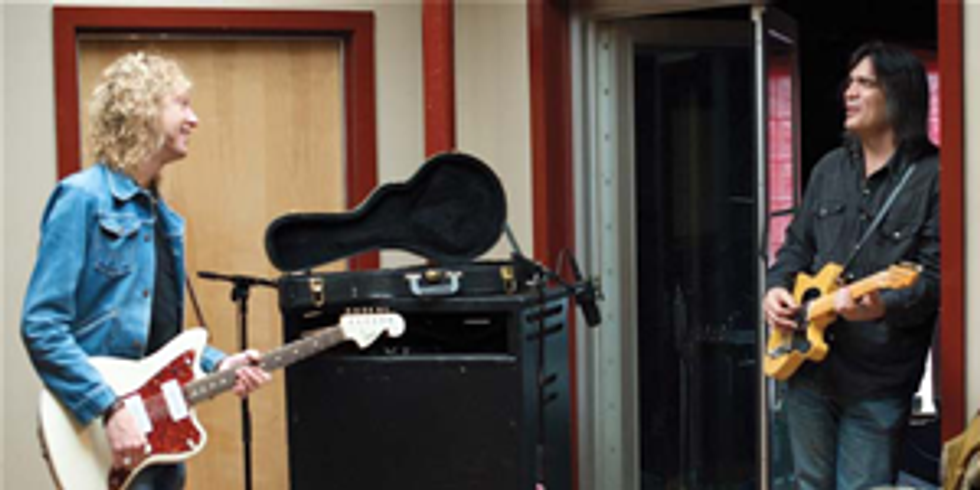 Peter with guitarist extraordinaire Larry Campbell.
Photos by Romney M-Westernhagen.
In the amp department, the 65amps London is my main "go-to." The Deluxe Reverb gets used for the identifiable Fender blackface cleaner tones, reverb and tremolo. The Ampeg G12 and Gibson Ranger are sort of my tone secret weapons—both have been tweaked, repaired and modified over the years so they have a sound of their own. On most sessions I'll run the London, Deluxe Reverb and Ampeg through the 65amps 2x12" cab, loaded with both a Celestion Alnico Blue and a G12H-30 "Anniversary." The speakers have distinct individual characteristics, allowing for both to be mic'd and brought up separately or together at the console. The Gibson Ranger's internal speaker, a higher-powered Jensen Alnico 12" out of an old Hammond organ (the less efficient original Jensen blew years ago), will always be mic'd. Smaller amps like the tweed Gibson are very "vocal," narrower in tonal range and place nicely in a track. All of these amps have distinct tonal characteristics, which helps when multiple overdubs are called for.
The pedalboard is loaded with way more pedals than I'd ever use at once, and they're never all hooked up, but they're there to cover anything that might be asked for, or cool to add. Pedals that are almost always in the chain are the Moollon Active DI (a buffer to keep the input signal strong to the amp when using pedals or a long cable run), a compressor for occasionally beefing up the tone, and a delay for a little slap or echo during a solo.
Most recently, I recorded with German superstar Marius Westernhagen for his forthcoming release due out by end of year. This week-long session took place in Brooklyn at the way-cool studio facilities, Mission Sound Recording. Along with working with Marius, it was an opportunity to record alongside some of NYC's absolute finest: Larry Campbell on guitars, mandolin, violin and pedal steel; Jack Daily on bass; and Andy Newmark and Shawn Pelton, who shared drum duties. Flying to recording sessions requires much thought to keeping the gear list lean. Working within the confines of travel, I took the smaller Pedaltrain 1 pedalboard in a roadcase that fell within the 50-pound baggage weight limit, two electrics (the Tonemaster and SG Special) in a dual gig bag that I carried onboard, and my acoustic checked with baggage. A backline company in NYC provided a 65amps London, and Mission Sound had an ample collection of cool amps to choose from. Marius' producer, Kevin Bents, also made his Gibson ES-335 and Fender Strat available to me. It's always unlikely you'll use everything you take to a session, but every time I leave something at home, I'll wish I'd brought it: "Hey did you a bring that Doppleganger tape delay that'll chorus, flange and fuzz?"… "Errr, no. Left it at home." And no, I don't use a cartage company… just my Honda Odyssey van.
Cheers!
---
Peter Stroud

Peter is co-founder of 65amps.
sherylcrow.com

65amps.com