Rig Rundown: Guster's Luke Reynolds
The alt-rockers' multi-instrumentalist shows us his ultra-modded Silvertone, Teisco, Gibson, and Fender axes.
Premier Guitar met with Guster multi-instrumentalist Luke Reynolds before the band's show at Nashville's Cannery Ballroom on February 12, 2015, to talk about his diverse rig—which includes vintage Silvertone and Teisco guitars with cool mods done by Reynolds' father, archtop luthier Steve Reynolds.
Basses
Bass duties in Guster are shared between Adam Gardner, Ryan Miller, and Reynolds—which means they share basses as well. The first is a 1973 Fender P with an updated bridge and a Seymour Duncan SPB-3 Quarter Pound Pickup. The P is strung with crusty, 10-year-old D'Addario roundwounds.
They've also got a 1965 short-scale Teisco NB4 (strung with La Bella flatwounds) that was rebuilt and rewired by Reynolds' father.
Guitars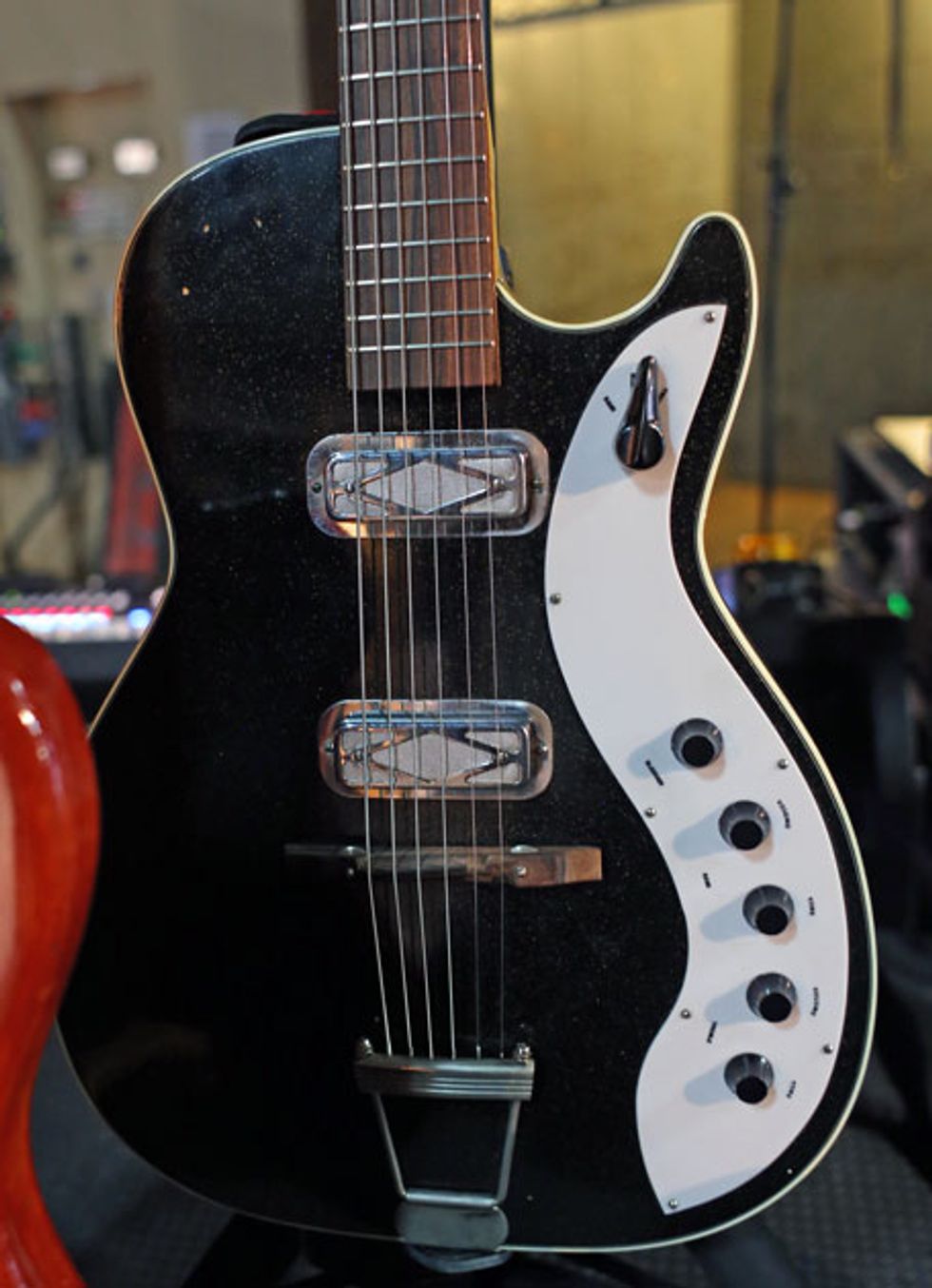 Reynolds' guitars are equally quirky and cool. This 1961 Silvertone Jupiter features a custom replacement neck and bridge, both of which were crafted by his father. The Jupiter sports its original DeArmond Silver Foil pickups and is strung with a beefy set of D'Addario .012-gauge roundwounds.
Next up is Reynolds' 2002 Gibson ES-355, which is strung with D'Addario .011s and has Lollar pickups—an Imperial
humbucker
in the bridge, and a Charlie Christian in the neck. Reynolds replaced the nut and added a Tune-o-matic bridge, Bigsby, and Grover Vintage Deluxe tuners.
When it comes to acoustics, Guster exclusively plays Bedell Earthsong guitars. This 2014 Earthsong Orchestra model sports a K&K Duotone pickup and is strung with medium-gauge D'Addario roundwounds.
Amps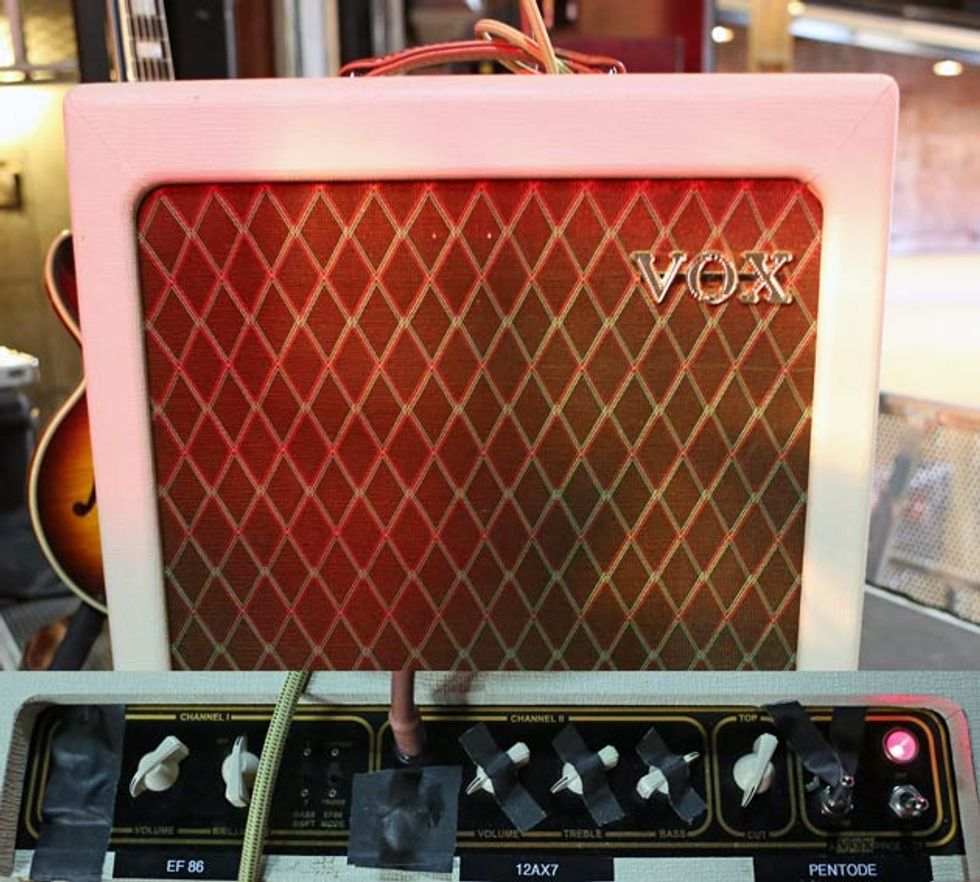 Reynolds' only guitar amp on the road is a handwired Vox AC15H1TV loaded with a single Eminence 12" speaker. The band runs its basses into an Ampeg SVT-4PRO head.
Effects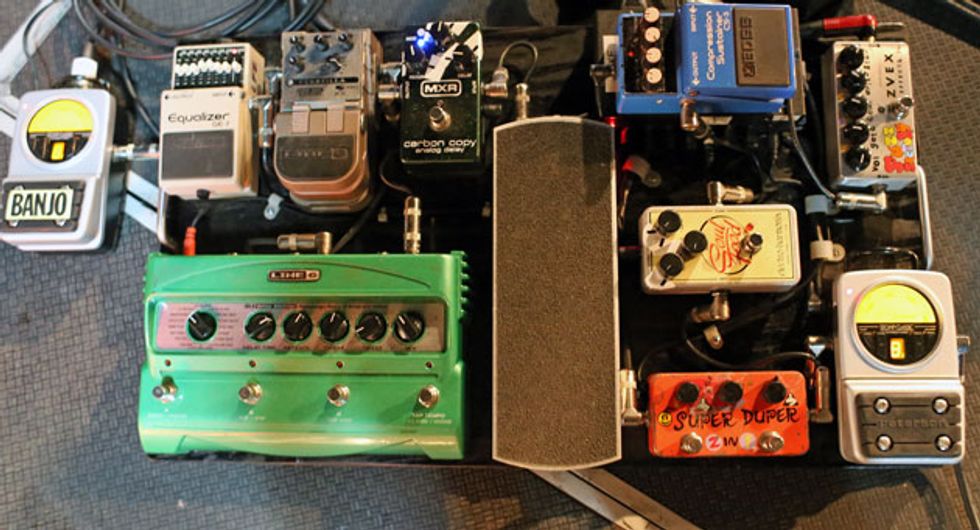 The pedal that's spent the most time on Reynolds' board is a Peterson Stomp Classic strobe tuner. From there, his signal goes to a ZVEX Fuzz Factory, Boss CS-3 Compressor, Electro-Harmonix Soul Food, and a ZVEX Super Duper 2 in 1. Post filth, the signal hits an Ernie Ball volume pedal, MXR Carbon Copy, Line 6 DL4 Delay Modeler, Line 6 Verbzilla, and a Boss GE-7 Equalizer that stays on all the time for added midrange punch. A Voodoo Lab Pedal Power 2 Plus supplies the juice, and Mogami cables tie everything together.
The pedalboard for the bass signal is dead simple—an Xotic Effects AC Booster and a Boss TU-3 tuner.