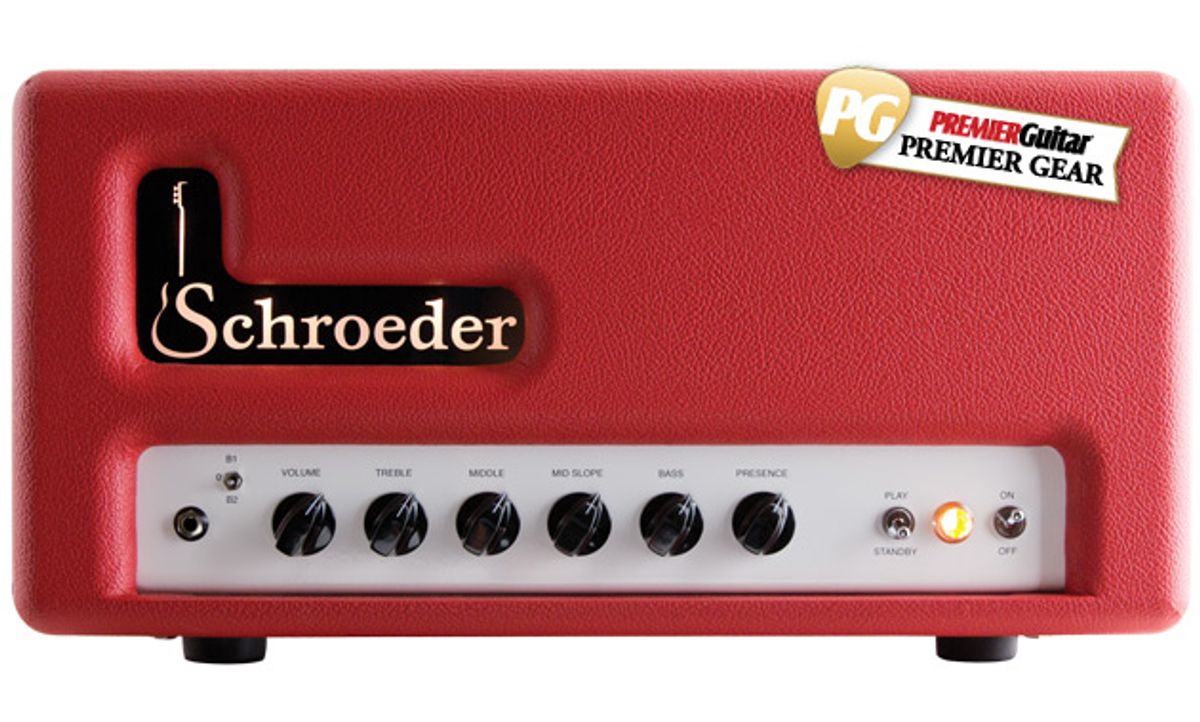 Tim Schroeder's spare-no-expense design serves up unreal volume and clean-headroom heaven.
When reviewing gear, you sometimes encounter a product that makes you scratch your head and wonder, "Yeah, but who is it for?"
Not so with the SA9+, a high-end 40-watt head from boutique builder Tim Schroeder. You know within seconds of plugging in exactly the types of guitarists who will be in heaven here. Players who rely on subtle variations in touch and intensity will relish the amp's explosive, hair-trigger dynamics. Rock guitarists who tend to generate distortion via stompboxes rather than amp gain will dig the extended clean headroom and vast frequency range. And, of course, it helps if you can afford to spend nearly four grand on a head.
Lows are deep and definitive, as if rooted in the earth. Highs are incandescent. Yet the amp never sounds boomy or shrill.

The Audiophile Approach
That's not to say the SA9+ is overpriced. Schroeder builds from an extreme audiophile perspective, and just about everything inside the hefty 1/8" aluminum chassis costs more (sometimes a lot more) than the usual stuff. From the PEC pots to the MusiCap capacitors, each component is tip-top shelf. The massive Cardas power cable is positively intimidating—it feels like you're powering up a Cray supercomputer. The transformers are custom-spec units from Mercury Magnetics. Even the Litz-brand, oxygen-free copper circuit wire is top-shelf. (According to Schroeder, each piece must be cut to length and tinned with a 900-degree solder pot—a labor-intensive process.)
I can't tell you exactly what each of the audiophile components contributes to the SA9+ sound. Hell, even my electrical engineer acquaintances don't agree on which of those upgrades matter and, if so, how much. But collectively, these premium parts yield remarkable results.
The build is terrific, too. The cabinetry is impeccably stout. The turret board assembly is immaculate. The red tolex covering is gorgeous. The head weighs 37 pounds and measures approximately 21" x 10.5" x 11.5". It's stocked with a pair of KT66 power tubes, which are often associated with early Marshall JTM45s. (They're generally considered slightly louder and fatter-sounding than the more common 6L6s.)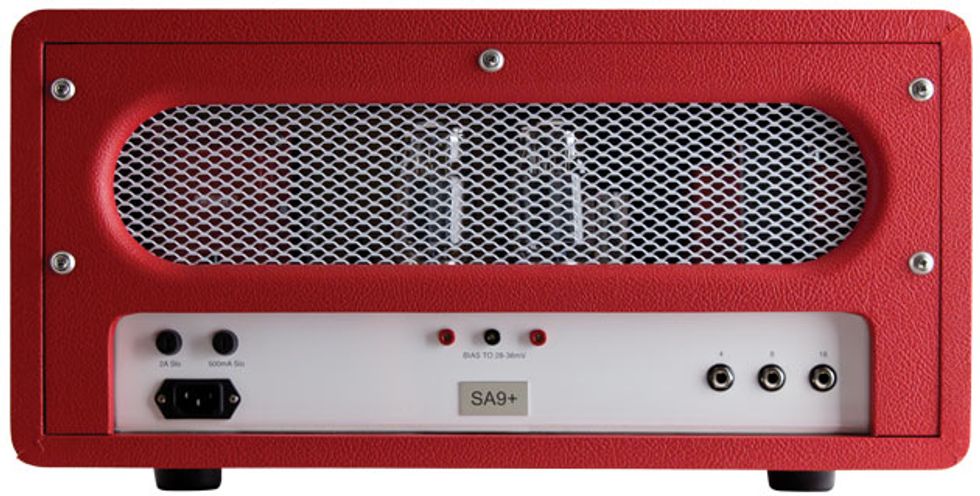 Room to Bloom
The SA9+ is seriously loud for a 40-watt amp. It's also amazingly quiet when you're not playing, so loud note attacks seem even more dramatic. The frequency range is immense. Lows are deep and definitive, as if rooted in the earth. Highs are incandescent. Yet the amp never sounds boomy or shrill.
The Schroeder doesn't generate the type of clarity you'd expect from, say, a high-wattage solid-state amp. There's tube character for days. The amp has no preamp-gain or master volume controls, and the rectifier is a HEXFRED-based, solid-state design. Unless you use some sort of attenuator, you've got to get loud to summon thick distortion. But once you get there, crunch tones are crisp and authoritative, with remarkably little sag. (You can hear pure amp distortion starting about 42 seconds into the demo clip.)
The SA9+ provides lofty clean headroom. The string-to-string clarity is phenomenal, as is the ferocious note attack. Even thick chords played with maximum force retain extraordinary definition. The touch-response is off the charts too, which will suit some players more than others. It's easy to veer from purr to roar via slight touch variations. It's an exhilarating experience if you like exploiting such dynamics, though the feel may be too volatile for players who rely on their amps to smooth and compress their dynamics.
Ratings
Pros:
Extreme headroom. Extreme dynamics. Extreme quality.
Cons:
Extreme price.
Tones:


Ease of Use:


Build/Design:


Value:



Street:
$3,950
Schroeder SA9+
schroederamplification.com
Curated Tone Control
It's common for high-end amps to employ tone controls with relatively restricted ranges, but here, too, SA9+ goes to extremes. The bass, mid, and treble controls don't so much reshape sounds as nudge them. You might refine the sparkle or focus the lows, but you never get far from the core tone. (A good thing, in my book.) That makes the SA9+ a superb choice for players who sculpt tones at their pedalboards and need good, clean amplification with more tube character than they'd get from a solid-state, studio-style power amp.
However, an unusual "mid slope" control does yield relatively dramatic results. Advancing it lets some mids bypass the tone stack, hitting the downstream circuit with maximum force. At moderate settings, it's a "fat knob," adding low-mid mass without relinquishing that glorious clarity. At higher settings, the unfiltered mids push the amp into heavier distortion at lower settings. It's nice for fine-tuning the amp's response to suit a particular guitar.
Not that much fine-tuning is required. Everything I plugged into the SA9+ sounded fab right off the bat, from a sparkly old Stratocaster to a mellow-toned Gibson Trini Lopez. The amp is especially lovely on baritone guitar. Notes below standard low E maintain strong fundamentals without compromising the string-to-string clarity. (Check out the A-tuned Gretsch baritone example starting around the clip's 1:07 point.)
The Verdict
Schroeder's SA9+ is an excellent amp for players who deal chiefly in clean tones, as well as those who slather on stompboxes and sculpt tones at the pedalboard. The amp can convey maximum character from your bitchin' fuzz pedals. Delay, reverb, and modulation effects shine thanks to all that headroom and treble clarity. And if your style relies on nuances of touch and articulation, you'd be hard pressed to find a more capable collaborator.