Guitar Center & Fender Introduce: SRVs Lenny Throughout the years, the story of how Lenny came into Stevie Ray Vaughan's possession has taken on an almost mythical status, but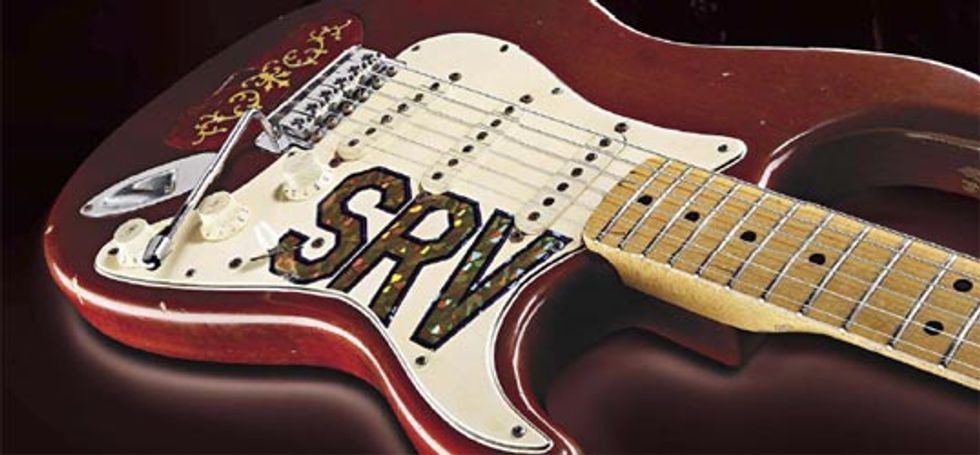 Guitar Center & Fender Introduce: SRVs Lenny


Throughout the years, the story of how Lenny came into Stevie Ray Vaughan's possession has taken on an almost mythical status, but the real story is actually fairly simple, and one that many struggling musicians understand all too well: boy meets girl, boy falls for girl, boy falls for a guitar that he can't afford, girl gets guitar for boy.
The girl in question is Lenora, or "Lenny" Vaughan, Stevie Ray Vaughan's wife at the time, and the legendary Strat's namesake, who was with Stevie when he found the '65 Strat at an Austin pawnshop. This battered, bruised guitar with one of the most twisted backstories in six-stringed history – frequently confused as a '64, incorrectly listed on Wikipedia as a birthday gift in 1976 and rumored to be spotted with a left-handed neck at one time or another – has finally returned to set the story straight and appease SRV fans worldwide. On December 12, Guitar Center will welcome the newest addition to its Tribute Series of guitars, the SRV Lenny.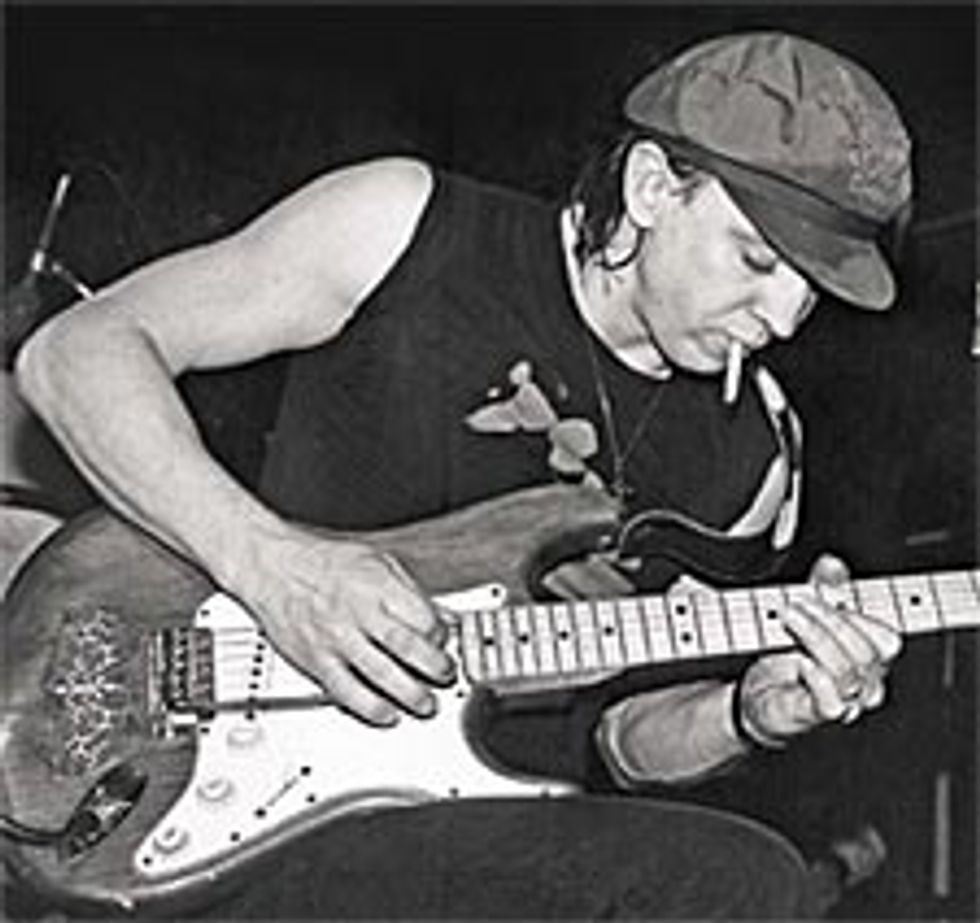 This project had its genesis over three years ago. On June 24, 2004, Guitar Center purchased Lenny at the Crossroads Guitar Auction. At the time, all of the headlines heralded their acquisition of Blackie, Clapton's iconic Strat, which fetched a record-breaking $959,500. Not only was it Slowhand's guitar, but it was also the highest price ever paid at auction for a guitar. Unfortunately, Blackie's price and provenance blinded most folks to the other instruments GC picked up that day, with all proceeds going to fund Eric Clapton's Crossroads Centre in Antigua. Among the other guitars up for auction that day from such luminaries as George Harrison, Pete Townsend and J.J. Cale was Stevie's Lenny, which was also purchased by Guitar Center for the respectable sum of US $623,500.
Sometime after the purchase, Mike Eldred, Sales and Marketing Director for the Fender Custom Division, led a team of skilled builders through the meticulous reverse engineering of this iconic axe. Over the course of a day, Mike and his team took detailed notes and measurements of the entire guitar, down to specific screw placements. This procedure had its genesis with Jimi Hendrix's white
Stratocaster
, famously used at Woodstock, and has been honed through similar explorations of legendary instruments, like Jeff Beck's Esquire and Rory Gallagher's Stratocaster. "There's usually one point guy, and we bring in video cameras and hi-res digital photography," Eldred recounts. It seemed there was a chance to finally get the story straight.
THE BACKSTORY
Lenny could have easily become just another poorly refinished '65 Strat if the young Austinite who lusted after it wasn't Jimmie Vaughan's kid brother. Already well known in Austin circles, Stevie was little known elsewhere at the time, one of a group of musicians who had made the pilgrimage from the Dallas scene years before, including his brother Jimmie, Doyle Bramhall and Denny Freeman. His band, Double Trouble was rocking the local Texas scene, but their attention grabbing Montreux Jazz Festival performance was still two years away.
Stevie first met the guitar that would become Lenny in 1980, when anything made by Fender after 1964 was considered a utility instrument. Since the Strat had long ago been stripped of its original sunburst finish and refinished natural, and sported a "custom" ivoroid and tortoiseshell inlay behind the bridge, the asking price was a reasonable $350. But because Stevie had yet to break beyond the Austin scene, he didn't have the scratch to take it home that day.
Lenora rounded up a mess of Stevie's friends, who pooled their money together, each chipping in $50 to buy the guitar, offering it to Stevie as a birthday present. Stevie was so moved that he stayed up that night penning "Lenny," and playing it for Lenora for the first time when she woke up the following morning. The sweetly gentle song, providing the perfect showcase for Stevie's musical passion, had the desired effect. "I've never listened to that song once without crying," Lenora recounts.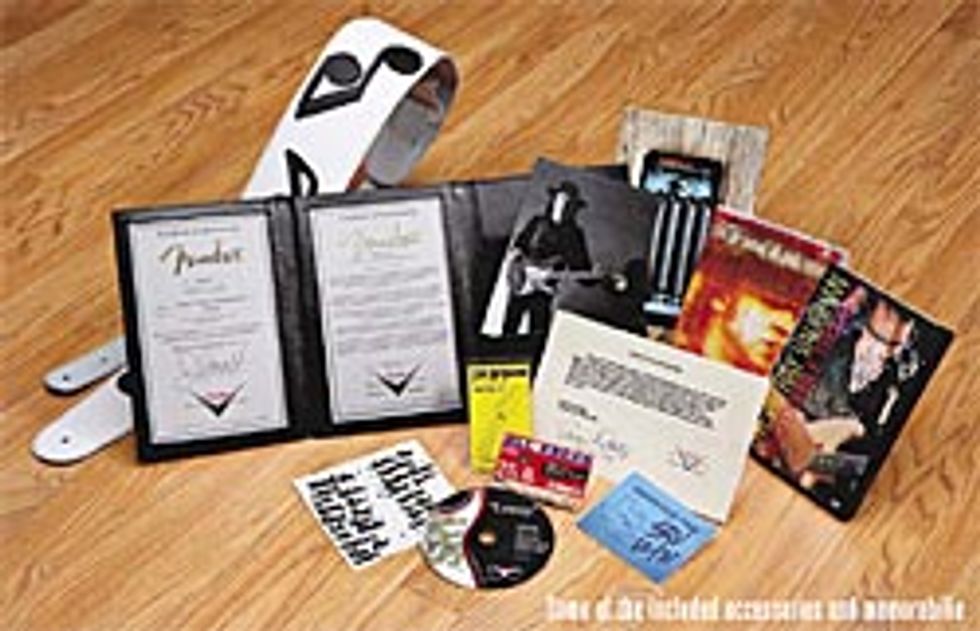 And while Stevie's Number One, a '63 sunburst Strat first purchased in 1973, would remain his weapon of choice on stage, Stevie would use his newest pawnshop prize prominently on two of his most eloquent songs; the epynonymous "Lenny" and "Riviera Paradise," a sparkling instrumental featured on his 1989 release,
In Step
. According to an interview with
Guitar Player
in Februrary of 1990, Stevie voiced his love of the battered Strat, saying, "For some reason, that guitar works for songs like that more than anything else."
Stevie's intimate connection to Lenny cannot be overestimated. After the release of
Texas Flood
in 1983 – an album that revitalized a previously dormant genre, spending half the year on the charts – Stevie held onto the instrument, despite the fact that he could clearly afford a better one. As proof of the guitar's place within Stevie's life, he offered it up to sporting legend Mickey Mantle for an autograph in April 1985, as it was the closest thing available.
THE GUITAR
In an effort to share this guitar and its accompanying vibe with both guitarists and Stevie Ray Vaughan fans, Guitar Center has partnered with the Fender Custom Shop to produce the newest addition to their Tribute Series. The guitar will be produced in a limited quantity, with 185 guitars offered for sale in the U.S. (with an as yet unspecified quantity of guitars produced for overseas distribution, with a total production cap of 250), and will be available exclusively at Guitar Center. Each of these Master Built guitars will be sold to customers for $17,000 – less than the $24,000 commanded for the popular, limited edition Blackie reissue.
When asked about how the exact distribution numbers were determined, Michael Doyle, V.P. of Product Marketing for Guitar Center recalled trying to figure out an appropriate number for their first reproduction, Clapton's 335, also purchased at the Crossroads Auction in 2004. Eventually settling on 175 units, the guitar sold out in a weekend. Guitar Center added ten units specifically marked for online distribution at guitarcenter.com for subsequent reissues such as Clapton's "Blackie" which sold out in seven hours. "It started as an educated guess a few years ago, from what we thought the demand would be for this type of guitar. Now we're just honing that and trying to accommodate our growing business," Doyle says.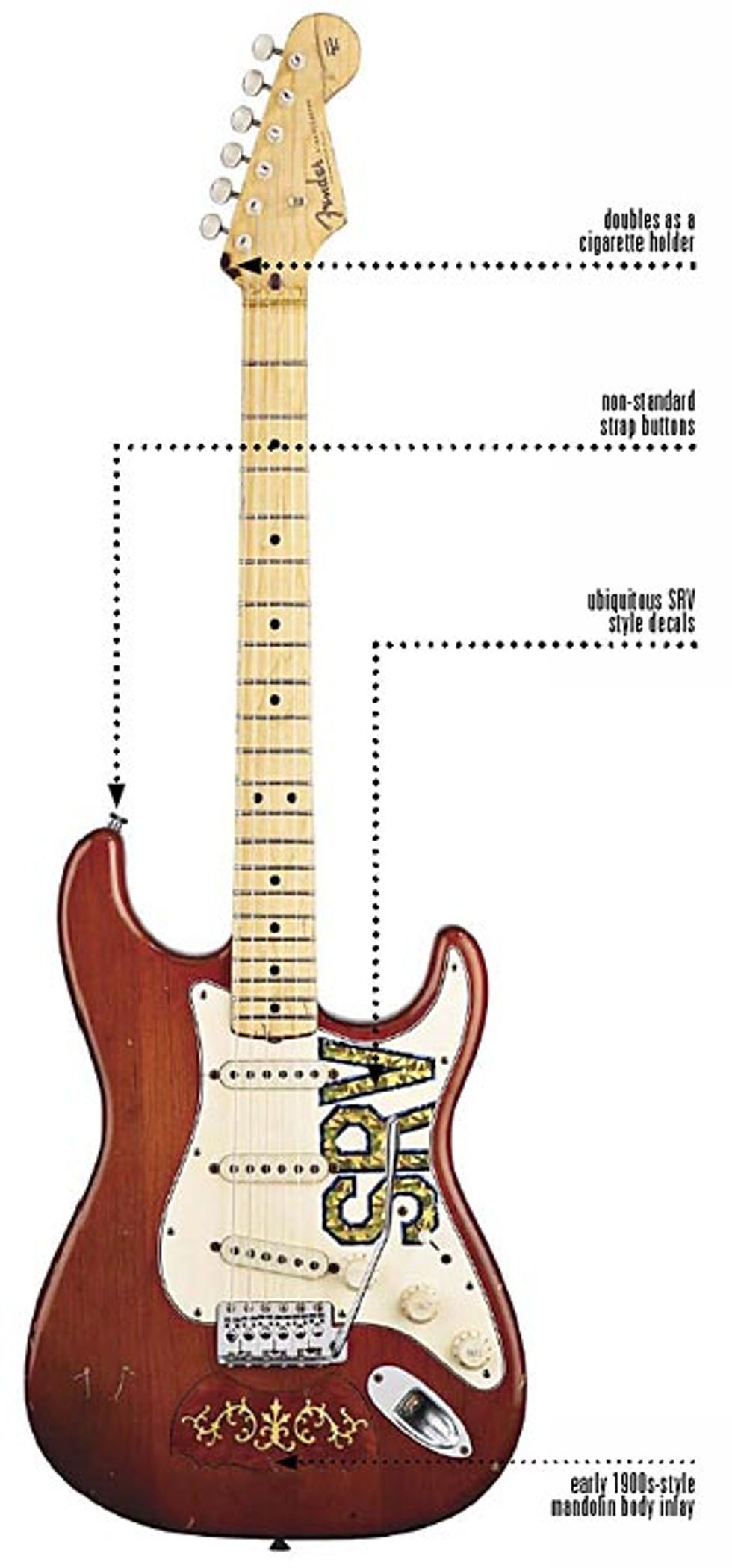 Based on early looks at the Lenny reissue, this offering looks to repeat that first-weekend sellout these Guitar Center offerings are known for. Builders at the Fender Custom Shop have been meticulous in recreating this piece of guitar history. Utilizing an entire team of Master Builders, these guitars will feature everything from the customized maple neck, originally a gift from ZZ Top guitarist, Billy Gibbons, down to the cigarette burns on the headstock and a faded Mickey Mantle autograph on the back.
Of course, as with any reproduction of a road-worn guitar, there are limitations to the project. The headstock, which was originally broken off and glued back on, is simply cut to simulate the break, since actually performing the breaks would have a structural impact on the guitar. Likewise, when the pickguard on Lenny was originally pulled off, there was years of grime and sweat on the inside. As a poor musician lacking solder and an iron, wires were simply twisted together and covered with tape. "We obviously try to stay as close as we can to the original electronics." says Eldred. "But the bottom line is the guitar has to play and it has to sound great."
But whether you plan on playing the guitar or locking it up in a vault, you'd best plan on getting up early on December 12th. With 215 stores in the U.S. and only 185 units available, you may have a hard time finding one at your local Guitar Center if you don't live in a major market. "On November 30th, we will be putting 50 guitars into major stores across the country. If you live in Hollywood for example, they will have one of these guitars, though suburban towns might not," says Doyle. However, the guitars can be special ordered at any Guitar Center and will be delivered shortly thereafter.
In the end, this guitar promises to be a true prize for both guitar collectors and Vaughan fans alike, and will fit nicely into the exisiting Tribute Series lineup. "We are proud of the Vaughan estate for donating this guitar to the Crossroads auction," Doyle says. "All of the money Guitar Center paid for "Lenny" went to Eric Clapton's Crossroads Centre for the treatment of addictive disorders, and of course, Stevie was quite public with the substance abuse problems that he was eventually able to conquer. So we're proud of Jimmie to have donated such a valuable guitar, both financially and emotionally, to a good cause. The guitar completes a lovely circle, and Guitar Center is excited to be a part of that."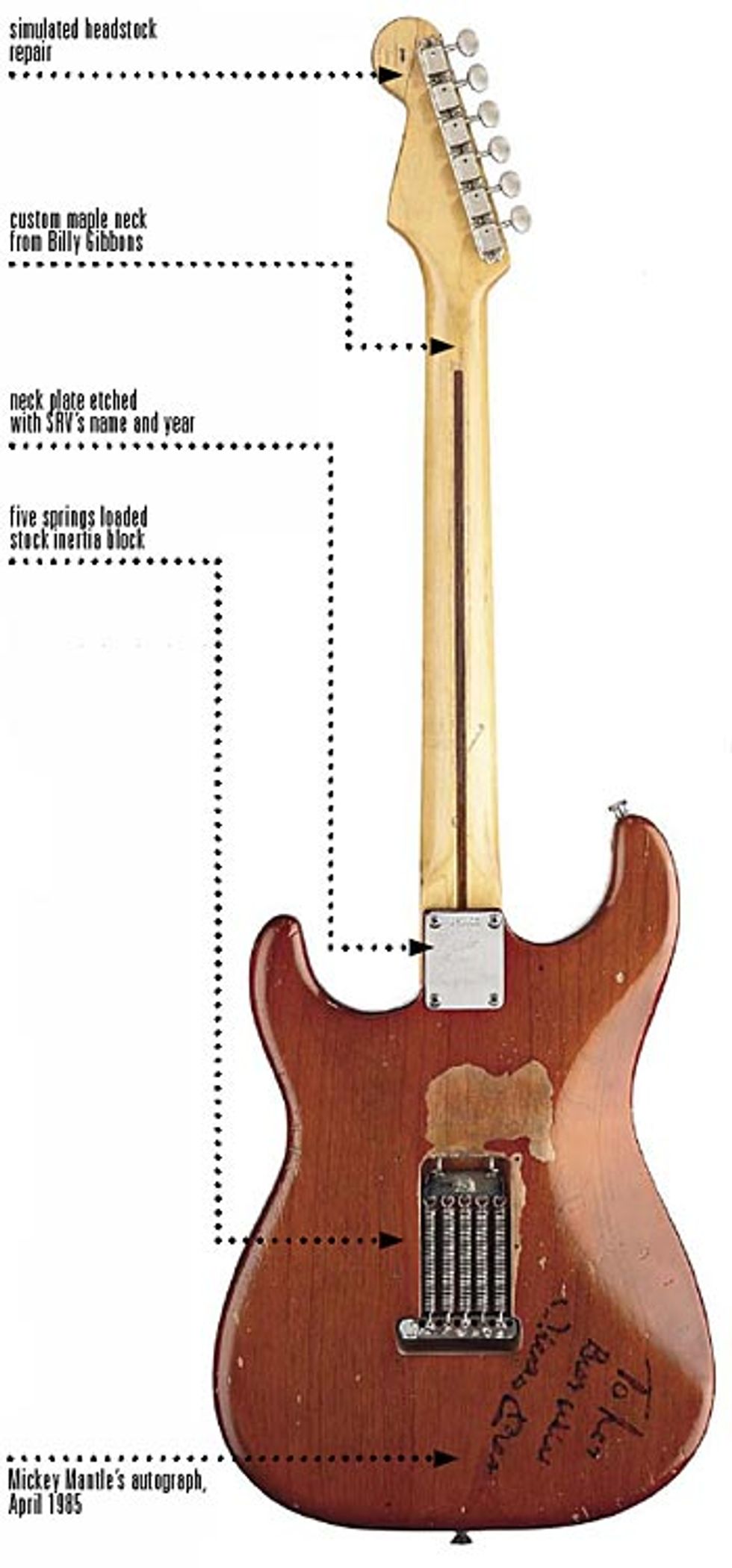 UpClose
As a way to bring you a more intimate look at Stevie Ray Vaughan, we had the good fortune of spending a moment with Tracy Hart...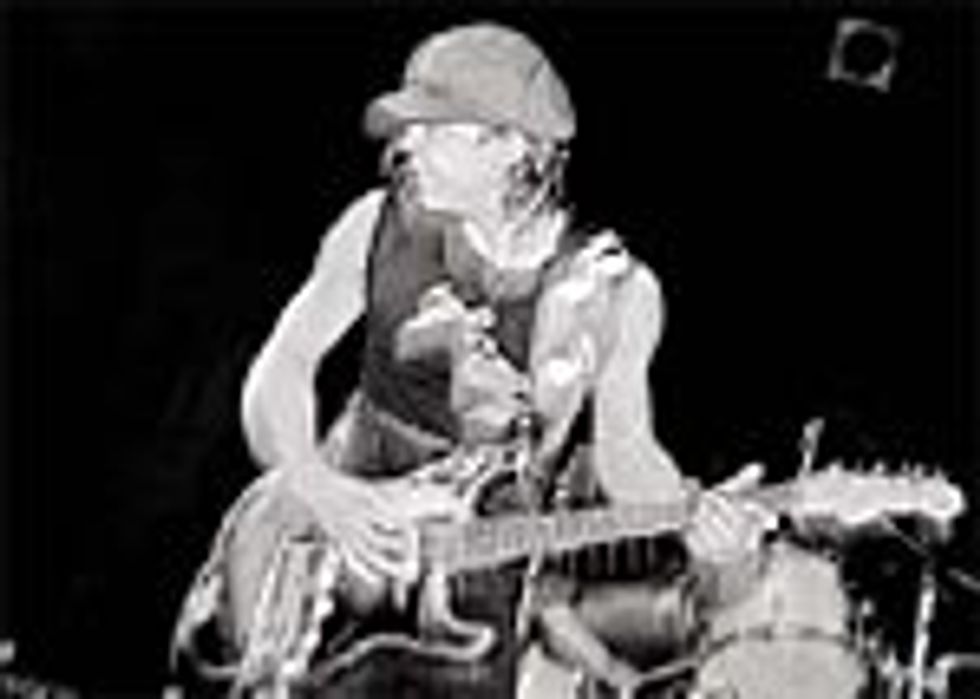 Tracy Anne Hart
Since 1979, Tracy Anne Hart, one of rock's most prolific photographers has enriched us with her beautifully artistic stills. She is perhaps best known for her black and white concert portraits of SRV, taken between 1983 and 1990, which have been widely published and shown worldwide – her image on pg. 18 was taken during her first photo-op with Stevie in '83. She has donated many of the prints to charity auctions, where her work is sought after by fundraisers and collectors alike.

Tracy will be offering her Stevie Ray Vaughan Limited Edition Set for sale (using Moab by Legion Paper Entrada Rag Natural) featuring ten of Hart's favorite and best known images of this phenomenal musician. A significant portion of the profits from the set's sale (retailing for $7500) will go to Habitat for Humanity projects. The set will be on sale at Tracy's MySpace page, myspace.com/tahleicawoman. More information is available by contacting thgall@swbell.net or calling 713-202-0840.
Click Play below to preview a Video about "Lenny" from Fender.com