Gibson celebrates the 50th anniversary of the Flying V
Nashville, TN (February 12, 2008) -- It''s an important year for Flying V fans as Gibson is celebrating the guitar''s 50th anniversary. This significant guitar''s history is certainly worth another look 50 years later -- the guitar survived early lackluster sales, numerous paint jobs and many revisions on its way to fame.  And my, how those early models (like the 1958 and the 1959) look gorgeous now!



Below is a brief history from the folks at Gibson that we thought we''d share...
The sleek, space age lines and bold tones of Gibson Flying Vs have seduced generations of players, putting the "Wham" in Lonnie Mack's licks and making Albert King's big-bellied southpaw bends hang in the air like smoking Crisco at a Saturday night fish fry.
Though its origins may lie in the blues, the Flying V found a home in rock and roll, too. A fleet of three Vs gassed Jimi Hendrix's jams 'til he kissed the sky. The guitar humbucked up T. Rex's roar and gave the Scorpions enough wind to "Rock You Like a Hurricane." Metallica's monolithic wall of sound has a vein of V at its igneous core, and Zakk Wylde has blasted his signature model on-stage and in the studio with Ozzy.
GUITAR WARS
In 1957 Gibson wanted some new six-strings to tussle with the Stratocaster. Sure, the Les Paul was already making history, but Gibson wanted more contemporary reinforcements with some eye-candy appeal. After all, the Les Paul had debuted in 1952 during the height of the Korean War. It was a new era.
So Gibson's design gurus came up with patents for both the Flying V and the Explorer. They were modern looking instruments during a period when Americans were enjoying peace and prosperity, and more leisure time than ever before. And they smacked of the day's yen for progress. Scientists had elaborated on technology from World War II and Korea to make great leaps in rocketry. Satellites began to circle the Earth. Science fiction novels and movies were the rage.
The aerodynamic charms of both models, but especially the "swept back, forward looking"—as Z.Z. Top's Billy Gibbons has put it—Flying V made it seem like personal jet packs were just around the corner.
The prototype Flying Vs were mahogany and deemed a bit too heavy and a bit too costly to compete with the Strat. So the first models to leave Gibson's original factory in Kalamazoo, Michigan, during 1958 were made of the lighter and more readily available korina wood. Their sales didn't break the sound barrier. According to Larry Meiners' thoroughly enjoyable Flying "V": The Illustrated History of This Modernistic Guitar, less than 100 were ordered by dealers in '58 and '59.
It would take another decade-and-a-half before the Flying V would have the last amplified laugh, but early sales were so slack that in 1960 the model was struck from Gibson's catalog. Dave Davies of the Kinks tells a story about buying an original-production V from a Los Angeles guitar shop in 1964 at the fire-sale price of $60. The V's suggested retail at the time was $247.50. Today a '58 or '59 V fetches between $120,000 and $145,000.
Nonetheless, the Flying V began carving its place in history almost immediately thanks to two players.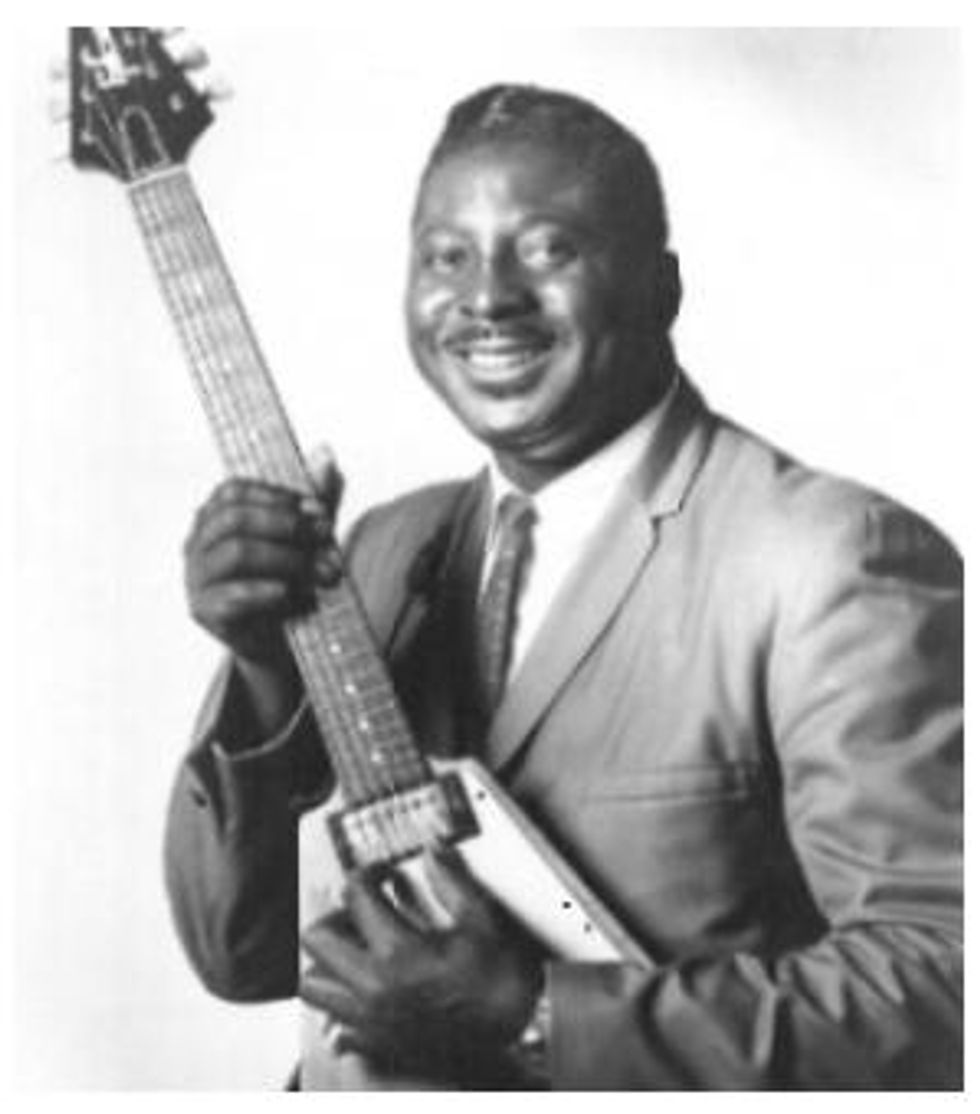 Bluesman Albert King named his brand new 1958 V "Lucy," a sleeker-shaped little sister to B.B. King's "Lucille." With that guitar Albert perfected a highly original strain of blues powered by primal funk that would influence Eric Clapton, Stevie Ray Vaughan, and countless others thanks to classic songs like "Born Under a Bad Sign" and "Crosscut Saw."
Lonnie Mack's V, which he called "Seven," was practically a mail-order bride. He put money down at Cincinnati, Ohio's Glenn Hughes Music after eyeballing the model in the Gibson catalog. While many players scoffed at its cut, Mack marveled at the arrow-like shape—a figure that literally aimed toward the future—and admired the pair of humbuckers on the V's face.
When his arrived, Mack was told it was the seventh off the production line. Almost immediately Mack modified "Seven" with a Bigsby vibrato arm. Mounting the vibrato required setting a metal bar between the guitar's Cadillac-like fins and transformed "Seven" into the most recognizable Flying V on the planet.
A half-century later, the guitar has survived two fractures and is still Mack's beloved main axe. Its most recent appearance was on 2007's Stevie Ray Vaughan retrospective Solos, Sessions and Encores, where Mack uses "Seven" to spar with his acolyte on a live, roasting-hot "Oreo Cookie Blues," recorded in 1986 at Atlanta's Fox Theatre. Albert King also appears on that disc's opening track, wielding his V as he trades solos with Vaughan and B.B. King on the Elmore James classic "The Sky is Crying."
THE RETURN OF THE V
Some Flying V fanatics say the original korina Vs and their more contemporary reissues, including a Lonnie Mack signature model from the 1990s, have greater sonic presence than other V variations due to their strings-through-body design. Mack appears to have gotten extra lucky. When Gibson's Custom Shop examined "Seven" to create the Lonnie Mack Flying V, the pickups were found to have extra windings, which adds tonal beef.
Nonetheless, plenty of guitarists have gotten gigantic amounts of primeval growl with subsequent versions of the Flying V, starting with Jimi Hendrix shortly after Gibson returned the model to production in 1967 with one prominent modification: a stock Vibrola tailpiece to anchor its strings.
Hendrix hand-painted his first V with original psychedelic artwork shortly after he bought it. The guitar may have been used to record tracks for Axis: Bold As Love, and it appeared onstage in '67 and '68. Sadly, Jimi's paint job was stripped off at some point and replaced by a facsimile.
His second Flying V was a Sunburst model—also a departure from the instrument's original natural korina finish. It now resides near the entrance of the Hard Rock Hotel and Casino in Las Vegas. The Hard Rock franchise also owns Hendrix's third V, a left-handed model.
The whammy tailpieces and Cherry, Sunburst, and Sparkling Burgundy finishes weren't the only big differences between the run of 175 Flying Vs made between 1966 and 1970 and their '58-'59 forefathers. Mahogany replaced korina as the wood of choice, and the 1969 models were also made in natural walnut and featured a three-piece neck.
There were minor differences, with some variation from year-to-year, in the way these tailpieces were attached to the bodies of the guitars, and in truss rod covers, and in the contour of the neck joints.
What they all share is the balance of clarity and crunch that is the V's sonic fingerprint, and the comfortably tapered necks typical of vintage '50s and '60s Gibsons.
A STARFLEET OF FLYING Vs
Starting in the 1970s, Gibson began making some radical changes in its existing guitar lines: headstocks typically became less streamlined and angled, necks often widened a bit. The Flying V was no exception.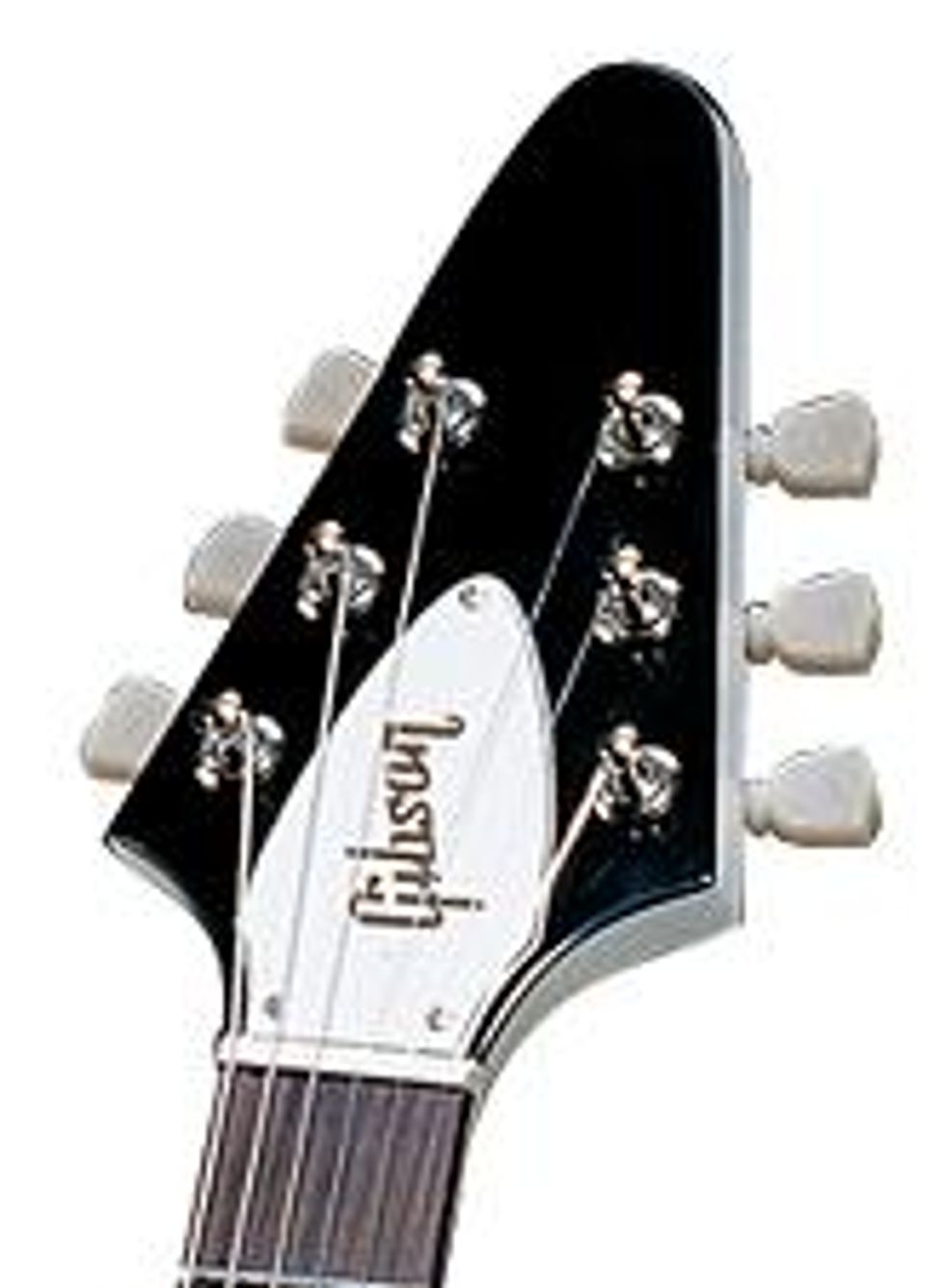 When a run of 350 so-called Medallion Flying Vs debuted in 1971 they each had a two-piece body and three-piece neck, and a shorter, less pointed headstock. Also, the Vibrola disappeared and was replaced by a stopbar tailpiece—a popular modification with owners of the '60s run. And last, each of the Medallions sported a namesake gold-colored medallion bearing its production number.
Despite the profile of seminal players like King, Mack, and Hendrix, sales of the rocket bodied Flying V didn't really blast off until the mid-1970s when heavy metal's second generation started soaring up the charts. Kiss, the Scorpions, UFO, and Wishbone Ash all dug into Vs, as did Z.Z. Top, who crept from the blues-rock camp into the pop world with frontman Billy Gibbons toting a Flying V—at least when he didn't have his arm wrapped around his beloved Les Paul "Pearly Gates."
Since then the Flying V has been unstoppable. Gibson has produced more than 25 variations and reissues of the Flying V model since 1975. They've all been notable, but among the most radical were 1980's Flying V2, whose "Boomerang" style pickups emulated the sound of single-coils, and the maple-necked Flying V CMT of 1981. The latter was introduced to compete with the less expensive maple-topped V designs introduced by manufacturers like Ibanez, Dean, and Hamer. Soon B.C. Rich and Jackson, who put out a Randy Rhodes model, also jumped on the Gibson V design's bandwagon.
In the early '80s Gibson introduced a big, burly V bass. And some of the coolest Vs were inspired by the model's top exponents. These include the harlequin-bodied Scorpions Edition, Jimi Hendrix Inspired By model with the psychedelic paint job, a Rudolf Schenker V, the Lonnie Mack, and a concentric circle covered Zakk Wylde Inspired By Flying V.
The most recent members of the Flying V family are every bit as radical and striking as the original appeared 50 years ago. In 2007 Gibson created a limited run Reverse Flying V, with the tips of the wings facing forward and a backwards V headstock, but other aspects of the design—rounded body contours, vintage style pickups—remained faithful to the original instrument. Epiphone also makes an authentic, lower-priced model patterned after both the original korina 1958 Flying V and Explorer designs. And a 50th Anniversary Flying V from Gibson Custom is slated for this year.
It's been a half-century of evolution and innovation since the original Flying Vs landed in the hands of musicians. We may still be waiting for our jet packs, but the Flying V took off long ago.
To check out the world''s most famous Flying V players, click here.