Higher Ground: A Look at Guitar in Higher Education
PG rounded up professors from some of the top guitar programs around to discuss how the role of the guitar in higher education has evolved and how best to prepare for taking the next step.

A different kind of lecture: students gather for class at Musician's Institute
The role of the guitar—and music for that matter—in academia has gone through incredible changes in the last 50 years. For decades, colleges and universities didn't recognize the guitar as a "legitimate" instrument and forced many aspiring 6-stringers to pick up a secondary instrument just to get by. For those more progressive institutions that did allow students to concentrate on guitar, the stylistic focus was usually limited to classical or jazz offerings. No "Devil's" music allowed.
As popularity of the guitar increased, the perception of the instrument moved into more favorable graces of even the most elitist programs. Today, during the course of pursuing a degree, students can study everything from the finer points of a B.B. King solo to the sonic soundscapes of The Edge. Add to that all the technological advances in the last decade, and you have the means to achieve an incredibly well-rounded musical education.
Options abound for high school students interested in pursuing music in college. From traditional four-year universities like the University of North Texas or the University of Southern California to more specific programs like those offered at Musicians Institute or Berklee, the right fit is out there for everyone. PG rounded up professors from some of the top guitar programs around to discuss how the role of the guitar in higher education has evolved and how best to prepare for taking the next step.
Choose Your Own Adventure
Deciding what program is right for you is an important decision and factors like location, faculty, finances, and course offerings all make a difference. Typically, the degree types fall into two different camps: Four-year programs at universities that usually result in a bachelor's degree and two-year, more specialized certificate or diploma programs.
At many colleges and universities, there are several different degree paths for students to consider such as performance, music education, music therapy, music business, and music production, just to name a few. "I think the most important thing for someone starting their professional life is to really figure out what they want to do," says Jude Gold, director of the guitar department at Musicians Institute. "A lot of us have aspirations of doing multiple things. Also, some jobs require a certain degree, especially if you want to go into higher education as a career someday." That necessary focus on a possible occupation, even if it changes down the line, will give you the direction needed to progress through any course of study in college and might even lead to new non-musical discoveries.
Frank Potenza, chair of the studio guitar department at USC, feels the university setting has a lot to offer students, even outside the scope of the music department. "A university education offers the opportunity to take advantage of that vast array of courses and disciplines that just aren't available at a conservatory or places that are exclusively music schools," he says. "Many of our students are encouraged to minor in other disciplines such as philosophy or business to give them a more complete education."

Potenza and a small group of guitar students at USC
Two of the most well-known programs are on opposite sides of the country, Berklee School of Music in Boston and Musicians Institute in Los Angeles. Both offer two- and four-year programs that cover an ever expanding range of styles, instruments, and even concentrations.
Boasting more than 1,000 enrolled guitar students, Berklee has become not only a well-respected program but also a pioneer in online education (more on that later). With 12 majors of focus within the guitar program, many go beyond the typical performance or education focus that is common at many universities: music business/management, film scoring, jazz composition, music therapy, songwriting, and several more.
Established in 1945, Berklee was one of the first schools in the U.S. to teach jazz, the popular music at the time, in the classroom. Since then, the scope has broadened dramatically to include nearly every style imaginable. "I would say in the last 10 to 15 years, the course offerings have blossomed in more of an eclectic direction," says Rick Peckham, interim chair of the guitar department. "Berklee is famous all over the world for jazz and that remains the core focus of the theoretical information that every student gets, but there are many more options as far as the styles that are covered. We have labs that cover everything from Jimi Hendrix and Jeff Beck to Joni Mitchell and Chet Atkins."
Musicians Institute (MI) is based in the entertainment hub that is Los Angeles and has become the first stop for nearly every pop, R&B, or rock artist who is looking to round up some hotshot players to fill out their band. Most students attend MI for the two-year program, but a fair amount of students attend for the four-year Bachelor of Music program. Started in the late '70s as the Guitar Institute of Technology (GIT), the school was based around the teachings of legendary jazz guitarist Howard Roberts.
"They come in with tons of information and we help turn that information that they already have into an actual musical voice and gain the ability to lock in with other musicians and speak that universal language," mentions Gold. That synergy between the students and the guitar faculty—all 49 of them—creates a close-knit community that fosters performance and real-world skills above all else. It isn't unusual to also find big-name pop and rock acts scouring the halls of MI looking for talented musicians to take on the road.

MI's Jude Gold moderates a clinic with Gus G., guitarist for Ozzy Osborne and Firewind.
The coasts don't have a monopoly on great music schools: The University of Northern Illinois, University of North Texas, and Bowling Green State University each have well-respected programs led by some of the biggest names in academia. "We don't need to be in the business of creating guitar players who suck and don't really want to play," says Fareed Haque, associate professor at Northern Illinois. Although he's somewhat of an outspoken critic of the state of music education, Haque has the résumé to back it up. Stints with jazz saxophonist Paquito D'Rivera and Sting allow him to impart a unique, and sometimes brash, perspective on his students. "I think the lack of consistency and lack of any formal approach at the pre-collegiate level is a shameful travesty and it's really to blame on the book industry," maintains Haque. "They keep trying to confuse, mislead, and bamboozle students into buying more bullshit books and not giving them a straight story."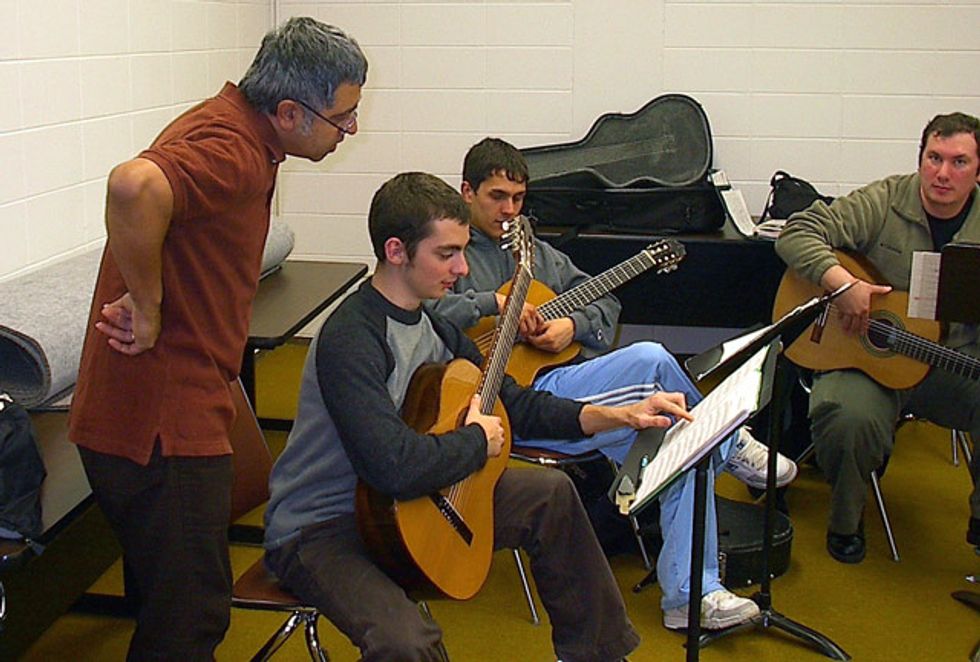 Haque doesn't pull any punches in his classes at The University of Northern Illinois
The University of North Texas began their "stage band" curriculum around the same time that Berklee was starting up. The guitar departments at both Berklee and UNT shared a common thread—influential guitar pedagogue Jack Petersen. In 1962 Petersen was the first full-time guitar professor at Berklee and laid the groundwork for the program to grow and develop, along with fellow faculty member and author of the Berklee Guitar Method, William G. Leavitt. In 1976, Petersen was hired by UNT to return to his hometown and spent the next decade turning the college into a well-respected option for many guitarists.
Getting Your Foot In The Door
Outside of improving as a musician and continuing your education, the most important reason to attend a music school is to surround yourself with like-minded, (and hopefully) better players. The time spent in the practice room with your fellow students is invaluable and could lead to some big gigs down the road. Check out this scenario: Several years after you graduate you are slugging it out in a band and starting to get burnt out. Out of the blue an old classmate calls you up and asks you to sub on a well-paying and creatively fulfilling gig. You shed the music, show up on time and nail it. Now the next time he is looking for a sub—or even a replacement—you will be sure to get the call. This type of thing happens every day and can usually be traced back to a rehearsal room in some dark basement of a music school.
Getting in the door for an audition is a whole different type of networking. Former MI student Sharon Aguilar remembers how she prepared for her first audition with Cee Lo Green. "One of the requirements at the school is that you have a one-hour lesson each week and you can do whatever you want with that hour. So I brought the audition piece to my instructor and showed him what I had done with it," remembers Aguilar. "He critiqued me and gave me suggestions and we practiced it. I truly believe that helped a great deal having that advice from my private instructor about how to go into that audition and be ready for it."
Even though you might be in "the right place at the right time," it's up to you to be able to deliver the goods, both in style and sound. Even your closest friends might be hesitant to call you back if you show up to sub on their jazz gig with a Marshall stack. For the Cee Lo audition, Aguilar did her homework, knew what the vibe of the music was and made sure she was prepared.

Though these MI students benefit from working together side-by-side, today a similar experience can be had online.
The Times Are A Changin'
The internet has completely changed the face of education. Instructional videos, both good and bad, are merely a click away and the ability to exchange files quickly and easily has made virtual sessions and collaborations commonplace. However, there are critics on both sides of the fence when it comes to what is the most effective way to learn.
"There is this idea that there's a secret trick somewhere on a website where they can just flip a switch and they will be able to play," says Haque. This need for instant improvement has led him to believe there is a growing number of mediocre musicians who have yet to develop and understand the true social nature of music. "The idea of taking music out of a social context is the death of music and that's what the internet does," he continues. "At the end of the day, I have seen much less improvement but much more awareness."
That awareness is creating a generation of incoming students who are able to appreciate a wider range of music and integrate it with technology. "No matter what it is, you still have to put the time in. The only thing I can see as a negative is that in some measure we are losing the aural tradition, which trains your ear most effectively," notes Potenza. Although that aural tradition is still taught through every music curriculum, it's the training on the bandstand that sticks with you the most. Potenza adds that, "It is still something to be able to learn a tune not out of a fake book or a transcription but on a bandstand. Now, that isn't a skill you just wake up and have, it takes a number of years to develop it." Thanks to a wealth of music transcription aides such as Capo, The Amazing Slow Downer, and Transcribe!, the entire process of learning a lick or a solo has made music more accessible to the masses.
Started in 2002, Berklee Music is one of the most popular online instructional programs, with nearly 30,000 students from 130 countries. It closely mirrors the classroom environment with students being able to interact and comment on each other's playing while under the tutelage of a professor. "A lot of people buy this book or that book, but to have a peer group winding its way through the material at the same time, it's almost like a Weight Watchers kind of thing," says Peckham, who teaches a very popular Guitar Chords 101 class on the website.
Choosing a music school is a highly personal journey. The rewards can be life changing and being immersed in an intense musical environment is a luxury that shouldn't be taken for granted. If you aren't totally engrossed with the idea of studying music full-time, then you might want to consider minoring in music or simply using up some elective credits with some lessons or an ensemble. There are more options in terms of style, format, and focus in higher education today than ever before. Consider this an advantage and make sure to talk to as many people as possible about their experiences. Not everyone will have glowing memories of their time spent in the trenches of the practice room, but consider the pros and cons of each situation and make the best decision you can, for you. In the end, all you need to do is take that first step.
Next: 5 Professors Give Their Top 5 Tips on How to Succeed in Music School

Chris Buzelli gives a student some one-on-one attention at Bowling Green State University
Get on the Good Foot: 5 Professors Give Their Top 5 Tips on How to Succeed in Music School
Chris Buzzelli, Professor, Bowling Green State University
1. While many fine teachers are self-taught, or were taught by someone who is self-taught, if your goal is to attain a music degree, then having a teacher who has "been there and done that" will be a great asset. They'll be able to guide you through the whole audition process and improve your chances of acceptance and maybe even receiving scholarship dollars.

2. Guitarists are notoriously behind their peers when it comes to reading music—and I mean standard notation, TAB doesn't count. You will be expected to read reasonably well in all of your music classes and ensembles. Reading is a skill best learned in an ensemble situation. Find a group to play in where you have to read music even if that means taking up a second instrument or singing in a choir.

3. While technique is important, it's just the means to an end. And that end is to play music. Learn repertoire in your chosen specialization. If you're going major in jazz, learn jazz standards. If you're going to be a classical guitar major, learn classical guitar literature from a variety of periods.

4. You will need to be a musician, not just a guitar player. You should be spending time listening to music, developing your ear, learning music theory, and participating in a variety of musical experiences.

5. This one seems obvious, but I am surprised at the number of students who come to their audition and have never consulted the college's website for the audition requirements. That's usually a bad sign. Virtually every school has fairly specific audition requirements posted online. Be sure you are prepared for everything that the audition requires. It also doesn't hurt to contact the teacher in advance (preferably a couple of months in advance so you have time to prepare) regarding your audition selections.
Jude Gold, Director, Guitar Department at Musicians Institute
1. Show up the first day of class knowing the name of every note at every fret of every string.

2. Few skills are more valuable than being able to groove with other players, so get your time together by 'shedding with metronomes, click tracks, recorded music, and, most important, musicians who are more experienced than you are, and do so in a wide range of tempos, feels, and time signatures.

3. Make sure your private lesson teacher is not only showing you inspiring techniques and riffs, but also teaching you the language of music via the fundamentals of music theory, notation, and sight reading.

4. Gain experience with ear training. Start learning to identify chords and intervals by their sound. Learn to match pitch. Strive to be able to sing what you play, and play what you sing.

5. Never, ever forget that whether you're playing a Bach theme or a chromatic finger exercise, it's music. Even a simple scale played in slow quarter-notes can be a gorgeous melody if your heart is in what you're doing. Every note you play on your guitar should sing.
Frank Potenza, Chair, Studio/Jazz Guitar Department at USC
1. Be sure that you've looked over the audition requirements for that particular program in detail and that you understand exactly what they'll want you to play in your audition. Focus on being as relaxed, natural, and positive as you can be. Think of your audition as an opportunity to play for a small audience of people who love music and the guitar that are better equipped to appreciate your performance than any you've ever encountered.

2. Be thoughtful about the audition pieces that you choose yourself. You want to showcase your strengths and the full breadth of your abilities in the limited time that you have to play, so plan your selections accordingly.

3. If you submit a repertoire list prior to auditioning, be prepared for the possibility that you will be asked to play selections from that list. Padding it with songs that you've barely played may look more impressive on paper, but it could come back to haunt you if the auditioning panel asks to hear a particular selection and you're unable to play it.

4. Be up on your sight-reading ability. Guitarists are notoriously poor readers and you're auditioning for a program that will be made up largely of students who have been comfortable reading music for many years. Even if you're admitted, you're at an immediate disadvantage if your reading ability is low.

5. Practice for your audition by performing the material for your family, friends, and fellow students. Record these audition rehearsals on video for review and critique. This will allow you to refine your performance skills and become more comfortable playing in a pressure situation, especially if you have limited live performance experience.
Fareed Haque, Professor, Northern Illinois University
1. Learn to read in all positions! Learn from a position-playing book.

2. Learn your major scales. All positions, all octaves from lowest to highest notes.

3. Learn to build chords. Don't just memorize.

4. Learn tunes by ear from records, not books.

5. Play with other musicians! Go to jam sessions. If you are not having more fun than ever—well, then you still are not doing it right.
Rick Peckham, Assistant Chair, Guitar Department at Berklee College of Music
1. Be able to play your instrument in tune, in time, with a good tone.

2. Be able to perform several examples of exemplary repertoire, whatever the style, at an extremely high level. Have an area of specialty and be able to "shine" on command. For auditioning purposes, choose great music by established masters of the style. Original compositions, although essential to musical growth, can confuse the issue, when it comes to demonstrating performance skill. Stand upon the shoulders of your favorite giant!

3. Make sure that your high school grades are good and that you're able to represent your skills and professional aspirations in an interview format (Berklee currently has a 15 to 20 percent acceptance rate for guitarists).

4. Take advantage of online resources to elevate your game as much as possible—for example, musictheory.net and berkleemusic.com. Every advanced topic has a foundation of basic musical principles, and you can't skip the basics.

5. On a local level, get as much playing experience as you can. Play at jam sessions and take lessons from great players in your area.