Decades passed, and at some point it occurred to me to revisit some of those lost licks of the '70s. It was very much like looking at a pair of bell-bottom pants and thinking, "You know, those are actually pretty cool."
Chops: Intermediate
Theory: Intermediate
Lesson Overview:
• Create blazing pentatonic licks that shun the disco era.
• Learn how to add the 9th to a pentatonic scale.
• Outline the sound of a chord without ever hitting the root.
It was 1979. I was 12 years old, and Van Halen II was my favorite album. This amazing record did not contain any disco music, but the photos on the inner sleeve still showed the influence of disco fashion. Let's just say that a stripy pair of bellbottoms is still a pair of bell-bottoms.
Musically, this record—and it's legendary predecessor Van Halen I—set in motion a trend of guitar playing that, even several decades later, I am only just recovering from. Eddie Van Halen's playing, tone, and attitude changed the standards and expectations of what a rock guitarist should be and should sound like. Almost overnight, the classic guitar phrases of the '60s and early '70s were deemed unhip. This revolution of guitar style engulfed me. I developed a sharp intuition for which guitar phrases and sounds were passé and which were cool and cutting-edge.
Decades passed, and at some point it occurred to me to revisit some of those lost licks of the '70s. It was very much like looking at a pair of bell-bottom pants and thinking, "You know, those are actually pretty cool."
I want to begin our trip back in time and fashion with the chunky, picked, pentatonic lick in Fig. 1. I've heard some version of this phrase in songs by Molly Hatchet, Kiss, Scorpions, and Triumph. I feel that it's really a lost gem. So by all means, let's un-lose it. Now, I want to add some more color by including the 9th, as in Fig. 2. This makes the fingering and picking a little trickier, but including some hammer-ons and pull-offs helps me glide through.

My first job as a guitar teacher was in 1985, so a large percentage of my students were into bands like Dokken, Ratt, Van Halen, and Yngwie Malmsteen. The glorious Jimmy Page-style pentatonic licks had been pushed aside. These techniques were sorely missing from the playing of the average metal kid of the era. Please check out the descending E minor-pentatonic pattern in Fig. 3 to make sure you've got it securely in your musical tool belt. It's a good one. Just like before, adding the 9th in Fig. 4 gives more flavor to the sound. Finally, in Fig. 5 we try this pattern with our A13 sound.

For me, it feels very liberating to play these licks that were once forbidden. Every passing musical trend breaks some rules and constructs some new ones. And the more time that passes makes me realize that I'd rather play my guitar without worrying about style or coolness. I just want to play.
So let's keep playing.
I've saved the easiest for last. This three-note phrase in Fig. 6 makes me want to grow a bushy mustache, wear a light-brown fringed leather jacket, lean my head back, close my eyes—all while wearing some serious pre-disco bell-bottoms. This lick was awesome in the late '60s, forbidden in 1979, and now, you are the judge.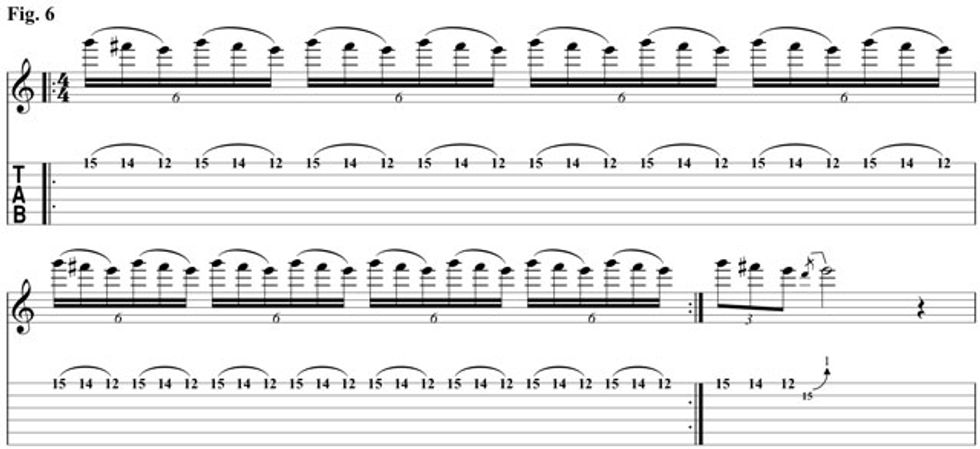 ---
Paul Gilbert
purposefully began playing guitar at age 9, formed the guitar-driven bands Racer X and Mr. Big, and then accidentally had a No. 1 hit with an acoustic song called "To Be with You." Paul began teaching at GIT at the age of 18, has released countless albums and guitar instructional DVDs, and will be remembered as "the guy who got the drill stuck in his hair." For more information, visit
paulgilbert.com
.
Looking for more great gear for the guitar player in your life (yourself included!)? Check out this year's Holiday Gear Finds!
Flare is a dual-function pedal with a tube-like booster and a 1970s-style ring modulator effect that can be played separately or together.
Flare's ring modulator is based on the iconic tone of the original Dan Armstrong Green Ringer. This vintage classic was made famous by Frank Zappa who loved the unusual modulations created by generating a harmonic octave over notes. Messiah's version offers two control knobs: a "Sparkle" tone attenuator and output Level control. Its taupe-gold body, purple and green knobs and stick-figure rock 'n' roller holding up a flame convey an appropriately rockin'70s vibe.

​In a unique twist, Messiah's Flare pairs the ringer with a warm tube-style boost instead of a fuzz. Flare feeds the booster into the ringer for an extra punch, while preserving the Green Ringerspirit. The ringer side also turns any fuzz into an octafuzz, and it has the ability to quiet signal background noise fed through it.
The booster side features a single Boost knob to control the MOSFET circuit, making it very tube-amp-friendly with a warm, organic boost and gain of up to 32dB.
​The pedal is a distinct improvement over the 1970s pedal that inspired it. "Most ringer pedals don't track well," Tom Hejda, owner of Messiah Guitars. "The player can't rely on repeating the same effect even with the most consistently played notes. We carefully matched the components, so our ringer follows your every move, producing that slightly dirty octave you expect on demand."
Messiah developed this vintage octave pedal with flexible features so that people who love that messy, dirty Zappa-esque sound can get there with ease but there's also something for those who have not fallen in love with fuzz or the Green Ringer alone. Flare offers an array of sonic options while retaining simplicity in the controls.
Each Flair Pedal Includes:
3 control knobs: Boost, Sparkle, and Level
Two effects – Ring Modulator and Boost – can be used together or separately
Space-saving top side jacks
Durable, cast aluminum alloy 125B enclosure with fun artwork
Easy to see, illuminated True-bypass foot switch
Standard 9V pedal power input​
Flare Pedal Demo
Messiah Guitars pedals are designed with an explorative player in mind. Like their custom guitars and amplifiers, Messiah's pedals are hand-crafted in Los Angeles for a long life with guaranteed quality.
Flare retails for $199.00 and can be purchased directly at Messiah Guitars or you can hear it in person at Impulse Music Co. in Canyon Country, CA.
For more information, please visit messiahguitars.com.
This feathery little guy is a joy to play because of its incredibly quick response to your right hand - much faster and more expressive than your typical auto-wah pedal.
​If it looks like a duck, acts like a duck, and QUACKS like a duck, then it must be a duck. That's how we came up with the name for our new envelope filter. This feathery little guy is a joy to play because of its incredibly quick response to your right hand - much faster and more expressive than your typical auto-wah pedal. Trevor explains how this is possible in the launch video, as well as gives a demo on Le Canard's operation.
​The attack control determines how quickly the filter responds to the envelope, and the decay sets how quickly the filter releases afterward. The range controls which frequency spectrum the filter does its magic on. Add to this relay-based full-bypass switching with failsafe, and you've got one crazy little quacky beast. It is so expressive that you'll want to give up on your rocker-wah forever.
The MayFly Le Canard envelope filter features:
Super fast responding envelope follower. Touch it and it jumps!
Range control to dial in the character of the filter
Attack control to control how fast the filter moves on that first touch
Release control to control how slowly the filter slides back to baseline
Full bypass using relays with Fail SafeTM (automatically switches to bypass if the pedal loses power)
Cast aluminum enclosure with groovy artwork
MSRP $149 USD ($199 CAD)​
Introducing the MayFly Le Canard Envelope Filter
All MayFly pedals are hand-made in Canada.
For more information, please visit mayflyaudio.com.