Twang 101: Rockabilly Intros and Outros
Bookend your rockabilly tunes with these popular intros and outros.
In the last few lessons we've been working on rockabilly rhythm. (See
Rockabilly Rhythm Basics
and
Advanced Rockabilly Rhythm
). This month we will learn how to bookend rockabilly tunes by learning some very popular intros and outros. There's no better way to announce the beginning or ending of a tune than with solid hook. Once you learn the basic licks you'll be better equipped to transcribe the variations or make some up yourself.
Figure 1
Let's start with this classic Cliff Gallop intro in E major. It's a double picked descending major scale that goes into octaves. This one seemed to be the "go to" lick for a lot of rockabilly tunes, especially the Blue Caps material. It sounds like it could have come about by a guitarist imitating a walking upright bass. I've even heard this major scale walked down into minor key tunes. Check out "Race With The Devil" and "Lonesome Train."
Download Audio Example 1...
---
Figure 2
Here's an intro in the key of A. This double-stop lick is a real attention grabber. I use almost all down strokes for this one. It keeps it sounding more aggressive.
Download Audio Example 2...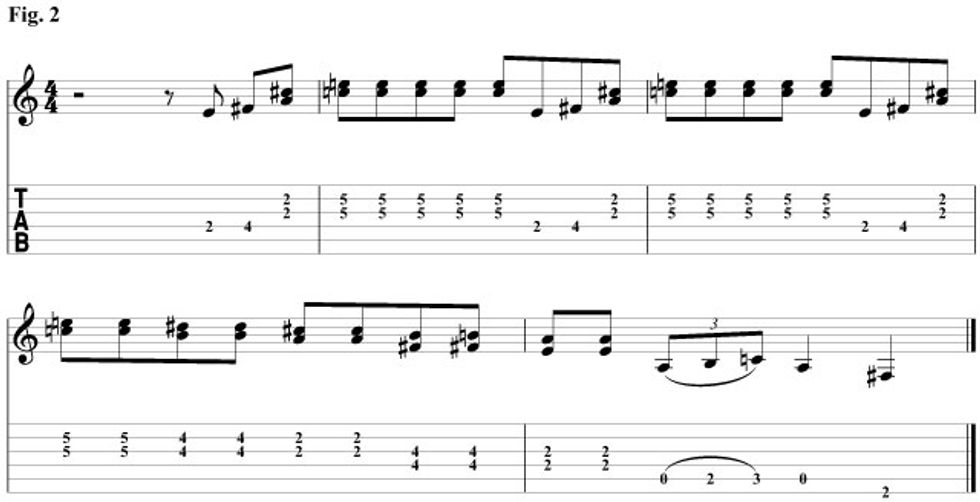 ---
Figure 3
Can't see your drummer? Not sure how to end that bar fight-inducing jam? This little walkup is built to pull you right to the end with no guesswork. This one is in A major.
Download Audio Example 3...
---
Figure 4
This is just a great swinging outro lick in F major that ends with a classic 6/9 chord.
Download Audio Example 4...
---
Jason Loughlin
has performed with Amos Lee, Rachael Yamagata, James Burton, Mike Viola, Nellie Mckay, Phil Roy, Marshall Crenshaw, Sara Bareillies, Lesley Gore, Ben Arnold and John Francis to name a few. Jason lives in Williamsburg, Brooklyn performing and teaching. Look out for his new record,
Peach Crate
, due out in February. For other info be sure to check his website
jasonloughlin.com