How an American icon, a shoreline gold Tele, and a stomach-turning pre-gig ritual inspire the Indonesian indie-rocker to fight the power.
Why do we like sad music so much?
Sad songs make me happy, like drinking makes me thirsty.
It's an odd paradox, but sitting in my car, staring dead-eyed into space and sobbing like my dog just died, while listening to heart-crushing music remains one of my favorite activities. Strange, perhaps, but not uncommon.
In real life, I go to great lengths to avoid hardship. When I greet someone, I rarely ask, "How are you doing?" for fear that the person will actually tell me, and it's going to be bad news. There's an unwritten law that we keep our depressing bits to ourselves or risk becoming a pariah, seen as an emotional vampire, greeting all with two armfuls of gloom and despair. Try talking to me about your horrible relationship and I will extricate myself from that pity party ASAP.
Por ejemplo, if Etta James walked up to me and said:
"Something told me it was over
When I saw you and her talking
Something deep down in my soul said, 'Cry, girl'
When I saw you and that girl walking around."
I would say, "Sorry to hear that Etta, but excuse me, I have to leave now to do anything but listen to this." But when she wraps those sad words in a melody, I can't get enough of that devastation. I hang on every heart-wrenching word. Why? Well, science has a few ideas about what's going on here.
Generally speaking, minor-key music feels sad while music in a major key feels happy. We've all heard exceptions to the rule. Henry Mancini's "Moon River" is in a major key, but feels wistful, whereas Van Morrison's "Moon Dance" is minor but feels like a happy, playful romp. But, for the most part, when you flat that 3rd, 6th and 7th, it's going to feel melancholy. Scientific studies back that up, according to Popular Science, and studies also suggest that even though minor-key music sounds sadder than major-key music, most people, somewhat surprisingly, find minor key music more likable.
There's an unwritten law that we keep our depressing bits to ourselves or risk becoming a pariah, seen as an emotional vampire, greeting all with two armfuls of gloom and despair.
Some scientists hypothesize that people enjoy the vicarious sadness of a sad song almost the way they enjoy a scary movie. Since it's not happening to us in that moment, we can just sit back and observe someone else's heartbreak. But that sounds a bit sadistic to me. I can't believe that non-sociopaths take pleasure in the suffering of others. There's got to be more to it.
I'm more swayed by studies that suggest that sad music hits us differently on a chemical level. Ultimately, everything we feel comes down to our body's chemistry. An article I found from Science Alert explains it this way: "Some scientists think melancholy music is linked to the hormone prolactin, a chemical which helps to curb grief. The body is essentially preparing itself to adapt to a traumatic event, and when that event doesn't happen, the body is left with a pleasurable mix of opiates with nowhere else to go. Thanks to brain scans, we know that listening to music releases dopamine—a neurotransmitter associated with food, sex, and drugs—at certain emotional peaks, and it's also possible that this is where we get the pleasure from listening to sad tunes."
In summary, whereas all good music gives us a hit of the feel-good neurotransmitter dopamine, sad songs also give us an opiate kicker for a super-double chemical buzz. That could explain why just listening for a few minutes feels like a gut punch followed by a loving, warm hug.
A few years ago, I was playing a songwriting festival in Crested Butte, Colorado. I stumbled into a bar, as is my custom, and found some songwriter friends in a circle by the fire passing a guitar around. My friends, recognizing me as one who is easily duped, asked me to join the circle, then had me sit to the left of Hall of Fame writer Dean Dillon. Nobody there wanted to follow Dean. I had to play one of my songs right after the guy who wrote "Tennessee Whiskey" and dozens of other iconic No. 1 songs. Dean prefaced his songs with a story of heartache that led him to write "Easy Come, Easy Go." I said, "Yeah, but Dean, it's hard to feel too bad for you, because you turn all that pain into songs, and those songs have made you fabulously wealthy." Dean paused for a beat, then replied, "Yeah, but it still hurts…. That's why I try to co-write with people going through a divorce. They've got all the good pain.
How we turned three affordable Squier, Ibanez, and Yamaha axes into custom instruments like no other.
From YouTube to Instagram to myriad DIY forums, the internet is filled with modders showing off their latest projects. Name your flavor of guitar gluttony—from Gibsons to Fenders, offsets, and shred machines—and there's a virtual place you can go to both feed your craving and feel better about how much time you spend obsessing over how to make your axe sound and play more to your liking. "You think my tweaking tendencies are out of control? Check out this guy…."
Because there are so many places to get each other's take on which pickups or nut material will yield such-and-such sound, this year's No-Brainer Mods outing (our fourth so far) takes the same tack as last year's. As with all past NBMs, we've purchased a handful of quality affordable axes, but rather than just upgrading them with one of the innumerable sets of great pickups on the market, and maybe a fancier bridge or set of tuners, we're taking a more adventurous approach. Guitar shops the world over are full of well-made instruments you can get brand-new for $300–$500 and then turn into something you'd never be able to buy off the rack simply by investing a little more time and money. In the process, you'll have a whole lot of fun and hopefully end up with an inspiring new "custom" instrument. If something goes a little haywire or the experiment's end result isn't quite as mind-blowing as you'd hoped, at least you haven't lost a ton of dough—and unless you've really botched things, you can always try out your next great idea on the same "canvas."
Considering how many cool, well-made affordable guitars there are, what's a "no-brainer" about all this isn't so much what we do in our No-Brainer Mods series—it's that you take advantage of the waiting gold mine of possibilities to do the weird stuff that occurs to you. We're just here to stoke your imagination a little.
Last year, we had a blast walking the mod path less taken. We turned a T-style into a 12-string, gave a Squier Starcaster the Jazzmaster trem so many offset aficionados feel it needs, and made a semi-hollow Ibanez's dreams of sounding more orchestral a reality. This year, we're taking on a couple of mods that are roughly as ambitious as those, but we've also thrown in one for folks who need something a little less invasive to chew on during pandemic downtime. We've again enlisted guitar-repair guru Dave Helmer, a two-time Red Wing lutherie graduate based in Iowa City, Iowa, to carry out these glorious transformations. —Shawn Hammond
Before and After Mods Video Demo
Squier Semi-Fretless "Cabronitar"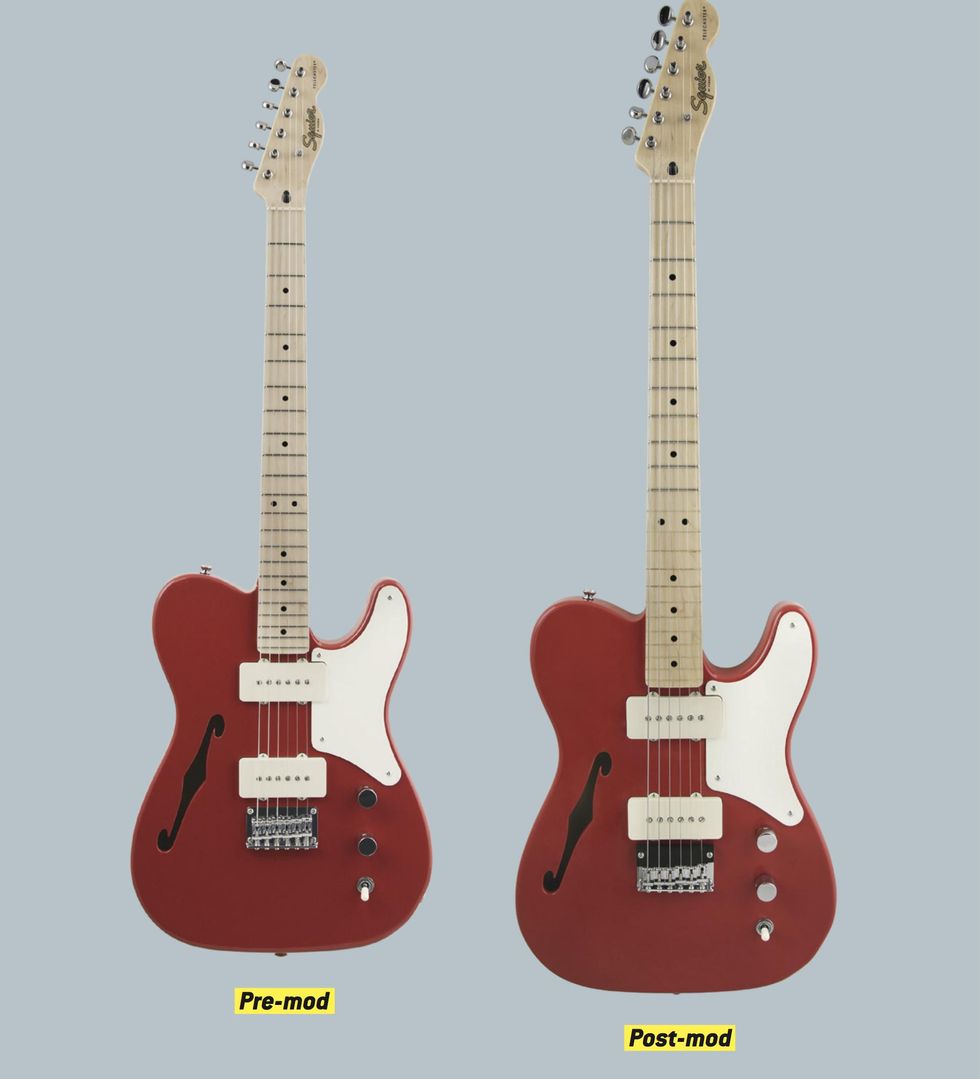 Click here to enter for a chance to win this expertly modded guitar.
Squier instruments have long been a staple for modders looking for an affordable, solid-playing axe to put their own personal touch to. Beyond the brand's usual classic looks and respectable build, the Paranormal Cabronita Telecaster Thinline ($399 street) we've chosen for our first mod has a couple of additional neat things going for it. First, it's lighter than virtually any thinline/semi-hollow guitar we've encountered in this price range. Second, the fiesta red finish is so upscale looking it's easy to almost overlook the Fender-designed alnico Jazzmaster pickups. We thought about swapping them with a set of Seymour Duncan Antiquity or Curtis Novak pickups, but then we remembered our "more adventurous" MO. Besides, the pickups sound pretty good (astute JM fans are bound to note the unusual inclusion of adjustable pole pieces).
As I pondered what sort of specialized sonics might be cool to add to the Cab, I hit on the idea of turning this familiar-feeling guitar into a fretless sitar. Having done fretless conversions before, Dave called me a little after starting the project to make what ended up being a fantastic suggestion: Why not keep the frets on the lower half of the neck and ditch 'em on the upper portion? That way the "Cabronitar" could be used as both a chordal and a lead instrument. Genius! In the end, we decided on fretless past the 10th fret.
At first we thought we'd just buy one of those Gotoh sitar bridges that Danelectro uses on its Sitar and Baby Sitar instruments. However, as of publishing time, it appears Gotoh is no longer making them. This actually turned out to be a boon, though, as the Gotoh wouldn't have fit in the space between the Cabronita's bridge and bridge pickup, and would have required more drastic measures with the bridge and/or other hardware.
Even so, keep in mind that—at a quick glance—the ebony "buzz bridge" portion of this mod looks deceptively simple. Like us, you'll likely end up needing to fashion two or three bridges before you've got all the minute cuts and surface angles right. This fine-tuning by trial and error is why you'll notice successive photos below sometimes show the guitar with strings on, then unstrung with protective tape on the surface, then strung-up again. That's because the only way to know for sure if you're getting things right is to string the guitar and see how it sounds at various points throughout the process. So you'll want to have a few sets of your chosen strings on hand. Luckily, Dave did a lot of great research and built a few prototypes himself, and the lessons he learned should help you get the nuances right, regardless of the guitar model you're modding. —SH
Ibanez JEMJRSP with "Monkey Grip-u-Lator"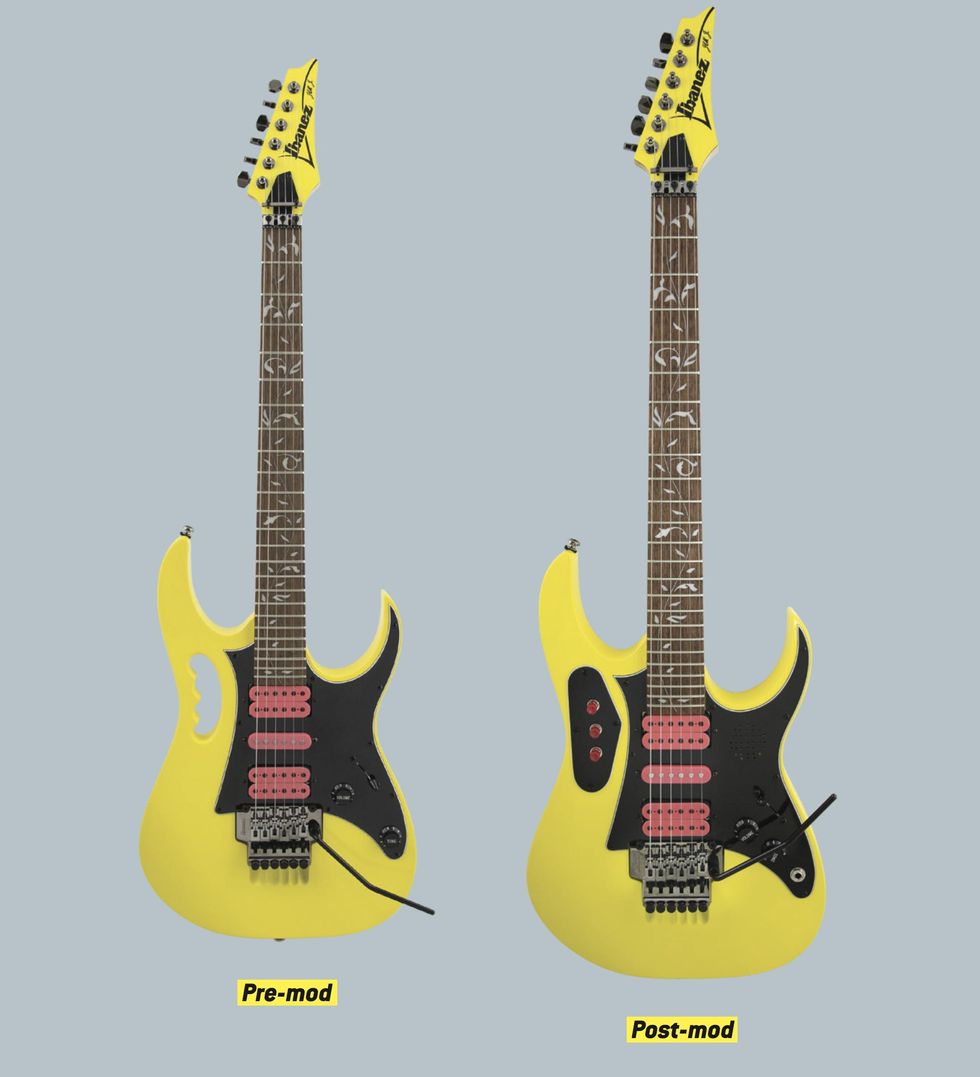 Click here to enter for a chance to win this expertly modded guitar.
Steve Vai's innovative, aesthetically vibrant signature guitars have been turning heads since his 1987 debut as Ibanez's most prominent and influential artist. The JEM777 started it all. But while Vai—then fresh off both his first tour with David Lee Roth and filming scenes as the Devil's flamboyant guitarist, Jack Butler, in Crossroads—has always put the guitar's unusual "monkey grip" feature to good use, few mortals seem to be able to pull it off with similar aplomb. So we thought we'd take advantage of the grip anatomy on the JEMJRSP ($499 street) to facilitate something more practical—yet weird enough to hopefully still meet with Vai's approval. Taking inspiration from another virtuosic experimentalist, avant dreamscapist/sound mangler /former Bowie sideman David Torn, we've decided to use the space already carved out for the monkey grip to house a circuit similar to the "Tornipulator" he's had installed in guitars by luthiers Uli Teuffel, Saul Koll, and Izzy Lugo at Ronin Stringed Instruments.
Our "monkey grip-u-lator" circuit has three momentary pushbuttons for engaging 1) a lo-fi "sampling" microphone (a Shaker-brand harmonica mic) that's been added under the guitar's pickguard, 2) a 60-cycle hum (great for conjuring anarchic/deconstructionist vibes), and 3) a 1/4" auxiliary input you can use to connect, say, your phone, an old cassette player, or another outboard device to aid in your havoc-wreaking sonic adventures.
Yamaha Revstar Mojo Pickups Dual Foil Mod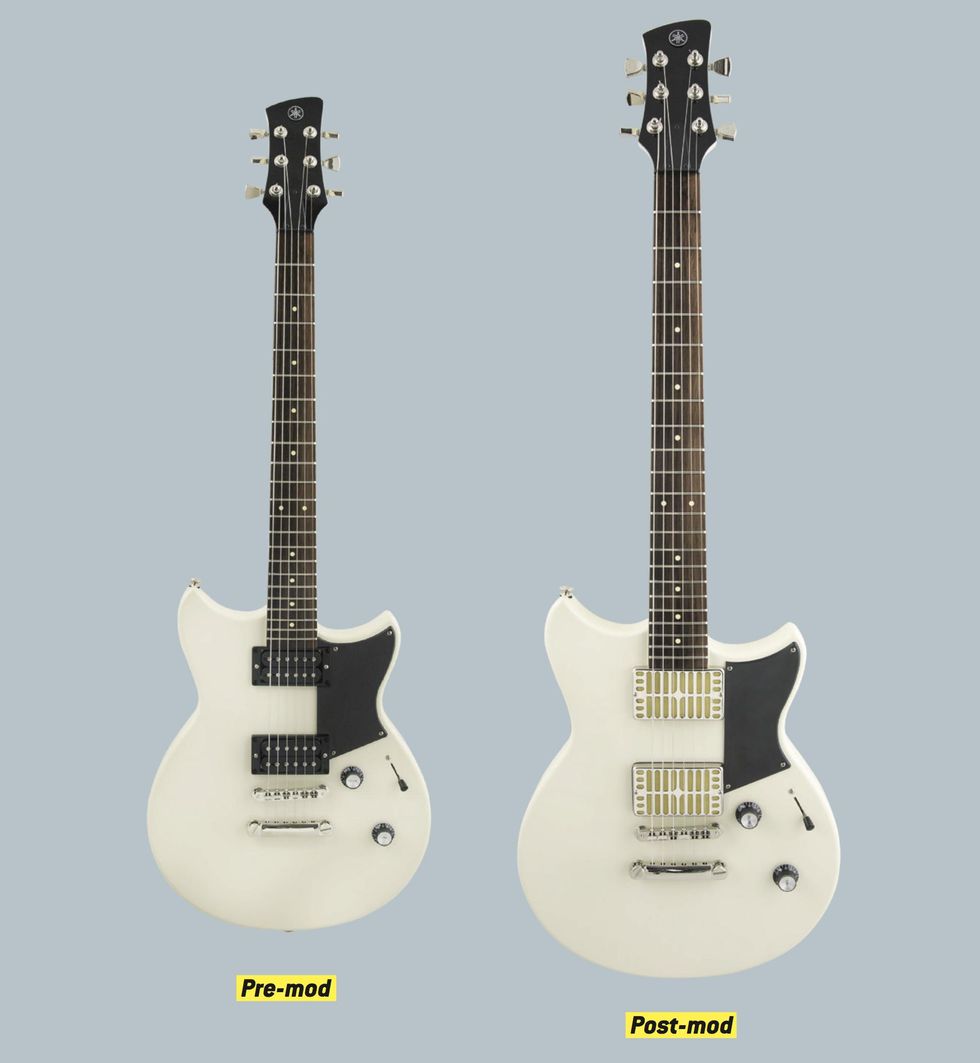 Click here to enter for a chance to win this expertly modded guitar.
For those of you who've been shaking your heads at the two previous mods, first—in the immortal words of King Arthur in Monty Python and the Holy Grail—"You make me sad." Second, thank you for sticking with us anyway. We're rewarding you for your valiance with this straightforward mod. Although the Yamaha Revstar RS320 ($399 street) comes stock with pretty respectable pickups, we've been intrigued for the last little bit by U.K. outfit Mojo Pickups' recent Dual Foil designs—which are humbucking interpretations of the unique gold-foil pickups found on old Teisco and Harmony guitars. As you may have noticed in the video clip of David Torn in the Monkey Grip-u-Lator section, Torn's Ronin Mirari was equipped with Mojo Dual Foils, and they sound delicious. Which is why luthiers at boutique outfits such as Abernethy Guitars, Uma Guitars, and Deimel Guitarworks have recently been gravitating toward them.
You could WIN one of THREE PG Modded Guitars in this all-new giveaway!
For the seasoned player who defies the status quo and demands more from a high-performance hot rod bass, these brand-new Charvel Pro-Mod San Dimas Bass models do it all by combining modern appointments with throwback Charvel DNA.
The sleek alder body shape is a familiar one—straight from the original Charvel San Dimas basses of late 1970s, with the deeper cutaway that gave adventurous bassists effortless upper-register access.
The super-thin bolt-on maple Charvel speed neck is crafted in the original style, with a gorgeous caramelized treatment, graphite reinforcement and heel-mount truss rod wheel for easy adjustment. The 12"-16" compound radius caramelized maple fingerboard gradually flattens from nut to heel for fast, smooth playing, and has rolled edges, 20 jumbo frets and Luminlay side dots.
Charvel Pro-Mod San Dimas Bass Demo
And like the originals, these models feature the powerhouse voice of DiMarzio pickups. The Pro-Mod San Dimas Bass PJ IV has a Model J at the bridge for well-rounded punch and a Model P in the middle for warm and fat tone with a mid-range growl when pushed. The Pro-Mod San Dimas Bass JJ V features an Area J DP551 pickup in the bridge and an Area J DP550 pickup in the middle that combine for well-balanced tone with warmth, sustain and clarity.
Versatile electronics include master volume, pickup blend and active three-band active EQ, while a Charvel HiMass bridge, Graph Tech TUSQ XL nut and open-gear tuners combine for stellar tuning stability with improved note punch and sustain.
The 4-string, 34" scale Charvel Pro-Mod San Dimas Bass PJ IV is presented in electrifying Lime Green Metallic and Mystic Blue finishes with chrome hardware and cream pickup covers, while the 5-string, 35"-scale Charvel Pro-Mod San Dimas Bass JJ V is offered in Lambo Green Metallic and Candy Apple Red finishes with gold hardware and cream pickup covers. Both models are topped with a licensed Fender Precision Bass headstock shape.
For more information:
Charvel
After conquering Guitar Hero II, she's reimagining acoustic guitar with two-hand lap tapping, percussive flourishes, and washing it all through reverb and modulation.
Yasmin Williams' gateway drug to guitar was a video game. After defeating Guitar Hero II (on expert, no less), her parents encouraged the budding interest by giving Yasmin an electric.
"I guess they were impressed that I beat the game," admits Williams. "They got me an electric first and so I learned Hendrix and Nirvana songs. I really wanted to be a metal-head shredder like Paul Gilbert and Steve Vai … that didn't work out [laughs], so I switched to acoustic because I could lay the guitar across my lap and tap on the neck much like playing the harder, faster songs on Guitar Hero."
In addition to playing the acoustic guitar (in traditional and non-traditional styles), Williams sprinkles in toe-tapping percussion (yes, she wears tap shoes that dance on a board that rest on her guitar's case), cello-bow drones, metallic-hammer touches, and even dabbles in traditional African instruments like the kalimba and kora.
She's joined the venerable instrumental label Spinster (women-run label), shared the stage with fingerstyle icon Kaki King, and aims to continue expressing herself through the guitar with any means necessary.
She's been playing for over 10 years and released two buoyant, joyful instrumental records—2018's Unwind and 2021's Urban Driftwood. Her most recent collection of songs was an empathetic and uplifting response to U.S.'s social unrest in 2020.
Just after putting out her latest album, the one-woman ensemble virtually welcomed PG's Chris Kies into her D.C.-based rehearsal studio.
In this episode, the unconventionally great guitarist shows off her main instruments, illustrates how she expands the acoustic guitar's possibilities (incorporating two-hand lap tapping, an Engle hammer, and a cello bow), and gets wild and weird with a pair of digital dreamers—a Strymon BigSky and Hologram Electronics Microcosm.
[ Brought to you by: D'Addario Pro Plus Capo]
Skytop Grand Concert Multi-Scale Acoustic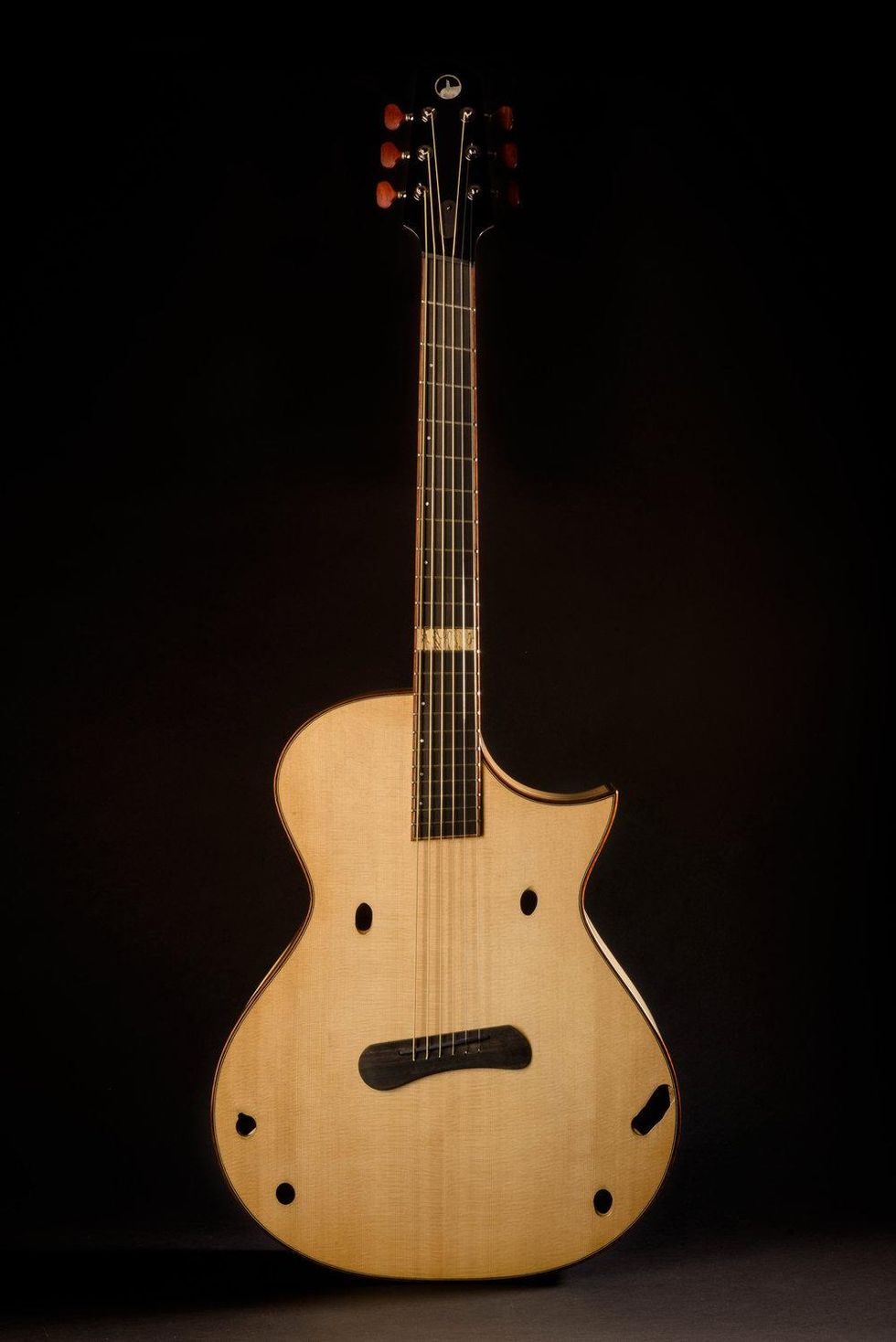 Above is Williams' mainstay acoustic—a multi-scale Skytop Grand Concert model handbuilt by luthier Eric Weigeshoff. No, your eyes aren't deceiving you, the teredo Sitka spruce top does have holes in it. Before coming to Weigeshoff's New York-based shop, the sourced Sitka was used in the PNW to line around rafts accessing the Puget Sound. The teredo worms chew through the logs, boring out unique patterns and grooves. The use of the holed tonewood enhances Williams' percussive playing style. In addition to the teredo holes on top, Weigeshoff put in two of his signature side soundholes that create a stereo effect allowing her to hear herself better onstage.
Her No. 1 came loaded with James May Engineering Ultra Tonic V3 pickups. The Skytop takes GHS Silk and Steel (.011–.048) strings, she goes with a Black Mountain thumbpicks, sometimes strikes the strings with an Engle Guitar Hammer, and exclusively uses Shubb Capos. The guitar will be in all sorts of tunings, but most often it rides in open D ("because things just sound beautiful and light").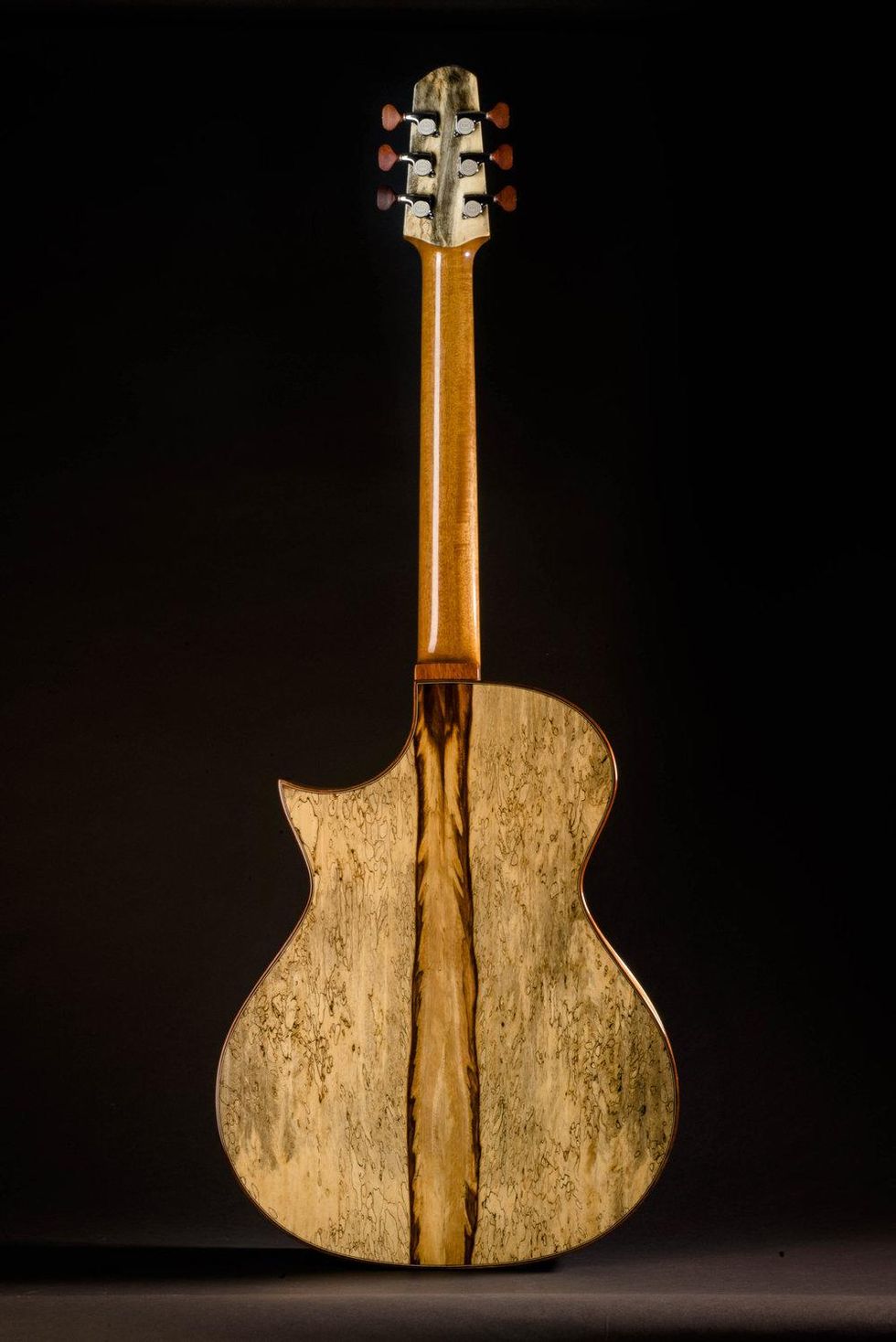 Here's the reverse side of Yasmin's Grand Concert with its stunning spalted tamarind used for the sides and back.
Timberline Guitars T60HGHpc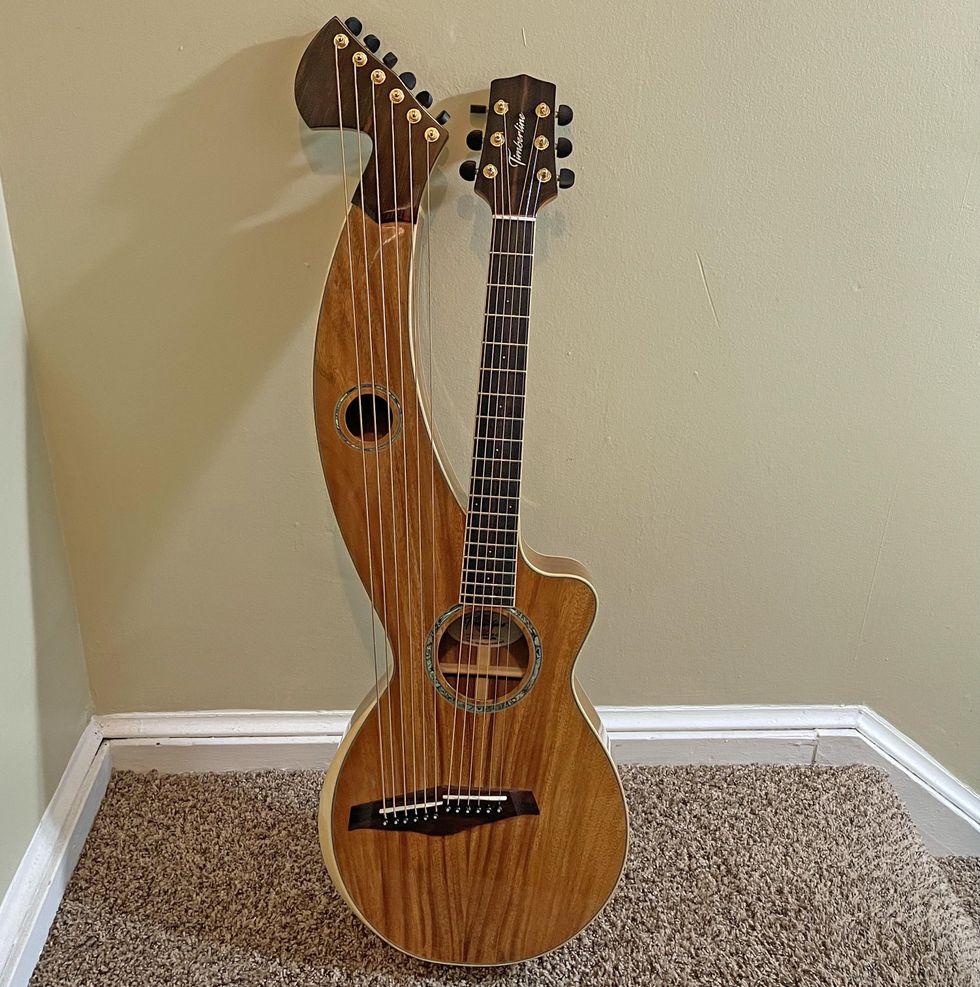 "I never thought I'd get a harp guitar," admits Williams. "It just looks like too much is going on [laughs]." However, when she was introduced to this parlor-sized Timberline Guitars T60HGHpc during NAMM 2020, the idea of a harp guitar was more in her grasp.
Its top, back, and sides are made from solid acacia, while the mahogany neck is paired with a Macassar ebony fretboard. Tamarind is used for the comfort arm bevel and it's also used as binding to contrast against the acacia body.
The double-neck harp is outfitted with a dual-output system that uses a pair of 3-element contact K&K Sound Pure Mini pickups.
And the upper sub-bass strings are typically tuned to a g scale.
21-string Kora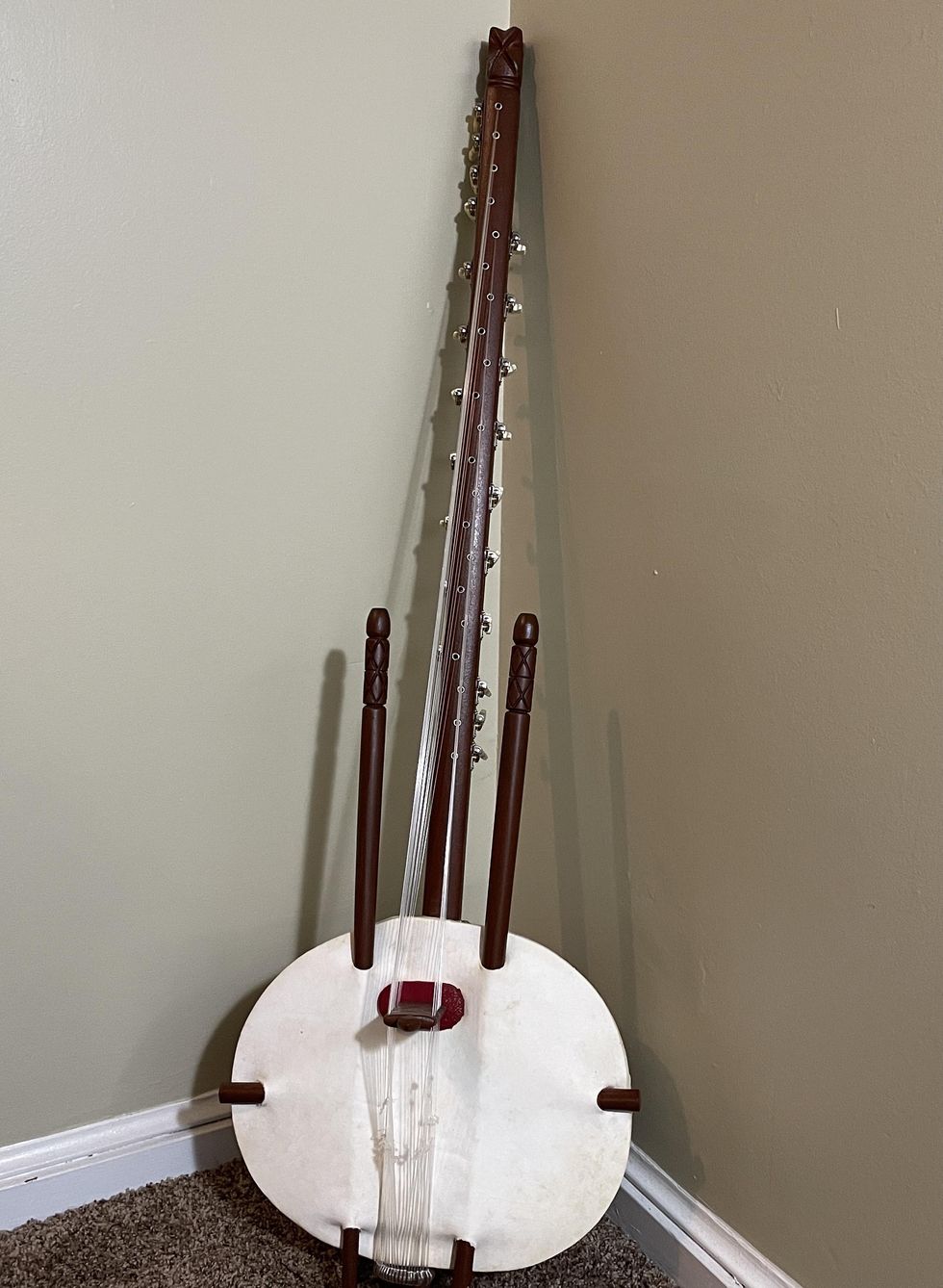 Another instrument Williams will pluck on is this 21-string Kora. The instrument is native to West Africa and was developed in the 16th century.
Hugh Tracey Kalimba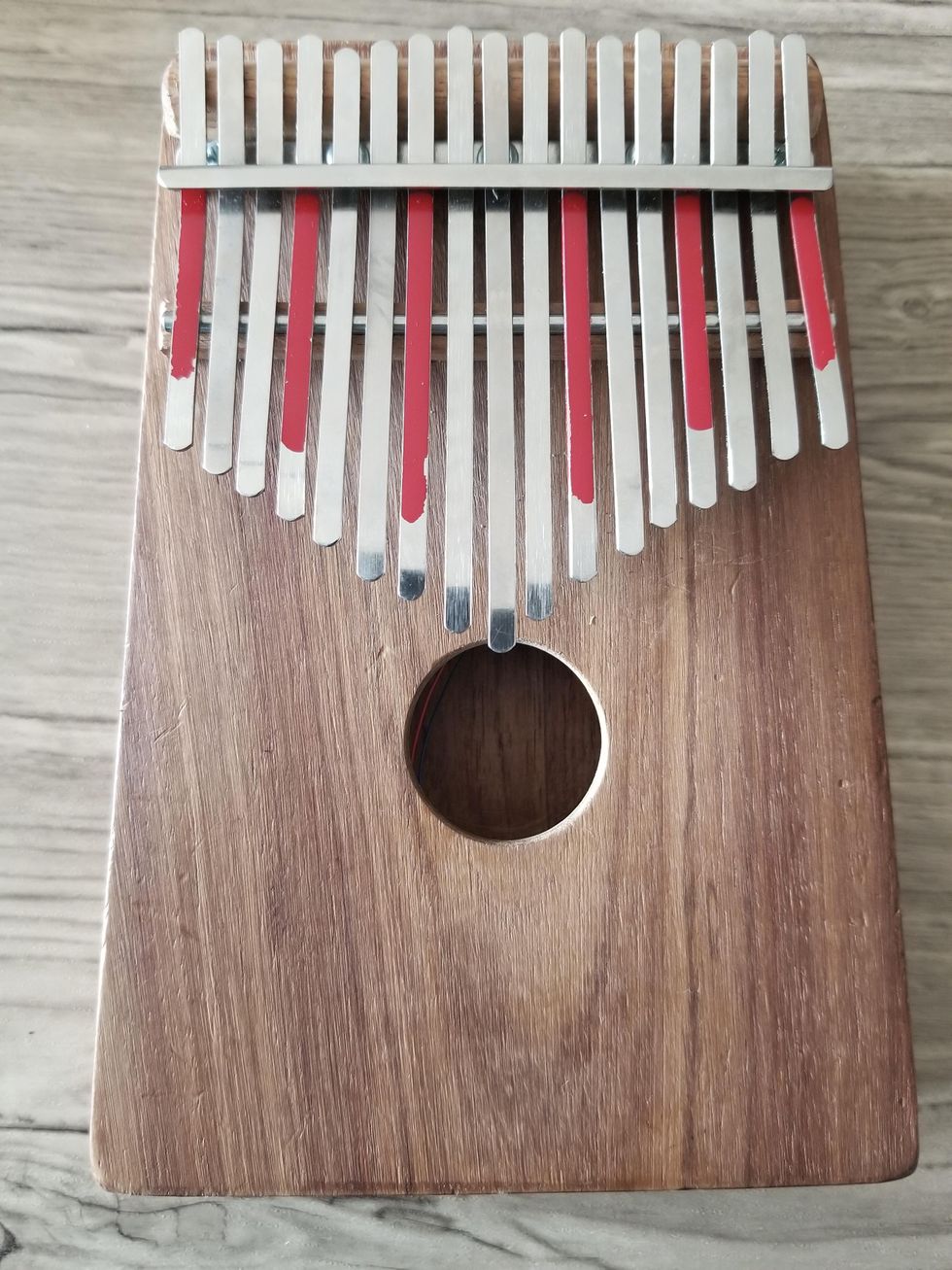 As a child, Yasmin loved Earth, Wind & Fire's hit "Kalimba Story" (off Open Our Eyes) and it inspired her to add it to her onstage repertoire. In practice, Williams will rest this Hugh Tracey Kalimba on her acoustic's top (behind the bridge) and tap out melodies on the guitar's neck with her left hand and hit the kalimba with her right. (A great example of her dexterity is the song "Guitka" that closes out her debut album, Unwind.)
Yasmin's Pedalboard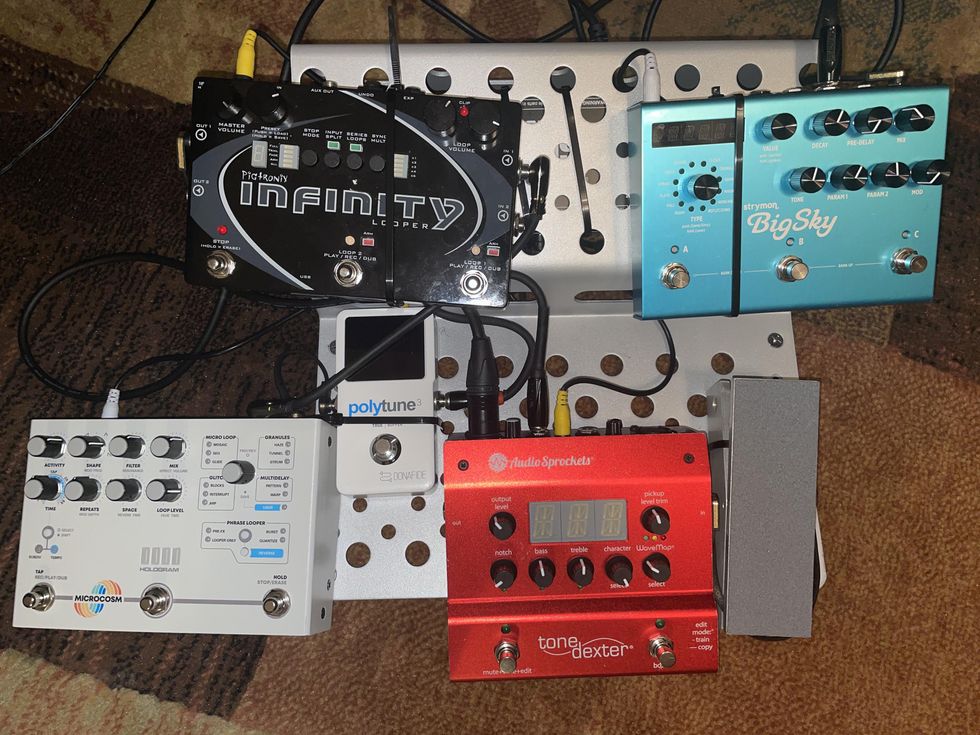 Since finding her footing with the acoustic guitar, Yasmin has been slowly filling her Holeyboard stomp station. (She's a big fan of the Holeyboard because she can test out new pedals without the long-term commitment of Velcro and its residual gooeyness.)
Her pedals (going from utilitarian to oddball) include a TC Electronic PolyTune 3 and Loop Community Looptimus (not pictured). Then we have the Audio Sprockets Tone Dexter that allows her to map her recorded guitar tone and blend that with her soundboard pickup almost giving her acoustic a 3-D sound. Next she has the Pigtronix Infinity Looper, a Strymon BigSky, and the zany Hologram Electronics Microcosm.