Mad Professor Amplification: Electric Blue II Chorus - Vibrato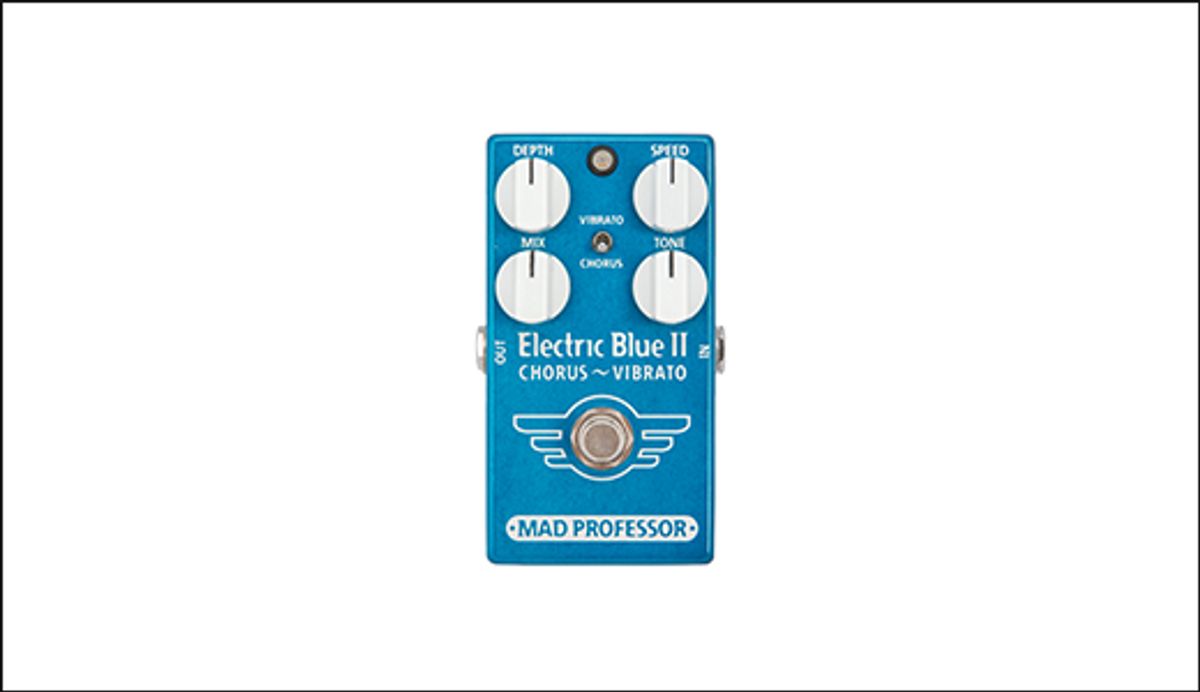 Finland (March 24, 2021) -- Latest addition into Mad Professor Amplification pedal line, ELECTRIC BLUE II Chorus - Vibrato, is an all analog bucket brigade modulation pedal.
---
Mad Professor Amplification, a long standing and awarded pedal and amp manufacturer, will release the new ELECTRIC BLUE II Chorus - Vibrato pedal in mid April 2021.
ELECTRIC BLUE II Chorus - Vibrato is a super high quality modulation pedal with a small footprint. It is simple-to-use, yet surprisingly versatile. Vintage technology and modern engineering ensures the most organic and purest analog tone and ultra quiet performance. Electric Blue II is innovative and beautifully complex all analog bucket brigade design.
Warm or bright? Blast from the past or from today, and everything in between? You get to choose. The effective and thorough, yet simple-to-use, controls allow you to explore analog modulation like never before.
CHORUS mode is designed to deliver slow, traditional chorus effects and faster faux-leslie type effects and everything in between. Turning the SPEED control will also affect and alter multiple things, allowing Electric Blue II to sound just right and capture all the nuances, whether slower or faster swirls are being dialed in. And whether it is warm vintage or modern chorus guitar tone you are after, Electric Blue II will deliver astonishing and finest of the finest tone!
In most cases VIBRATO is only an effect that was born aside when a chorus pedal was designed. We were on a mission for taking the opposite approach and dedicated ourselves to design the most expressive vibrato with expanded vocabulary. Vibrato effect in Electric Blue II is completely and fully its own design, that is the most clever and intuitive vibrato out there. The well-thought-out controls and the ability to also beautifully function with distorted tones, extend the versatility and sonic possibilities like never heard before.
"We really wanted the Vibrato effect to stand out too, so that it would be in equal level in astonishing tone with the chorus effect" -says the designer, Jyrki Rahkola.
Watch the company's video demo:

For more information:
Mad Professor Amplification