MTD Kingston Saratoga Bass Review
The latest from Michael Tobias'' more affordable line combines familiar J bass features with newer conveniences
Michael Tobias is one of the most revered bass builders working today. His instruments have always been smartly designed, tonally groundbreaking, and of the highest quality, as their high resale values attests. The Tobias brand name was sold to Gibson in 1990, and after his contractual obligations were fulfilled at the end of 1993, Tobias started MTD (Michael Tobias Design) as a vehicle for his latest innovations. MTD's newest basses, like the Kingston Series Saratoga reviewed here, prove he still designs with the player in mind.
The Kingston Series is a line of more affordable instruments designed by Tobias and produced in China. Given Tobias' deep passion for his instruments, I expected these basses to be much more than the products of an anonymous, unsupervised handoff to an offshore manufacturer. And in the form of the 5-string Kingston Saratoga, it was nice to see my hopes confirmed. The Kingston basses are a diverse group of instruments, ranging from entry-level models to higher-end pieces featuring custom pickups and finishes. The Saratoga is among the less expensive models, but it's an instrument of quality and integrity and capable of challenging many more expensive basses head on.
Comfortable and Classy
Our review Saratoga shipped with a tobacco burst finish (it's also available in a high-gloss black) that was striking right out of the box. The finish was clean, and the carved basswood body felt comfortable and perfectly balanced when strapped on. The instrument hugs the body like a nicely balanced J bass, and feels more like an extension of the player than a slab of wood around your neck. The 4-bolt neck joint has a smooth heel, and the 34"-scale neck itself is capped by a rosewood fretboard (maple and ebony are also available) that complements the beautiful tobacco burst finish. It also features the Buzz Feiten tuning system.
Closer inspection revealed several nice touches that are typical of Michael Tobias design. The gunmetal gray tuners, jack plate, and controls lend a modern visual touch. So does the matching quick-release bridge. I noticed that the truss rod cover doesn't sit completely flush, but it's a purely cosmetic concern, and if that's the biggest problem on this instrument, it's a good sign indeed.
Fingerstyle runs, heavy slapping, and chords sound big and have a harmonically rich sustain that rivals some neck-through designs.

Sound Spanning
The first thing I like to do with any electric guitar or bass is take a dry run without an amp. This bass is remarkably smooth and easy to play, so right out of the gate fingerstyle runs, heavy slapping, and chords sounded big and harmonically rich with a sustain that rivals some neck-through designs I've played.
Those accustomed to narrower 5-string necks might find the neck width and the 19mm string spacing a bit wide. That said, the MTD's neck doesn't have the garage door feel of some 5-strings out there, and the asymmetrical neck carve is generally quite comfortable and smooth. The neck's low profile makes playing this bass a breeze, but if you are used to a thicker neck, you may have to make some adjustments.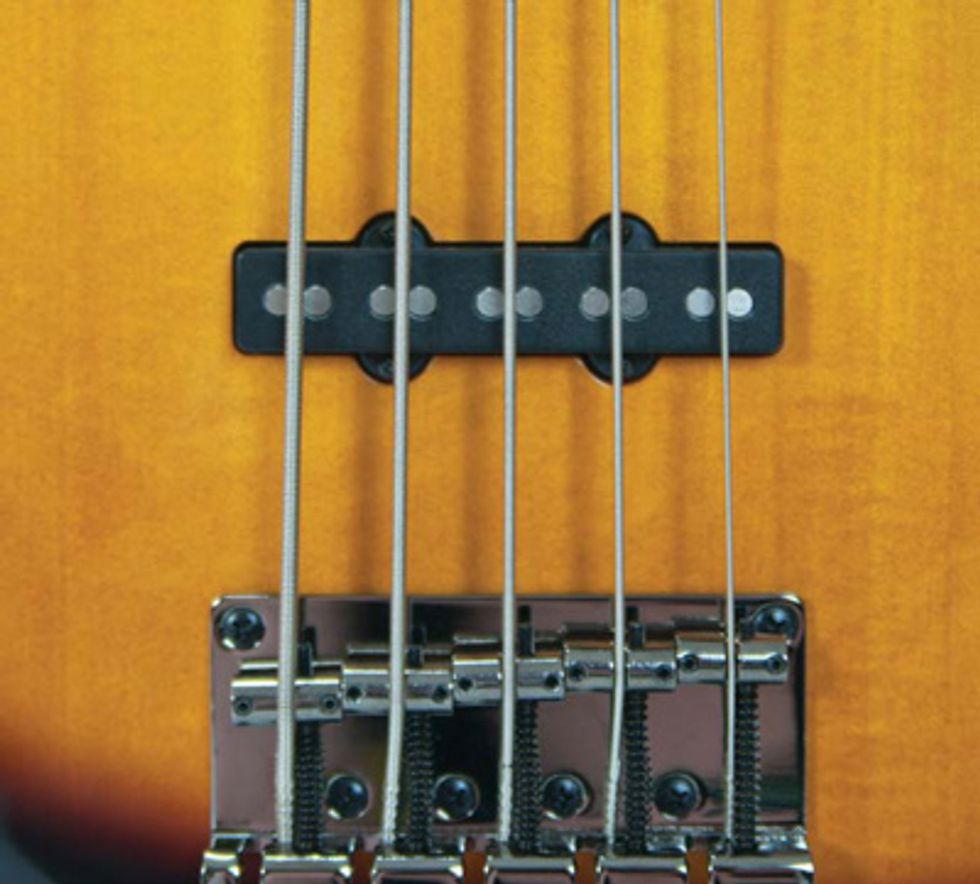 The Saratoga's electronics are built around two passive J-bass-style pickups, two volume controls, and a passive tone control. To test its amplified tones, I ran the Saratoga through a Warwick CCL 210 Combo with the EQ flat. For the first go-round, I cranked both volume controls and had the tone rolled halfway off, which summoned a tight, focused sound that would be at home on modern rock records. It's a tone that works exceptionally with the tight and responsive low-B string. On 5-string basses the low B can sometimes feel a bit loose and buzzy, but even with the most aggressive runs, the Saratoga's low B sounds pure and big. For you players that love to ride the low D, you will be right at home.
The Saratoga's neck pickup is punchy, yet subdued, smooth, and natural. The bridge pickup sometimes sounded a little thin when I turned the tone knob up to any significant extent. But this lack of girth translated to a high-mid definition that would have a place in any funk outfit. With the tone rolled almost all the way back, however, the bridge pickup was more at home, with just the right combination of bite and smoother sounds that would make it at home in a rock or pop situation.
Overall, the Saratoga is surprisingly capable of spanning tonal spectrums. Fundamentally it's not quite as round in tone as I would prefer, but it's rarely out of place, regardless of style. With a little experimenting, you can dial in a solid sound that suits your style. My favorite tones were derived by using the neck pickup—usually dialed up to 10—with the bridge volume and tone knob at the halfway point. It proved to be the Saratoga's sweet spot in terms of warmth and attack for my fingers.
It's worth noting that when I ran the Saratoga direct through my recording rig, the bass was exceptionally quiet—probably thanks in part to a shielded pickup compartment— and I couldn't help but think that this bass would be right at home with a bassist or guitar player in need of a good recording bass that won't break the bank.
The Verdict
The MTD Saratoga proves that lower sticker prices don't necessarily mean a less-playable bass. It has a distinct character and personality even if it falls short of delivering vintage J-bass tones. And its mix of familiar J-bass-style features and newer conveniences like the Buzz Feiten tuning system add up to an exceptionally practical instrument and, at around $500, a great value. But whether this is your first bass or an instrument you intend to use regularly on stage and in the studio, it's a bass that can be useful and inspiring for years to come.
Buy if...
you're on the lookout for a wide-ranging,versatile, and value-priced bass.
Skip if...
you're on the prowl for the most vintage-flavored tones possible.
Rating...