BOSS Announces the GX-100 Guitar Effects Processor​
A processor for guitar and bass with intuitive color touch display and advanced BOSS tone technologies.
---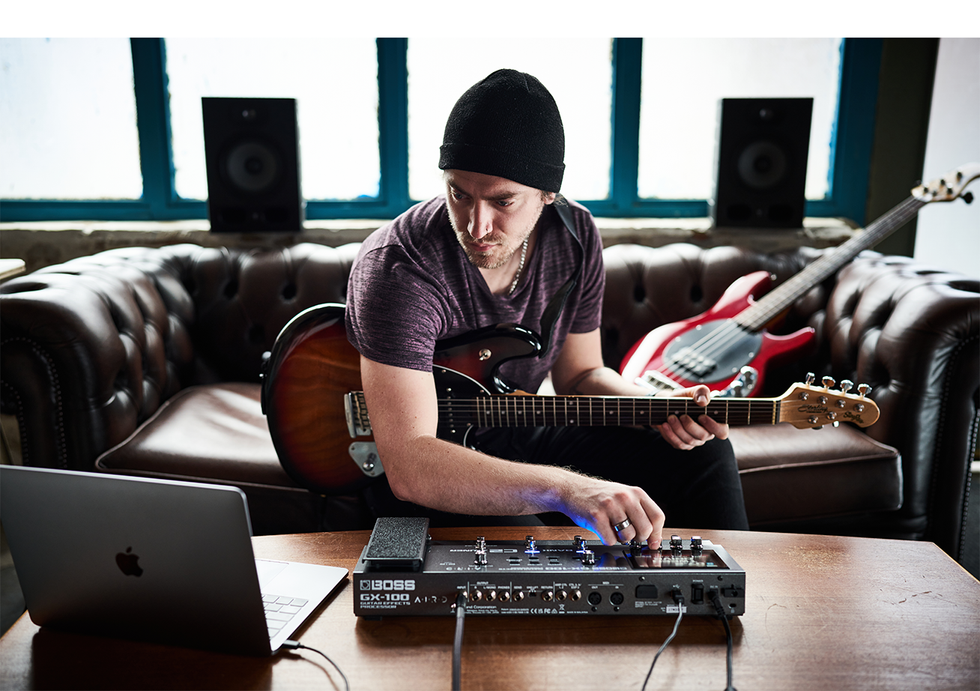 Fusing advanced BOSS tone technologies into a modern hardware design, the GX-100 delivers premium sound and ultra-intuitive operation with a vivid color touch display. It features 23 AIRD amplifiers and over 150 effects derived from the flagship GT-1000, up to 15 simultaneous effect blocks, and deep real-time command via onboard footswitches, an expression pedal, and external control support.
The GX-100 features eight custom footswitches and an expression pedal with toe switch that can be assigned to control nearly any parameter. Switching into Manual mode provides direct stompbox-like control, and players can go even further with external control via footswitches, an expression pedal, or MIDI. There's also a jack to remotely switch amplifier channels with memory selection or an assigned footswitch.
In addition to stage use, the GX-100 works as a USB audio interface for recording and performing with a computer. There's also a headphones jack for quiet practice, plus an onboard looper for jamming, developing sounds and ideas, and performing. Using BOSS Tone Studio for macOS and Windows, players can tweak every GX-100 parameter, save sounds, and organize Live Sets for different gigs from a computer. And with the optional Bluetooth® Audio MIDI Dual Adaptor, it's possible to wirelessly connect with a mobile device to adjust settings on-the-gig from the BOSS Tone Studio app and stream backing music through the GX-100.
BOSS GX-100 Guitar Effects Processor with Color Touch Display
The BOSS GX-100 Guitar Effects Processor is currently available in the U.S. for $599.99. To learn more about the GX-100 Guitar Effects Processor, visit www.boss.info.