Epiphone Introduces the Joan Jett Olympic Special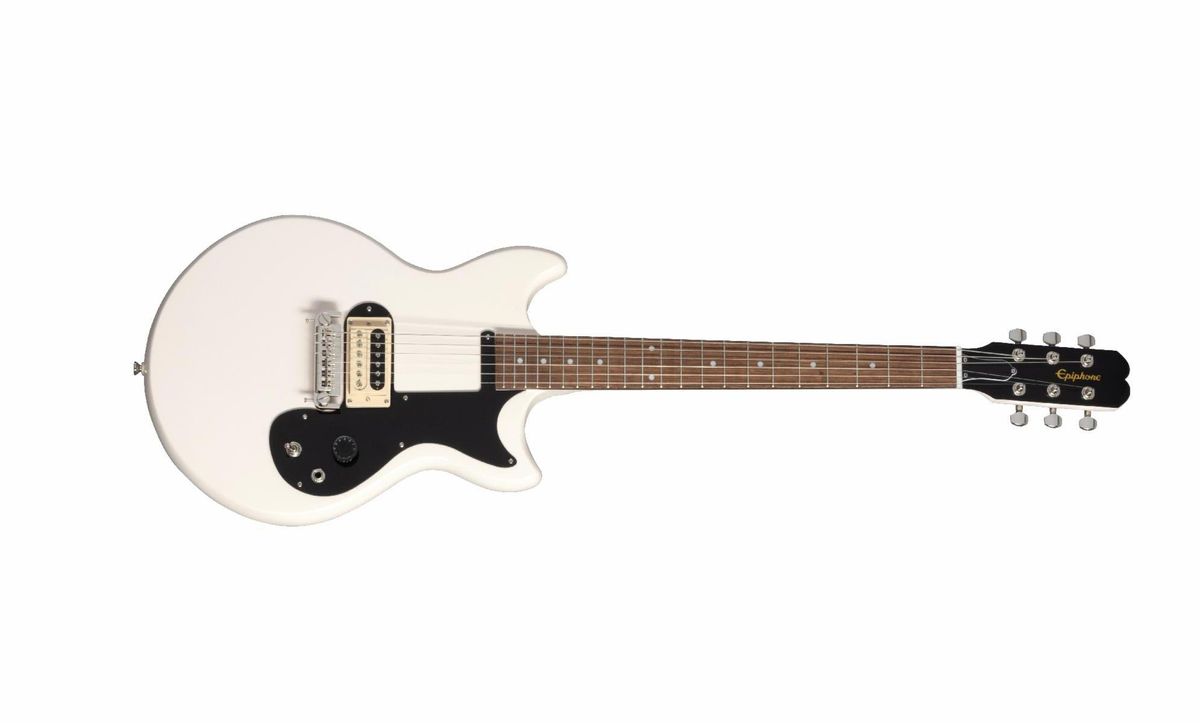 Epiphone recreates Joan Jett's favorite stage guitar, offering a lightweight, stage-ready instrument with a PowerHammer PRO humbucker and signature "Kill Switch" toggle.
---
To celebrate the 40th anniversary of her landmark albums 'Bad Reputation' and 'I Love Rock 'n Roll,' Joan Jett and Epiphone have collaborated to bring to life her Olympic Special guitar in Aged Classic White. The first female with a Gibson electric signature model, Joan Jett has inspired countless musicians worldwide with her artistic vision and pioneering spirit.
The Joan Jett Olympic Special is a lightweight, stage-ready powerhouse with all the essentials you need to rock. It features a single PowerHammer PRO humbucker wired to a single CTS volume potentiometer. The single black Speed-style volume knob has a rubber grip band for precision control. An on/off toggle switch provides a "kill switch."
The adjustable wraparound bridge/tailpiece delivers full intonation adjustability and anchors solidly to the mahogany body for excellent sustain. Die-cast tuners and a Graph Tech nut anchor down the strings at the other end, and a reproduction of Joan's signature is located on the rear of the classic Olympic Special headstock. A custom premium gig bag is included.
Joan Jett grew up during a time when rock 'n' roll was off limits to girls and women, but as a teenager, she promptly blew the door to the boys' club right off its hinges. After forming her band, the Blackhearts in 1979, with whom Jett has become a Rock and Roll Hall of Fame inductee, she has had eight platinum and gold albums and nine Top 40 singles, including the classics "Bad Reputation," "I Love Rock 'N' Roll," "I Hate Myself For Loving You," and "Crimson and Clover." With a career that has spanned music, film, television, Broadway, and humanitarianism, Joan Jett remains a potent force and inspiration to generations of fans.
Joan Jett Olympic Special Limited Epiphone
The Epiphone Joan Jett Olympic Special is now available worldwide. For more information visit any authorized Epiphone dealer, and: www.epiphone.com.