Eventide Unveils the Tricerachorus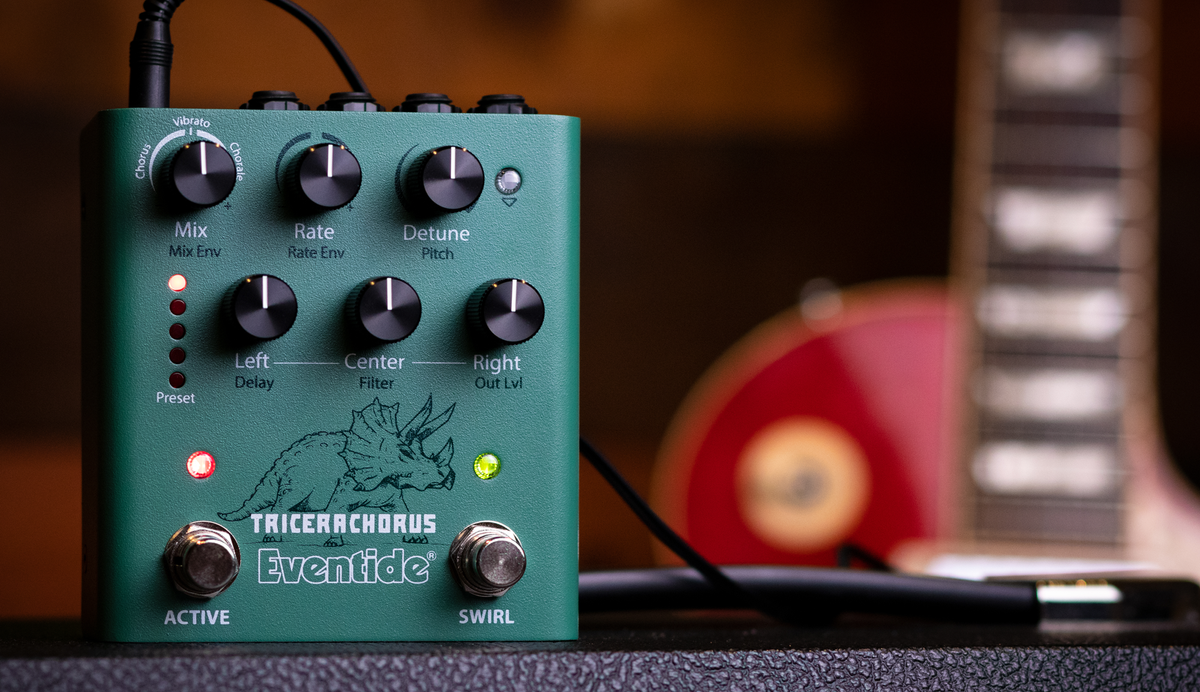 Inspired by the classic Tri-Stereo Chorus and stompbox choruses of the 1970s and early 1980s, Eventide Audio's new TriceraChorus pedal pairs stereo bucket brigade-style chorusing with their legendary MicroPitch detuning to create rich, deep, and lush modulation on guitar, bass, synths, strings and vocals. Joining Blackhole®, MicroPitch, and UltraTap as the fourth member of the dot9 pedal family, TriceraChorus features three chorus voices and three unique chorus effects which can be used to create a wide stereo spread with pulsing waves of modulation.
---
A three-phase LFO modulates the delay times for the dot9 TriceraChorus pedal's three chorus voices – Left, Center, and Right – producing compelling movement across the stereo field. Combined, the three modulated delays create a huge wash of chorus reminiscent of sounds popularized in the 80's.
The Chorus effect within TriceraChorus produces a prototypical vintage Chorus sound. The Chorale effect, inspired by classic rackmount tri-chorus units, adds increased complexity and movement for a richer and larger texture, while Vibrato, as the name suggests, delivers a pulsing, warbly sound. Across all the voices and effects, detuning adds depth through subtle pitch shifting. The innovative Swirl footswitch adds psychedelic flanging, phasing and Univibe- style tones.
Five presets can be accessed directly from the pedal using the dual-action (momentary or latching) Active footswitch. Up to 127 presets in total can be stored under the hood with accessibility via MIDI or the Eventide Device Manager application (EDM) – a Windows PC or Apple Mac OSX application that also allows management of software updates and system settings. The TriceraChorus Catch-up mode helps dial in sounds when toggling between presets/parameters.
Any combination of TriceraChorus parameters can be mapped for expression pedal control via the rear panel Exp jack. Alternately the jack can be used to connect an external single Aux switch or a triple Aux switch for easy preset changing (up/down/load), as well as allowing MIDI over TRS control capabilities. Multiple bypass options are available – Buffered, Relay, DSP+FX or Kill Dry. The rear panel USB jack provides a connection to a computer for use with EDM and for MIDI over USB control. The Guitar/Line Level switch allows level-matching with guitars, synths,
FX loops or DAW interfaces. The rugged, gig-ready TriceraChorus pedal also features mono/stereo ins and outs. The TriceraChorus pedal is available for $299 (MSRP) from Eventide dealers worldwide.
For more information:
Eventide