Fender Honors Steve Lacy with Signature "People Pleaser" Stratocaster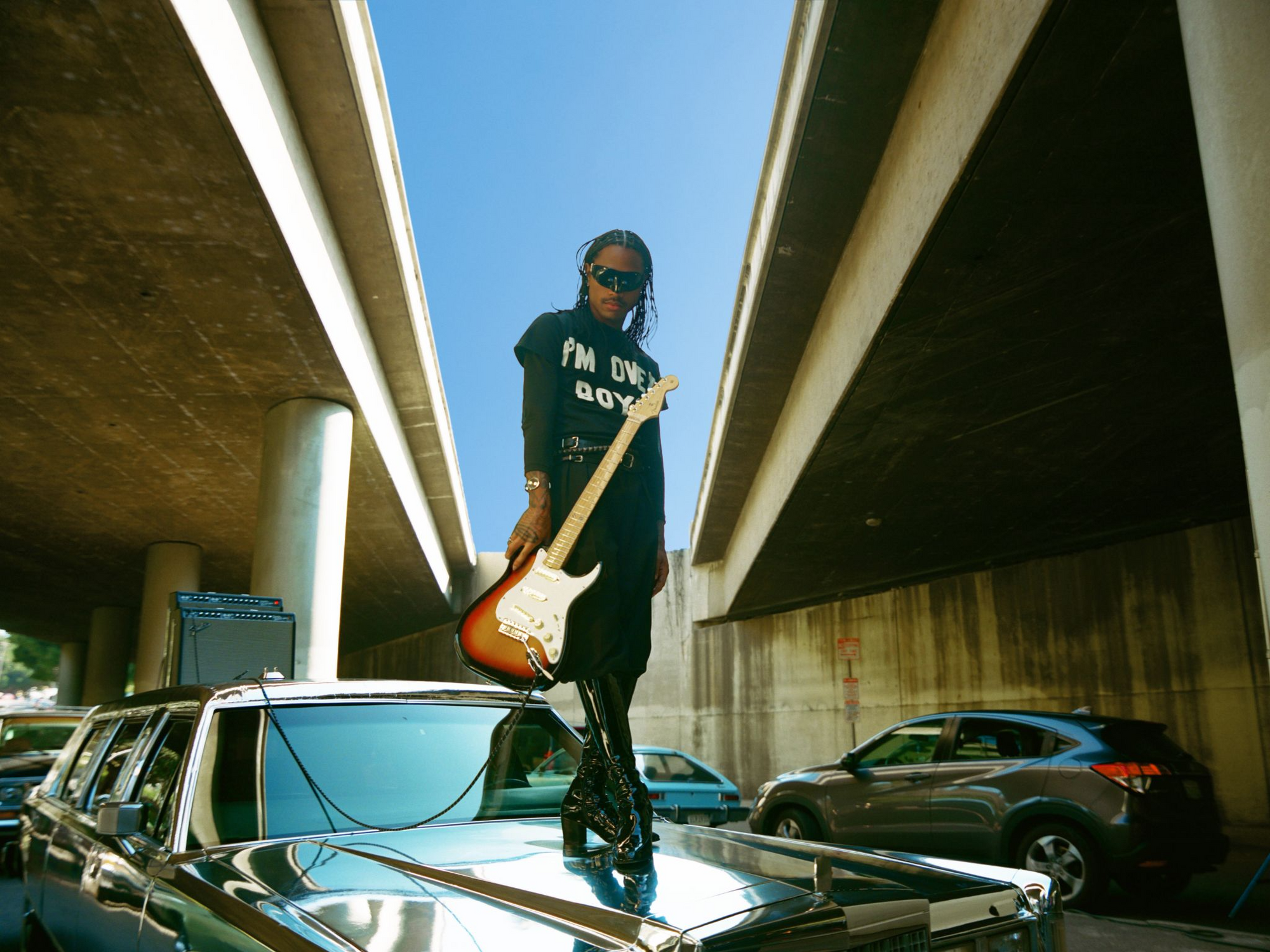 This signature Stratocaster guitar is not only an homage to a player whose guitar-playing style is as technically proficient as it is emotionally evocative, but a celebration of Lacy's indelible impact on culture at large.
---
Fender Musical Instruments Corporation(FMIC) today announces the launch of the Steve Lacy "People Pleaser" Stratocaster, a collaboration with California-born-and-raised Grammy-winning artist, guitarist, songwriter, and producer Steve Lacy. This Signature Stratocaster guitar is not only an homage to a player whose guitar-playing style is as technically proficient as it is emotionally evocative, but a celebration of Lacy's indelible impact on culture at large. Named for his trailblazing reputation, crowd-pleasing sounds, and stage looks, the "People Pleaser" Stratocaster showcases Lacy's evolution from a hungry musician into a chart-topping artist and guitarist.
Rising to fame in 2015 as part of the alternative R&B and soul band THE INTERNET, the singer/songwriter, guitarist, and producer has established himself as one of the music industry's foremost innovators–blurring genre lines while keeping a keen focus on expressive musicianship. Since his earliest days, Lacy has collaborated with notable artists such as Kendrick Lamar, J. Cole, Solange, and Vampire Weekend, and has made a name for himself in the couture world when he walked the runway for high-end fashion houses including Louis Vuitton and Gucci. Lacy's first chart-topping solo hit, "Bad Habit," was released in 2022 as the lead single from his Grammy-winning second studio album Gemini Rights. Now, marking the next milestone of his career, Lacy's signature Fender Stratocaster combines his stylish swagger and undeniable musicality, celebrating a career built on subverting expectations and inspiring a new generation to challenge conformity and establish a sonic palette entirely their own.
"This guitar means so much to me. It's a full-circle moment. My first guitar was a Squier Strat. It was the box set that came with an amp, case, quarter inch-the whole 9. Now I have my very own FenderStratocaster guitar," said Steve Lacy. "The People Pleaser Strat, in a nutshell, is my dream guitar as a kid when I first started playing and my dream guitar as the guitarist I am today. An ode to the old classic design that Fender is known for with all the new specs that make a guitar feel like home. I hope everyone gets to experience the feeling of this guitar. I'm excited to see what people make with it."
The "People Pleaser" Stratocaster is designed with a keen focus on innovation and disruption. Lacy's playing is rooted in robust melody and razor-sharp technicality, but his chord changes and lead playing never conform to any tropes or norms. Thanks to the People Pleaser's broad tonal range and clear, crisp sound, guitarists everywhere can tap into that same boundless creative space that has made Lacy the eminent artist he is today. The soul of the instrument is its magical combination of Player Plus Noiseless pickups and onboard custom-voiced Fuzz circuit, which can create classic dirty tones ranging from overdrive to all-out fuzz. Raw and gritty with heavy distortion and rich harmonics, the custom-voiced Steve Lacy Chaos Fuzz circuit is both aggressive and expressive with sparking crystal-clear high ends, throaty mids, and taut deep lows. Whether you are seeking to emulate Lacy's warm, oaky timbres and smooth chords or conjure your own personal chaos with the expressive Fuzz circuit, The Steve Lacy "People Pleaser" Stratocaster keeps your guitar at the forefront of the music-making process.
Finished in a brand-new "Chaos Burst" finish that Steve dreamed up, the unique colorway is an embodiment of the guitarist's extraordinary tones. Modeled after Steve's favorite vintage Fender®guitars, the "People Pleaser" Stratocaster®features hallmark Fender design elements from its alder body and synchronized-tremolo to capture the ineffable magic of a well-worn instrument, though it's also loaded with modernized features players seek to create their own singular sound. Giving the instrument a distinctly personal feel, the custom neck plate is stamped with Steve's original artwork and the backplate has a unique blue and green checkered pattern, which ties the vibrant model together. Finally, a custom dice inlay provides a subtle, visual motif to denote Steve's signature touch. Ahead of its official debut, eagle-eyed fans even caught a glimpse of the signature guitar during his recent SNL and Grammys performances, as well as on stage at his latest tour.
In true tradition, Fender's Artist Signature Series honors iconic musicians through product progression and storytelling, creating instruments inspired by the unique specifications of the world's greatest guitarists and bassists. "We aimed to design a guitar that not only represents Fender's unwavering dedication to quality but also mirrors Steve's distinctive character and individuality," said Justin Norvell, EVP of Product at FMIC. "Steve is a longtime collaborator and fan of the brand, and Fender is proud to introduce one of our most innovative designs to date, which includes a brand-new chaos burst finish, that matches his eclectic personality, and a powerful integrated custom-voiced fuzz circuit, that delivers aggressive distorted tones for howling chords and solos."
To celebrate the launch of the Steve Lacy "People Pleaser" Stratocaster®, Fender created a multi-faceted campaign including out-of-home elements that exemplify Steve's impact on culture, a first for the brand. Residents and music fans in Los Angeles, New York, and London can expect to catch wild postings advertising the signature model at some of the busiest intersections in their cities for the next three weeks. Those attending concerts put on by Live Nation in Los Angeles and New York will have the opportunity to catch ads showcasing the "People Pleaser" across 33 shows. New Yorkers can see ads on 85 LinkNYC boards around music venues and stores throughout Manhattan and Brooklyn, while in Los Angeles, Steve will grace one of the city's largest digital billboards, located blocks from the Crypto.com arena.
Additionally, the campaign will kick off with a stylized visual, starring Steve and his signature model guitar. Filmed by videographer Tino Shaedler, and photographed by previous Steve Lacy collaborator, Mason Rose, 'THE PEOPLE PLEASER' film commemorates Steve's knack for being a crowd pleaser with his bona fide stylistic choices in sound and dress. The film also underlines Fender's withstanding ability to delight the next generation of guitar players in unexpected ways and create models that champion style, without sacrificing the brand's quintessential quality or sound.
"Steve's unique sound and style have distinguished him as one of the leading artists of the new generation, who keep the guitar's role in music and culture exciting and relevant," stated Evan Jones, the Chief Marketing Officer at FMIC. "Inspired by Steve, the 'People Pleaser' Stratocaster is designed to captivate audiences and appeal to guitarists seeking a unique instrument that stands out in their collection."

MSRP: $1,399.99 USD
For more information, please visit fender.com.
Exploring the Steve Lacy "People Pleaser" Stratocaster | Artist Signature Series | Fender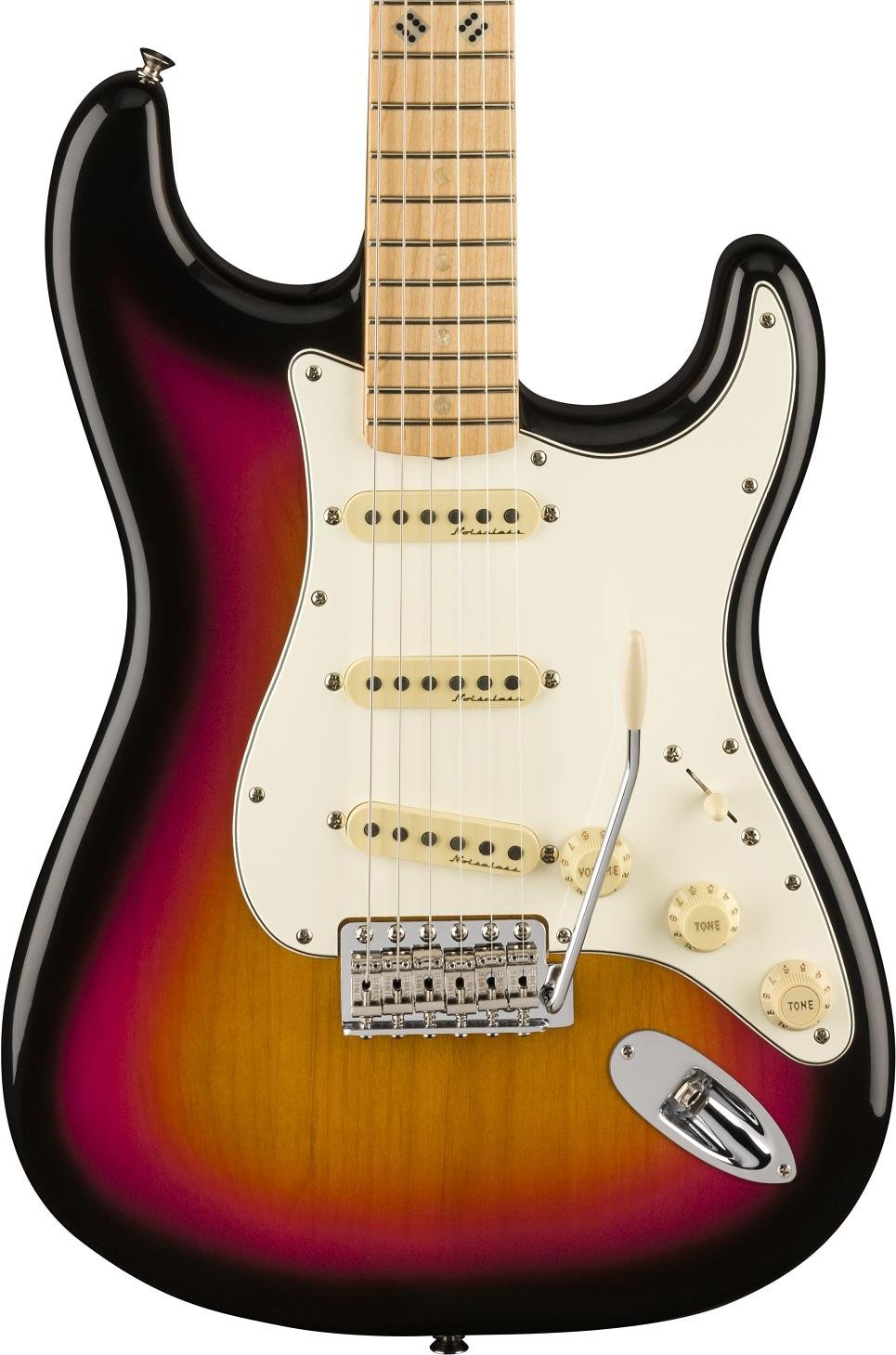 S. Lacy People Pleaser Strat, MF, Chs Brst
Fender