Kemper Unveils New Powered Cabinet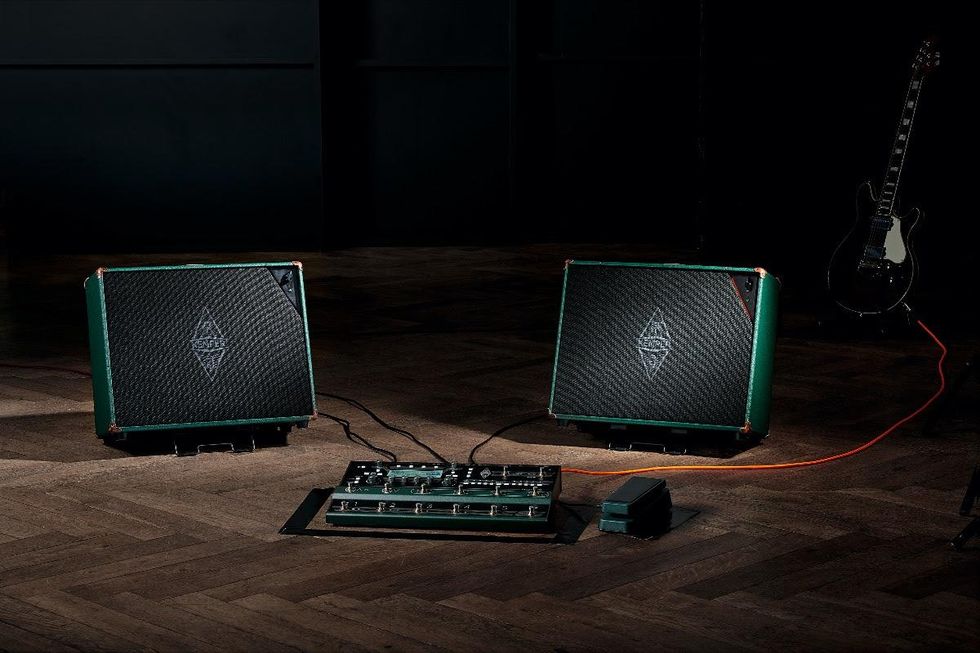 The Kemper Powered Kabinet packs a 200-watt power amp and is compatible with the company's speaker imprint technology
Kemper today announce the immediate availability of the new Kemper Power Kabinet. The powered version of the acclaimed and award-winning Kemper Kabinet features the new Kemper Kone speaker, a build-in 200 Watts power amp, and a smart, build-in speaker stand for a slanted setup.
---
The KEMPER Kone speaker is controlled and driven by the KEMPER PROFILER's DSP to provide a unique and versatile guitar monitoring system. Independent from the simultaneous full range feed to FOH and recording devices it features 19 included speaker imprints offering the finest choice of well-known guitar speakers from Celestion, and many renowned other classic brands, even rare and particular speakers. This setup guarantees for the best in class "amp in the room sound".
Alternatively on offer is an ultra-linear full-range mode. In contrast to the conventional idea of a full-range system, the KEMPER Kabinet sound carries a distinct guitar speaker character, unlike regular PA speakers or monitor speakers. To season the speaker behavior to the player's taste KEMPER offers the unique "Sweetening" and "Directivity" Parameters for detailed personal and location-dependent adjustment.
The KEMPER Power Kabinet is the perfect monitoring system for all owners of unpowered KEMPER PROFILERS (Head, Rack, and Stage). Various bundles will become available. Stereo setups supported.
The package contains the Power Kabinet, power cord, a protecting dust cover, and features a smart, build-in speaker stand for slanted setup.
Pricing and availability
The KEMPER Power Kabinet is available from the Kemper Online Store for Euro 689,- USD 789,- and GBP 500,-
SPECIFICATIONS
KEMPER Power Kabinet
Height: 43 cm (16.93 inches)
Width: 51,6 cm (20.31 inches)
Depth: 23,5 cm (9.06 inches)
Weight: 11,3 kg (24.91 pounds)
Poweramp output: 200 watts
For more information:
Kemper