Taylor Expands Its American Dream Series With New Sunburst Trio
The new guitars feature a hand-painted tobacco sunburst top, firestripe faux tortoiseshell pickguard and 4mm Italian acrylic dot fretboard inlays for a rootsy, vintage look.

---
The award-winning American Dream Series was first introduced in 2020 during the pandemic. The solid-wood, U.S.-made acoustic guitars were designed to deliver all the essentials of a premium acoustic guitar, with a thoughtfully streamlined appointment package to make the guitars more accessible during a time of economic uncertainty and increased consumer demand. Each American Dream guitar is voiced with Taylor's tone-enhancing V-Class® bracing system (and new C-Class® bracing for the AD11e-SB). Appointments on the new sunburst American Dream guitars support the rootsy, organic vibe, with black top purfling, a black/maple/black rosette, black satin tuners and a thin matte finish. Chamfered body edges add additional playing comfort alongside Taylor's ultra-playable necks.



AD11e-SB
The all-new AD11e-SB features the new Taylor Grand Theater (GT) body shape, which sports a comfortably downsized frame and scale length. Tonally, it's voiced with C-Class bracing (a variation on V-Class bracing) that enhances the low-end response to give the guitar the tonal depth of a full-size guitar. The new model includes a special 24-1/8" scale length and is strung with light-gauge D'Addario XS coated phosphor bronze strings. Starting at $1799.
AD12e-SB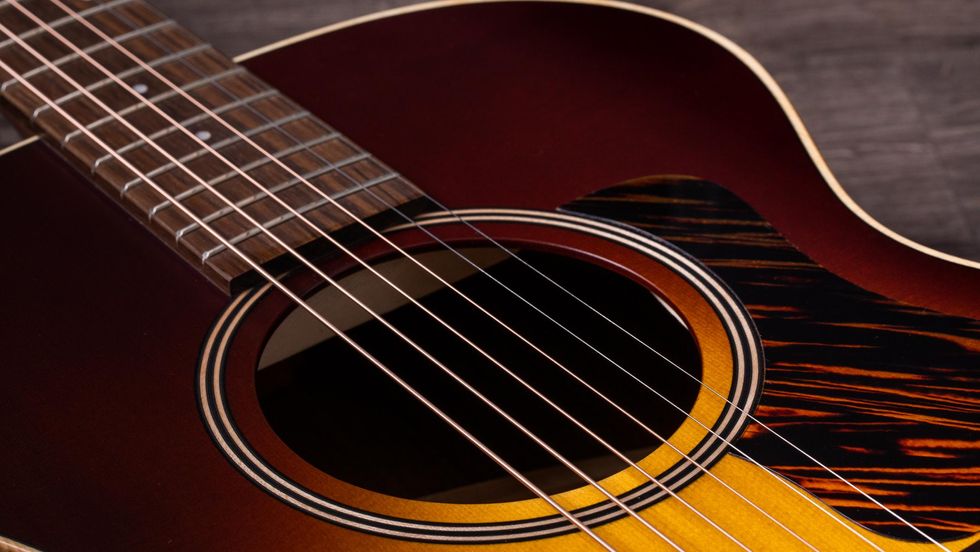 The AD12e-SB brings the first spruce-top Grand Concert to the American Dream Series. Powered by V-Class bracing, the clarity, responsiveness, and note-to-note definition of the compact body makes the AD12e-SB perfect for fingerstyle guitarists, nimble flatpickers, and recording applications. The guitar is strung with light-gauge D'Addario XS-coated phosphor bronze strings. Starting at $1999.
AD17e-SB
The AD17e-SB features Taylor's Grand Pacific body shape, a round-shoulder dreadnought inspired by classic acoustic guitar recordings. With a 25-½" scale length and medium-gauge, D'Addario XS coated phosphor bronze strings, this guitar is a midrange powerhouse that serves up seasoned tone without sacrificing balance or articulation. Starting at $1999.
Introducing New Sunburst American Dream Acoustic Guitars
The new sunburst American Dream guitars include Taylor's onboard ES2 electronics and a brown or gray AeroCase for convenient transportation.

For more information, please visit taylorguitars.com.