The green machine that haunted the pedalboards of mid-'00s experimentalists is back—better and smaller.
Loads of delay voices. Easy to jump in and get great sounds. Looper function is a classic.
Tweak and tweez functionalities leave a lot to memorize. Reverb functions could benefit from their own controls
5
4
4
5
Many guitarists reach a crossroads where they have to decide to either totally embrace their influences or shun them and find a new path. That applies to gear as well as playing style. Back in the mid '00s, the Line 6 DL4 started popping up on pedalboards and I ran away. Sure, its extensive array of delay options and cool looper function were tempting. But while forward-thinking artists like Bill Frisell, Mary Halvorson, Battles, Lightning Bolt, and Reggie Watts used this green beast to create the most compelling sounds, the DL4 became ubiquitous. For whatever reason, I—and plenty of players like me—avoided the pedal in an odd attempt to stay clear of a trend.
Fast forward to the present and the DL4 is a modern classic. Its ubiquity diminished as new fleets of modern digital pedals came along offering endless delay-based possibilities. And yet some players still hang onto their trusty green pedals, despite their clunky, anachronistic, pedalboard real estate-hogging enclosures. There must be something special there, right? Luckily for all of us—those who are new to the DL4 or those devotees who want some upgrades—Line 6 has delivered the thoroughly modern DL4 MkII, with all the sounds and functionality of the original and plenty more.
Modern Times
Most reissues of old classics come with some kind of caveat—maybe they lack the essential capacitors of the original, tape has been replaced with DSP, or it's a PCB version of a hand-wired circuit. A fun thing about the DL4 MkII is it's just an updated version of the original, so there's no compromising.
The MkII is immediately recognizable as a DL4, but it's a little slimmer and sleeker, and its matte finish seems to boast about its modernity. Of course, it still takes up a lot more space on a pedalboard than lots of delay units that perform similar functions. With only six knobs and four switches, plenty of other pedal designers would choose to squish things up into a smaller enclosure. There's a lot going on around back—stereo ins/outs, a mic in and level control, expression pedal out, MIDI in/out, micro SD slot (for saving loops and extending loop time), USB in, and power—so maybe that's why they need all that space. I prefer to think that the folks at Line 6 decided that players simply need more space to think. As soon as I got started, I noticed how luxurious it feels to step on the MkII's switches and not risk hitting another one by mistake. And grabbing the inset knobs doesn't require a lot of precision or dexterity, so on-the-fly changes are as smooth as can be.
In a world of complex pedals, the DL4 design seems simple. A single knob controls a menu of 30 delay sounds. 15 of these are new, and a "legacy" button switches the function of that knob so you can access the original 15 options. There is also, of course, a looper function. The time, repeats, and mix knobs function as advertised, while the tweak and tweez knobs change function depending upon the selected delay voice. With so many delay-voice options, there is a lot to internalize in those latter two knobs, and I found myself consulting the enclosed paper guide more than I'd like. I'm sure that over the course of continued use and a few gigs I'd memorize some settings for easier control. But the three preset switches offer good starting points that get you close to where you want to be. That should get you going with minimal tweaking/tweezing.
Instant Tones and More
As an inexperienced DL4 user, I was pleasantly surprised at how easy it was to find the sounds I associate with the pedal. I'm mostly talking about the looper function that is utilitarian by today's standards. Start/stop and overdubbing is simple, and the half-speed/reverse switch gave me insight into some of the most classic Frisell looping tricks.
I couldn't find a bad delay sound in the bunch. The glitch voice would fit nicely within a Daniel Lanois production and feels reminiscent of the underrated DL4 contemporary, the Boss Slicer (albeit with simpler controls). The tunable harmony voice is of the same milieu and I felt encouraged to attempt my best Terry Riley-on-guitar impression. The auto-vol voice is an approximation of a Slow Gear-style effect and delivers the same sort of kosmische-like bliss, but also found me attempting faux-pedal-steel things that are candy for my ears.
Those are some of the MkII's more experimental voices. Elsewhere, more straight-ahead delay tones such as the digital/vintage digital, analog mod, and lo res delay deliver exactly what they promise. Each is a unique voice that is easy to access and sounds solid across its settings.
I'm a purist when it comes to pedal design. And I prefer a pedal's functions to be visible and relatively easy to manipulate. When a pedal has a secret function, it can feel like a cute Easter-egg bonus feature rather than a practical one. The surprise here is that the MkII comes loaded with 15 secret reverb sounds, which is a lot of hidden functionality. While a big part of the charm of the pedal is its simple control set, an extra knob or two would make access to these reverb voices much easier. There are a lot of reverb sounds here to explore, and I was drawn to the ducking, particle verb, and searchlights settings, But, again, the hidden functionality meant I mostly used the delay functions I could see.
The Verdict 
The DL4 MkII is a fine update of a classic pedal. All the classic sounds are easily discoverable, as are all the new ones. The design is simple and easy to use. The hidden reverb function is a nice bonus, but it sounds so good that I'd like to use it more easily on the fly. That said, it's hard to fault this pedal for that one flaw. The MkII offers a load of functionality in one unit that will appeal to experimenters and those with simpler delay cravings. This green machine is a classic for a reason and the MkII is going to keep it that way.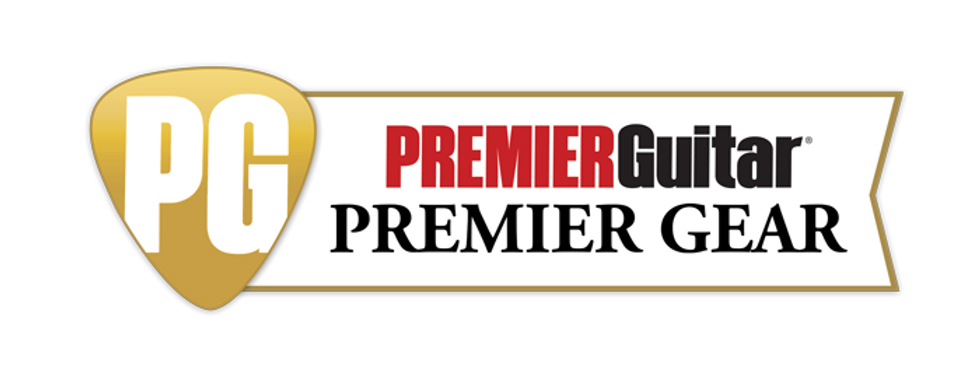 We polled our readers to find the coolest guitar shops in the US, and here are the first half of the results, in no particular order.
"We asked PG readers what is the coolest guitar shop they've been to in the US. And while long-gone favorites like Manny's Music (New York) and Black Market Music (San Francisco) came up again and again, there were even more current shops topping readers' favorites list. We compiled the 20 most mentioned stores and quickly realized there were too many great photos we'd have to cut in order to get them all in one gallery. So here's the first installment in no particular order. If you're wondering where your favorite is, it may be coming next time, or we might not be aware of it, so feel free to leave your faves in the comments section."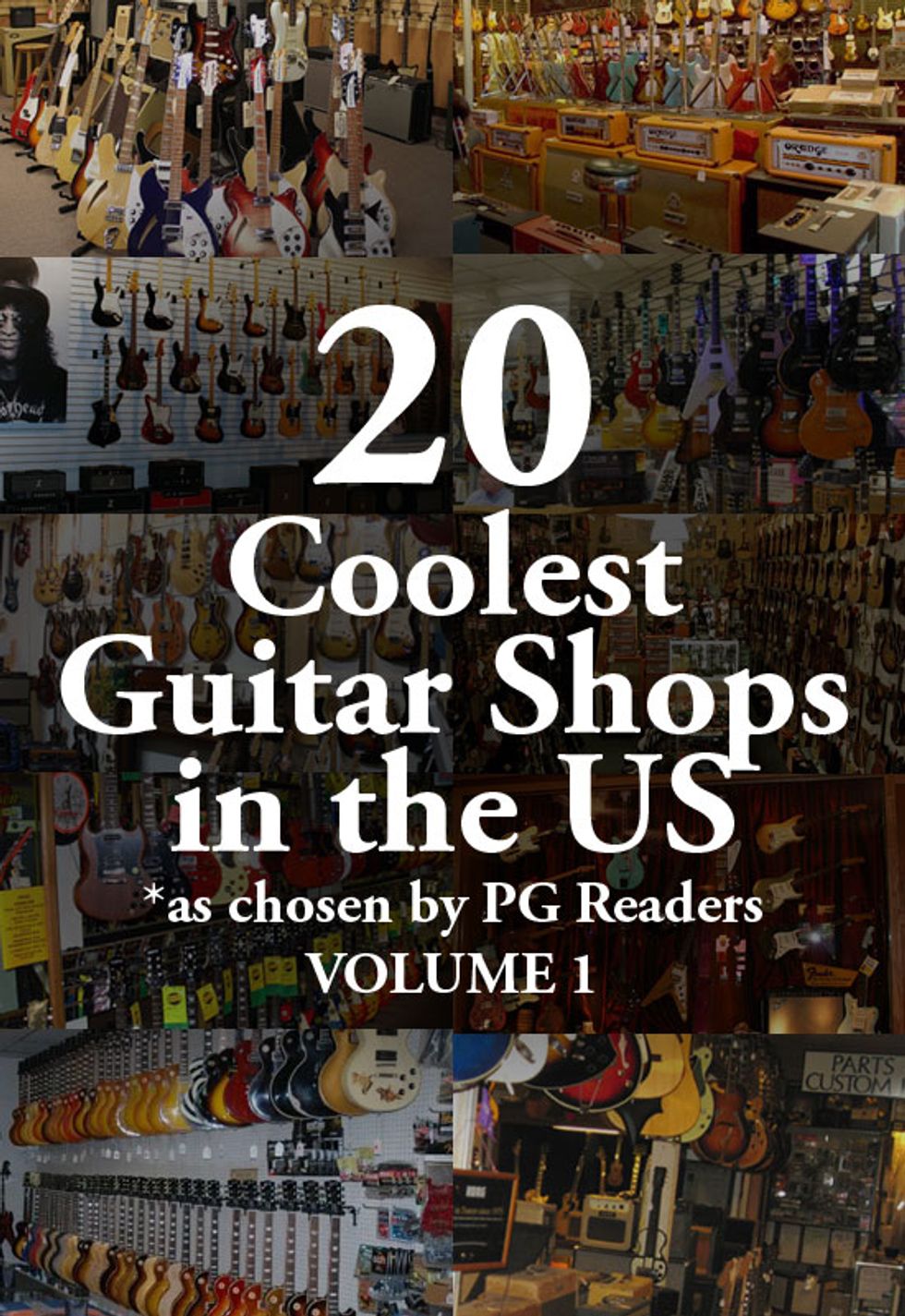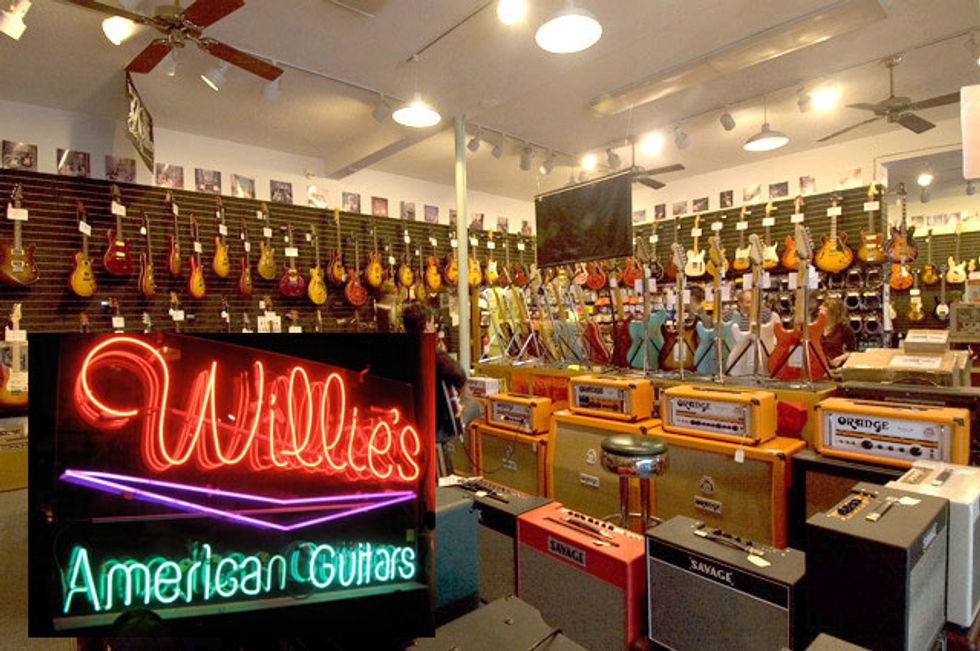 "By their own words, Willie's American Guitars says that, ""Cool used guitars is almost all we do."" However, in addition to vintage and high-end used instruments, Willie's stocks new gear from Fender, Gibson, Martin, PRS, Rickenbackers, and a slew of boutique amps and effects."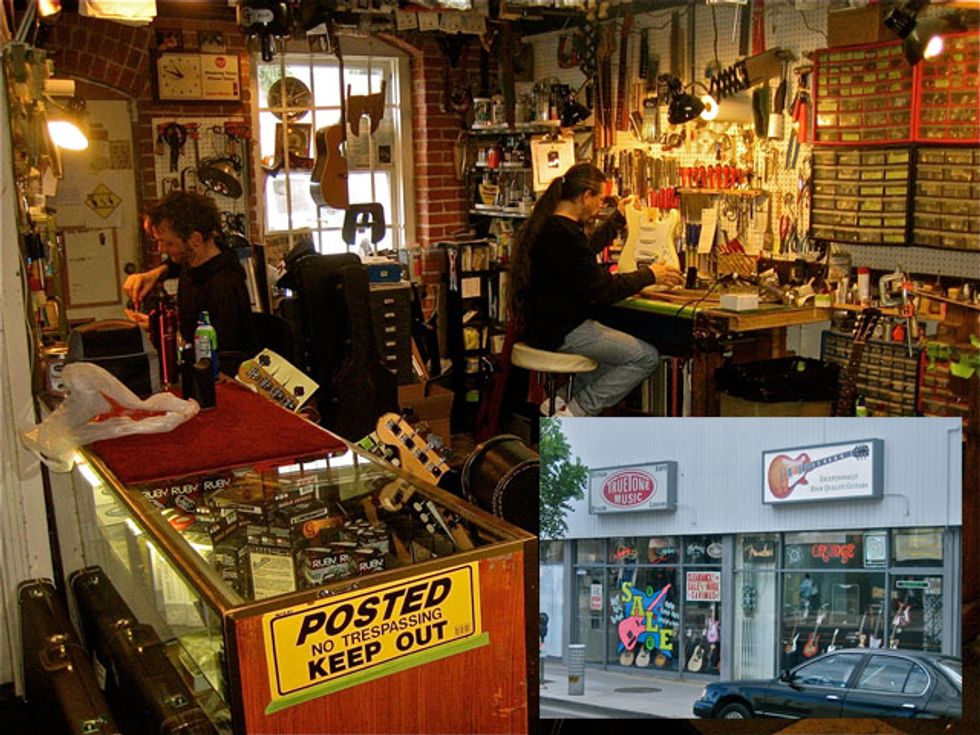 "Like many of the stores in our list, in addition to stocking a multitude of guitars, amps, and effects, TrueTone can service them as well."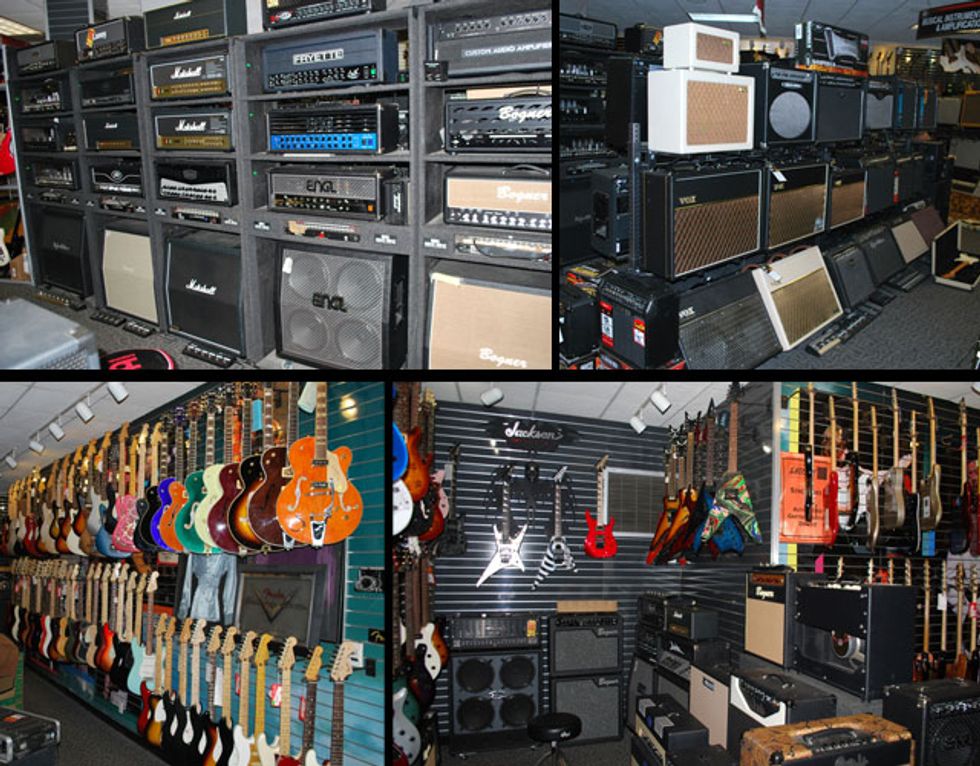 "Pictured is the store's range of amp heads (upper left), combos (upper right), Fender and Gretsch Custom Shop instruments (lower left) and the higher gain fare (lower right)."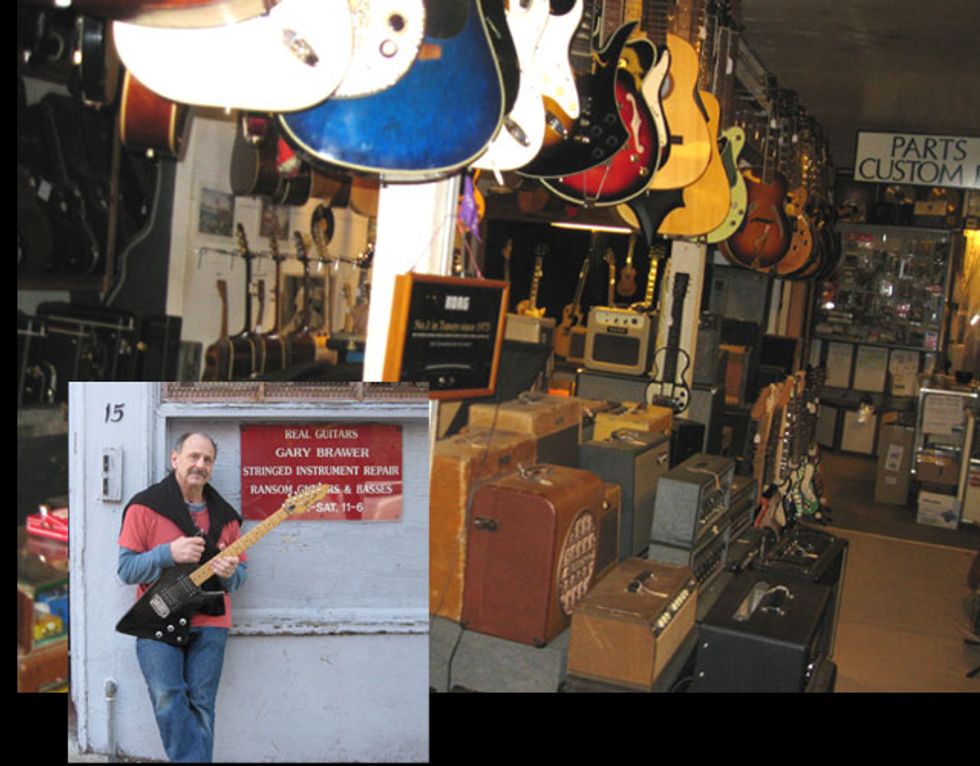 "San Francisco's oldest vintage guitar store, Real Guitars, has a reputation for being hard to find, but just call them and they'll guide you there! Pictured is the owner of Real Guitars, Chris Cobb, with a Peavey Razer. In addition to a great vintage selection, Real Guitars is home to noted repairman Gary Brawer's shop."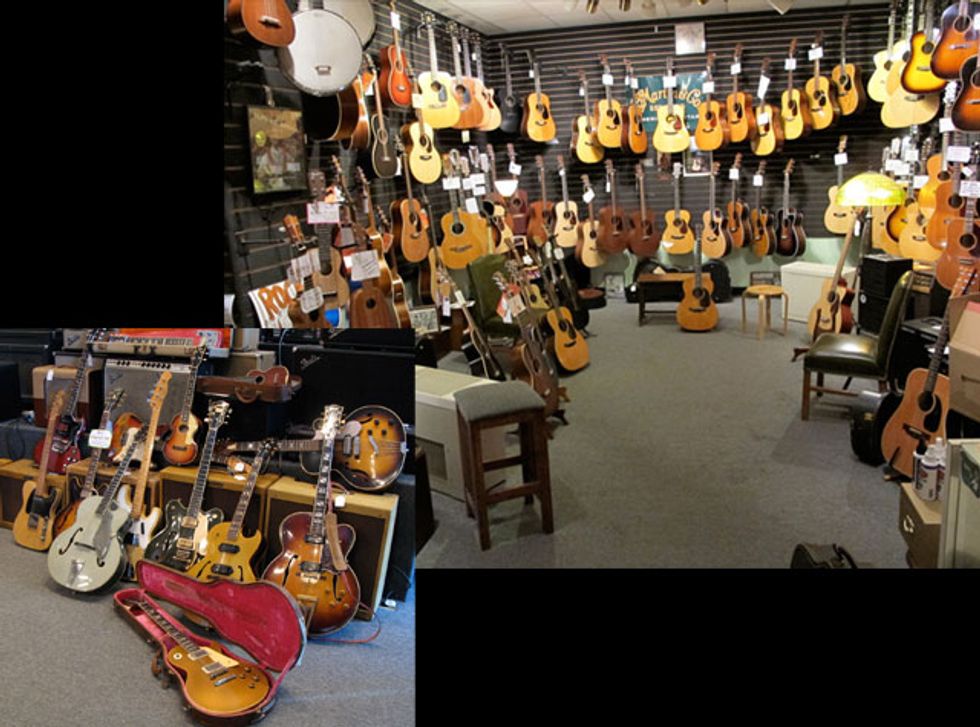 "As with the rest of the store, Willie's American Guitars' acoustic selection boasts vintage beauties and newer high-end instruments. Inset are some of the treasures found at Willie's, including a 1954 Gibson Les Paul Goldtop (refin)."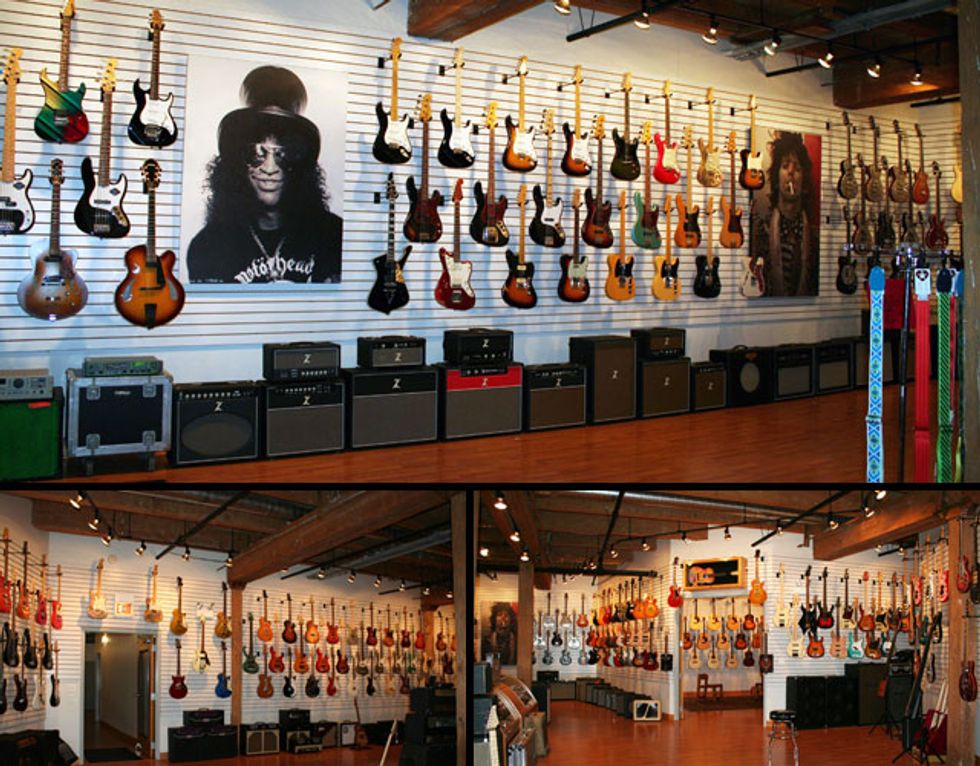 "Make'n Music has been a boutique dealer since 1973. Their open-style showroom is home to many high-end and boutique guitar, amp, and pedal brands, while soundproof demo rooms are available for testing gear."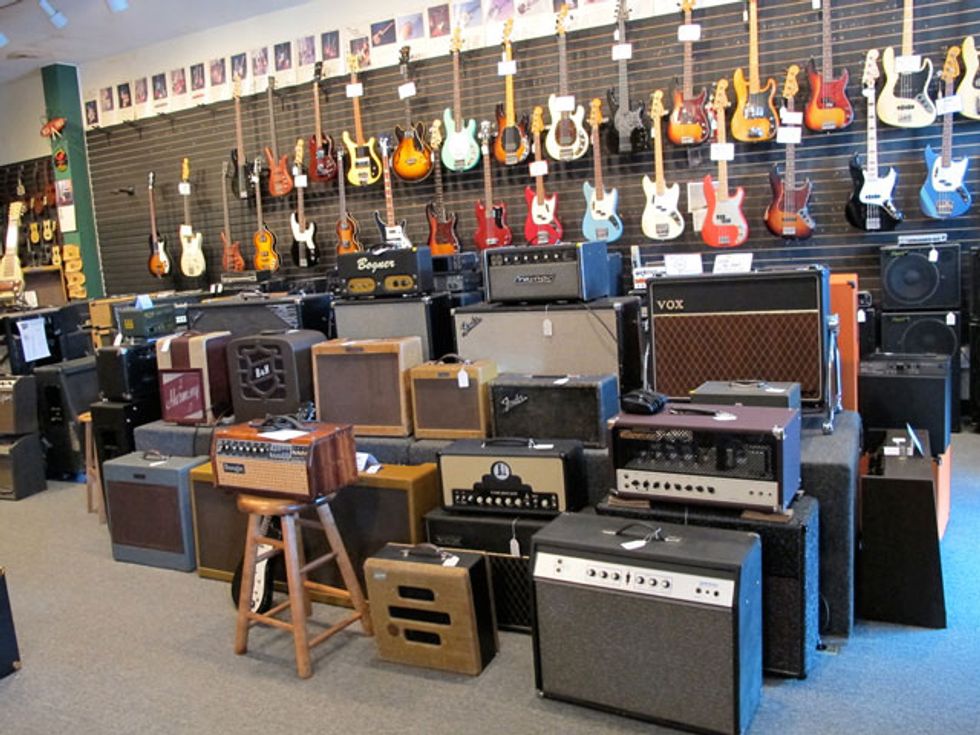 "Vintage and boutique coexist in Willie's amp selection, along with a variety of vintage and new basses."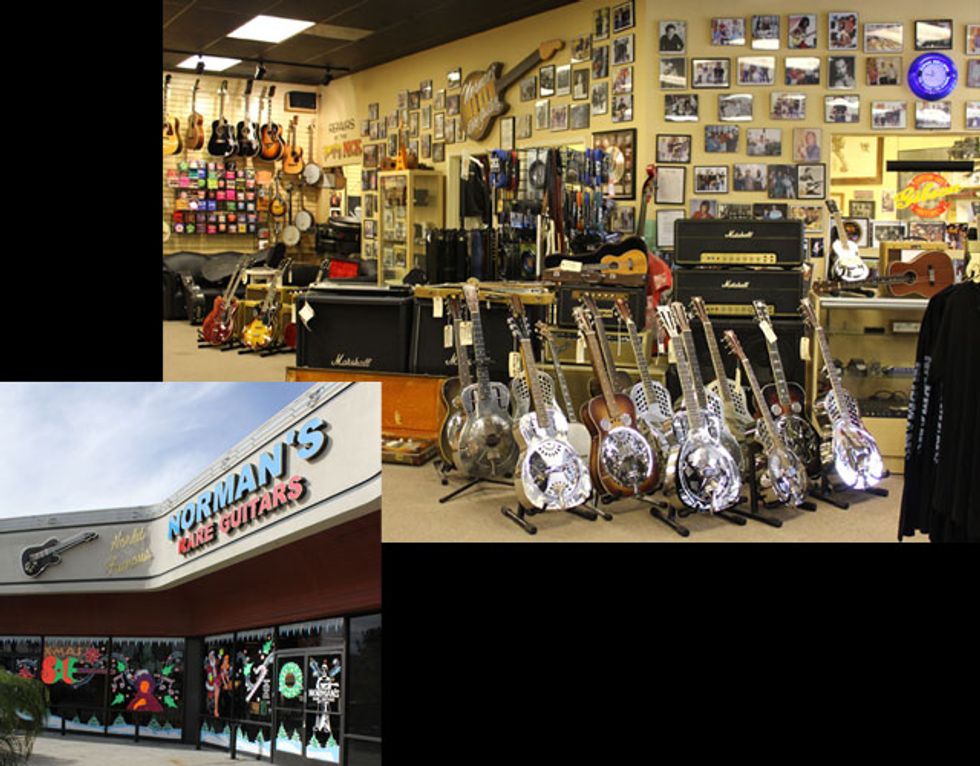 "Norman's Rare Guitars was opened in 1975, and has since grown to fame through a laundry list of famous patrons and t-shirt appearances in movies like ""Spinal Tap."" True to its name, Norman's stocks rare vintage instruments as well as new and used ones. "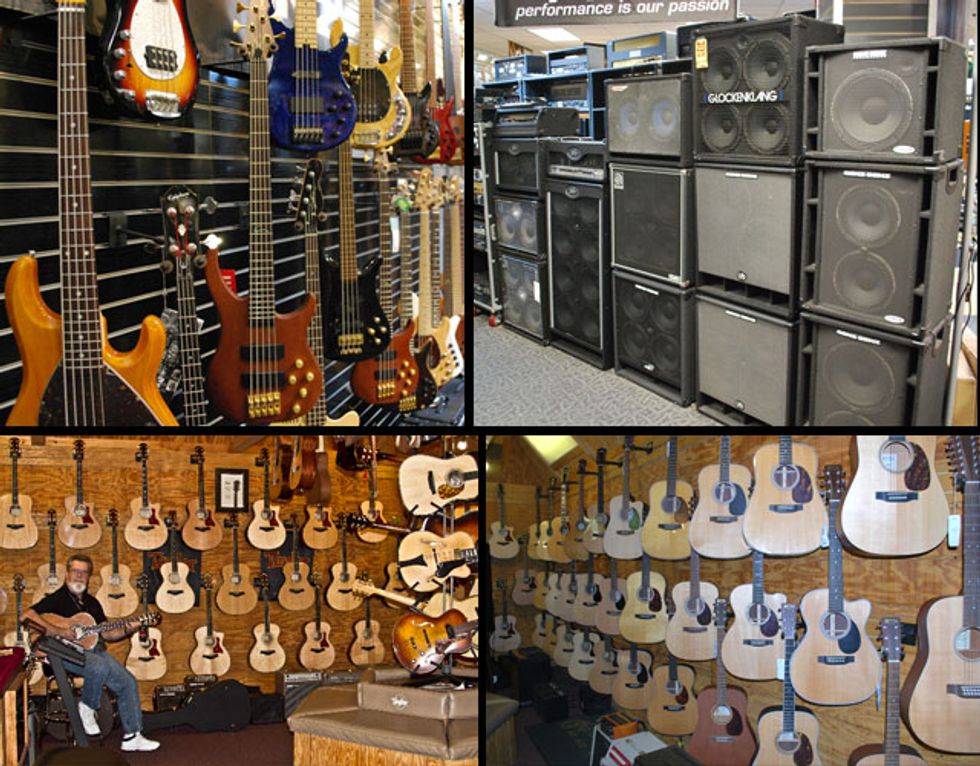 The store also stocks an impressive range of bass gear (top) and Taylor (lower left) and Martin (lower right) acoustics.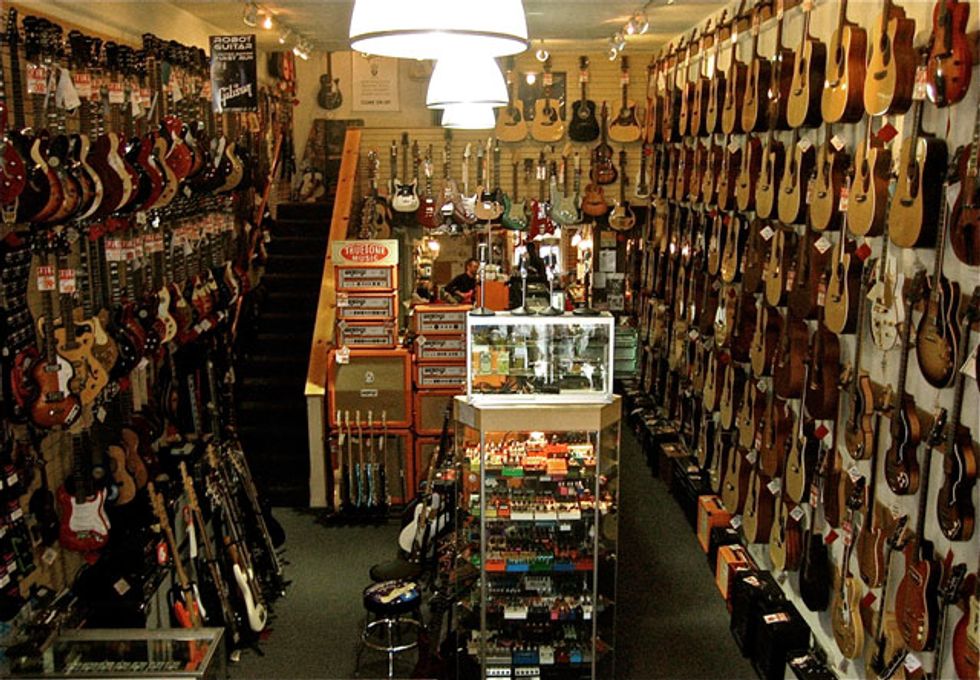 "A popular choice among the stars, TrueTone Music opened in 1996. The store stocks a wide range of big name and boutique guitars, amps, and effects. Guitar brands range from Airline to Daisy Rock to Italia to Music Man, Rickenbacker, James Trussart, and of course, Fender and Gibson. Their effects selection features all the boutique goodness a player can handle, ranging from Analog Man to Empress, Keeley, Red Witch, HomeBrew, and many more, with bigger names like MXR, Dunlop, Boss, and Electro-Harmonix represented as well."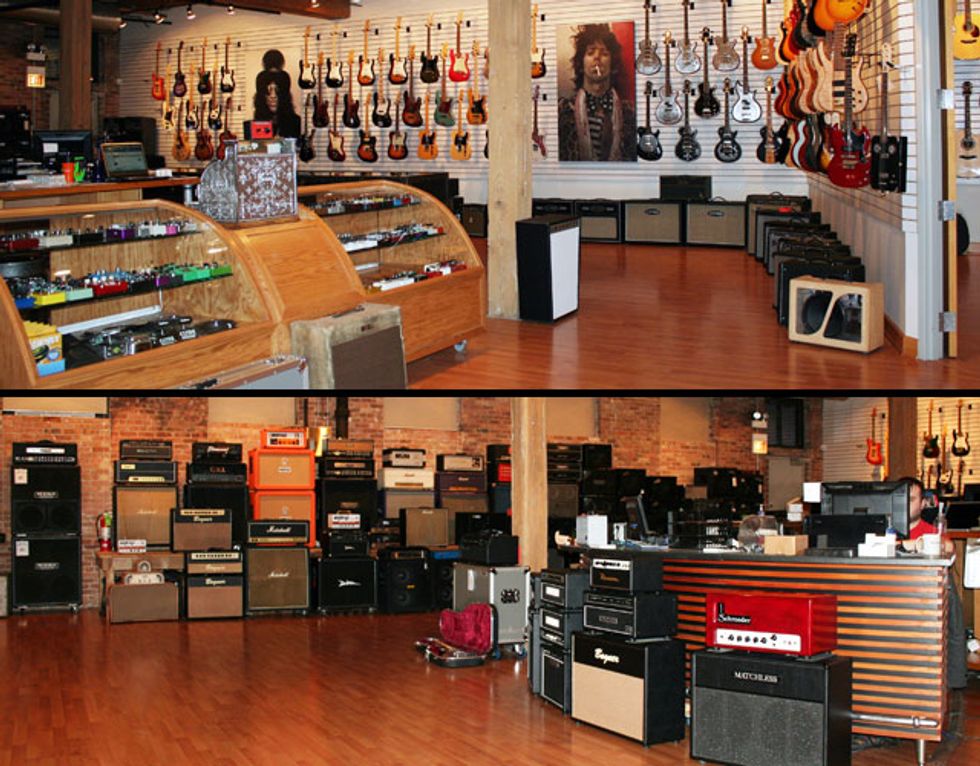 "Make'n Music's boutique amp selection includes a who's who of boutique builders: 65Amps, 3 Monkeys, Carol-Ann, Bogner, Diezel, Friedman, Dr. Z, Mad Professor, Louis Electric, Suhr, Victoria, and more. Their effects selection (encased in the glass counter) is equally high-end."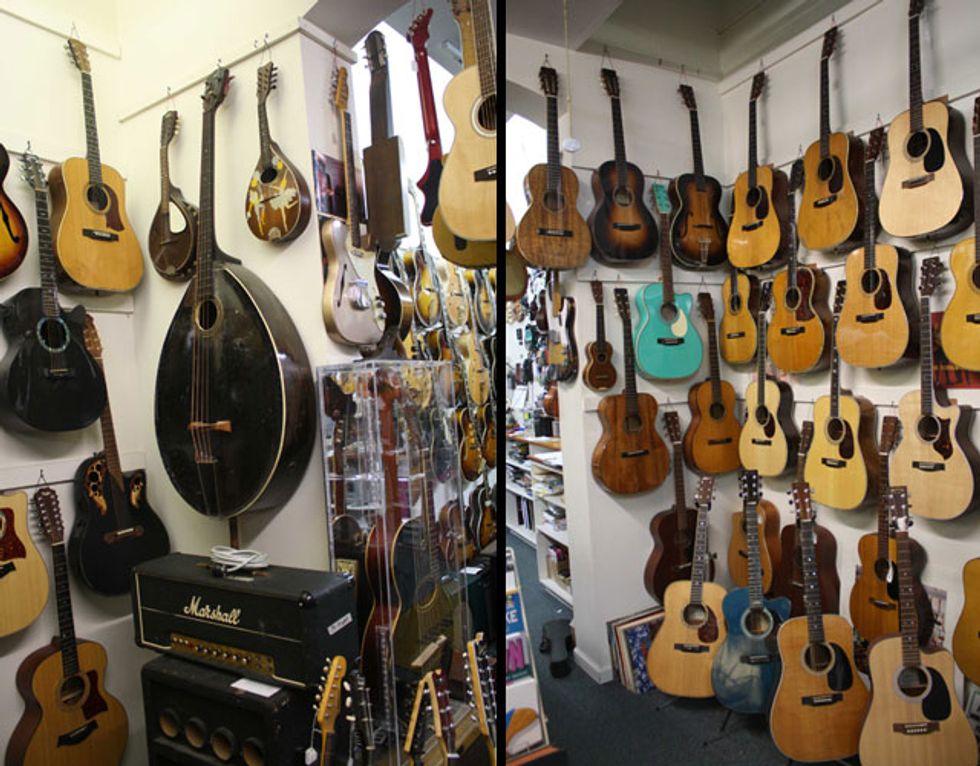 "In addition to those rarities, Lark Street specializes in acoustic instruments, and says they are about 50/50 split between electric and acoustic. They carry classic and new luthiers ranging from Martin and Collings to Mark Campellone and Brad Nickerson. "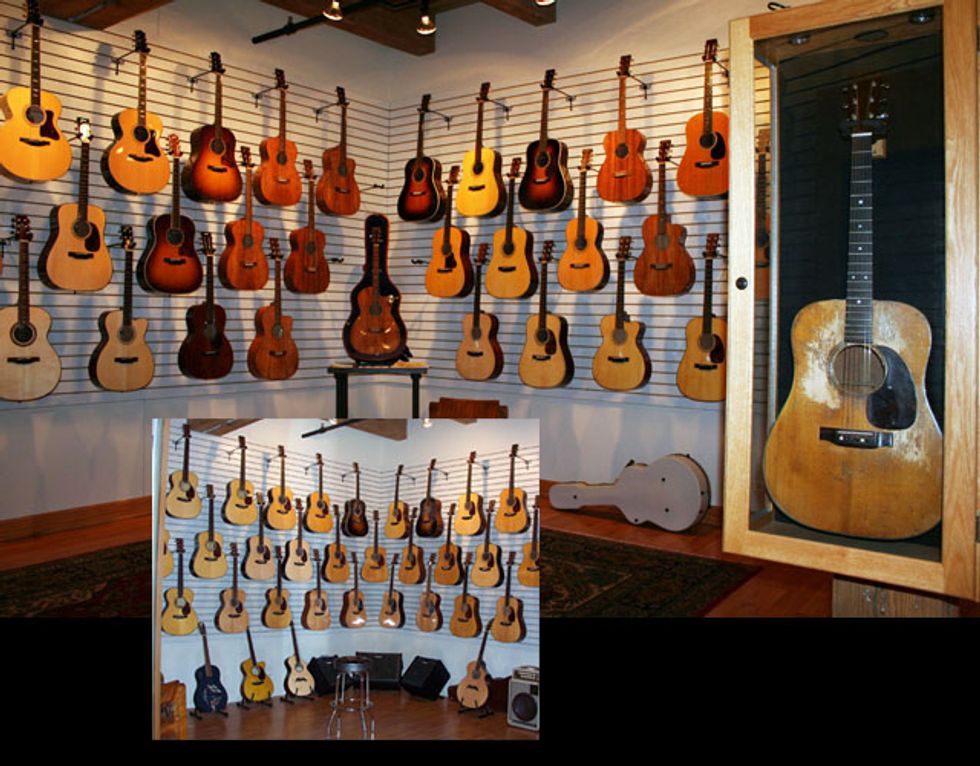 Make'n Music's acoustic rooms are stocked with boutique offerings as well.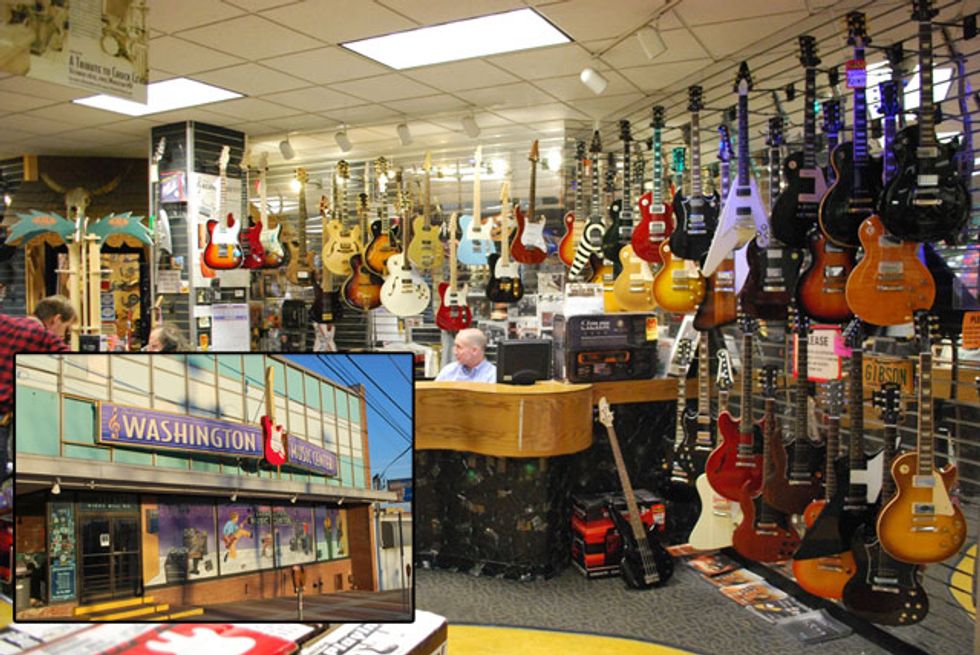 "Chuck Levin's Washington Music Center is one of the stores on our list that also does big business online. It was founded in 1960, and has grown to include three buildings and four warehouses of stock. In addition to guitar and bass gear, Chuck Levin's stocks drums, keyboards, pro audio, DJ, and band and orchestra instruments and gear."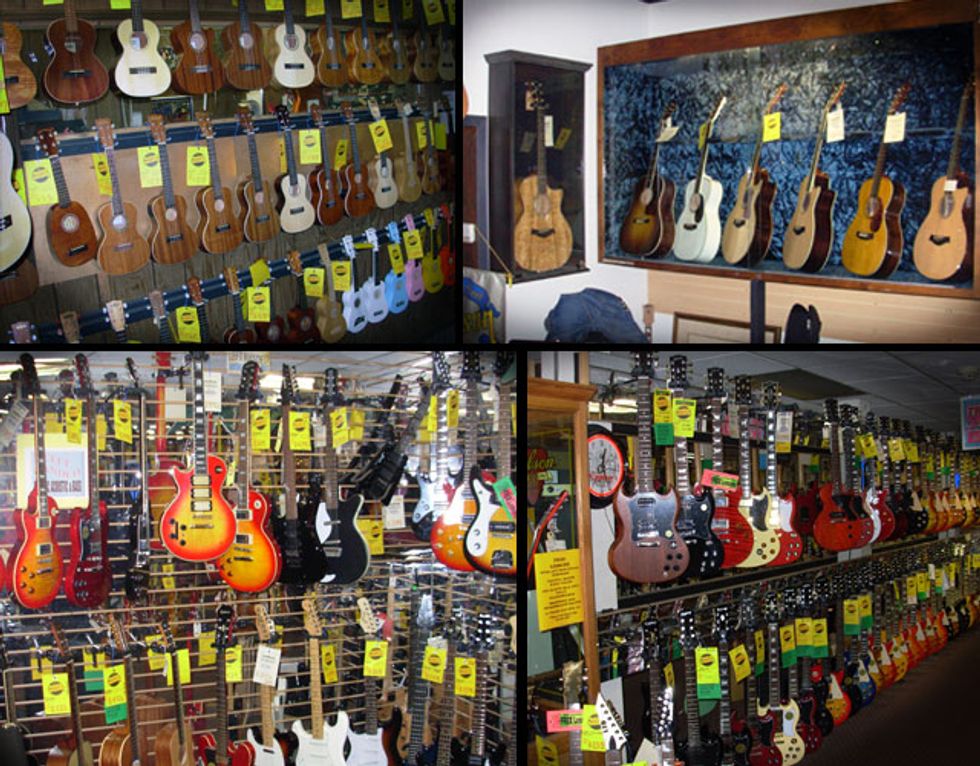 "Guitar Showcase's offerings run the gamut from a wide selection of ukes (upper left), to high-end acoustics (upper right), to a range of lefty guitars (lower left) and Gibsons (lower right). "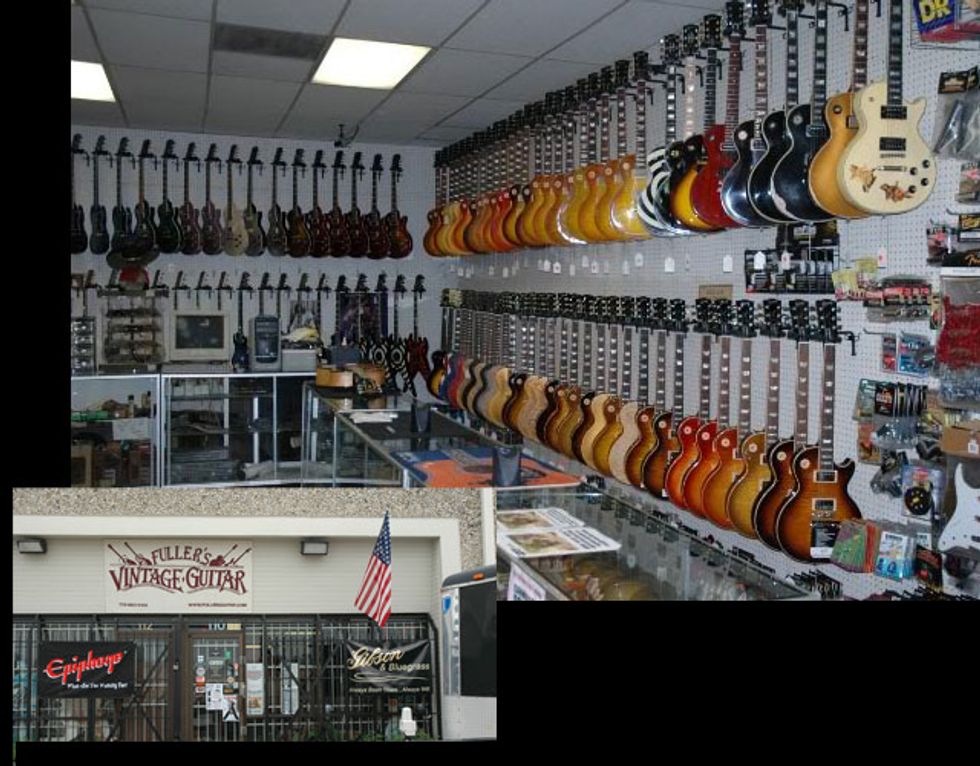 "Fuller's Vintage Guitar in Houston is known as Texas' largest guitar dealer. As seen as soon as you walk in, Fuller's stocks a wide range of Gibson, Gibson Custom Shop, and Epiphone instruments. They specialize in hard-to-get and limited-run Gisbon Custom Shop and Gibson Acoustic instruments."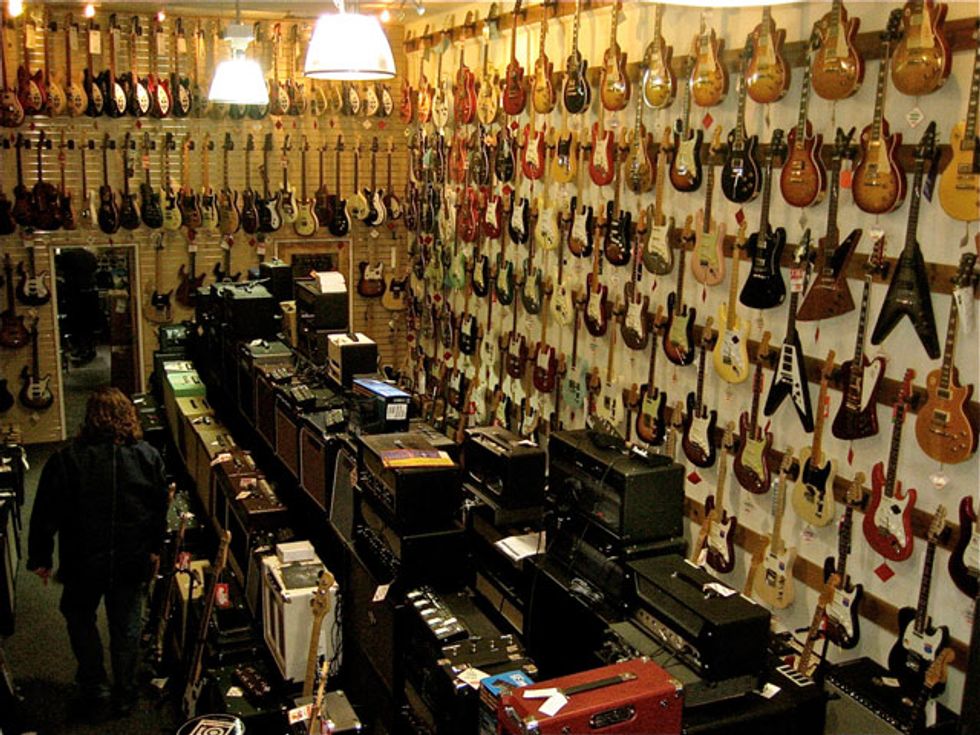 "TrueTone's amp selection includes Bad Cat, Divided by 13, Dr. Z, Hiwatt, Kustom, Orange, Rivera, 65Amps, and more."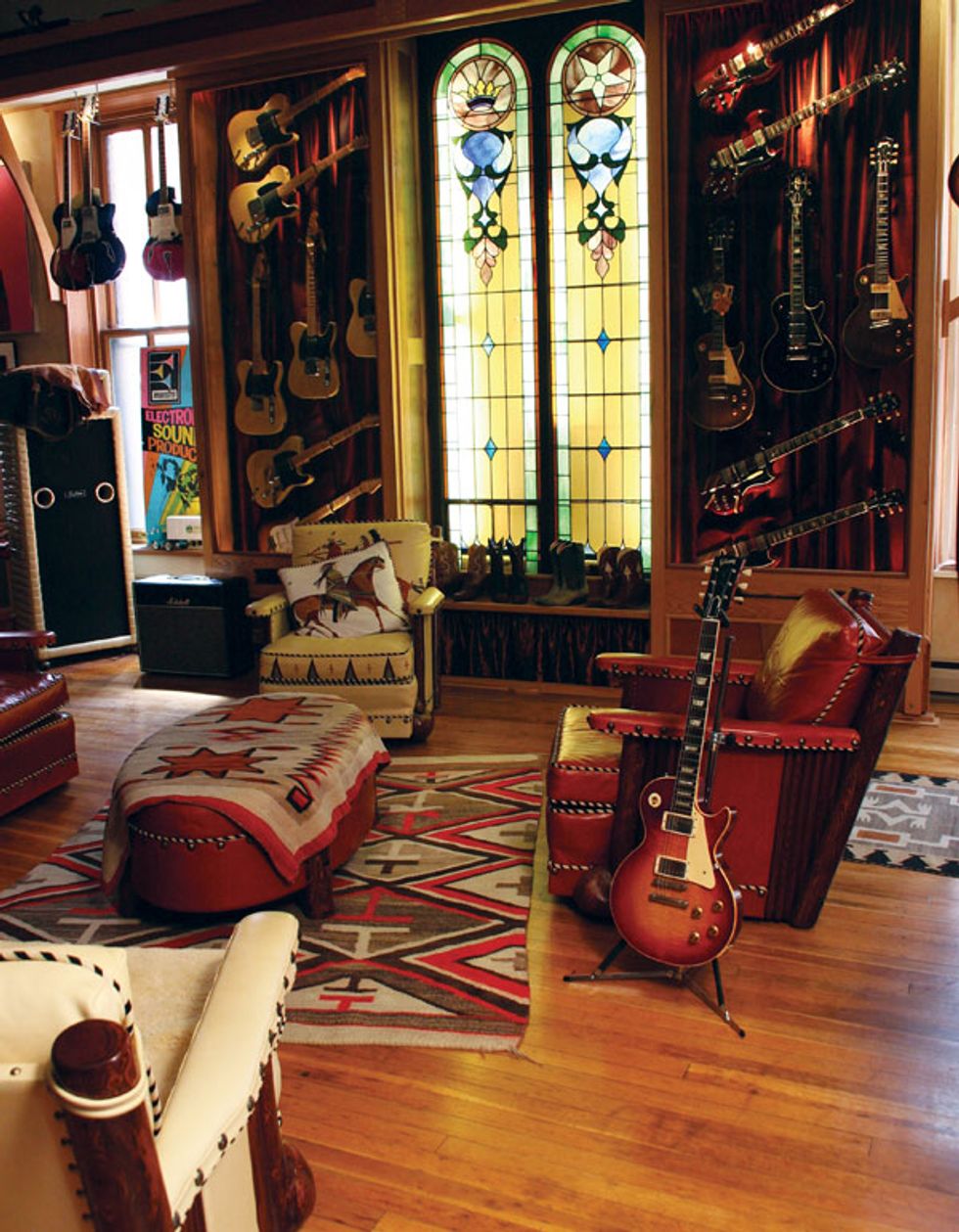 "Rumble Seat Music is unique in that it stocks both high-end and vintage guitars and premium Native American art and products as well as vintage western wear. The store specializes in vintage holy grail-era guitars, and currently stocks two '59 Bursts."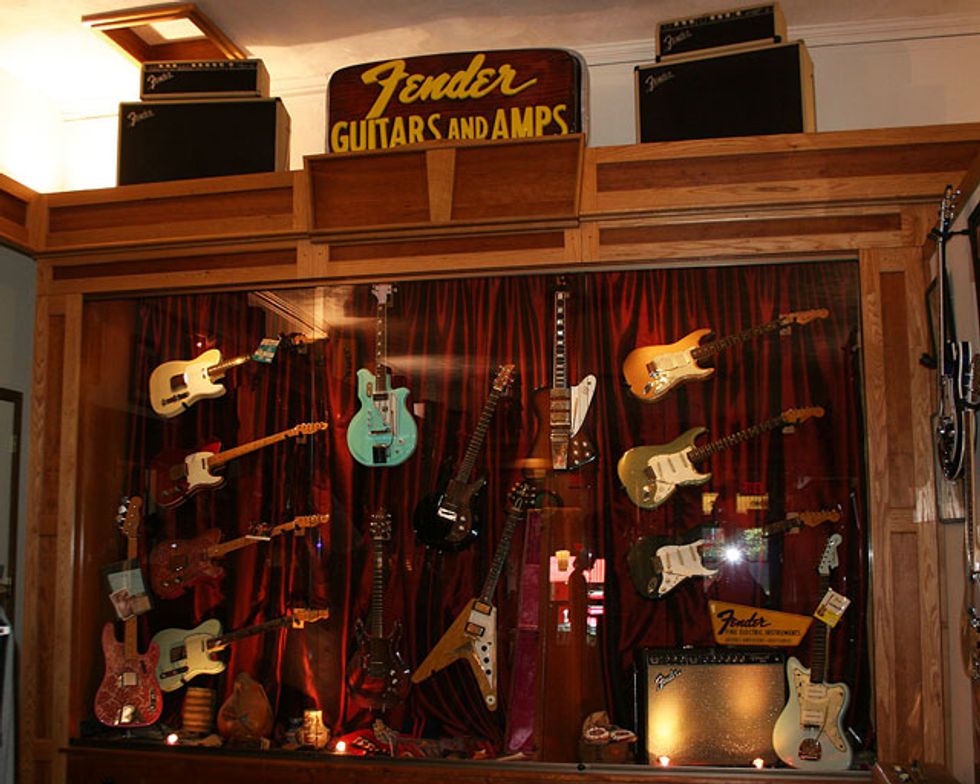 "Rumble Seat also has vintage rarities on the Fender side of things, including a 1951 ""Blackguard"" Tele, and a matched pair of 1968 Fender Paisley Telecaster and Telecaster Bass guitars (pictured in the case). "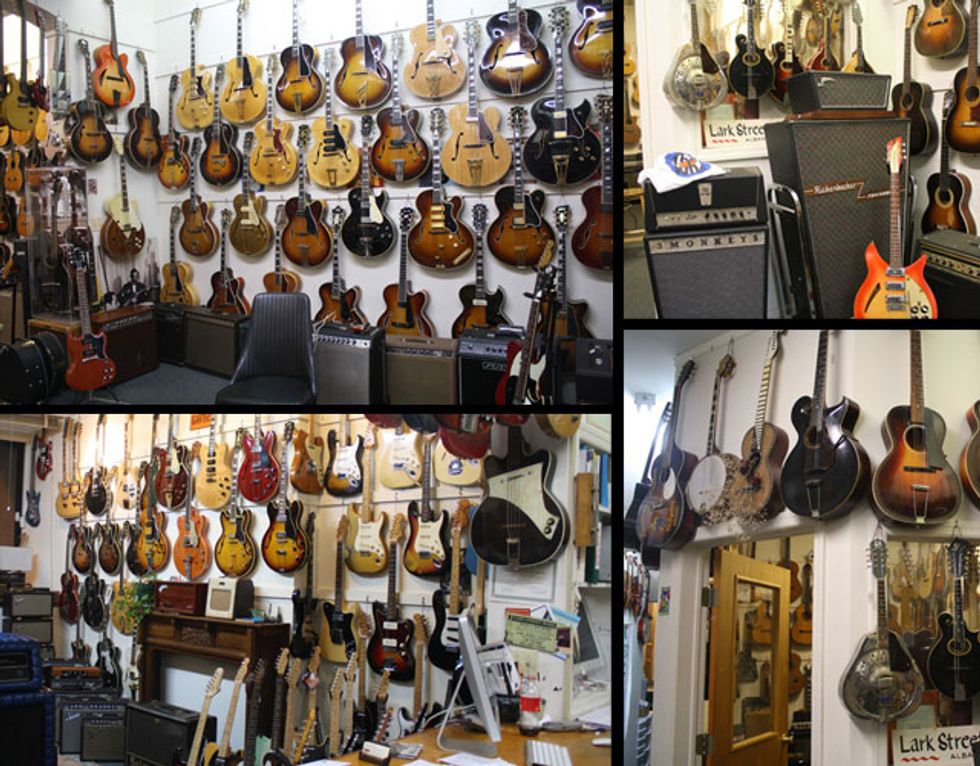 "Lark Street successfully blends vintage, new, and boutique stock. In addition to their vintage amps, Lark Street carries newer boutique companies like Tone King and 3 Monkeys, as well as boutique pedal lines from Fulltone and Z.Vex."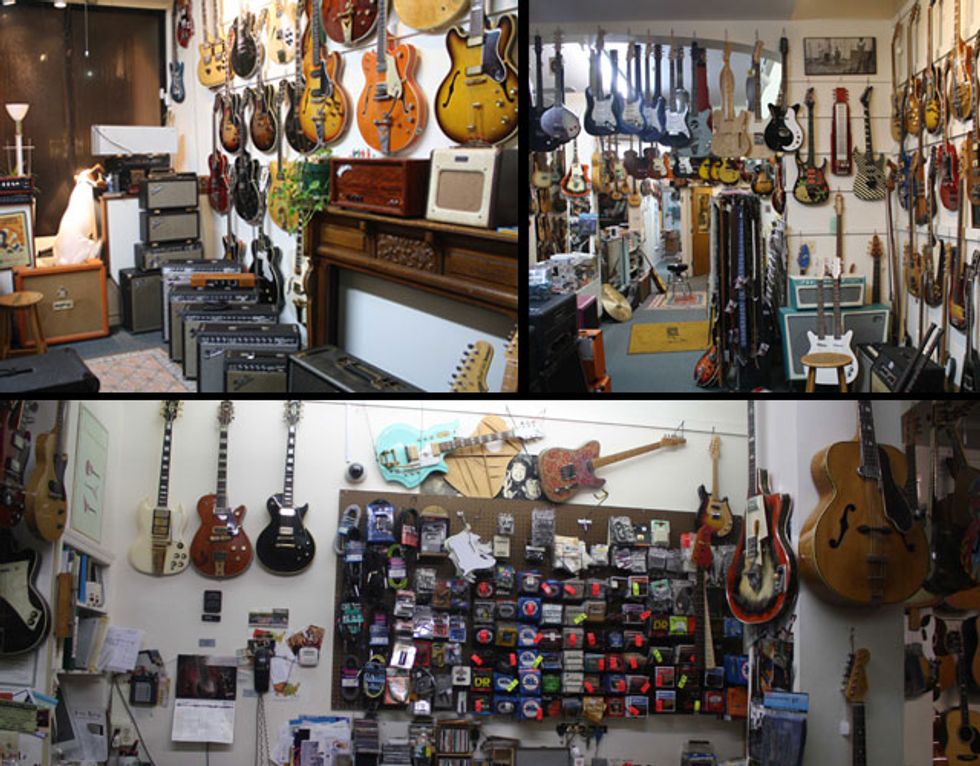 "Lark Street Music opened in Albany, New York, in 1981, and moved into New Jersey (a five-minute drive from the George Washington Bridge) in 1999. The store stocks a wide variety of rare, vintage, and new guitars and mandolins. Pictured are main areas of the store you would see when walking in, with some super rarities. Can you spot the vintage Italian Wadre guitar and the Trainwreck?"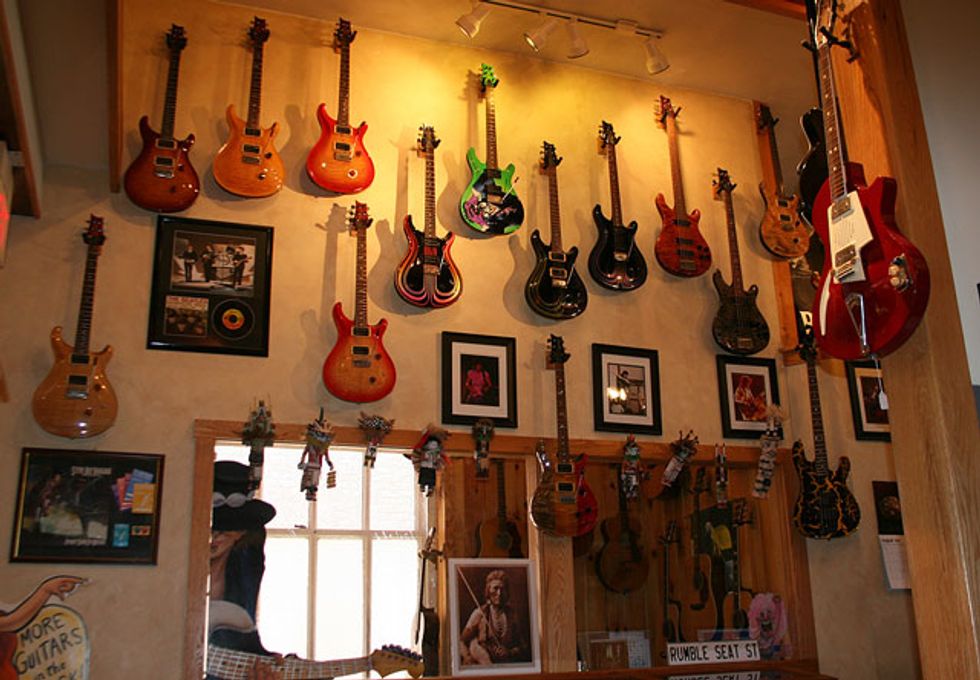 "Rumble Seat also has newer instruments from PRS, Gibson, and Fender, as well as other modern brands like Nash Guitars."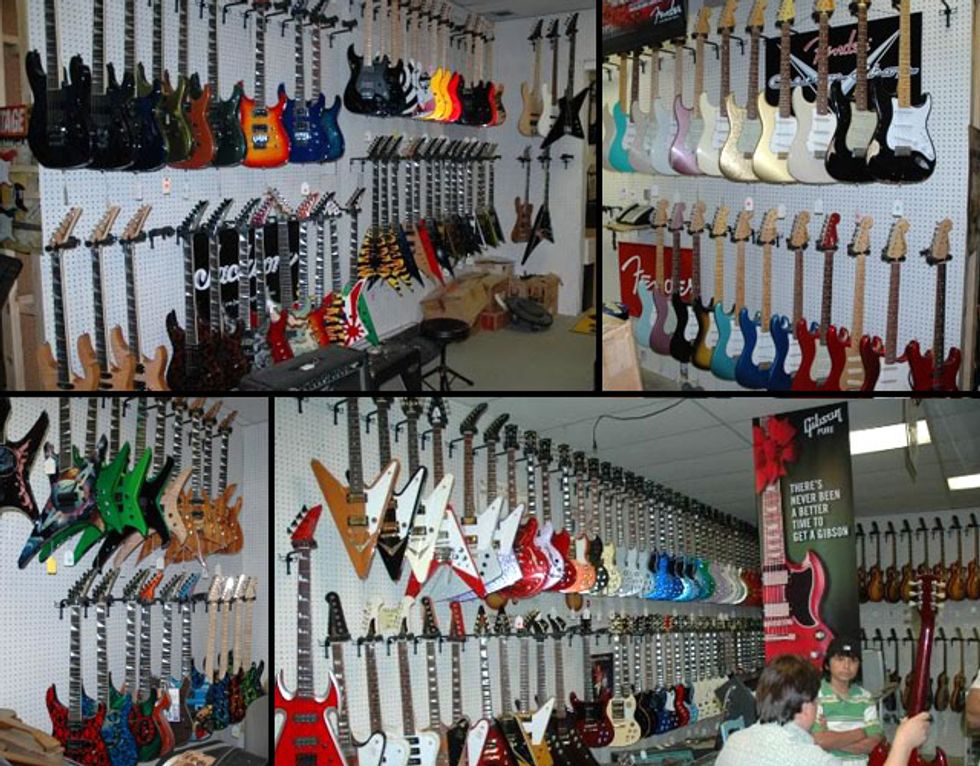 "Of course, Gibson isn't all they stock. Fuller's also stocks a full line of Fender instruments, including Custom Shop, and many other brands."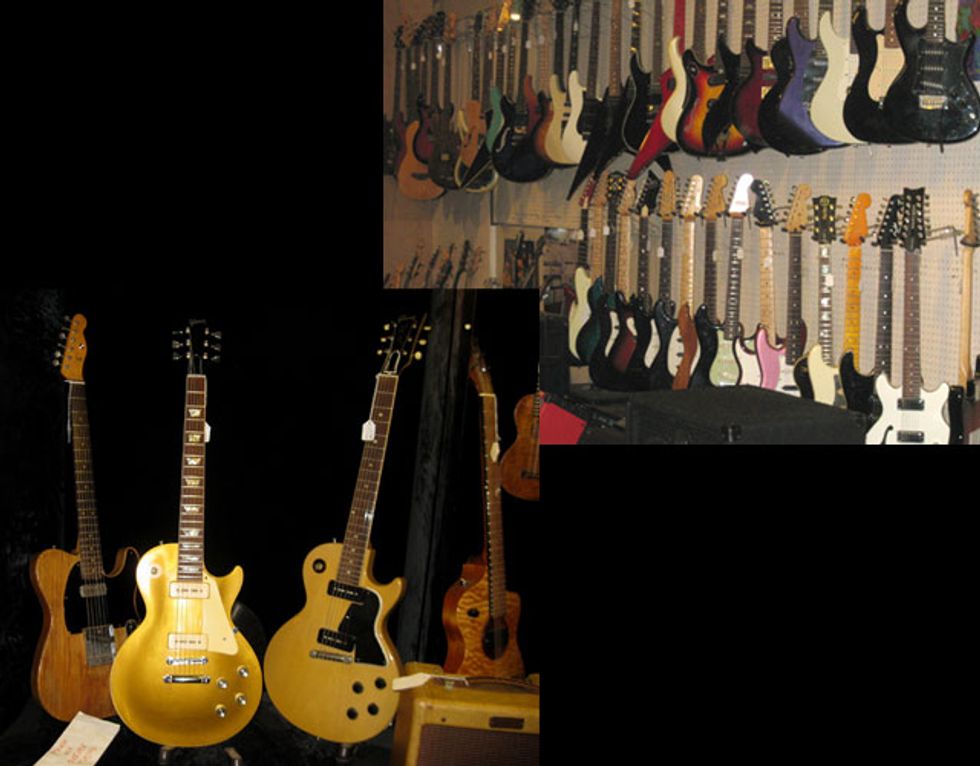 "Real guitars takes pride in their relaxed vibe but their selection is what you might call ""serious."" Pictured are a 1962 Fender Telecaster, a 1968 Gibson Les Paul Goldtop, a 1956 Les Paul Special, a recent Turner Guitar, and a 1955 Fender Tweed Champ amp."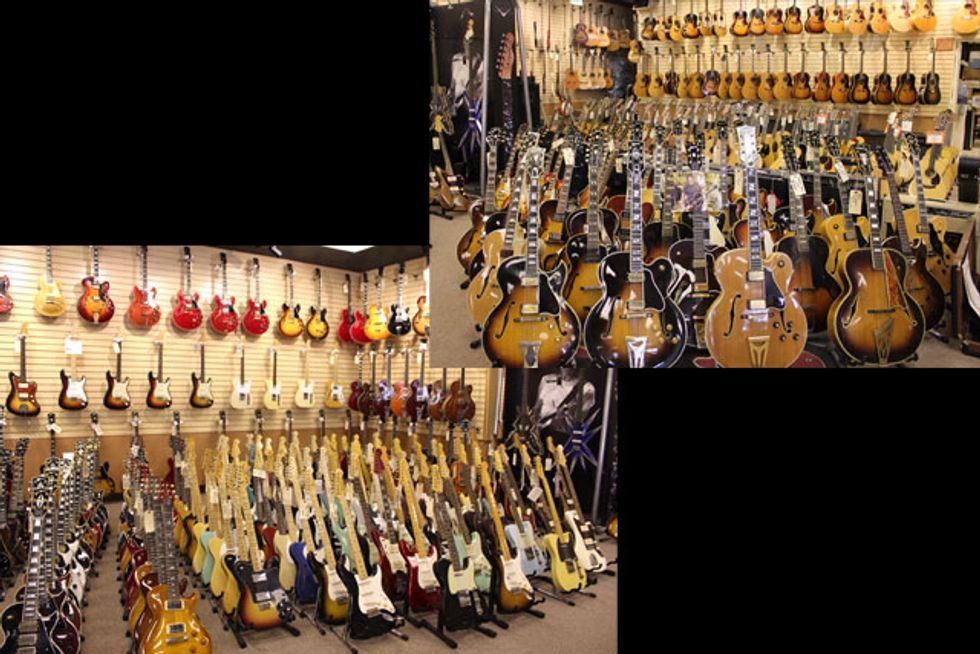 "Norman's stock of instruments is massive, stocking new instruments from Fender, Gibson, Martin, Rickenbacker, PRS, Danelectro, Guild, Gretsch, D'Angelico, Nash, Don Musser, Ernie Ball Music Man, Yamaha, and more."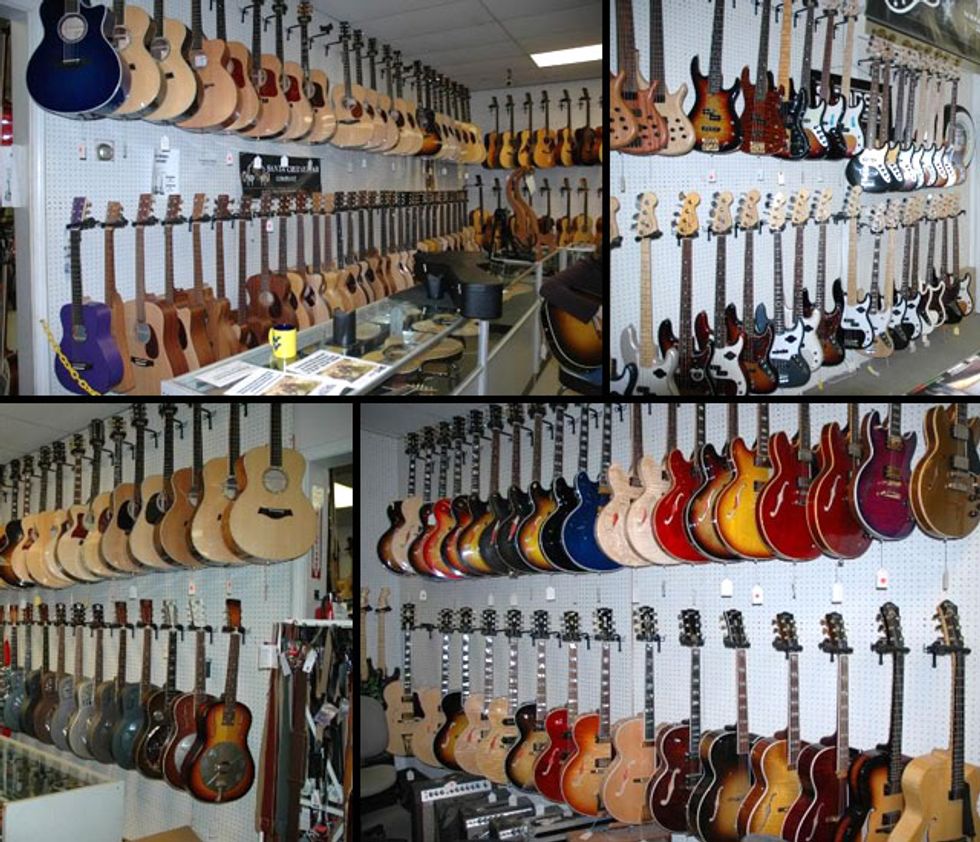 "In addition, Fuller's acoustic lineup is broad, ranging from big names like Gibson and Guild to more boutique offerings like Gallagher and Santa Cruz. Fuller's vintage offerings are smaller, but not lacking quality: the store currently has a near-all-original 1958 Fender Stratocaster in stock."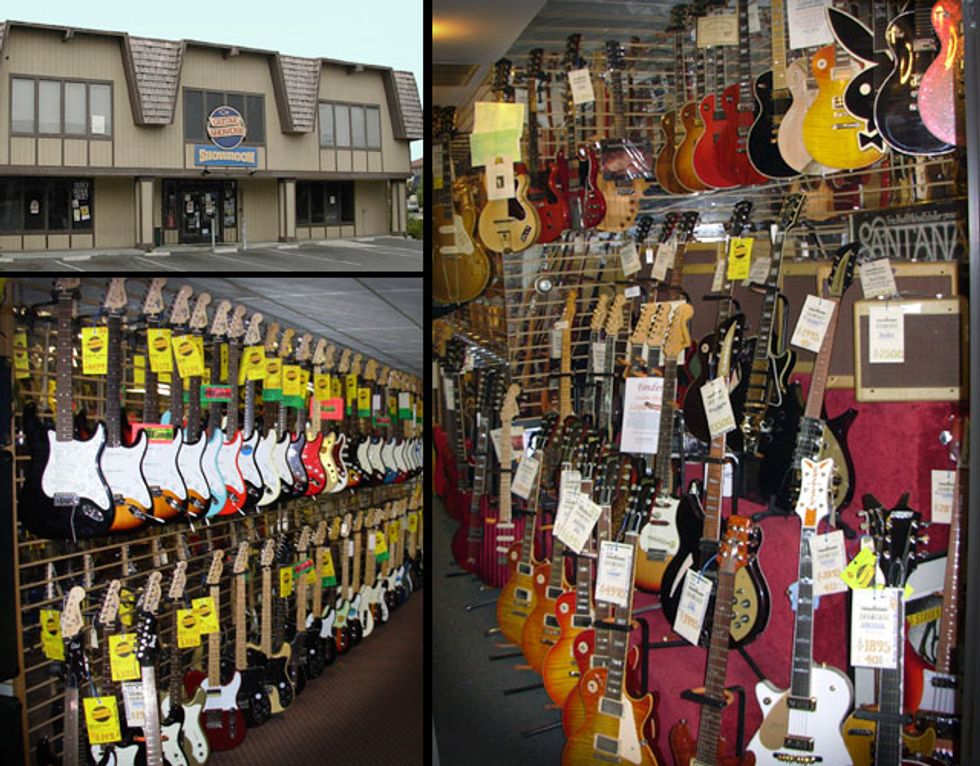 "Guitar Showcase was founded in 1965, making it one of the oldest guitar shops on our list. They stock both new guitars (lower left) and vintage instruments (right), as well as drums and keyboard gear."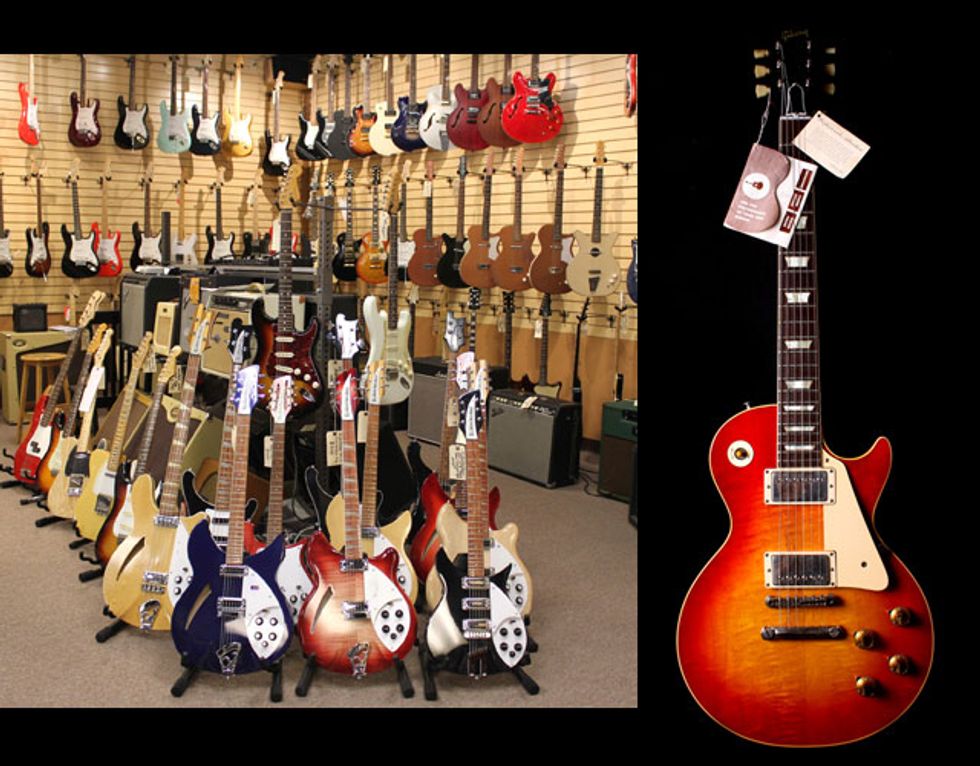 "Norman's Rickenback stock includes both new and vintage beauties. The store's ""Rare Guitars"" moniker is perhaps best encapsulated by this 1960 Gibson Les Paul Sunburst."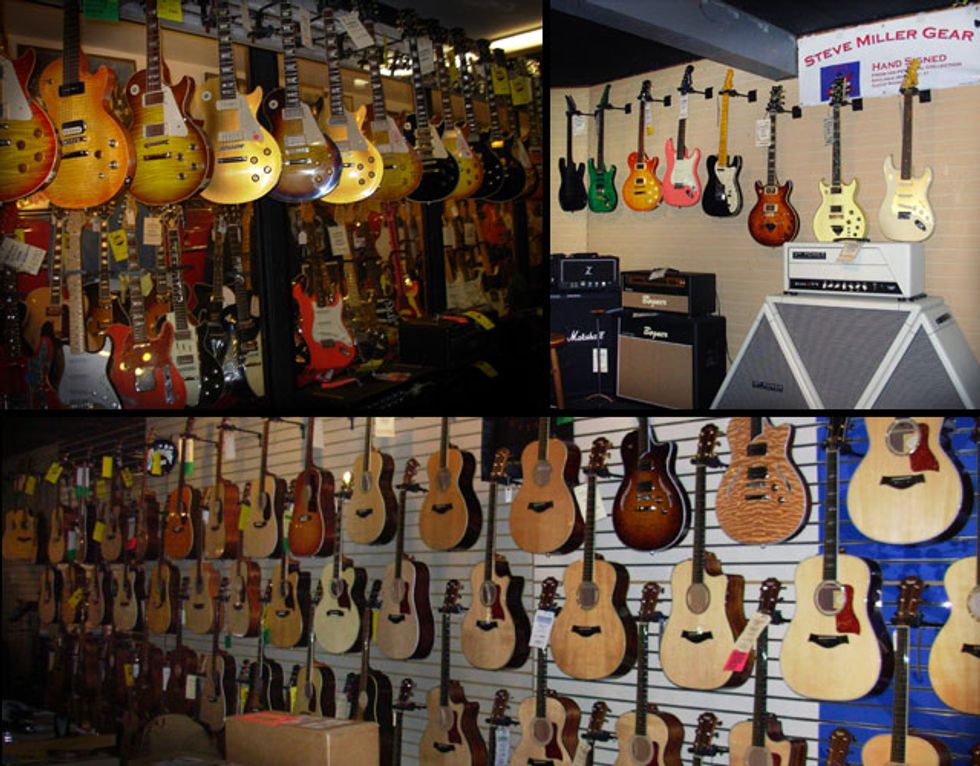 "With the range of instruments, as well as an instrument rental facility called the Showcase Swap Shop, and the stores vintage collection named the Vintage Vault, Guitar Showcase has grown to be the largest independent music complex in Northern California. In addition to their Gibson Custom Shop (upper left) and acoustic (bottom) offerings, Guitar Showcase has a number of Steve Miller-owned instruments for sale (upper right)."
Check out these excellent amps from some of the best brands in the industry.
This page uses affiliate links and Premier Guitar will be compensated for any purchases you make.
PRS Guitars
<p>Greek for "ruler" or "lord," the PRS Archon is a commanding 2-channel amp with versatile overdriven tones and sparkling cleans with plenty of headroom. Designed with five gain stages before the master volume, the Archon's lead channel is voiced to cover everything from Classic Rock to Metal with full, lush distortion. The clean channel provides rich tones that retain clarity even at high volume, and there is ample headroom, creating an excellent platform for pedals. The Archon has remarkably responsive tone with incredible note separation, whether you're playing on the clean channel or chugging on the lead.</p><p>The PRS Archon is powered by two 6CA7 power tubes, which fall between EL34 and 6L6 tubes, offering the best of both worlds. 6CA7's are warm, full, and articulate with smooth high end and tight low end. They chug, distort, and get heavy without over-saturating, and they sing without becoming harsh.</p>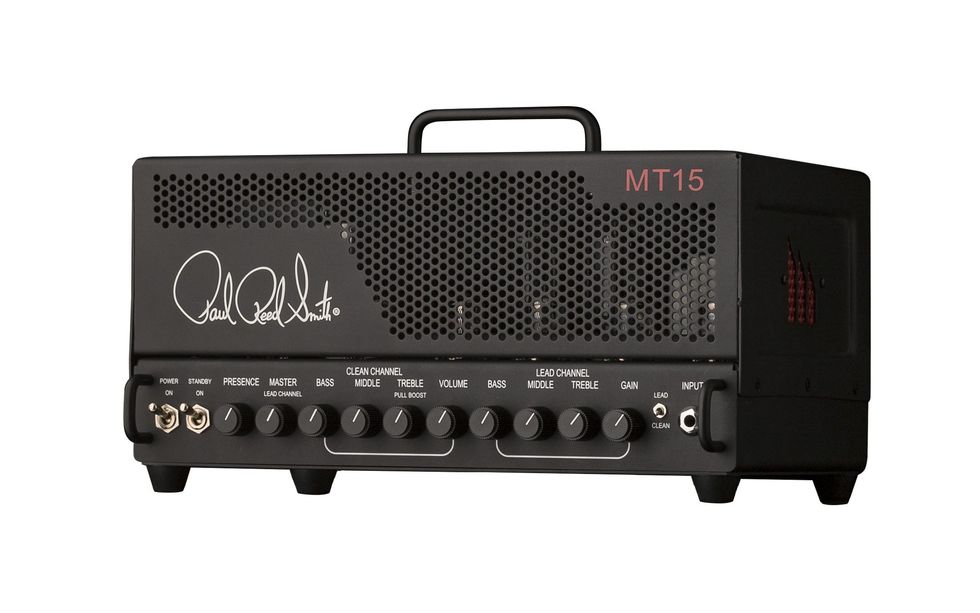 MESA/Boogie
<p>Delivering a sonic and weight profile that's a bit more lean, the Badlander™ 50 holds its own while adding a distinct tonal character to the Badlander Series. Even more aggressive, yet with an inviting, effortless feel, it's ready to go places where less power is the call. Two channels feature 3 new dynamic Modes as its 100-Watt counterpart. CLEAN, CRUNCH and CRUSH repeated supply the gain, shaping power and an urgent personality to navigate any venue. Here in the Badlander 50, the 2-Channel preamp hooks up with two different and perfect power displacements that enhance everything from clean to clipped to wildly saturated. The 50-Watt setting delivers bold authority and the highest headroom while the 20-watt setting finds the power tubes re-wired for Triode operation that unveils greater clipping potential and a mid-scooped, harmonic-laden response that reveals trademark EL34 Tone.</p>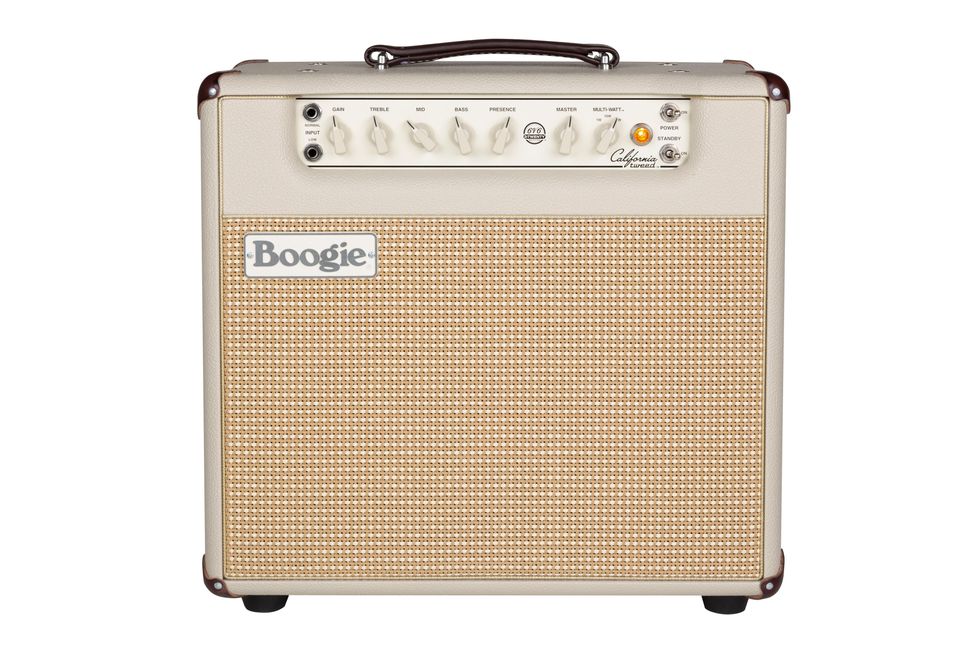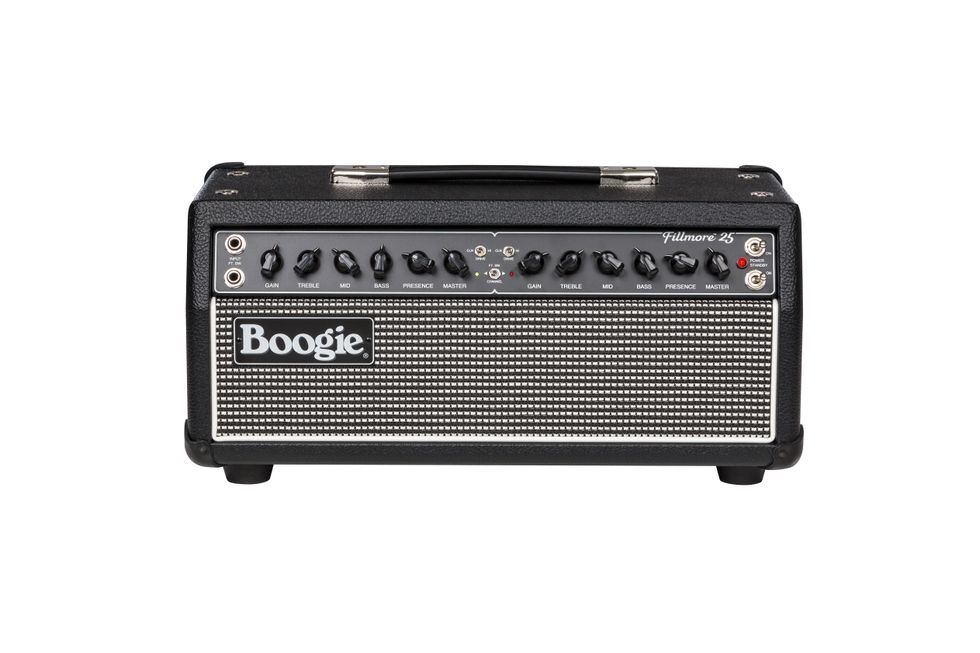 Tube Amp Doctor Musikhandels GmbH
<p>As the first tube of the new TAD REDBASE™ series, the TAD 6L6GCM-STR REDBASE™ has a powerful but always well-defined bass range, with clear, silky and transparent highs - offering plenty of headroom.<br><br>In every setting, the TAD 6L6GCM-STR REDBASE™ responds directly and with great dynamics, from soft and warm to punchy and powerful, without ever losing detail or depth.<br><br>An effective upgrade<br><br>The TAD 6L6GCM-STR REDBASE™ is the recommendation for lively clean sounds as well as powerful broadband multi-channel amps. This makes the TAD 6L6GCM-STR REDBASE™ an effective upgrade for virtually any amp that uses 6L6GC or 5881 tubes.</p>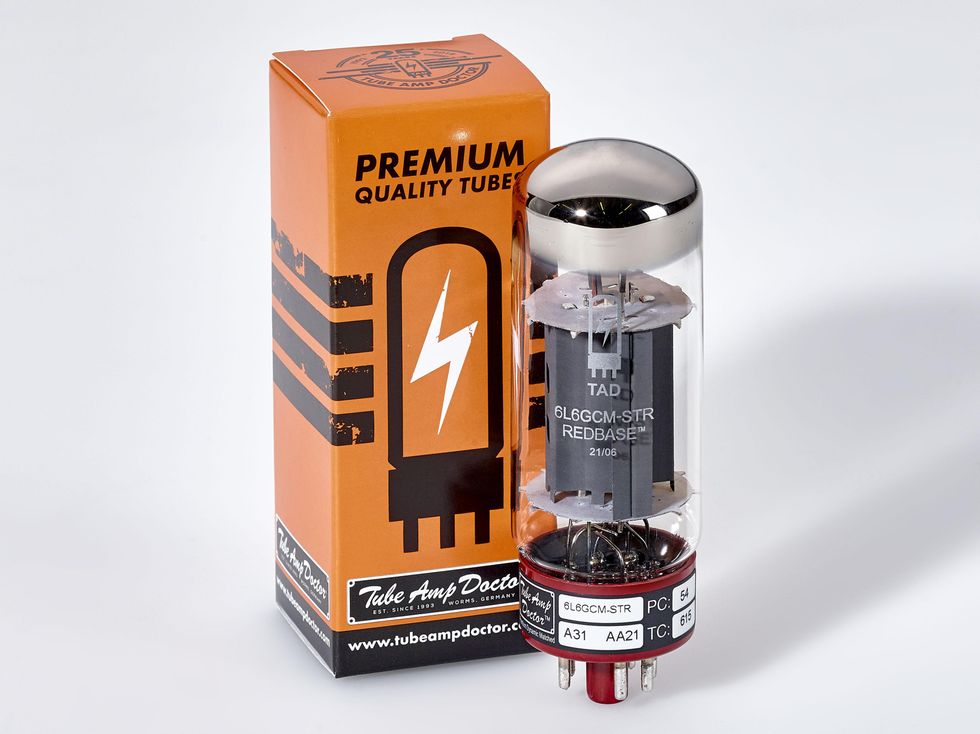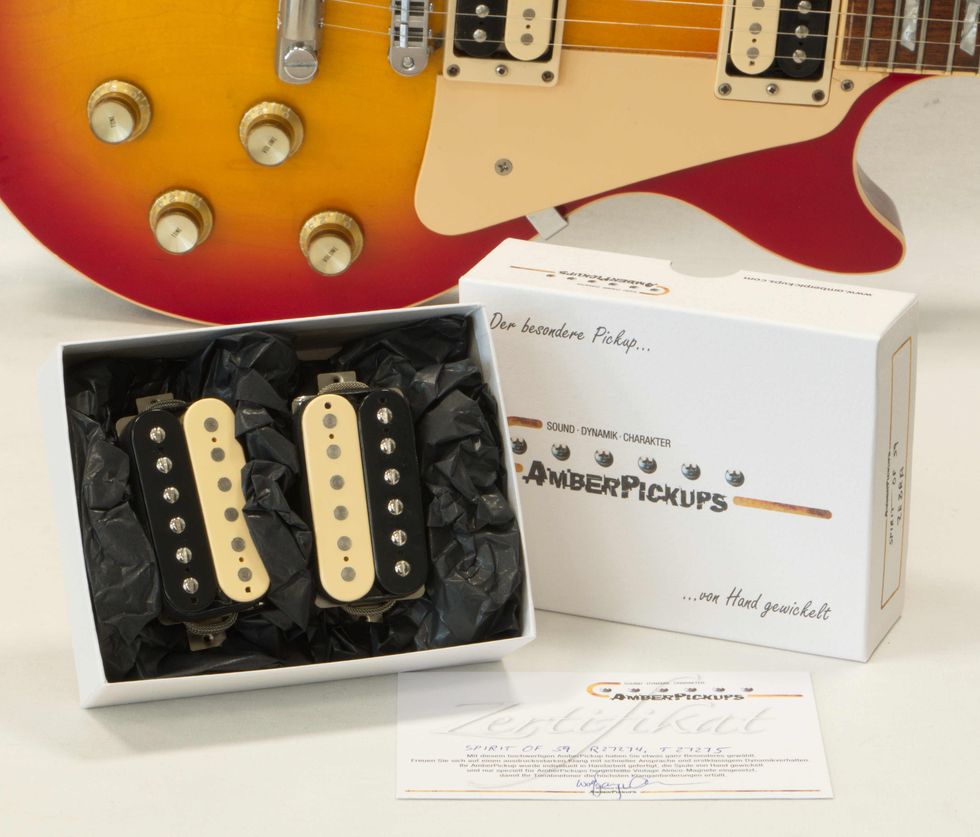 Soldano
<p>The SLO Mini head is a 30-watt powerhouse with the same rich overdrive and crunch as the original amplifier. This ultra-compact head delivers searing harmonics, and the perfect balance of gain, sustain and tight touch response that the SLO has become famous for.</p>
Yamaha
<p>No matter where you are, you can plug into a Yamaha THR30 II Wireless and experience realistic tube tone. This battery-powered combo amplifier includes a full arsenal of guitar and bass amp emulations, along with mic models for your acoustic-electric and flat modes for everything else. Ditch your pedalboard — the THR30 II Wireless's 3-band EQ, and a great-sounding selection of modulation effects, echoes, and reverbs, have you covered. Bluetooth support enables you to stream backing tracks — with full Hi-Fi quality — through the THR30 II Wireless's stereo speakers. The THR30 II Wireless also includes plug-and-play USB connectivity for recording and playback, along with a built-in wireless receiver for performing cable-free.</p>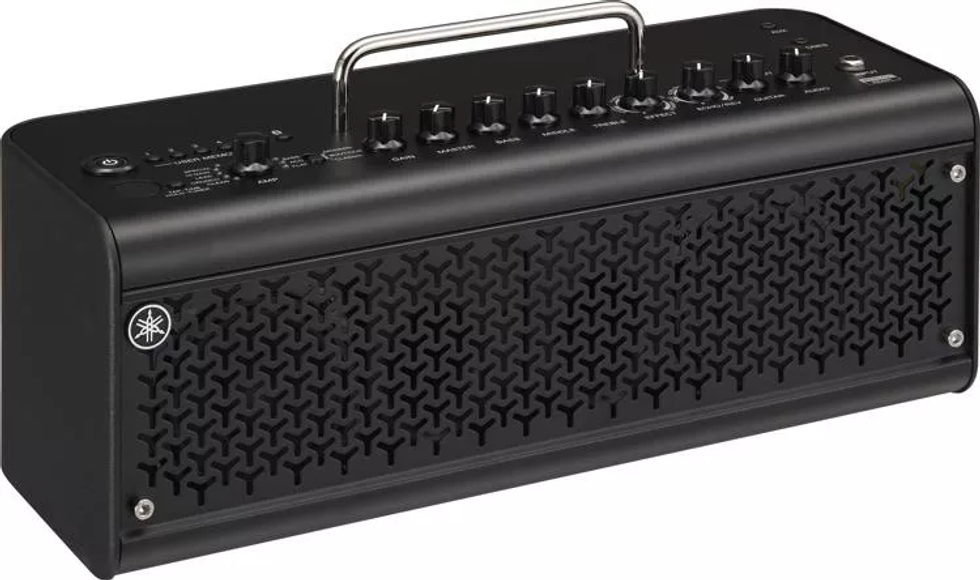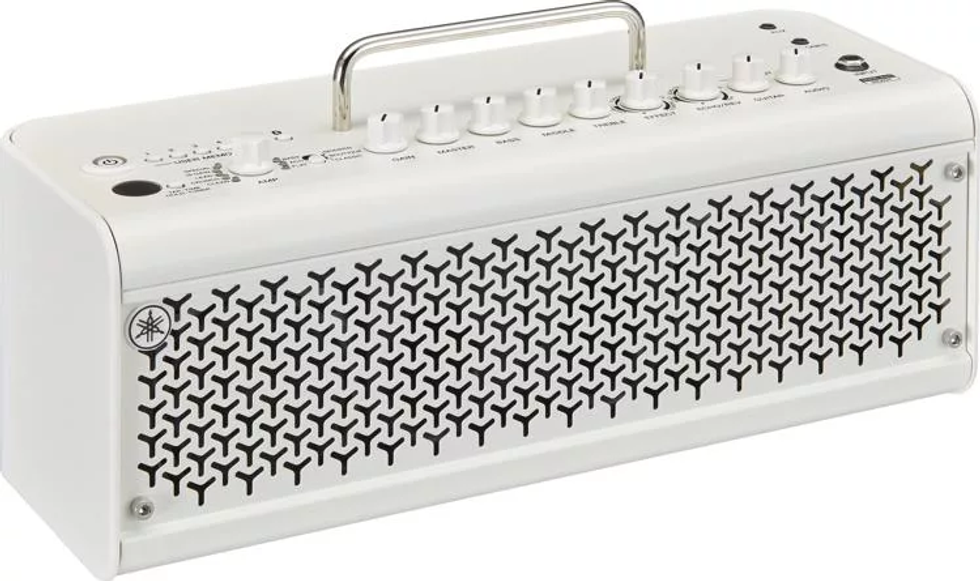 BOSS
<p>The BOSS Katana-50 MkII is the latest installation in BOSS's esteemed line of Katana series amplifiers. And whether you're interested in accessing its pummeling 50-watt output section and platform-perfect 12-inch speaker to amplify your existing modelers and preamps, or in building your dream tones from the ground up to create the ultimate all-in-one gig and practice solution, take it from Sweetwater — the Katana-50 MkII is a powerful tool in the hands of any electric or acoustic player. Cab-emulated outputs and monitoring make the BOSS Katana-50 MkII a truly silent stage and studio guitar solution, while multichannel footswitch support provides hands-free remote access to every sound in your arsenal. New amp variations and access to 60 timeless BOSS effects within the BOSS Tone Studio editor make the 50 MkII a tone tweaker's holiday.</p>