Novation Releases Abelton Live Controller Launchpad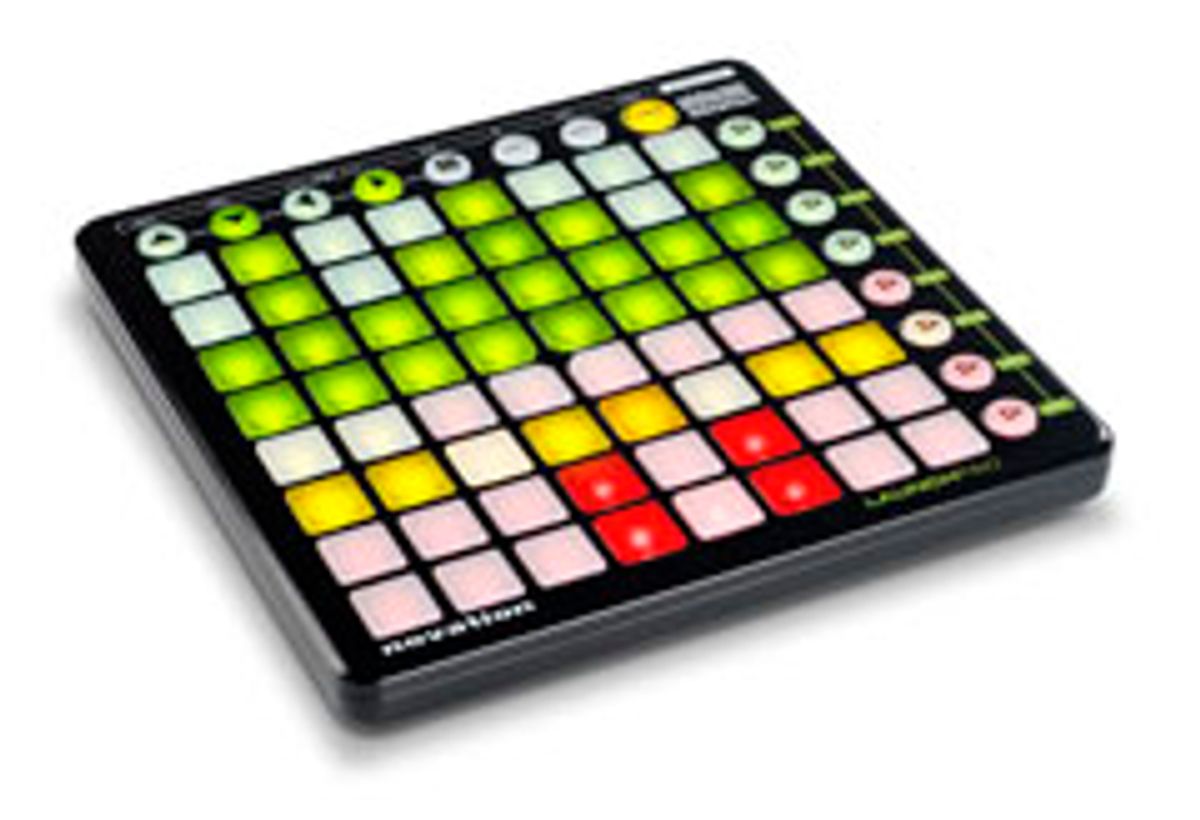 Novation releases Launchpad, their hands-on, interactive controller for Ableton Live.
High Wycombe, UK
(October 8, 2009) - Novation have released Launchpad, their hands-on, interactive controller for Ableton Live.
Launchpad is a compact controller unlike any other, which is designed to give electronic music makers of today the most interactive experience possible in Ableton Live. It communicates bi-directionally with the software to give users real-time session feedback: now you really can Play Live.
Launchpad has been jointly designed by Novation and Ableton, to bring the features of Live to the fingertips of the modern musician. The 8x8 grid of backlit buttons addresses a multitude of functions, with the help of mode selectors that transport the user around the Live interface.
Flip from launching clips to tweaking mixer settings in a stroke. Launch your song into a heavy build-up, then switch to a synth or a drum machine for an impromptu solo at the touch of a button. It's all possible on Launchpad, and all without touching the mouse or keyboard!
The device itself is bus-powered from a single USB connection, and has a ten-inch square desktop footprint. Rubber feet ensure Launchpad stays secure on the surface on which it's placed, and an optional padded neoprene travel sleeve is available. It ships with a USB cable, plus a DVD ROM with Mac and PC installers for a special 'Launchpad Version' of Ableton Live 8, as well as 1GB of sample content from Loopmasters and Mike The Drummer. It also comes Automap enabled.
Some key features:
• Launch Clips and Scenes
Launchpad's raison d'être: launch, pause and flip between clips at the touch of a button. Each clip has its own button, with a multi-colour, variable-brightness LED to display its status: an amber button tells the user that a clip is loaded, green means it's playing, and red means it's recording.
• Dedicated Ableton Live Modes
Dedicated buttons provide shortcuts to the different areas of Ableton's control window, including the Session View, the Mixer and the Instrument racks.
• Session Overview
A feature that allows the user to jump around eight-channel sections of the Live session, allowing for easy navigation of larger configurations.
• Max for Live control
Launchpad is the ideal controller for Max for Live, the extension of Ableton's software that "puts the power of Cycling 74's Max/MSP inside Live."
• Launchpads work seamlessly in a team!
Up to six Launchpads can work together on the same system. What's more, a Launchpad will happily provide additional functionality alongside any other MIDI controller, such as one from Novation's SL MkII series. Use a Zero SL MkII to control the mix, with a Launchpad to trigger clips.
• Works with any DAW software
Although it's designed for the ultimate control of Ableton Live, Launchpad can be used to control any music application, as a standard MIDI controller.
Launchpad will be on sale in stores worldwide on the 1st of November. US MAP price will be $199.
For more information:
NovationMusic.com