Peavey-OCC Guitar Now Available
Custom Axe Made Famous on TV
Meridian, MS (August 15, 2007) - The limited-edition Peavey Orange County Choppers Custom guitar, designed by Peavey and OCC and handcrafted in the Peavey Custom Shop, is now available.
The guitar and its sister bike were chronicled on TLC's popular reality TV show, "American Chopper" in a two-part episode titled, "Custom Shop Meets Custom Shop." Part 2 is currently scheduled to be rebroadcast on TLC on August 23rd. Both parts are scheduled to be shown on Discovery HD on September 7th.
Hartley Peavey and the Teutuls (Paul Sr., Paulie and Mikey) worked together to design the guitar and the bike. The Guitar is adorned with a stunning 5A quilted maple top and OCC-tooled chrome platework. The Peavey-themed bike is outfitted with a working guitar amplifier.
Peavey's Custom Shop has produced 100 of the guitars. They'll be shipped with a memorabilia package that includes a display case, a travel case, a serialized commemorative plaque, accessories, autographed memorabilia and an "American Chopper" DVD documenting containing the Peavey build episodes.
"I can''t wait to walk into a guitar shop and see that guitar hanging on the wall," said Paul Teutul Sr. "After working with Hartley and his team, I can see why musicians have stuck with Peavey for 42 years. I''m proud to have the Orange County Choppers name on a custom Peavey guitar."
The chopper and the guitar have been getting plenty of publicity. In addition to the TLC series they were also featured on "The Late Show With David Letterman" and "Fox & Friends." They've also been on tour together this summer, hitting various music-themed venues, stores and even Summer NAMM 2007.
Peavey Orange County Choppers Custom Guitar

· Handcrafted in the Peavey Custom Shop
· 24 ¾" scale with 24 frets
· Mahogany set-neck and body with ebony fretboard
· 5A quilted maple top
· Schaller® die-cast machine heads (18:1)
· Chrome hardware and picks
· Chrome Dunlop® strap locks
· Dual torsion rod
· Tune-o-matic* bridge and patented Dual Compression® tailpiece
· Two custom-wound humbucking pickups
· Volume/Volume/Tone configuration
· Chrome plates custom-tooled by Orange County Choppers
· Display and travel cases included
· Custom Orange County Choppers strap
· Serialized commemorative plaque
· Autographed memorabilia
· "American Chopper" DVD documenting the guitar and chopper design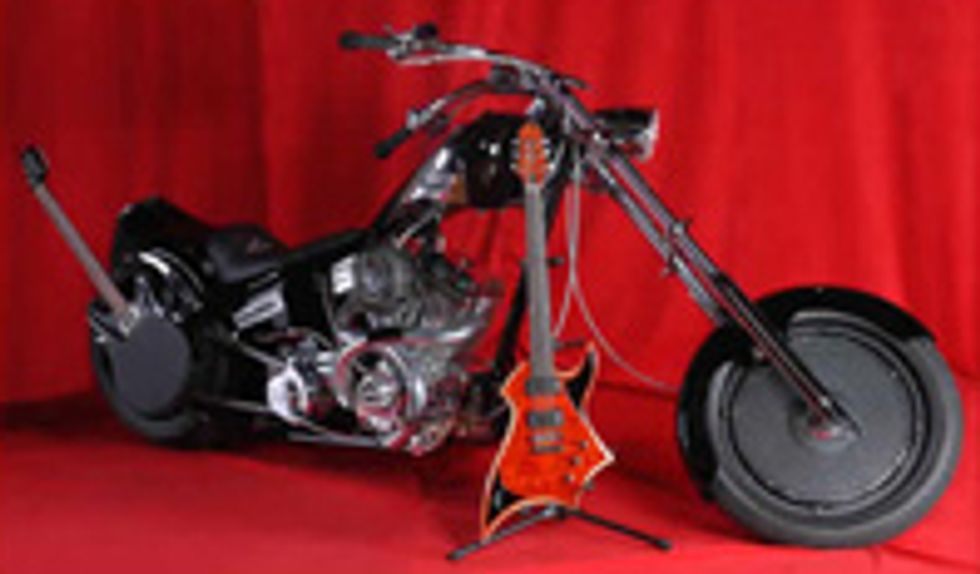 For more information:
Peavey Custom Shop OCC Orders

Peavey.com
OCC