A dual-channel analog overdrive pedal with powerful tone and a dynamic feel.
ALBANY, OR (June 11, 2015) -- The co-owners, Stephen Pettyjohn and Chris Hoff of Pettyjohn Electronics, based out of Albany, OR, announced on Wednesday, May 29th, 2015 the PettyDrive, a studio grade, dual channel analog overdrive pedal. This Tool for Tone is engineered to deliver the powerful tone and dynamic feel of boutique tube amps pushed to the edge of breakup. Each of the two fully independent channels are uniquely voiced to compliment each other and provide a wide range of sounds that range from thick, saturated American iron and growl to harmonically-rich British-like chime. Additionally the Iron channel features an innovative Parallel Effects Loop, which provides unlimited new combinations with other pedals!
Channel 1: Chime
The Chime channel is designed to function as a full-range, low-gain overdrive or boost. As the gain is increased the circuit has been voiced to add a light, sweet, harmonically rich breakup reminiscent of a pushed British style tube amp. You may hear significant amounts of natural compression that feels much like power amp "sag" at higher gain settings. Channel One is equipped with an active tilt EQ built with Orange Drop capacitors for authentic amp-like tone! There are two 3-way mini-toggle switches for easy, quick adjustment of the clipping circuit and low frequency response.
Channel 2: Iron
The Iron channel is designed to be your go to overdrive with everything you want from a great drive and nothing you don't. It has been meticulously voiced for smooth yet powerful tone reminiscent of a cranked American style amp. You may find that it needs very little tweaking with almost any guitar or amp. Simply add gain, level to taste and rock on! The Tone knob is an Orange Drop powered high-cut that is highly effective for taming those bright guitars or amps. There are two 3-way mini toggles again to adjust internal settings on the fly. The top switch adjusts the clipping configuration and the bottom toggle is a 3-way low cut that switches between 3 lower cutoff frequencies. Channel Two also has a true summing internal Clean Mix knob that doubles as the mix knob for the Parallel Effects Loop!
Parallel Effect Loop
One particularly unique feature to the PettyDrive is a "Parallel Effects Loop" on Channel 2. This Parallel Effects Loop gives the guitarist real-time access to mix multiple effects together in parallel and is inspired by the classic studio mixing technique of parallel processing. The Parallel Effects Loop gives the guitarist totally new ways of using pedals and creating textures never before possible in a live rig!
When engaged it activates the send and return jacks on the back and converts the Clean Mix knob to a Parallel Mix Level knob! Any pedals you put in the parallel effects loop receive the clean signal as it is before it goes into the overdrive circuit of Channel 2. Because this loop bypasses the drive engine, it creates an opportunity to feed pedals with a clean signal that would normally get an overdriven signal down line. You may be surprised by how many of your pedals interact differently and it creates endless new ways of re-discovering your gear and creating never-before heard tones as you experiment with other drives, boosts, reverbs and delays and modulation pedals in the loop!
Pettyjohn Drive System Integration
The PettyDrive was specifically designed to operate as a drive system that integrates seamlessly with the always-on Pettyjohn PreDrive in front of it! The PettyDrive can handle large amounts of pre-boost while retaining its feel and articulation and you can take your tone to new heights by using both pedals together!
Studio-Grade Quality
The PettyDrive is a serious tool for tone, built for the modern working guitarist in mind with a balance of advanced tone shaping features, general ease-of-use and tone that truly inspires. The PettyDrive is hand made in the USA with premium audiophile components to ensure the lowest noise, years of reliability and the most articulate tone possible. The Deluxe version features a Studio-Grade premium Discrete Opamp input buffer and Burr-Brown chips in the Iron channel for a modern, more transparent quality while the PettyDrive Standard version relies on the famed JRC 4558 chips for warm, organic tone. For those seeking state of the art tools for great tone, the PettyDrive is a must have both in the studio and on stage.
For more information:
Pettyjohn Electronics
Looking for more great gear for the guitar player in your life (yourself included!)? Check out this year's Holiday Gear Finds!
Outlaw Effects introduces their next generation of NOMAD rechargeable battery-powered pedal boards.
Available in two sizes, NOMAD ISO is a compact, versatile tool that offers the convenience of a fully powered board plus the additional freedom of not having to plug into an outlet. NOMAD ISO is ideal for stages with limited outlet availability, quick changeovers, busking outdoors, temporary rehearsal locations, and more!
NOMAD ISO builds upon the legacy of the ultra-convenient and reliable NOMAD rechargeable pedalboard line originally launched in 2018. The brand new NOMAD ISO editions feature eight isolated outputs (1 x 9V DC, and 1 switchable 9V/12V DC) for even more versatility and clean, quiet power. With an integrated lithium-ion battery pack boasting 12800mAh capacity, NOMAD ISO can fuel a wide array of pedals, and will last over 10 hours* on a single charge.
Each NOMAD ISO pedal board includes adhesive hook & loop pedal-mounting tape, eight (8) standard DC connector cables, and one (1) reverse polarity DC cable, giving you everything you need to build your ultimate "off-the-grid" rig. A rugged, road-ready padded gig bag with shoulder strap is also included, to safely protect your gear while you're on the move.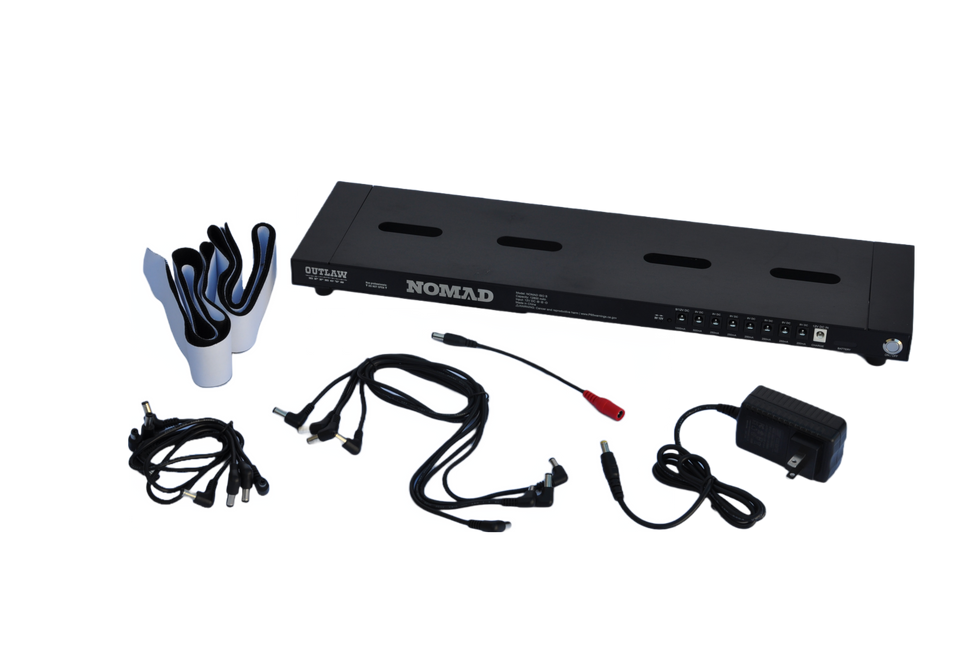 Dunable announce new Minotaur model featuring Grover Rotomatic Keystone tuners.
The Minotaur's DNA is rooted in their classic Moonflower model, which Dunable discontinued in 2017. However, they have long since wanted to create a fresh take on a carved top guitar design, and various attempts to rework the Moonflower led them to a brand new concept with the Minotuar.
Dunable's goal is to give the player a guitar that plays fast and smooth, sounds amazing, and gives maximum physical ergonomic comfort. The Minotaur's soft and meticulous contours, simple and effective control layout, and 25.5" scale length are designed to easily meet this criteria.

Dunable Minotaur!
Features
25.5" scale length
Dual Humbucker
one volume, one tone, push pull for coil splitting
Grover Rotomatic Keystone tuners
Grover Tune O Matic bridge with brass Kluson top-mount tailpiece
jumbo nickel frets
12" fretboard radius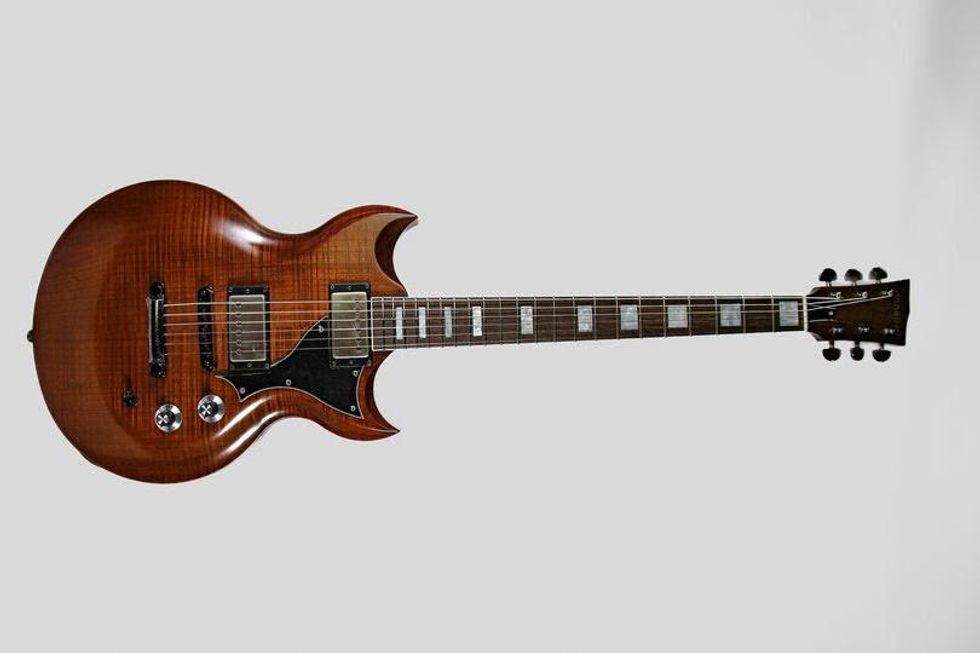 Dunable
This full-amp-stack-in-a-box pedal brings a new flavor to the Guitar Legend Tone Series of pedals, Missing Link Audio's flagship product line.
Adding to the company's line of premium-quality effects pedals, Missing Link Audio has unleashed the new AC/Overdrive pedal. This full-amp-stack-in-a-box pedal – the only Angus & Malcom all-in-one stompbox on the market – brings a new flavor to the Guitar Legend Tone Series of pedals, Missing Link Audio's flagship product line.
The AC/OD layout has three knobs to control Volume, Gain and Tone. That user-friendly format is perfect for quickly getting your ideal tone, and it also offers a ton of versatility. MLA's new AC/OD absolutely nails the Angus tone from the days of "High Voltage" to "Back in Black". You can also easily dial inMalcom with the turn of a knob. The pedal covers a broad range of sonic terrain, from boost to hot overdrive to complete tube-like saturation. The pedal is designed to leave on all the time and is very touch responsive. You can get everything from fat rhythm tones to a perfect lead tone just by using your guitar's volume knob and your right-hand attack.
Features 
Three knobs to control Volume, Gain and Tone
Die-cast aluminum cases for gig-worthy durability
Limited lifetime warranty
True bypass on/off switch
9-volt DC input
Made in the USA
MLA Pedals AC/OD - Music & Demo by A. Barrero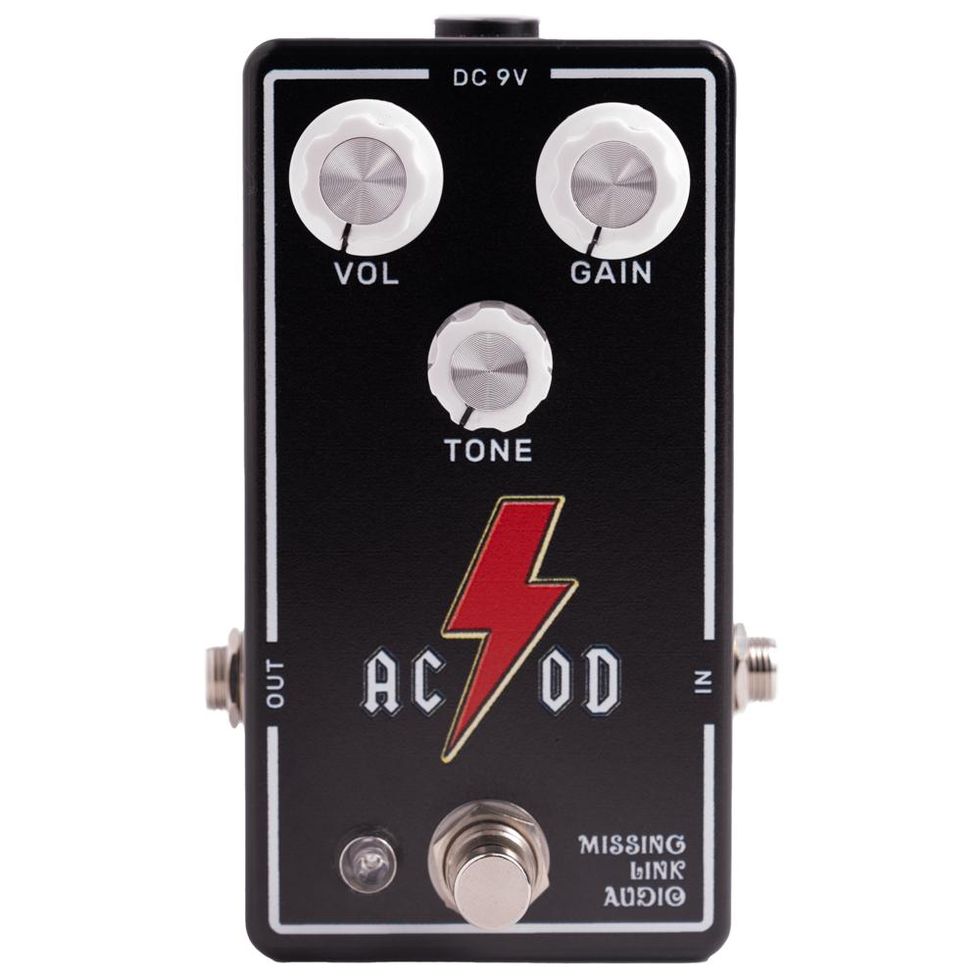 www.mlapedals.com.